I've created a list of fun indoor activities for kids near me that I use on rainy, hot or cold days. From the pet store to the bowling alley, these things to do with kids near me always bring us delight! Do you not live near me? Then don't stress, my list is applicable to ALL areas and these places will likely be near you too!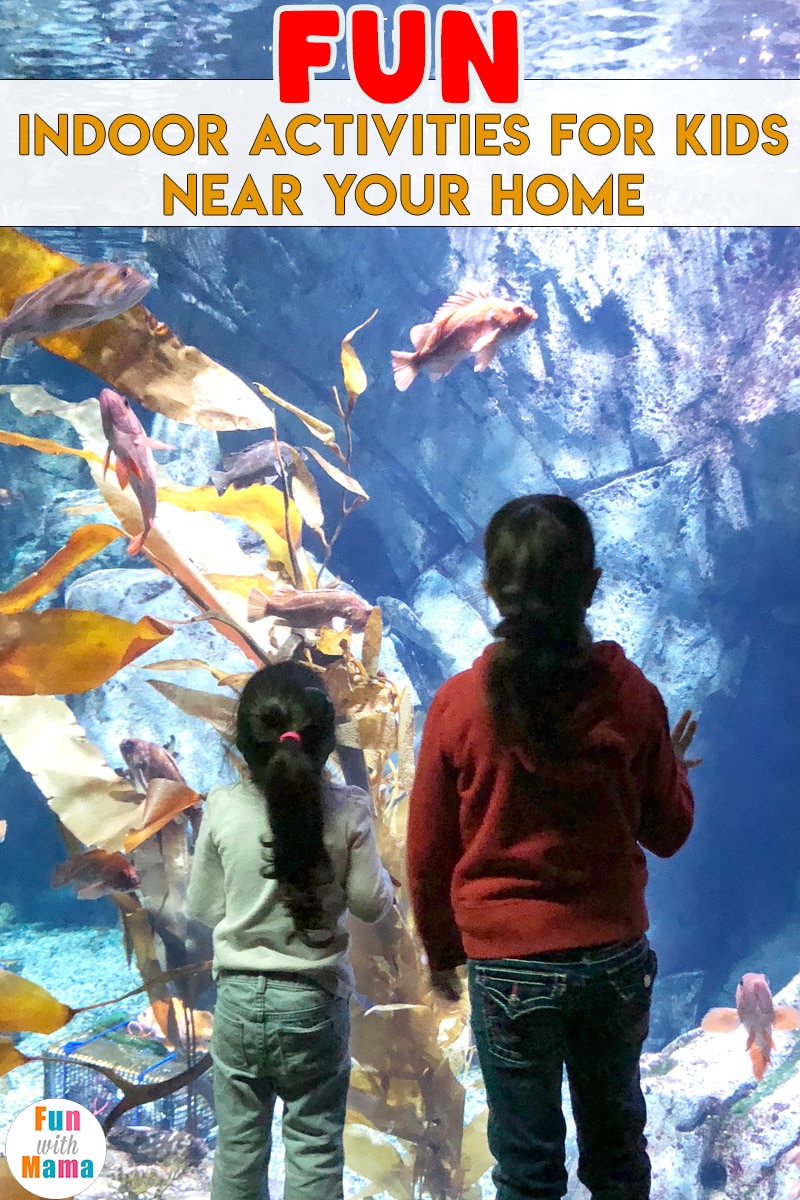 Whether you are trying to avoid being outside because of boiling hot temperatures or on the opposite side, freezing weather… I have created a list of indoor activities for kids near me and placed it on my fridge. Now, whenever my kids are niggly from being inside for too long we can look at the list and choose a fun outing (well, technically it would be an inning? haha.)
Indoor Activities For Kids Near Me
The Pet Store
Pro: It's free.
Yes, this one may sound silly.. but I have the fondest childhood memories of going to the pet store. I never walked out with a pet, but just observing the animals was so memorable and that's why it tops my list of indoor activities for kids near me. I still get giddy when I walk into a pet store today with my kids. There are so many different lives, so many colors and so many observations that can be had. What does a fish eat? How does a fish breathe in water? What kind of cat is this? These are all wonderful questions that open up great conversations. You can go to different pet stores because each one has different animals. This is also one of my favorite spur of the moment indoor activities for kids because hey, there's always a pet store near by.
Trampoline Park
Trampoline parks are a fun way to spend the day and a great way to put all that excess energy to good use. In Orange County we have a lot of choices including Sky Zone and RockinJump. This one's good for when you are looking for energy releasing kids activities near me.
The Movies
Want a great way to entertain the kids while you get to sit down and relax? Then go to the movies! It's air conditioned, fun and the kids have to stay seated for the whole movie. Yep, no arguing with each other… just a mom getting some relaxation time! Take one of their friends with and now you're the fun cool mom who had the easiest play date! When I'm looking for indoor activities for kids near me that requires minimal energy for me… we go to the movies! Such an easy win here !!
Play Dates
Have friends with children the same ages as yours? Go to their house! The kids can play while you catch up on some mom talk time. You could make this a weekly or monthly substitution. One time at your house, the next time at their house. The kids will love playing with different toys than they have at home or playing some fun games like tag and duck duck goose.
The Library
Pro: You create a love for reading in your child and the books are free to check out.
The whole process of going to the library, needing to make sure that you are extra quiet because hey, it's a library. It's no fun to hear "shhhhhh" but it also feels like a great adventure. The children's sections in libraries always have chairs or couches so children can sit and begin reading some books. This is a great way to look at picture books that are currently popular but that you're not sure you want to purchase. Going to the library is one of my most frequented indoor activities for kids near me.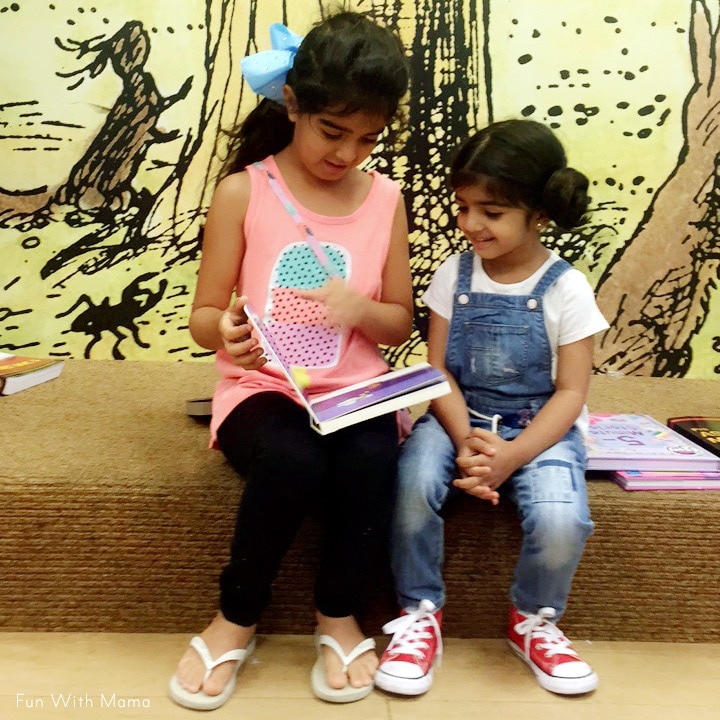 The Book Store
For me, walking into the book store or the library gives my stomach a little flutter. The moment you step into the store, you inhale the most intoxicating sound of fresh pages of books. Oh the possibilities, the potential adventures, the transportations to different lives, countries and galaxies. I love book stores. The children's section of book stores also often have a place for children to start reading books and they are always a child friendly area.
Play Centers
Children can visit Chuck E Cheese, "Chuck e Cheese's, where a kid can be a kid!" Just buy your child some tokens and they have an hour of fun waiting for them. From arcade games and play structures to pizza's and fountain drinks kids are sure to be happy here. Make sure to check out their coupons section before you go so that you can save some money.
In Orange County, California we have a place called Pump It Up, which is a huge inflatable indoor playground. This is one of the indoor activities near me that I take friends with and is also great for play dates!
Arcades
Dave & Busters s a fun place for families. I especially love the basketball game area. My husband, kiddos and I all compete with each other to see who can make the most baskets. It's competitive fun!
Bowling Alley
With a family who loves bowling and a husband who spent much of his friday nights during his teen years at the bowling alley. The bowling alley is enjoyable and one of our favorite go to indoor activities for kids near me. Just search up your closest bowling alley's, check out the reviews and you're good to go. Not all bowling alley's are created equally though so make sure you check out the reviews.
Aquarium
I recently visited our local Aquarium called Aquarium of the Pacific and I had SO much of fun. My children enjoyed looking at all the different types of fish and sea creatures. There were also areas where we could touch the star fish. There was a lot to do and we definitely plan to visit it again soon.
Science Centers and Museums
Children will be learning while exploring scientific concepts. Our local Orange County Science Center is the Discovery Cube. Science centers always make my kids think I'm so awesome and understand them so well. They are really fun places for kids near me. I like learning museums!
Planetarium
Explore the stars, moon, sky and space at your local planetarium. Do you know what you would weigh if you were in Mars or Neptune? I especially love the presentations they give. We love the Griffith Observatory live shows. Make sure to check the website to see what time's the shows are at.
Ice Rink
If your children are 4+ then ice skating is a fun way to spend the afternoon without much stress for mom. When your kids are younger than 4 then ice skating can be challenging!
The Mall Food Court
Wait, what? Why the mall food court? Well, when I was a kid I loved going to the mall food court! There were often rides or play spaces for me to socialize and be active. They also have fun drinks like my favorite pink lemonade. Some even had a Starbucks so I could have my favorite Starbucks Drinks for Kids.
These indoor activities for kids near me list never fails to provide for a fun filled morning or afternoon that are memorable for kids and moms. They are a great way to get out of the house without needing to be outside.
Do you have any favorite indoor activities for kids that I should add to this list?