These fun elapsed time cards will help your kids practice telling time and figuring out how much time has passed. Each ice cream cone and popsicle stick is melting! How much time did it take?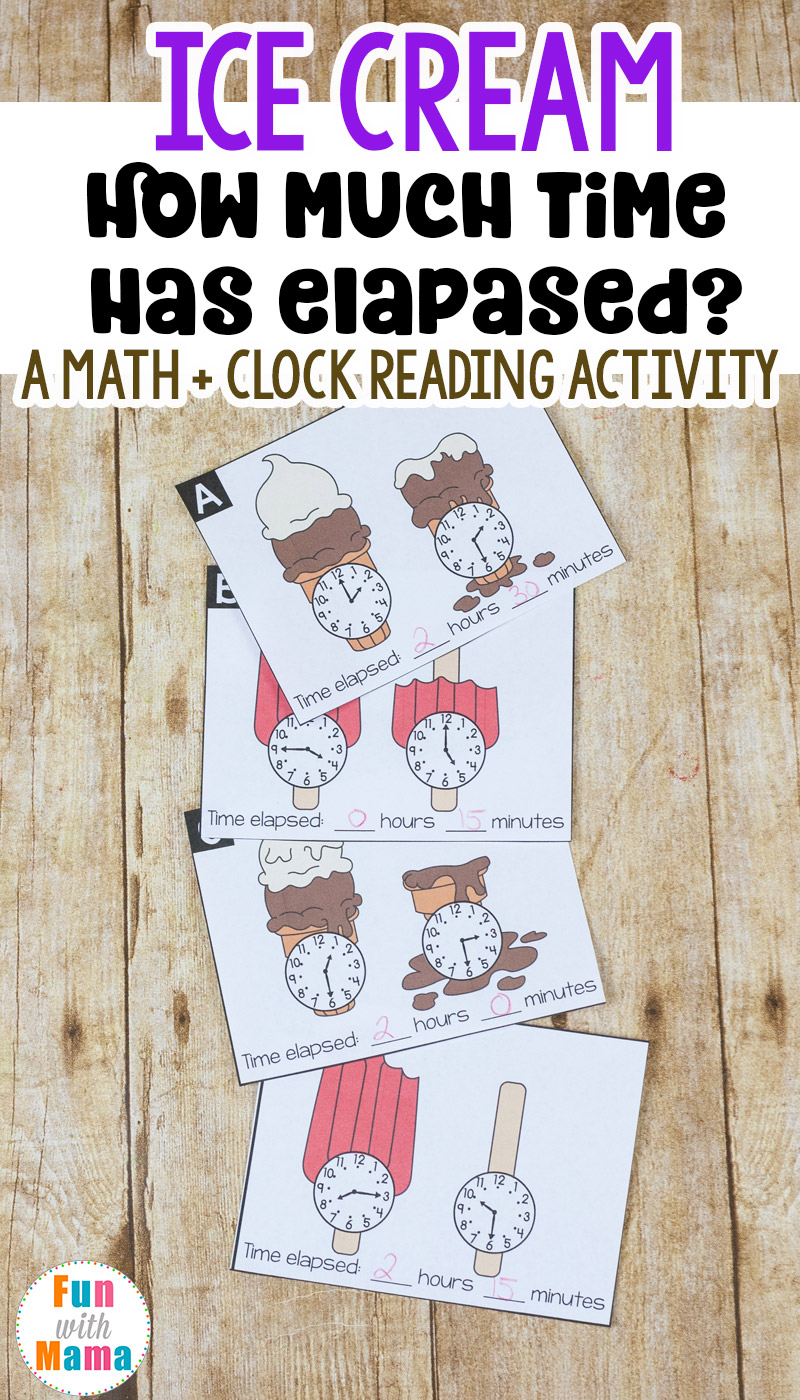 Elapsed Time Cards
Learning how to tell time is an important skill for both analog and digital clocks. Even though people tend to use digital clocks, analog clocks help kids to understand the 12 hour cycle, the 60 minute hour, and the 60 second minute.
The next step in telling time is figuring out how much time has passed – or the elapsed time. One way to introduce this skill is to simply ask questions about time, such as "We will arrive at Shawn's house in 15 minutes. What time will we get there?" or "We left an hour ago, what time did we leave?".
These fun elapsed time cards will promote the skills needed to figure out how much time has passed.
Materials Needed for the Ice Cream Elapsed Time Cards
Please note that affiliate links may be used in this post.
These cards can be used by one child or multiple students. The recording sheet is perfect for use in a classroom setting. Each student can use the same set of cards and just record their answers on their own sheet.
If you're going to use the cards with more than one student, I recommend printing on cardstock and laminating.
Using the Elapsed Time Ice Cream Cards
The answers on the analog and digital clocks are the same. So you can mix and match the set and the answers will remain the same. Analog clock A has the same answer as Digital clock A (even though the problems themselves are different).
You can also play a matching game with the cards. Have them figure out the elapsed time on all of the cards and then have them match the answers.
Easy and Reusable Elapsed Time Ice Cream Cardshttp://bit.ly/2uXKA6U
Where to get the ice cream time elapsed cards
GET THE ICE CREAM TIME ELAPSED CARDS HERE
Already a subscriber? No problem. Just enter your details above so we can send this printable directly to your inbox.
Check out the telling time worksheets
GET THE TELLING TIME WORKSHEETS HERE
The telling time worksheets pack includes a printable digital clock, analog clock, bookmarks, and 24 worksheets.
Don't forget to check out the grocery shopping math themed activity.