One of my favorite ways to spend my time is reading to my daughter. The light in her eyes when something clicks, the way a story can reach her imagination and obviously cuddling with her. I also love when we are inspired by certain books and she wants to do a craft or activity inspired by it. That is Goodnight Gorilla. We read it so many times I should have it memorized by now. She obviously loved it so much, creating an activity inspired by it was a no-brainer! That is where I came up with the idea of this Zoo Animal Complete The Pattern Activity.
Besides having an animal theme, this free printable activity encourages kids to practice multiple areas including:
Patterns
Scissor Use
Coloring Inside The Lines
Glue Procedures
How To Use:
After reading Good Night Gorilla, print the attached printable set. There are two sets of pattern blocks.
Have the child cut the bottom four animal squares from each page, or this could easily be done one page at a time.
Once the animal squares are cut out, start with row one. Go through the pattern like this: Bear, Rhino, Bear, Rhino, etc. When the child gets to the end of the row there is a blank space, this is where the extra, cut out piece will go.
Have the child pick the right animal to complete the pattern and glue it in place.
Continue this until all patterns are completed.
My daughter colored some of the animals after the patterns were completed, but this could easily be done before. The coloring is just an extra.
As an added bonus, because we love coloring, I created a Zoo Animal coloring page. I like to give my daughter something 'totally fun' to do after we do 'work'.
You can download this activity here.
You can download the black and white zoo animal pattern activity here.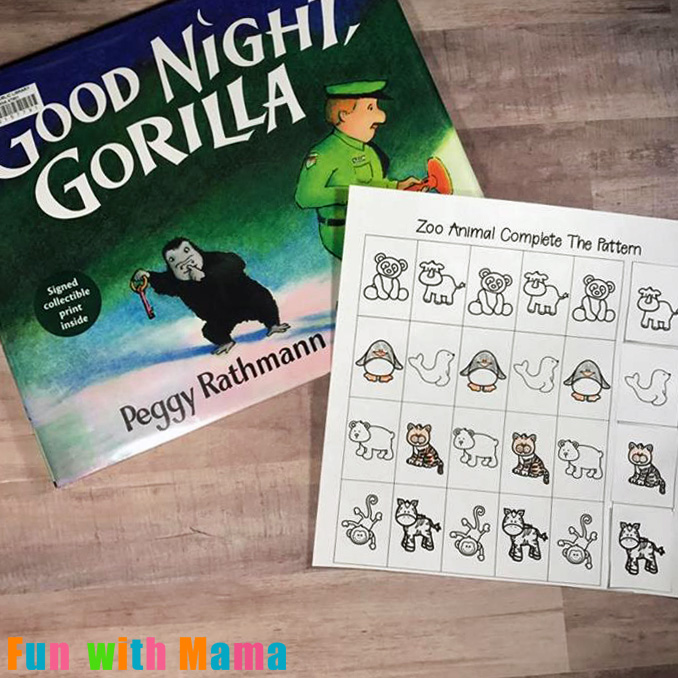 There is also a Full Color Version available to download here.