Did you know that creative thinking is essential in the world we live in today and can have long term benefits for your child? By encouraging children to be creative during the process of an art or imaginary play activity, we are allowing them to come up with their own unique thoughts and ideas. This will enable them to later on approach ideas in unconventional ways and think out of the box. But now, you may be wondering how to encourage creativity in preschoolers? Whether you want to foster this creativity in the classroom or at home, the ideas behind this post are simple and will work in both settings.
I am a blog ambassador for Lakeshore Learning and am compensated for my work. I received product free of charge, but all thoughts and opinions are 100% mine.
1. Set up activities and invitations to create in advance.
I find that one of the best ways to encourage my children to do arts, crafts and even educational activities is to set it up for them. I often times just leave their activities laying out in one of their playroom shelves or on their table. This tends to lure my kids in and peak their curiosity. Each activity is therefore, self motivated. I love that this 3-Way Tabletop Easel is multi-use. One side has a chalkboard and the other side has a write and wipe surface. The included clips make it an art easel for painting too. It is sized perfectly so that it is easily moveable and allows you to easily create an art center in tight spaces.
I purchased the Lakeshore No Spill Paint Cups & Brushes – 6 color set and love that the paint cups can be closed until my children are ready to do the activity. I leave these paint cups always filled slightly for my children to use whenever they would like to.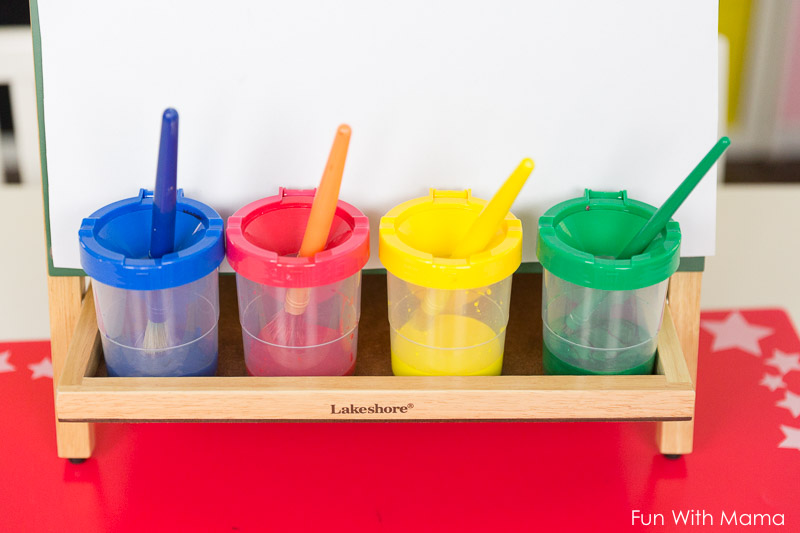 Within 5 minutes of me placing the 3-Way Tabletop Easel and paint cups on her playroom craft table my 3 year old began to paint.
How To Encourage Creativity In Preschoolers http://bit.ly/2vcHEnL Click to Tweet
2. Present different textures and sensory activities.
Painting can be enjoyable but there are more forms of art exploration than just using paint with a paintbrush. I always encourage shaking it up with some sensory exploration. Finger painting is always fun and this Foam Sensory Paint – 5 color set mixes artistic fun with sensory stimulation.
All children need to do is to squeeze the colored paint onto the paper. It looks a bit like shaving cream but with a much better color payoff. We used our normal card stock paper and all three of my kids (ages 10, 8 and 3) could not wait to put their hands into it.
I especially loved that the foam eventually soaks into the paper and makes a beautiful design that can be seen on both sides of the paper. When this is dry you can then turn it into a card!
For those of you who follow me on Instagram, you may have seen my Instagram Live story about this product and seen it in action. I also discussed more about sensory activities for preschoolers.
3. Try out other creative tools
Want to try something less messy but equally as creative? Then try out this Spiral Art Design Center. While children may need a bit of coordination for this there are so many unique and creative designs that your child can make. My 3 year old began this activity simply exploring how the Design Center can be used. Normally, the pieces should be against one of the edges… but I wanted to encourage my child to explore her materials in her own way so I didn't 'correct' her.
4. Use items unconventionally and encourage creative thinking.
Art is not the only area where you can be creative. As parents or teachers we want to encourage creative thinking. We want children to think out of the box. So make sure to look at each item that you are using.. and find unique and unconventional ways to use them. This Spiral Art Design Center can also be used as a puzzle during clean up time.
5. Encourage Open Ended Art
Open ended art is more about the process rather than the end product. It is during the art process that a child learns how to be creative. This is the part where the child will explore her materials
6. Make artistic exploration a happy event.
By removing expectations on what you expect or want your child to do… let them follow their own natural curiosity. This takes the activity from being seen as hard work to rather a fun playful activity. Don't correct your child when they do something you hadn't expected them to do. We are each unique individuals. Allow them to pursue their own unique interests within each activity. If they want to just use red paint then let them use red paint. If they want to mix a million colors that turns into a muddy brown, let them….
This is their activity and their time to explore…
7. Encourage imaginary play
Children learn a lot through imaginary play experiences. Join in on the fun like I did during our Pretend Play Picnic. Children will learn problem solving skills while creatively playing and leading this imaginary activity.
More Examples of creative play activities:
Imaginary Play (Role Playing)
Painting and open ended art
Collage crafts
Playing with blocks
Music, movement and dance
I am so happy that whenever I need educational and fun activities I can go to my local Lakeshore Learning store and walk in knowing that Lakeshore offers innovative educational toys, games and materials that are built by teachers and loved by kids. Their team of former educators use the latest research and innovation to create ground-breaking products that will spark imagination in every child.
You can find more ways to encourage creativity in preschoolers on Fun With Mama.
What does your school do to encourage creativity?
o For more summer learning ideas, products and activities, visit Lakeshore's Summer Learning Guide.