If you're looking for a fun counting activity for preschoolers this holiday season, you've come to the right place! Santa's Toy Sack Counting is the perfect way to sneak in a little extra number practice, while also having tons of Christmas fun. Everything you need is included in this post so keep reading to learn more. This is the perfect counting activity for preschoolers!
Be sure to check out my Christmas Pajamas the Whole Family Will Love for more family fun!
Fun Counting Activity for Preschoolers
A child's enjoyment of mathematics all begins with a strong foundation of numbers and counting. That's why we try to sneak in as much practice as we can, while still keeping things lighthearted and exciting.
This fun counting activity is just that and is a great Christmas idea to do with your little one. Essentially, your child will select a card of listed toy amounts, and use their counting skills to place them right into Santa's sack. How fun is that?
We've even included a simple set of printable numbers in case your little one is just starting their counting journey.
Materials Required:
Cardstock
Small Christmas-themed items (optional)
How To Make A Counting Activity for Preschoolers
To start, go ahead and print off the Santa's Toy Sack mat, the listed toy amount cards, and the printable toy squares. These squares are the toys your child will be counting out and placing in the sack.
We've included teddy bears, rocking horses, and trumpets, but you could modify this activity to use whatever small Christmas objects you might have lying around.
We'll tell you how to do that at the end of this post. And keep in mind that you can always make this idea less complicated by opting to just use the 1-10 number cards (more on that below!).
How To Use This Preschool Counting Activity
Have your child select one of the toy amount cards and place it near the mat where they can easily see it. Be sure and have your toy squares nearby!
Using the toy amount card as a reference, your child will then count out each specific number of toys and place it in Santa's sack. So easy right? Make sure you're nearby and ready to assist!
This is such a fun counting activity for those kiddos who are more familiar with their numbers and how to count out exact amounts, but we've also made it possible to do this activity with those who are just learning number recognition and counting. Remember those 1-10 number cards we talked about?
Now's your time to bring those out. You can set aside the toy amount cards as you won't be needing them.
Also, go ahead and remove two of the toy items. Your early counter will only be using one set of toys so it's less confusing for them.
Have your child choose one of the 1-10 number cards (or feel free to choose for them!) and place it near the mat where they can see it. Then, have them count out and place that number of toys into Santa's sack.
For example, if they picked the number 4, their goal would be to place 4 teddy bears on top of the counting mat. We promise you, they will have a ball!
Have Fun Teaching Your Little Ones to Count!
We know how crazy and stressful the holidays can be which is why we made this idea totally done for you. But if you have a little bit of extra time on your hands and you feel like putting your own Christmas twist on this fun counting activity, be sure and print out the blank toy amount cards.
You can use these to fill in your own amounts (although we recommend staying under 10 in order to fit everything on the counting mat) and your own items.
Here are some ideas for Christmas objects you could use instead of the printable toy cards:
small ornaments
candy canes
red or green pom poms
jingle bells
wrapped candies
mini snowflake cutouts
Even More Ways To Work on Counting Skills
But that's not all! If your child is a bit more advanced, you could use the blank toy amount cards to write out some basic math equations. They can then work to solve the equation and put the amount in Santa's sack.
Whichever way you choose to use this fun counting activity for preschoolers, we promise your child will absolutely love it.
Grab the Santa's Toy Sack Counting Activity Here!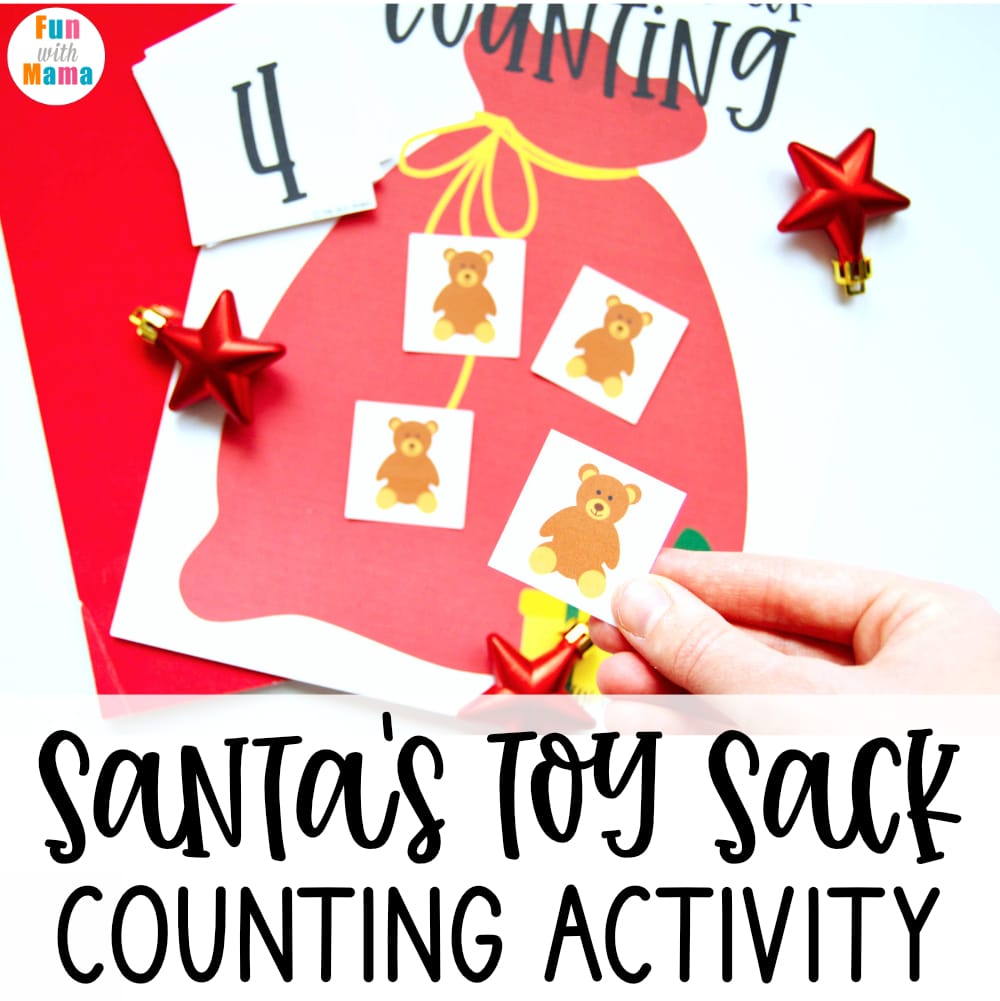 More Christmas Fun