Are you looking for Halloween Sensory Ideas? This Spaghetti Halloween Sensory Bin is the perfect touchy feely box to stimulate your child's senses. It is one that I love to have out in the week leading up to Halloween. It's perfect for Halloween parties as well, and children of all ages can't wait to jump in and get messy!
Halloween Spaghetti Sensory Bin
Can you believe that Halloween is just around the corner? It's one of the best times of the year for sensory play and I love making Halloween themed sensory bins. I was originally going to make this bin wit colored rice (which would also work) but I decided to go with spaghetti instead so that it would give it that gooey, icky feeling that you want for a Halloween theme! I had the Halloween glow-in-the-dark Safari Ltd Toobs at home and knew that they would be perfect for this. While I didn't intend for the sensory bin to be glow in the dark, it is an added advantage and an extra way to play at night! In this post you will also learn how to dye pasta with food coloring and vinegar.
Halloween Spaghetti Sensory Bin Materials Required:
Please note that affiliate links may be used in this post. Please see my disclosure policy for more information.
&nbs
A few drops of oil (any kind will do – I used olive oil)
How to color spaghetti for a sensory bin table
How to make a Halloween spaghetti sensory bin
Cook up your 2 packets of spaghetti
Drain the spaghetti and place in a ziplock bag or a container
Add a few drops of oil and a few drops of food coloring
Mix until the spaghetti is totally covered
Spread out on baking paper in the sun to dry for about an hour. This stops it from being too sticky.
Place the spaghetti into your empty sensory bin
Add the Safari Ltd Toob toys and the small spiders
Place the Halloween spider web over the container. This pulls apart easily so I like to cover the whole container so that the kids have to pull it apart to get to the fun parts!
Let the kids play!
Unlike a lot of sensory bins, this one doesn't store amazingly well and I recommend keeping it in the fridge once you are done so that it doesn't go mouldy. You will get 2-3 days of play out of this one before you will need to replace the spaghetti. If you want a longer lasting version of this Halloween sensory bin then I would recommend using colored rice or pasta as this keeps indefinitely as long as you store it in an airtight container.
Looking for more halloween sensory bin ideas? This mini black bean bean bin and eraser filled bin look awesome. I also love how this sensory bin is made to extend different areas of play.
How my kids played with the Halloween spaghetti sensory bin
At first my kids were a little hesitant to get stuck into this one. They were very impressed with how it looked and fascinated by the spider web that was over it, but they were reluctant to put their hands in and get messy. They started by breaking open the spider web and seeing what was inside.
They spent a lot of time exploring the spaghetti and looking at what was in there. They took all of the toys out and then put them back in again. They threw a bit of spaghetti around (inevitable really!) and explored and discussed the texture of the spaghetti (icky and slimy!).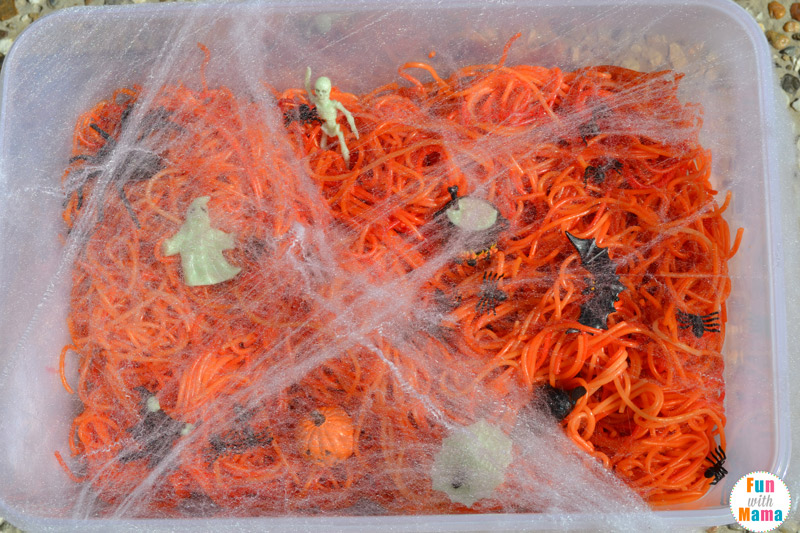 I hope you have as much fun with this Halloween spaghetti sensory bin as we did playing with this!
Looking for more Halloween Ideas? Check out these Halloween posts: