Your child is going to love this Water Cycle Worksheet Learning Pack. It's a super fun way to figure out how water works in and on Earth and this packet is full of great interactive activities, too! Use this packet as a way to supplement their learning or to introduce them to new concepts easily.
Water goes up, water comes down. We are surrounded by water, and with this Water Cycle Worksheet Learning Pack, children will learn about how the water cycle works.
We love using packets like this in our home because not only does it make them question and want to learn about things, but it also opens up the lines of communication as well. Anytime we can sit down together and read and learn, it's a magical moment that is growing our bond and their minds.
This packet is great for a wide age of learners because there is so much information on the pages. I even found myself intrigued by a few things that I had learned when I was younger but had forgotten over time!
Water Cycle Worksheet Learning Pack
This Water Cycle Worksheet Learning Pack is a great fun printable pack for preschoolers and toddlers. With over 65 pages of fun, hands-on and written fun, your children will enjoy learning about the different stages of the water cycle. The great thing is, many of these activities can be enjoyed multiple times and in a variety of ways.
One of the ways that we get the most use out of our printables is that we pack them up and take them with us when we're out and about. Driving in the car is prime time for children to be active and engaged so having a printable on hand for them to look at and ask questions about can make for a really conversational and engaging car ride as well.
Materials Required for this Water Cycle Worksheet Pack:
Please note that affiliate links are used in this post.
Here are some items that pair well with these activities. You will use each of these items over and over during all my printable preschool activity packs.
This Water Cycle Worksheet Learning Pack contains 65+ pages and includes many activities.
In this Water Cycle Learning Pack, children will learn about condensation, evaporation, precipitation, and accumulation – the four major parts of the water cycle. There are a couple of more in-depth pages for children to move onto once they are able to grasp the basics.
Children will enjoy being introduced to the water cycle through the activities in this learning pack. There are a variety of math activities that help children with counting, skip counting, addition, subtraction and graphing. (I told you that this packet covered a lot, didn't I?!)
There are also quite a few activities that focus just on the water. These include different water cycle posters of varying degrees of difficulty, a sequencing activity, information cards, and writing pages.
Other activities in this Water Life Cycle Worksheet Learning Pack include:
Number Cards Puzzles
Count and Clip Cards
Montessori 3 Part Cards
Size Sequencing Cards
Trace the letters
Number Puzzles
See and Stamp pages
I Spy Fun
Make certain that you combine this worksheet with our fun Water Cycle in a Bottle activity as well. It's such a fun way to take the printable pages and turn them into hands-on learning, too!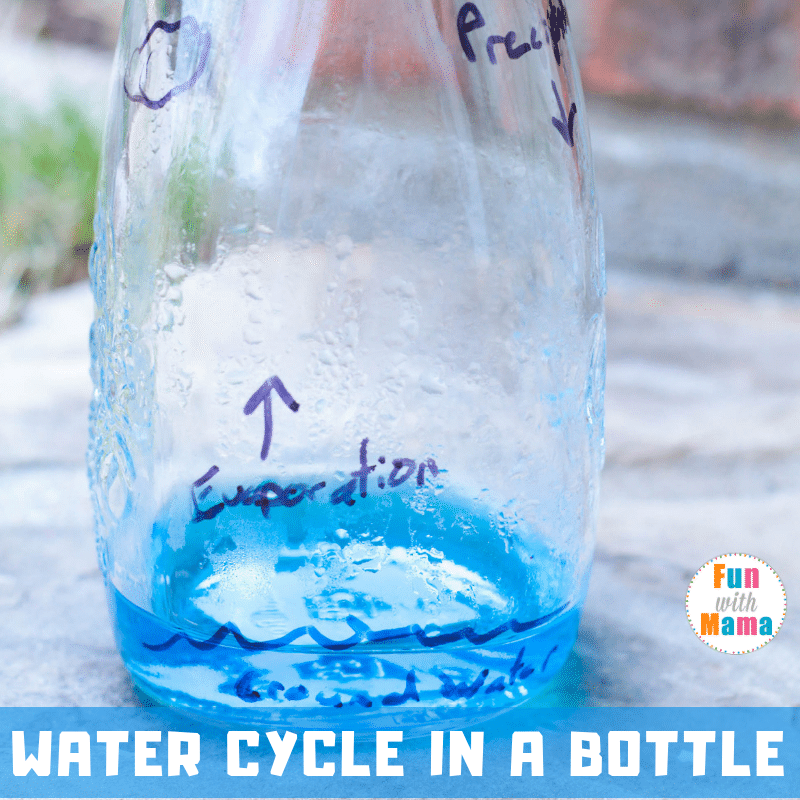 Are you ready for your free download for the Water Cycle Worksheet Learning Pack?
Grab the Water Cycle Worksheet Learning Pack!
More Earth Day activities to do together as a family: