Easter is always a great time for some fun sensory play. We love heading to the store and checking out the latest Easter craft supplies, and this year we've put together this fun Easter sensory bin.
Easter Sensory Bin
This Easter sensory bin is perfect for preschoolers and has so many different sensory elements to it. It was almost sensory overwhelm when we went to get our supplies – there were chickens, bunnies, feathers, pom poms, eggs and bright colors everywhere! Normally I have a set idea of what I'm looking for when I go to make our sensory bins, but for this one I let the children help me with the selection. The end result is a mix of colors and textures – a bit of a mismatch of things – but a sensory bin that has been played with SO MUCH this Easter.
I really encourage you to get your children involved in the creation of the sensory bins. Let them put their own touches on it, even if sometimes they choose to add something that doesn't quite fit! For us it was chenille stems. They came in a mixed packet with the Easter colored pom poms we purchased and my 4 year old insisted that they be included too – so they were! In the end they were used a lot for twisting, poking and even twisting around a feather to make a butterfly. That's the beauty of a sensory bin – the children lead the play.
Supplies needed for an Easter Sensory Bin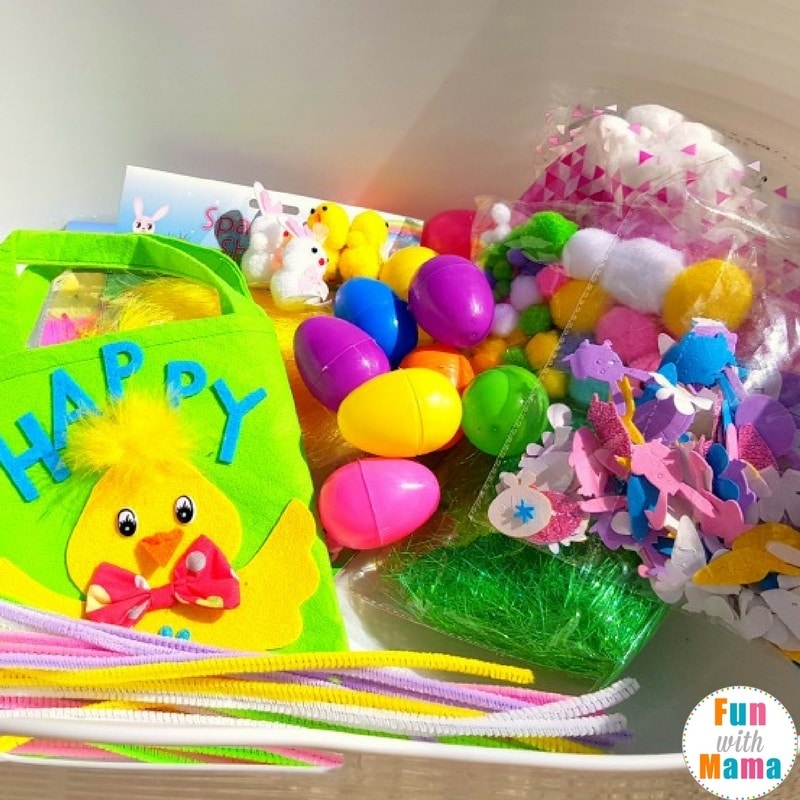 To make your Easter sensory bin you will need:
Large Container – I used a flexible oval container that I picked up at the hardware store for this one. I really like this as it didn't have the sharp edges that some of the plastic bins have. The only downside is that it doesn't have a lid, but as there is nothing that needs to be airtight and this one is only out for a short time, it should be fine.
Shredded paper – we used a glittery one in yellow and green but any kind and color will do.
Chenille stems
Easter bag (any kind – a plain bag will work fine too)
How to make your Easter Sensory Bin
For this sensory bin there's not exact order that you have to set it up. While I know full well that everything will eventually get all mixed together, I like to start by putting down the shredded paper and cotton wool balls and pom poms in seperate sections.
I then added the plastic eggs, the feathers and the chicks and bunnies. I hid some of the eggs and the chicks so that the children had to hunt for them!
I also added an Easter bag to the sensory bin. I had hoped (and was right) that they would use the bag to collect the eggs. A basket would have worked well for this too.
This ended up as a very colorful and inviting Easter themed sensory bin that the children couldn't wait to start playing with! I barely had time to take a few photos of the finished result before they were eagerly digging in and starting their play.
How they played with the Easter Sensory Bin
I really loved that there were so many different ways to play and explore with this sensory bin. Over a few days, they kept coming back and finding a different way to engage with the activity.
Some of the ways they played were:
Feeling the feathers. The feathers were collected, they were rubbed against themselves and each other. The texture of the feathers was discussed and we decided that they were soft and silky.

Opening and closing the plastic eggs. The eggs we used easily opened and closed and you would be amazed how much time was spent doing this! They then hid items in the eggs including the pom poms, cotton wool balls and the chicks and bunnies.

Playing with the chicks and bunnies. This turned into its own game and the chicks and bunnies game ended up going all over the house!
Collecting the Easter eggs in their Easter bag. We then discussed the colors and counted them too. The bag was used for many games including collecting the pom poms and feathers too.

As you can see, we had great fun with our Easter themed sensory bin and I"m sure you will too. Remember, you don't need to use exactly the same items as we did. See what you can find around the house and then go and spend some time in the Easter craft aisle at your local craft or department store and see what fun sensory items you can include in your sensory bin.