Are you looking for fun and creative ways to help kids develop their fine motor skills? Don't worry; we've got you covered! You'll find plenty of fine motor activities and ideas here that kids, parents, and teachers will love. Strengthen hand muscles, improve precision, and work on fine motor skills in fun, play-based ways that engage the mind and the senses.
Fine motor skills are important for tasks such as writing, using scissors, and tying shoes. This list will give you plenty of ideas to help your child develop those skills and more. Many activities on the list use items you can easily find around the house or print for free! Be sure to check out my Sensory Play For 1 Year Old's Ideas + Activities as well!
Let's get started.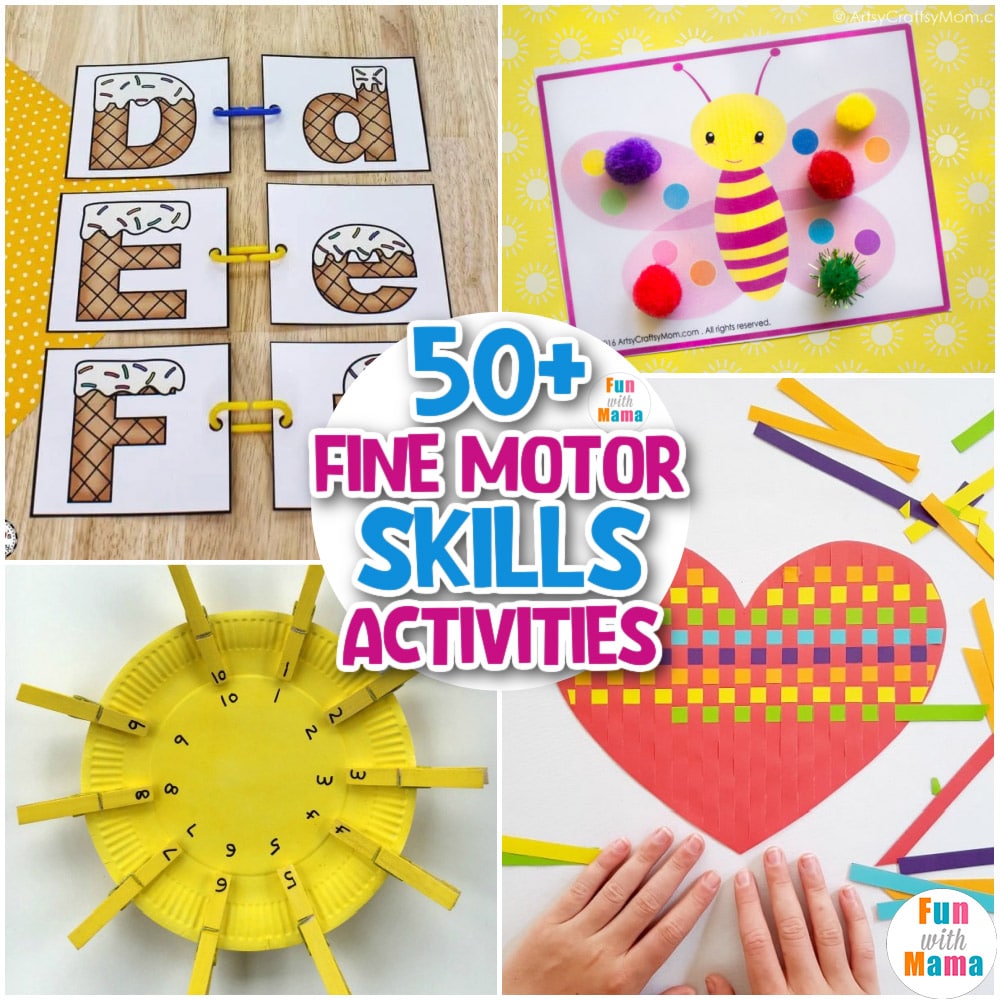 What Are Fine Motor Skills?
When educators, doctors, and other child experts refer to fine motor skills, they're typically talking about the movement and coordination of small muscles, particularly those in the fingers and hands. These muscle movements are necessary for everyday tasks like getting dressed, turning a doorknob, or writing a note. Developing these skills helps children become more independent and is especially important in the toddler and preschool years.
To improve fine motor skills, you need to include activities that work on hand and finger strength (such as squeezing, hole punching, or using tweezers) as well as precision (such as threading beads, plugging in puzzle pieces, or putting coins into a piggy bank).
What Are Some Examples of Fine Motor Activities?
You'll find loads of fine motor skills activities below, but some common ones are:
tracing
cutting or tearing paper
pasting and gluing
coloring
zipping
buttoning
squeezing
writing
threading
We've included activities that work on all the above and more!
Fine Motor Activities with Printables
Let's kick things off with some fine motor activities that you can print and set up in minutes.
Geoboard mats are excellent for early learners to help them build fine motor skills, visual perception and improve their attention span. This printable pack contains hundreds of different geoboard mats with different themes and levels of difficulty.
Painting is fun for all ages. However, instead of the typical paintbrush, try painting with Q-Tips instead. It's a fun way to work on fine motor skills while working on letter recognition. Each page has a cute picture and uppercase and lowercase letters for kids to fill in using Q-Tips.
You don't have to wait for Valentine's Day to try this cute heart-themed fine motor activity. Anytime will do! Use stickers, bingo markers, pom-poms and other manipulatives to fill in the circles on each heart. It's as easy as that! This easy-to-set-up activity helps work on your child's fine motor control and pincer grip.
Highlight the uppercase letters with this printable packet that's easy to set up and lots of fun to play with. This activity combines fine motor skills with learning letters.
Build early math skills like shape recognition, sorting, and visual perception with our printable shape matching activity. Cutting out the shapes is a fun way to work on scissor skills, while placing the shapes on the sticky contact paper helps kids work on pincer grasp.
When Mom needs a break, these do a dot heart printables come to the rescue. Every home should have a set of colorful Do a Dot markers. They help children work on concentration, visual perception, fine motor control, and, of course, creativity!
Practice cutting and gluing while working on visual perception with this cute-as-a-bug ladybug activity. It's a wonderful project to include in an insect unit for your toddler or preschooler, or you can use it as a springtime activity.
Grab these adorable pom pom mats to work on pincer grip and visual perception. Laminate these printables or put them in dry erase pocket sleeves to protect them. The kids will definitely want to do this activity over and over. Children can use their fingers to place the pom-poms, but adding tongs or tweezers helps in fine motor development.
This adorable game will be a hit with your preschooler! It's called Eat the Cheese and uses mouse finger puppets to encourage little hands to pick up small objects (the cheese) to feed their mice.
Here's another fun set of Q-Tip painting printables featuring red, yellow, green, and blue objects. This will help children work on color recognition while developing their pincer grasp and strengthening finger muscles.
Help young kids become pros at shoe-tying with these printable shoe lacing cards. Even if your child hasn't yet developed the fine motor skills to tie, making the loops and crossing the laces is still good practice for when he or she is ready.
When the heat is on in the summer, go inside and cool down with some ice cream and these ice cream letter match printables to encourage alphabet recognition and matching. Preschoolers can connect the cards together using connect links to promote hand eye coordination and finger dexterity.
Hop into Easter with these dot marker printables that are low prep, colorful, and fun. Practice eye-hand coordination and concentration by placing the dots in just the right spot to fill in the pictures.
Fine Motor Activities for Preschoolers
Build alphabet letters with Lego Duplo's or Lego classic pieces.
Counting Cubes are always fun to play with. Build the alphabet letters with counting cubes in this fun activity.
Playing with play dough is wonderful for strengthening those small hand muscles. Create alphabet letters with play dough.
Create alphabet letters by using those fine motor skills to cut out these printable alphabet crafts.
These fine motor activities are more play-based, creative, and open-ended.
When spring is near, it's time to bring out the butterflies! We can help with this colorful yarn activity that makes it easy for toddlers and preschoolers to create gorgeous butterfly art. It's a great opportunity for your child to get some cutting practice with yarn, which is a pleasant change of pace from cutting paper.
Using sticky contact paper eliminates the need for glue, but if you don't have any, prep a butterfly shape with glue before your preschooler places the yarn pieces.
Water activities are always a hit with kids. They love the 'fishing' aspect of scooping or grabbing things out of the water. This activity focuses on shapes, colors, and fine motor skills, like scooping and grasping using tongs.
This sunny sunflower craft is a fun preschool learning activity to help little ones practice dexterity and build hand-eye coordination. The shaving cream center adds a fun sensory element—kids love swirling it and squeezing it through their fingers. After they've fully explored the shaving cream, they can begin adding the "seeds" (which are really dried black beans) to the center of the flower.
Doing and undoing buttons is an important life skill for kids. Now, they can practice over and over with this totally adorable octopus activity. You'll need felt sheets, buttons, and a needle and thread. But don't worry if your sewing skills aren't the best. Attaching buttons is as simple as running the needle and thread through the holes a few times!
Get crafty with a ladybug project that's perfect for an insect unit study. Fingerprint painting is excellent for toddlers and preschoolers who are working on fine motor skills. It gives them a chance to work those little fingers while letting their creative juices flow.
Teach toddlers and preschoolers basic shapes with an activity that targets their senses. This shape-themed sensory bin helps children build early math skills through shape recognition, but you can also use these materials to build on color recognition and fine motor skills like grasping, scooping, pouring, and pincer grip.
This colander and pipe cleaner activity is easy to set up and is a terrific way for toddlers and preschoolers to practice hand-eye coordination. It helps kids work on grasping skills and using their fingers to guide the pipe cleaners through the holes.
Spark fresh interest in your child's old wooden puzzles by wrapping the pieces in foil. It adds an element of surprise and makes working the puzzle more interactive. Plus, unwrapping the pieces is good for finger dexterity. If you don't have any foil on hand, wrap the pieces in paper instead.
If you're teaching kids to spell their names, this fun and interactive activity is a great help. Using the Q-tip to paint improves pinch grasp, which will help later with pencil grip. Kids will love displaying their colorful name art in their bedrooms.
Not only do kids get fine motor practice by using the tools to excavate the bugs in this activity, but it's a great way to cool off in the summer months, too.
Toddlers and preschoolers can work on this fine motor activity while listening to the Rainbow Fish story. Kids place Q-Tips with colored tips into the holes on the rainbow fish's scales to practice color matching. This helps develop fine motor strength and hand-eye coordination.
Springtime means it's time for bugs! Even if your preschooler isn't into bugs, they'll still love these pom-pom matching printables. The pack includes an ant, spider, grasshopper, butterfly, snail, and more. Laminate them, grab some tweezers or tongs, and get to work!
Busy bags (or in this case, busy boxes) are wonderful for quiet time. This is a simple activity to do at home, take on the go, or for fine motor centers in the classroom. It's also cheap to make, which is always a bonus! Include hair ties in a variety of colors so kids can create a rainbow on the cylinder.
Toddlers will enjoy this simple activity using pom-poms, a muffin tin, and utensils you already have at home. If you don't have pom-poms—or if you're worried about kids putting things in their mouths—use yogurt melts, veggie puffs, or cheese puffs. Give your toddler a spoon and an empty container, and show how to transfer the objects. Easy peasy!
All you need for this simple idea are dot stickers, paper, and crayons or markers in colors that match the stickers. After you've drawn the shapes, let kids peel and stick the dot stickers to the outline. This activity focuses on shape recognition and hand-eye coordination.
Go fishing for the correct letter! These adorable fishing themed letter clip cards are a fantastic way to work on letters and improve the development of small muscles in the hands and fingers.
Construct a quiet book for your preschooler to take on trips or to use at home during quiet time. Include activities with buttons, zippers, threading, and more. The sky is the limit!
Chances are if you have a toddler or preschooler, you have loads of playdough at home. Use alphabet cookie cutters to cut letters out of the playdough and then top them with pony beads by gently pressing the beads into the dough. Pressing while cutting the dough and applying the beads is great for hand and finger strength.
An empty cheese container, dot stickers, and toothpicks are all you need to set up a fine motor activity that'll keep your preschooler engaged for quite some time. The dot stickers allow kids to sort by color, so you'll need to paint the toothpicks first.
Threading pipe cleaners through beads is a fun and simple way to work hand and finger muscles while creating beautiful ornaments to give as gifts or hang on a tree. Isn't a Valentine's Day tree a lovely idea?
STEM activities also encourage fine motor control. Your future little doctors will enjoy this "surgery" experiment where they can retrieve objects embedded in the jelly while trying to minimize damage to the other areas.
Grab some painter's tape and a few toys to set up this activity in just a couple of minutes! It's especially good for toddlers, but you can vary the level of difficulty to make it challenging enough for preschoolers, too.
Fine Motor Activity Trays
Setting up fine motor trays helps kids explore within a confined area, minimizing mess while allowing them to use their senses.
Play trays only require a small amount of time to set up for the week, but they're perfect for keeping children engaged and working independently. These alphabet-themed trays are Montessori inspired activities that work on pouring, scooping, and transferring while allowing children to work on identifying the letters of the alphabet.
With these printable sight word hearts and a tray full of rice, your kids can enjoy some sensory Valentine's Day fun. Put all the words inside, or just hide a special message for kids to find and put in order.
The best part is that using the tongs (or tweezers), your child works the muscles in the hand that grasp and squeeze, which is an important pre-writing skill.
Here are several more play tray ideas for fall, specifically October when we're celebrating Halloween. One of our favorites is mini eraser and tweezer activity. Your child can transfer them to another container using tweezers to work on fine motor development and hand strength. You can find mini erasers at Dollar Tree to suit just about any theme!
Practice handwriting by first learning the basic strokes and shapes rather than focusing on letter formation. This pre-writing activity is simple to set up using sand (or flour) and the printable sandbox writing cards.
Fine Motor Crafts
Here are some lovely crafts that incorporate fine motor activities like scrunching or tearing paper, cutting small shapes, wrapping yarn, and more.
Who doesn't love an adorable turtle? This colorful turtle craft gives kids lots of practice scrunching and crumpling paper. That works the finger and hand muscles, which are so important at this age.
This craft is perfect for summer or an under-the-sea themed unit study. Make collages with simple paper fish, buttons, and Cheerios cereal. Placing the small buttons and cereal pieces helps children with hand-eye coordination and pincer grasp while engaging in a creative activity.
Tearing paper helps preschoolers strengthen their hands for other fine motor activities. It also helps improve hand-eye coordination. Combine paper tearing with this crafty project to make a beautiful tropical bird.
Work on number matching with a bright and cheerful sun craft. The opening and closing of the clothespins, which serve as the sun's rays, helps preschoolers strengthen their finger muscles to get their hands strong and ready for writing.
Perfect for back to school season or Johnny Appleseed Day, this apple-themed yarn wrapping craft is as cute as it is fun. Kids will enjoy the tactile aspect of the wool yarn and the satisfaction of covering the cardboard in the brightly colored material.
Fans of If You Give a Mouse a Cookie will be thrilled with this activity that combines storytelling, pretend play, and crafting. Kids can cut out cookie shapes, snip chocolate chips, and use a paintbrush to apply glue to those tiny pieces before "baking" them in their pretend ovens.
Weaving and Sewing Fine Motor Skills
Finally, we'll end this list with some beginner sewing and weaving activities that help children work on pincer grasp, concentration, and coordination.
Is your toddler or preschooler working on shapes? Use this beautiful and engaging shapes weaving idea to promote fine motor skills, pincer grip, and shape identification. Kids will paint, poke holes using a pin, and weave yarn throughout the shape. This activity can be adapted for all ages, from toddlers to older kids.
Lacing and threading is an engaging, play-based approach to develop fine motor skills. These farm lacing cards are perfect for the classroom or home; kids who love farm animals will adore this activity.
You only need colorful paper and a pair of scissors to get started on this woven paper heart. Weaving is excellent for eye-hand coordination, concentration, problem-solving, and fine motor skills.
When winter comes, reading is a wonderful pastime. This activity goes along with Jan Brett's The Mitten. Kids use their fine motor skills by tracing the mittens, using a hole punch, and sewing the pieces together.
Make some adorable chicks for Easter using paper plates, yarn, and a few other simple materials. Sewing teaches children to more easily grasp small objects, and you couldn't find a cuter project to begin!
Bring nature indoors to practice sewing skills. Kids will have such fun punching holes in and sewing real leaves. This activity works best with freshly fallen leaves as ones that have been on the ground a while may be too brittle.
We hope you've enjoyed this list of fine motor activities for toddlers and preschoolers. Pin the post to refer back to it often!