We had a fun filled week in Tot School with a variety of activities. Since I planned out our activities for the month using my Printable February Kids Activity Calendar things went so much smoother. This ensured that I had everything on hand that I needed and no need to figure out what we could do on that day. I post all these trays on my Instagram on the day that I do them. Here is our recap:
Tray 1: Playdough Candle Counting Activity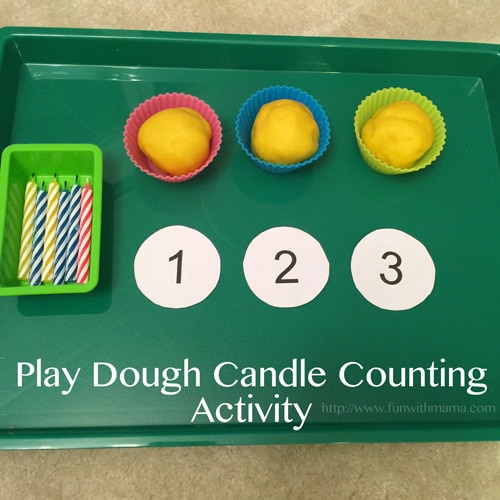 My toddler (two year old- 27 month old) started the week with this fun play dough activity that was not only fun but educational too! Which two year old does not love with play dough and candles?
When she was done placing the correct amount of candles on the 'cupcake' I lit the candles and we blew them out. (I suggest individually lighting the candles per number (rather than all at once) just in case!!)
She couldn't get enough of this activity so she then matched candles to cupcake liners.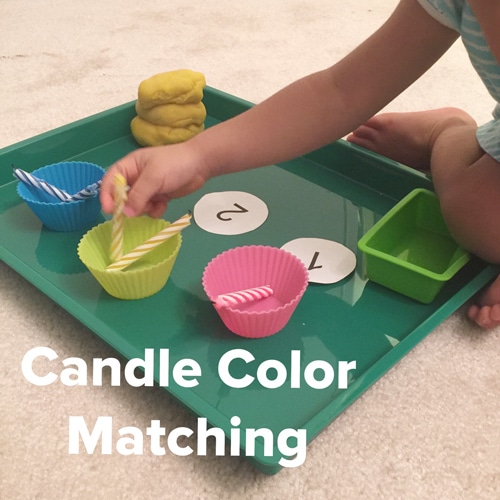 2. Spiky Ball Pick Up Activity
My two year old enjoyed using the tool to lift up the spiky balls and place them into their color container. The picking up part was challenging for her.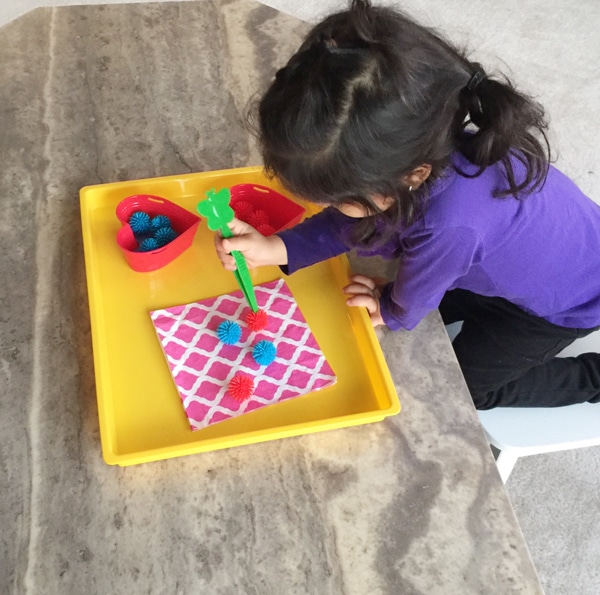 (We found these cute heart 'bowls' at Walmart for 98 cents and these spiky balls too!)
Tray 3. Beginner Pattern Blocks from Melissa & Doug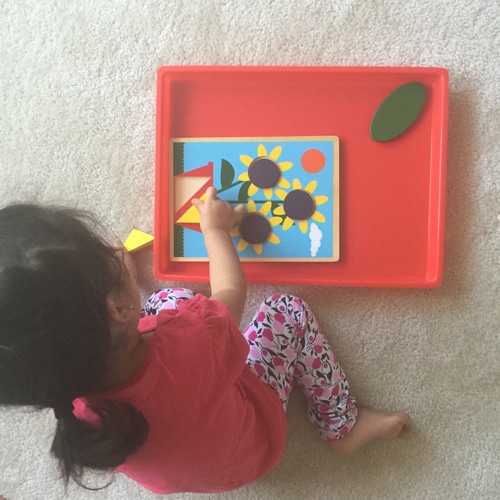 This is one of DiDi's favorite toys. Anytime I take out these cards she enthusiastically puts the correct pieces together. I like that the triangle placement is a little challenging for her.
Tray 4: Coloring Inside the Heart
We worked on coloring Inside vs Outside. For me, this was more about language development so that she would understand the concepts.
The above trays are NordicWare trays.
Tray 5: Tinker Tray – Play dough and Pasta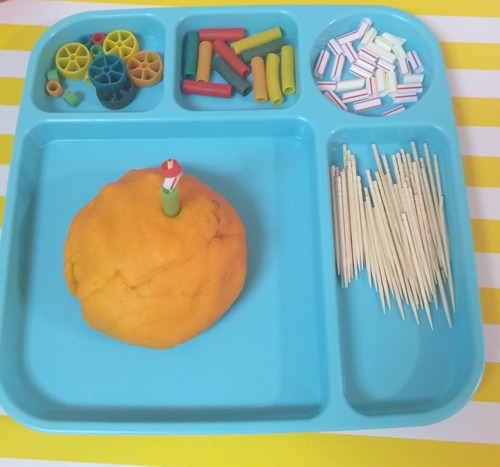 I just placed the above materials on the tray in front of her and allowed her to explore them however she wished. She placed the toothpicks inside and threaded the play dough and straws. She also chose to hide the small pasta inside and then look for it.
Watching toddlers explore is always so interesting to watch!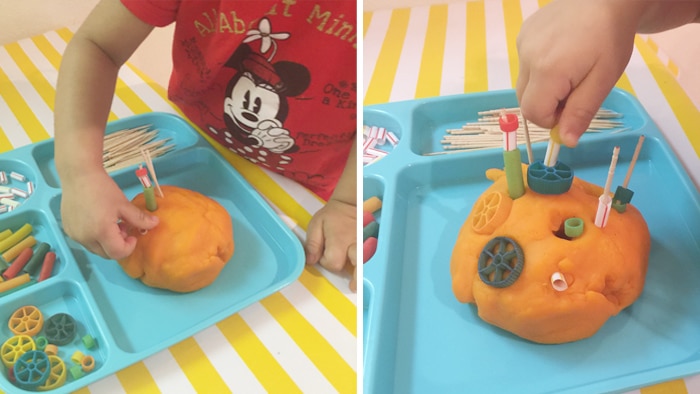 Sensory Bin: The Three Little Pigs
I created this Sensory Bin using my Printable Three Little Pigs Houses and then I threw in some Split Peas (for grass) and some Finger Puppets. All three of my kids have had a ball with this one. My two year old loves pouring and scooping the peas more than anything!
Other Activities we did this week:
We did my Do A Dot Heart Printable Activity. This was SO much of fun. We haven't tried Do a Dot Markers before but now we LOVE them!! I can't recommend them more highly.
We did this fun Pop Art Activity that I posted on my Pinterest account February board. This proved to be so much fun and opened up my kids minds up to different possibilities with blank spaces.
We made play dough so that we had enough on hand for our activities! I found that it was so much easier to premix each play dough color before we started! This made the process much smoother and faster.
We did this Magic Milk in a Heart Activity.
Join me on Instagram to see the trays and activities we did today.
I am linking up to Tot School. Click here to learn more.
Favorite Deals Of The Week: I have and use all the below products.
Melissa & Doug is having a Presidents Day Sale of up to 25% off products. Use code PRES16 until 2/16/16 and every sale above 50 dollars gets a free US Map. I recommend the Beginner Pattern Blocks, Cutting Food and The Reusable Stickers (amongst millions of other things!)
Shutterfly President Day Sale – Enjoy 40% off your order! Expires on 2/16/2016
Little Passports is having a 15% off Sale from now until Feb 17. This would be a great time to try out the subscription and see if you like it. Little Passports' Sweet Deal
What have you done in Tot School this week? I'd love some inspiration! Join me on Facebook, Pinterest and Instagram.
If you are looking for more hands on learning activities have a look at Living Montessori Now.
Pin it below: