The best gift ideas for toddlers and preschoolers are educational toys! If you're looking for a gift idea, check out this great list of our best educational toys for preschoolers.
Educational toys for preschoolers make great gift ideas! When choosing gifts for my own children, I like to gift them with toys that will provide both entertainment and an educational benefit.
While most toys geared towards toddlers and preschool-aged kids provide some sort of educational benefit, there are some that I prefer over others. I like to buy toys that will allow the child to use them in a variety of ways or that can be adapted for play for several years.
The best educational toys for preschoolers will provide open-ended play and allow the child to engage them independently.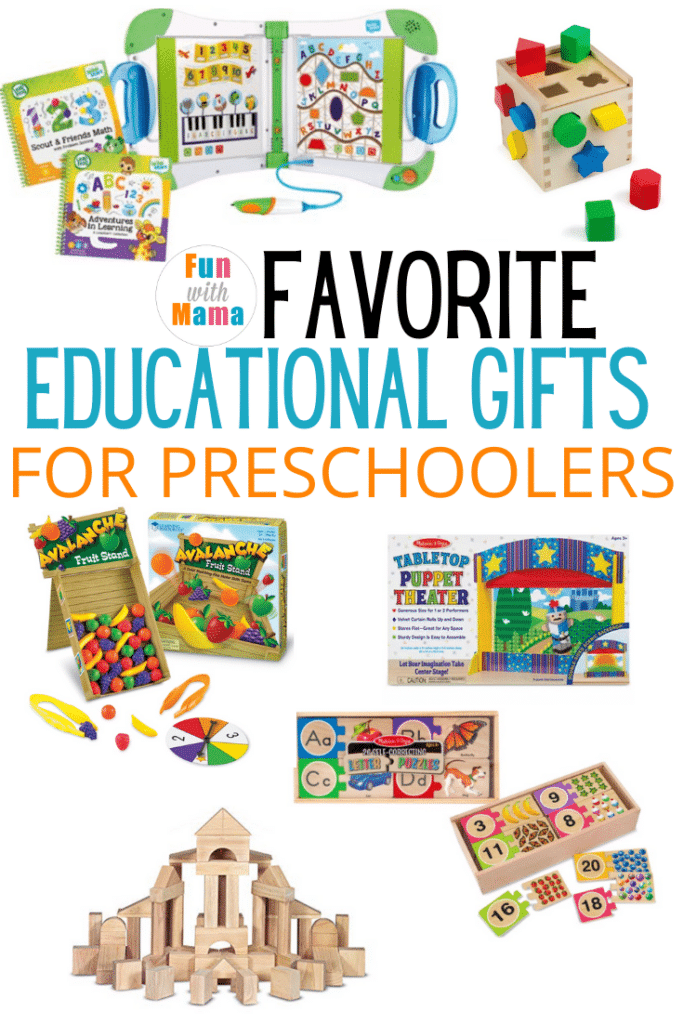 Best Education Toys for Preschoolers
Affiliate links are used in this post. As an Amazon Associate, I earn from qualifying purchases.
Often it is the most basic of toys that will provide the most educational benefit for children. Toys such as wooden building blocks have long-lasting qualities, can be used in a variety of ways, and will grow with the child.
For the younger toddler ages, soft foam building blocks make a great alternative to the wooden blocks.
Stacking toys are another favorite educational gift for toddlers as they work hand-eye coordination as well as improve their visual-spatial skills. I love this wooden stacking train – you can introduce shapes, work on spatial skills, and also play with the train once it is complete.
Shape sorting toys like this Classic Shape Sorting Cube are another great educational toy idea to work on the skills needed to learn to read, and complete math concepts as they get older.
Don't forget to check out some of our other preschool activities as well:
Best Interactive Toys for Kids
For preschool-aged children, I really like to introduce puzzles. Wooden puzzles are fantastic at building those fine motor skills and expanding visual-spatial skills.
I love puzzle sets such as this Self Correcting Numbers and Letters Puzzle Box – So many ways to play and learn!
Wooden peg puzzles are also a great suggestion, especially for those children just beginning with puzzle play.
Any fine motor toy is great for working on the skills needed for writing and definitely a toy that I would suggest for preschoolers. While the puzzles listed above are a great start you can also find fantastic toys that are geared specifically to working on those fine motor skills.
A pegboard set or lacing beads are great fine motor toys to start with. And you can't go wrong with a fun game-like Avalanche Fruit Stand Fine Motor Game.
Introducing dramatic play for preschoolers is a great idea and there are so many educational gift ideas to choose from.
Some of our favorites are the Table Top Puppet Theater and the Melissa & Doug Restaurant Play Set.
If you are wanting to introduce more academics to your preschooler, LeapFrog makes some of the best educational toys that will help your child with both math and phonics skills.
The Leapfrog Leapster Preschool Success is a great gift idea that engages kids in a variety of learning activities.
I also really like the Leapfrog Leapster for the older preschoolers or those looking for the next step in digital learning toys.
Now that you know some of the best educational toys for preschoolers, have fun deciding which ones work best for your child! The more that they can learn and play using their fine motor skills, the better!
More Preschool and Toddler Fun: