Check out our sequencing worksheets for preschoolers! Our FREE worksheets will help your preschooler practice sequencing a short story! Click through to grab your free printable.
Make certain to check out our other preschool homeschool resources as well. We also have a ton of great printables in our Fun with Mama shop too that are perfect for supplementing learning.
Free Sequencing Worksheets For Preschoolers
Sequencing is the ability to put a series of events into a logical order. It is a skill that young children use all day long without knowing it.
They know that you put on your underwear first and then pants and shirt (well unless you are being silly). They understand that you take a bowl, place your cereal in the bowl, and then add milk, otherwise, you end up with a mess!
Knowing what to do first and what comes next is an important skill for preschoolers to develop. Sequencing helps them recognize patterns that make the world understandable. It also lays the foundation for math (particularly to learning how to tell time) and reading
Like everything, sequencing skills improve with practice. You are probably following lots of daily routines that support sequencing skills. First, we wake up, then we get out of bed and finally we go downstairs. First, we have our breakfast and then we clean our teeth. Or first, we put on our jackets and then we put on our backpacks.
However, sometimes we need to be a little more intentional with our learning and that is where sequencing activities come in. So, to help you out we have created some really simple worksheets to help your child practice their sequencing skills.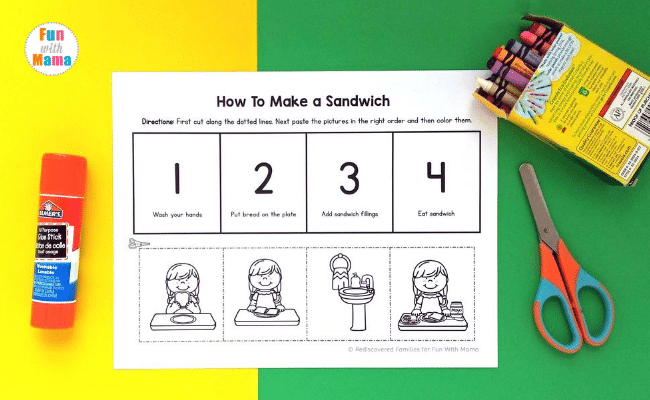 SEQUENCING WORKSHEETS FOR PRESCHOOLERS
This activity would pair well with our free Nursery Rhyme Sequencing Activities.
What's Included in These Sequencing Worksheets For Preschoolers
You will get four easy sequencing worksheets. Three of them can be used at any time and the last one is suitable for Halloween. We have how to
Make an ice cream sundae
Wash our hands (a good one for a pandemic)
Make a sandwich
Carve a pumpkin.
Children will be encouraged to place 4 events in order.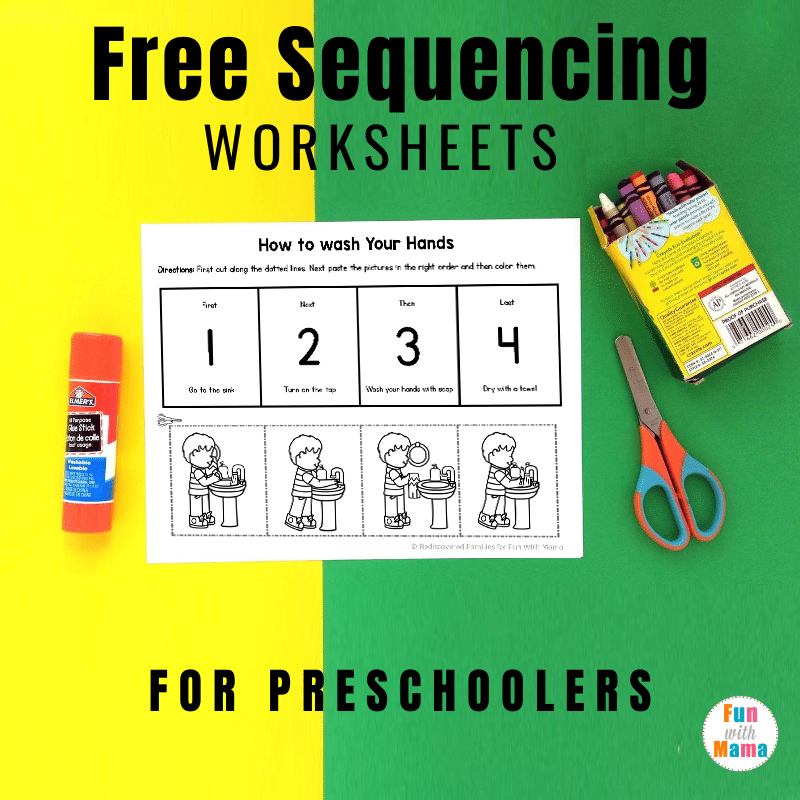 Each sheet has two grids. The first grid has numbered cells, each one contains a simple description, and uses words that we associate with sequencing.
The second grid contains 4 pictures out of order. Children will be invited to cut along the dotted lines to separate the pictures, put them in order, and glue them in the correct spots and then color.
Kids will be working on fine motor skills, sequencing, and will have the opportunity to connect the descriptions with the pictures ( a precursor to reading comprehension).
The pages are black and white so that you do not need a color printer.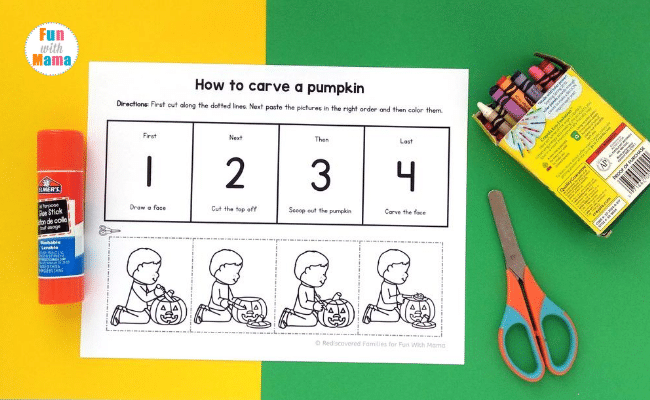 SUPPLIES NEEDED FOR THE SEQUENCING WORKSHEETS FOR PRESCHOOLERS
Free Sequencing Worksheets file (below)
Printer
Copy Paper
Crayons
Glue stick
Children's scissors
GET THE SEQUENCING WORKSHEETS FOR PRESCHOOLERS HERE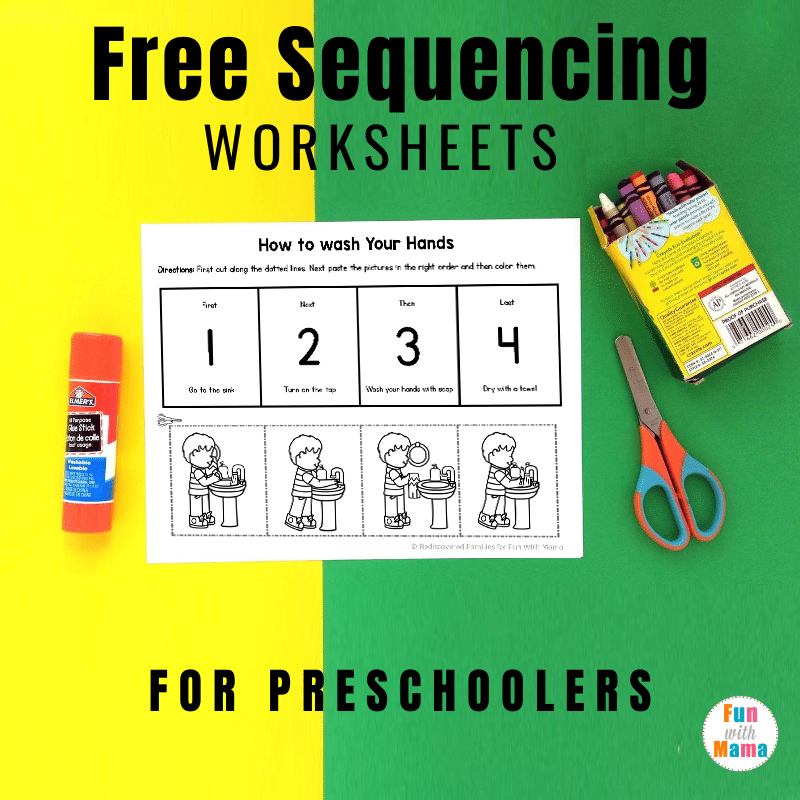 Already a subscriber? No problem. Just enter your details above so we can send this printable directly to your inbox.
USING THE SEQUENCING WORKSHEETS
Each worksheet tells a small story. Encourage your kids to order each story in four steps.
It can be helpful to do the activity in real life. Use the words first, then, next, and last as you go through the steps together.
"First we get a bowl, then we put in the ice cream. Next, we will add the topping. Last, of all we eat our treat."
Look at the worksheets. Point to each cell in turn and read the description. Help your child to cut out the pictures, put them into order, and glue them in place. Provide lots of crayons and color the story.
Use the finished strip to retell the story together.
LOOKING FOR MORE SEQUENCING WORKSHEETS FOR PRESCHOOLERS AND ACTIVITIES?