Download our collection of FREE fall worksheets for preschoolers. From tracing activities to simple math, our printable pack makes learning fun. Super quick to prepare. Just download and print.
Make certain to check out our other free printables for fall like our CVC Pumpkins and our Apple Counting Play Dough Mats. These are great printables for the kids to get excited about the fun activities of fall while also learning, too!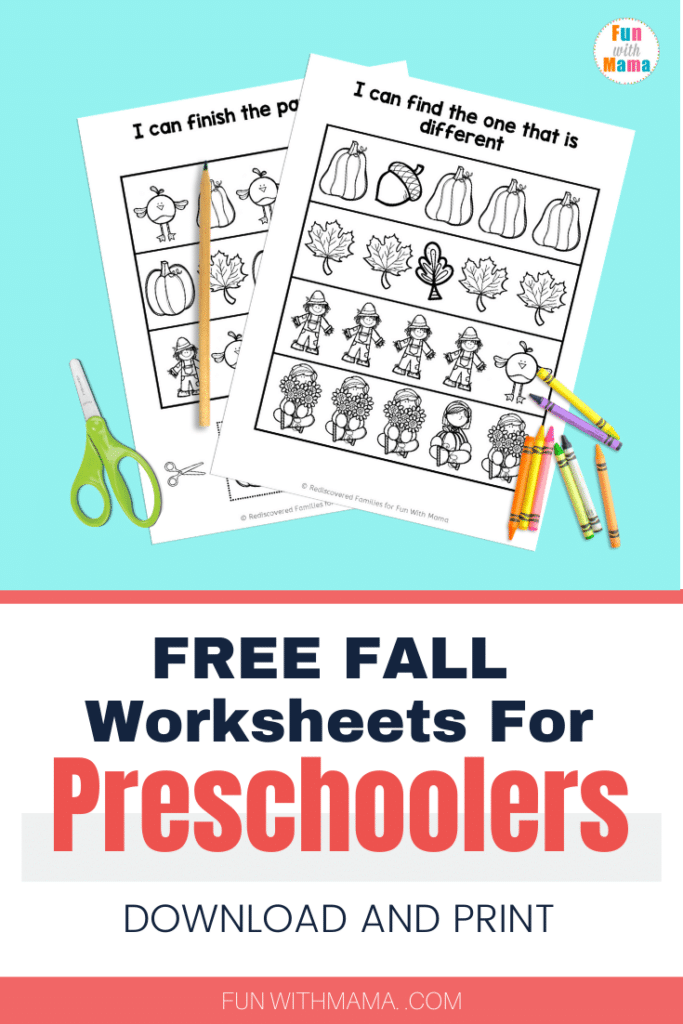 Fall Worksheets For Preschool
Has Fall arrived in your part of the world yet? DO your kids love the season as much as mine did? I'm sure that you are enjoying some fun Fall activities with your kids. Why add a little learning into the mix by using our FREE Fall worksheets? We have 5 different activities that range from writing practice to very basic math.
Just download the file below and print it. That is all there is to it!
There are five worksheets included in the printable. They are quick and easy to prepare and do not need any extra work once printed. We have created them in black and white to keep printing costs down.
Five Different Learning Activities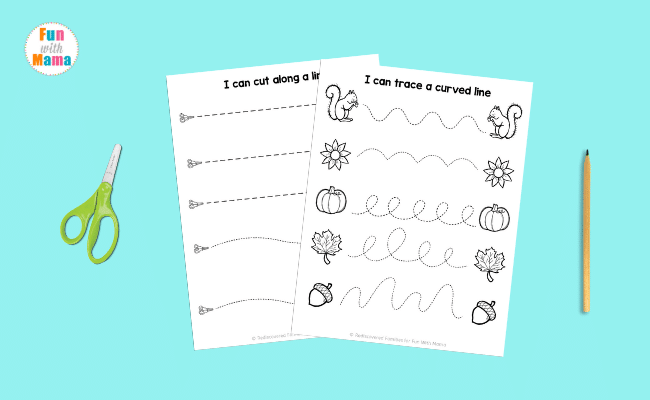 Fall Worksheets to Help With Fine Motor skills
The first worksheet will encourage your child to practice tracing simple lines. That seems simple enough. But your children will be developing their fine motor skills and getting ready to write. This will give them an advantage once they get to Kindergarten. As they are starting out, we kept the lines simple. The lines include a variety of curves.
Encourage your child to hold their pencil properly as it will help a lot. Read this helpful article for some helpful tips about teaching a proper pencil grip.
Fall Worksheets to Help With Fine Motor skills
The second worksheet will give your child a chance to practice cutting. Using a pair of scissors is surprisingly complicated. It can be very challenging for children whose motor skills are not yet developed. Your child will need lots of practice. This worksheet is for beginners who are starting to cut straight lines and simple curves. You could also use the sheet for tracing.
Fall Worksheets to Introduce Simple Math
The third worksheet incorporates a simple Fall I spy and some counting practice. There are six different objects and children must find and count each one. As they do this, they will be working on visual discrimination and counting. It might be helpful to draw an X through the objects as they count them.
We designed the fourth worksheet to help children practice identifying patterns. Children look at the objects in the line and decide what comes next. Find the correct objects in boxes at the bottom of the page. Cut them out and glue them into place. The patterns are very simple to make it easy for beginners.
The last worksheet will also help with visual discrimination. One of the fall objects in each row does not belong! Children will look at the pictures in each row and choose the one that is different. As they do this, they will be comparing objects to find similarities and differences. This is an important skill set to take into Kindergarten.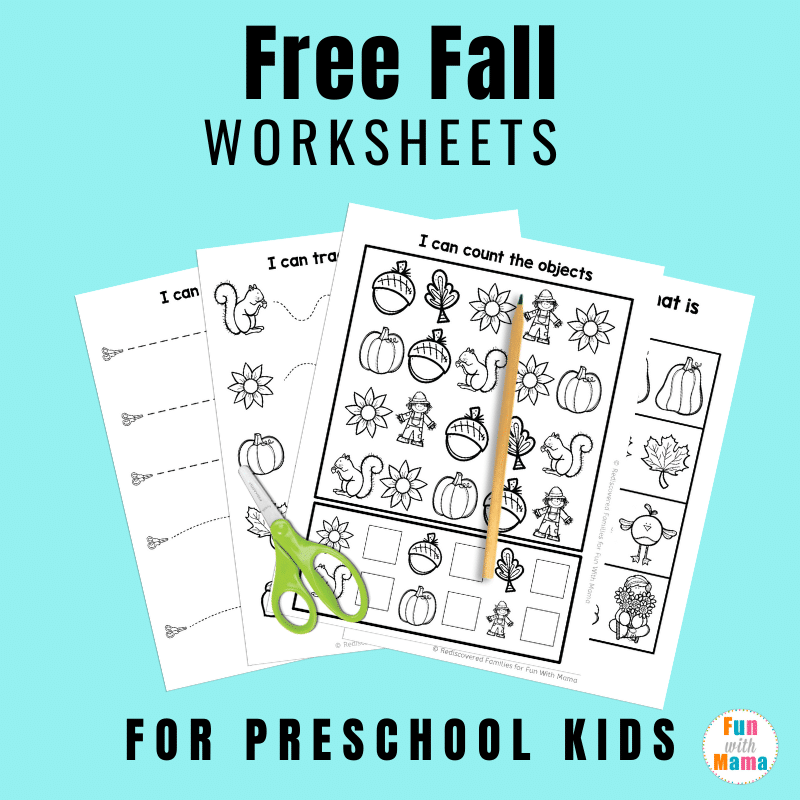 How To Use Your Free Fall Worksheets
You can use these worksheets with your preschooler at any time. They are perfect as a quiet activity at home or when you are waiting in the doctor's office or restaurant. Are you homeschooling older siblings? Give these worksheets to your preschooler, so they feel that they are part of school as well.
I would encourage you to use worksheets like these in combination with loads of free play. Do not force them as we do not want to put our children off formal learning.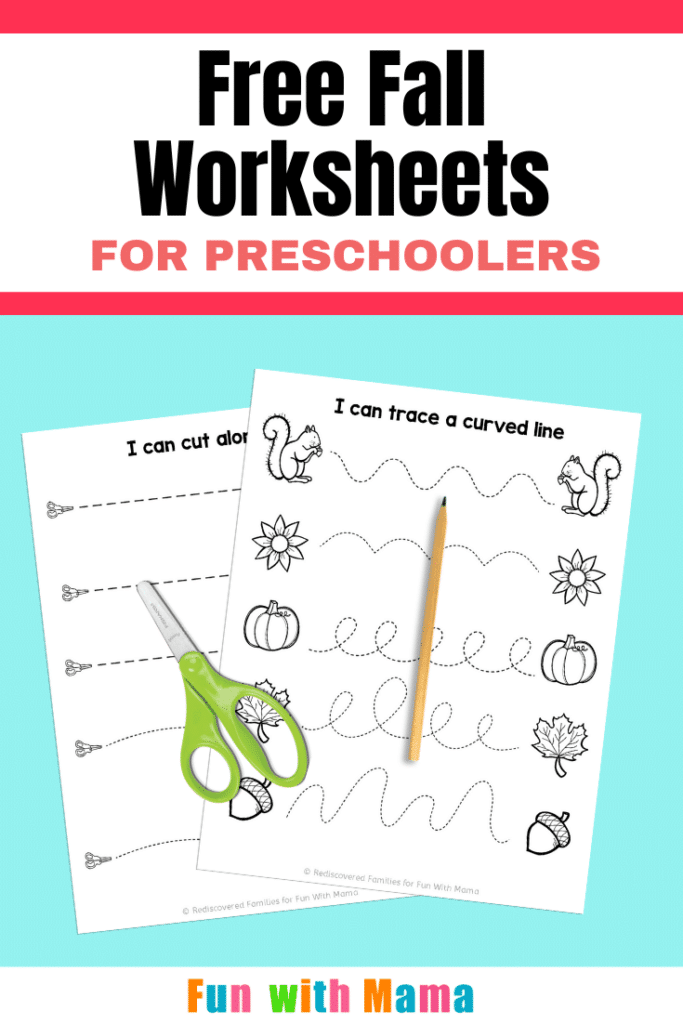 Need Some More Fall Learning Activities?