In this insect unit study, you will find insect activities for preschoolers and kindergarteners that will create an all around unit for children. These suggestions include math activities, insect books, art and crafts ideas, and science activities for preschoolers and kindergarteners.
Please note that affiliate links are used in this post. That means that if you make a purchase from one of these links, at no extra charge to you, we will earn a small commission.
Let's Learn About Insects
Most kids likely fall into one of two camps: bugs are cool or bugs are gross. My three-year-old was definitely of the opinion that bugs are "yucky" and admittedly I mostly agreed with her—we're just not fond of creepy, crawly things. So, it was such a pleasant surprise that our week-long journey learning all about insects totally changed our minds!
We found so much unexpected beauty and wonder in studying these little critters; after all, insects are the largest and most diverse group of organisms on Earth and it's mind-blowing to think that most insect species are still unnamed!
Whether your child is fascinated by insects or a little fearful of them, I am so excited to share our favorite ideas for creating a fun and beautiful insect-themed unit study with books, activities, games, and printables that you will enjoy with your little learner. The resources here are perfect for kids ages 3-7 but can be easily adapted for older children as well.
Note to teachers: This unit study would be a wonderful addition to your classroom lesson plans too.
Related: We love this Bugs Activity pack too!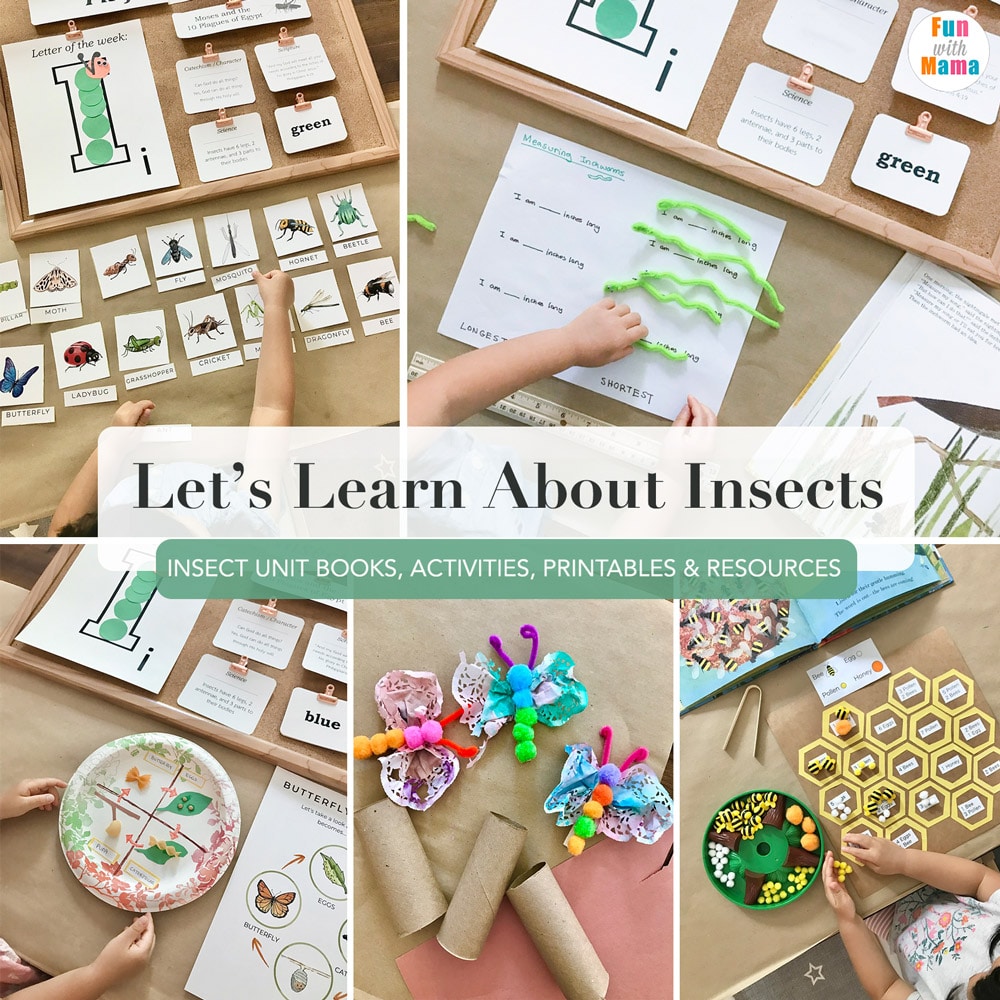 Insect Books and Activity Pairings
Inch By Inch and Measuring Activity
We read Inch By Inch by Leo Lionni, a story about a clever inchworm who escapes being eaten by hungry birds with his ability to measure anything. Fun fact— inchworms are moth larvae, which makes them a counterpart to caterpillars. I made cute little worms for a fun measuring activity by cutting green pipe cleaners into different lengths and adding googly eyes to make them into cute little worms.
We learned about measuring with a ruler—lining up the ruler to one end of the object and reading the number off the ruler where the object ended. We also discussed which inchworm was shortest, which one was the longest, and put them in order of increasing length.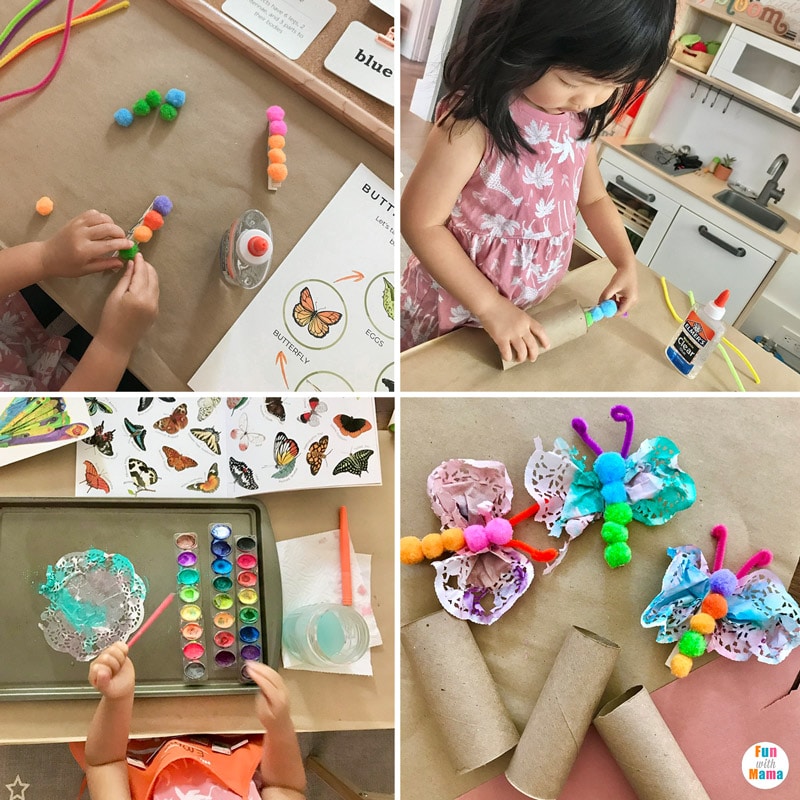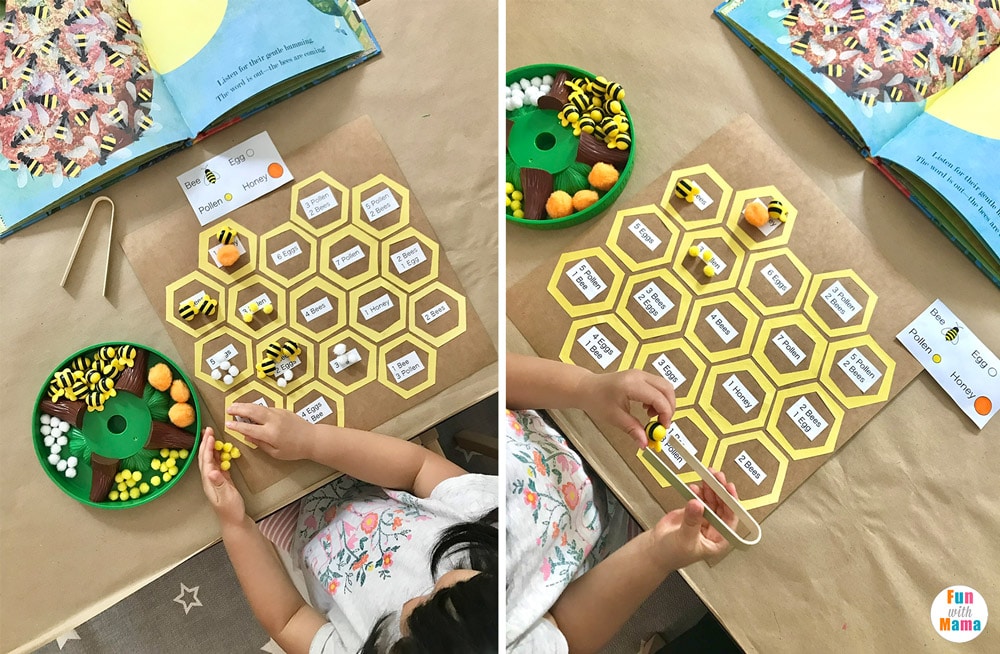 Bee: A Peek-Through Picture Book and Beehive Sorting Activity
Bee: A Peek-Through Picture Book by Britta Teckentrup is a fun read with lively rhyming prose that follows the journey of a bee as she gathers pollen. We paired this book with a fun beehive sorting activity that exercises literacy, counting, and fine motor skills.
I created the hive with yellow construction paper hexagons and brown cardstock. The bees are from the Honeybee Tree game, but you can also use balls of yellow/black playdough for the bees instead.
I labeled each cell with a different number of eggs, bees, and pollen. There is also a key that with pictures of the bee, pollen (orange pom pom), and egg (white pom pom) that my daughter could refer to while sorting.
She used bamboo tongs to place the correct number of bees, pollen, and eggs into each beehive cell.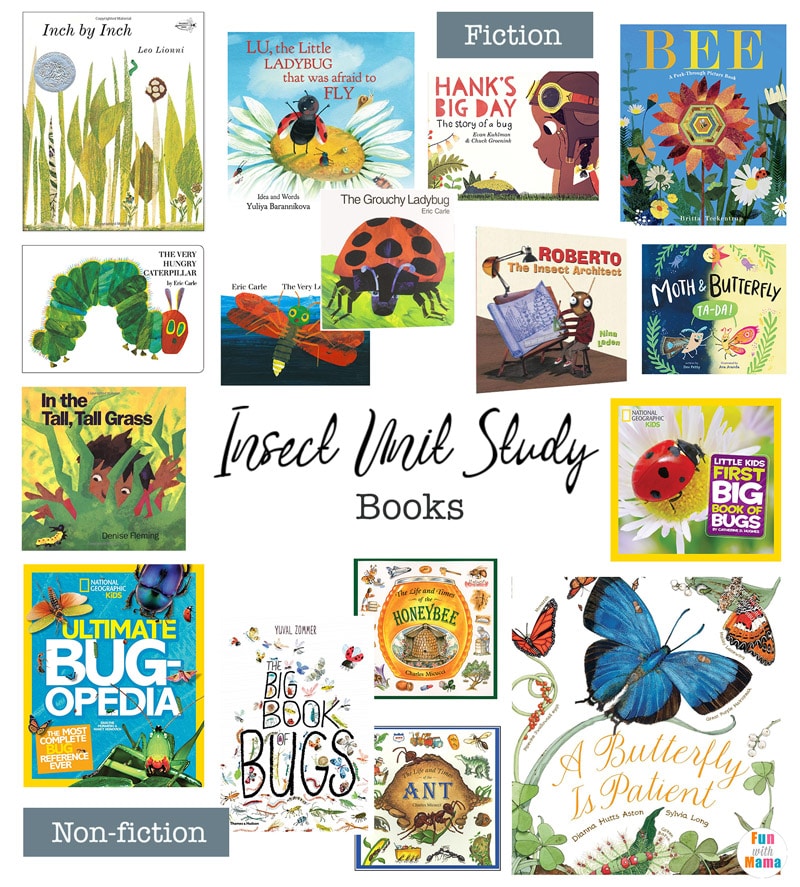 More Insect Books For Preschoolers and Kindergarteners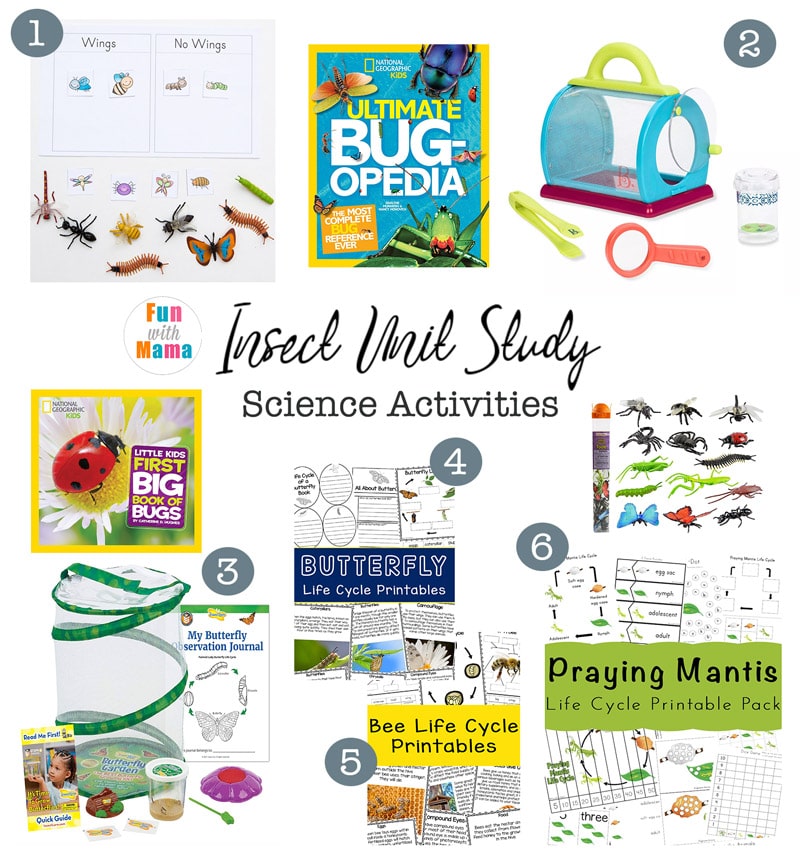 Science Insect Activities for Preschoolers and Kindergarteners
For our study of insects we focused on three main topics:
What is an insect? Insects are small animals with six legs and a hard outer shell called an exoskeleton. Most have wings and antennae.
Insect life cycles and metamorphosis. We chose to study the butterfly life cycle. Bees and ladybugs would also be fun subjects for life cycle studies!
Where do insects live and what do they eat?
The National Geographic Little Kids First Big Book of Bugs is a great resource for diving into these topics with younger kids. For older kids The Ultimate Bugopedia: The Most Complete Bug Reference Ever has more in-depth information.
We paired learning about the butterfly life cycle with a really cute preschool insect craft using a paper plate and dried pasta. We kept ours pretty simple but I've seen lots of other fun variations for this craft such as using real leaves and twigs, painting the pasta different colors, or incorporating other sensory materials like pipe cleaners, painting the pasta different colors, and playdoh.
To learn about insect habitats we created a nature scene with construction paper with insect stickers. I cut out shapes for the sun, clouds, grass, dirt, and plants, and my daughter glued them onto the background. Then my daughter placed the different insect stickers into the scene and we talked about where we might find each type of insect (ex: butterflies, bees, and ladybugs fly in the air or land on flowers, ants are on the ground or underground, grasshoppers are in the grass, caterpillars crawl on leaves, etc.)
More insect science activities for preschoolers and kindergarteners:
Insect Sorting with insect figurines, a free Fun With Mama printable
Go outside for a bug hunt. This cute B. Toys Bug Catching Kit includes a magnifying glass, tweezers, and mesh case.
This spring I am hoping to get this cool butterfly kit so we can witness a caterpillar transformation up close!
Explore pollination with this fun science experiment by JDaniel4smom.
Explore these life cycle activiites
Study the life cycle of butterflies with these printables
Study the life cycle of bees with these printables
Study the life cycle of praying mantis with these printables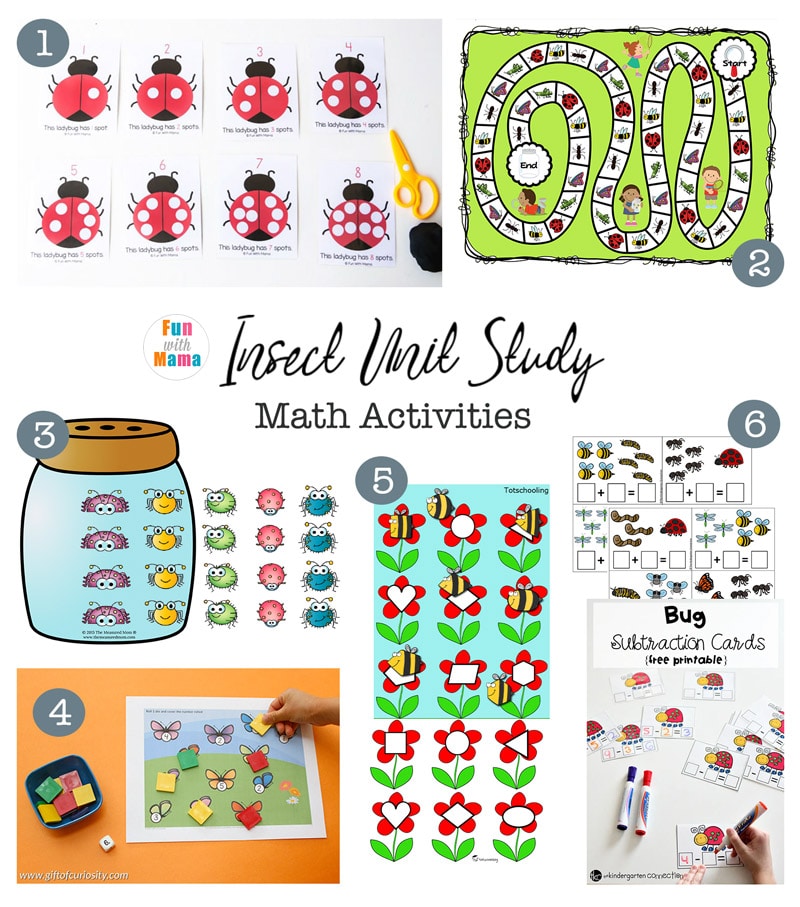 Math Insect Activities for Preschoolers and Kindergarteners
Practice counting, shape matching, addition, subtraction, and graphing with these adorable math games and insect activities for preschoolers and kindergarteners:
Ladybug Math Playdoh Counting Mats by Fun With Mama. It includes a combination of an insect theme math and literacy activities where children work on one to one correspondence and try to read the words.
Bug Hunt Graphing Game free printable by Primary Theme Park
Insects Roll & Cover Math Games by Gift of Curiosity
Bees & Flowers Shape Matching free printable by Totschooling
Bug Addition and Bug Subtraction free printable cards by Kindergarten Connection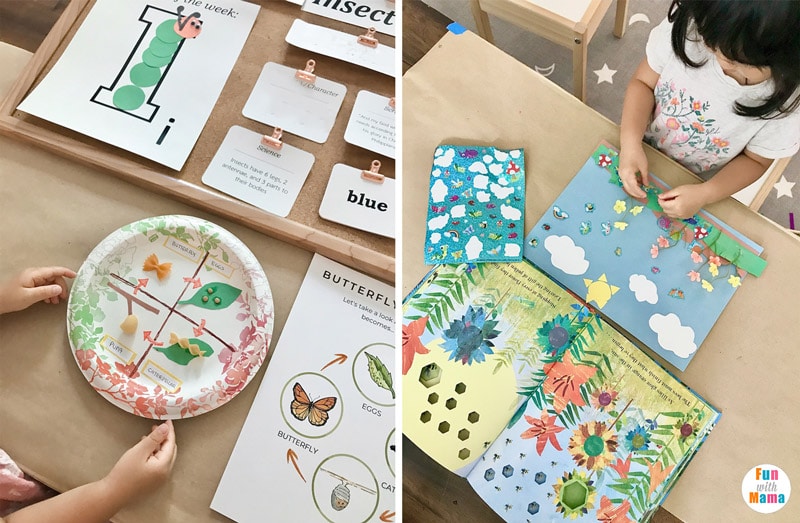 Insect Art and Crafts
More of Our Favorite Insect Activities for Preschoolers
A Word on Bugs vs. Insects
The words bugs and insects are generally used interchangeably but there is a difference. Spiders, snails, and worms are commonly referred to as bugs but they aren't insects because they don't have six legs and a two-part body (more on the difference between bugs and insects here).
For toddlers and younger children, a bug theme may be an easier introduction to this topic because it's a broader term. You can easily expand the insect theme into a bug theme by incorporating more bug activities like this one by Pocket Of Preschool and bug crafts at a Little Pinch of Perfect.