You will be buzzing with the fun you will have while completing this Bee Life Cycle Printable Pack. It is a fun way to learn about the life cycle of a bee. It is also a fun activity pack that would be great to use as part of a Spring or Insect themed unit.
Kids are always so curious about bees during this time of year so why not take the time to teach them all about bees as well? This Bee Life Cycle printable is educational and so much fun!
Make certain to check out our Bumble Bees Activities as well as our Free Letter B Crafts B is for Bee, too!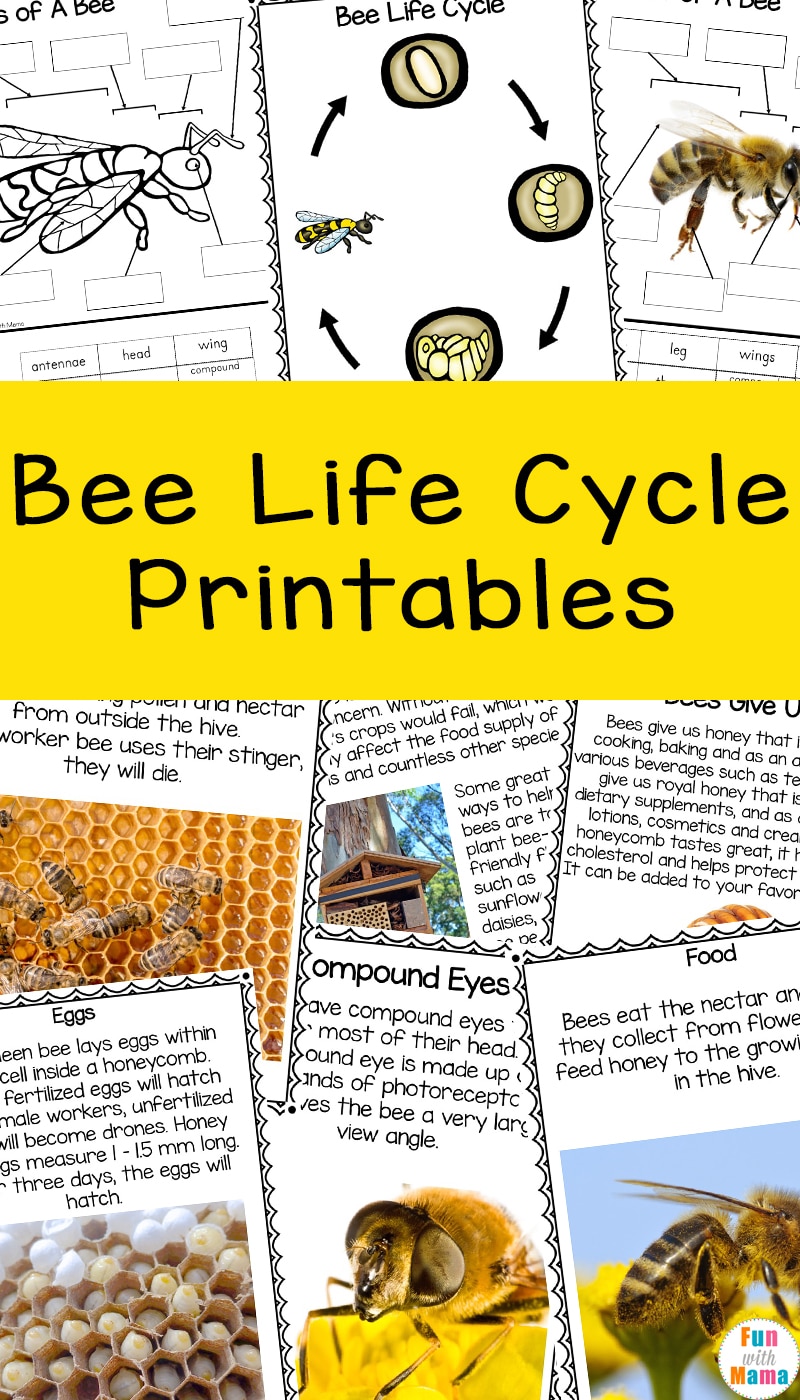 BEE LIFE CYCLE LEARNING PACK
Children will love learning about the life cycle of a bee with this amazing bee life cycle learning pack that contains real photos! One other great thing about this pack is that many of the activities can be enjoyed multiple times and in a variety of ways and by children of varying ages.
What are the four stages of the life cycle of a bee?
The kids will learn all about this is the bee life cycle printable but the four stages in order are eggs, larvae, pupae and adults.
Here is a video showcasing what is inside the Bee Life Cycle Pack: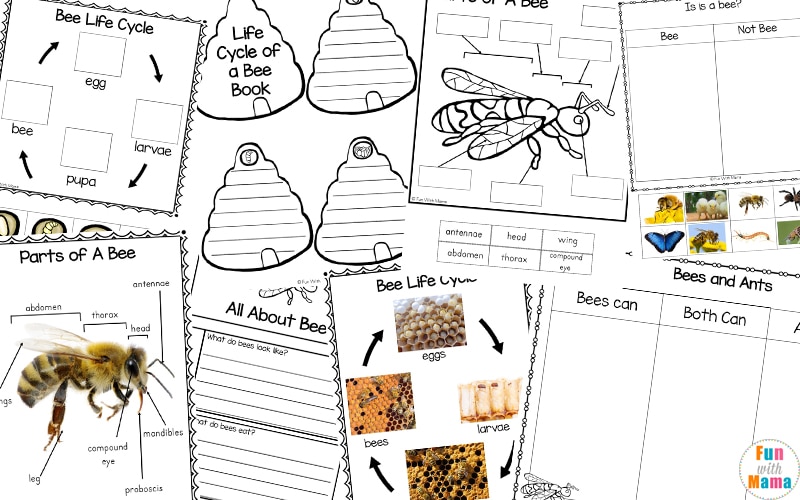 Materials Required for this Bee Life Cycle printable:
Please note that affiliate links are used in this post.
Here are some items that pair well with these activities. You will use each of these items over and over during all my printable preschool activity packs.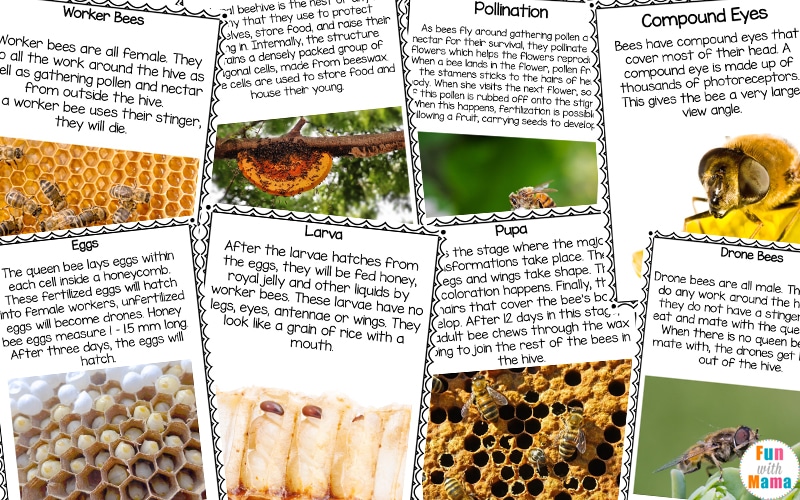 This Life Cycle of a Bee Learning Pack contains fun bee learning activities for preschool , pre-k and kindergarten students.
The activities included in this 110 page printable pack are:
Cards containing real-life photos of the bee life cycle
Posters of the characteristics of the bee as well as their life cycle which include the following topics: eggs, larva, pupa, worker bees, drone bees, queen bee, hives, food, predators, beeswax, pollination, beekeeping, compound eyes, endangered, bee highway and what bees give us.
Bees can, have, are.
Bees – what I know, what I think about, what I learned.
Parts of a Bee –a poster and a cut and paste activity
Bee Life Cycle –a poster and a variety of different cut and paste activities
Bees and Ants –Venn diagram
Bees and Ants –What they each can have and what both can have.
All About Bees–A book for children to complete about what they have learned about bees.
Life Cycle of a Bee –A book for children to complete about what they have learned about the life cycle of a bee.
Bee or Not –A cut and paste in the correct column activity.
A sequencing activity
Information cards
Montessori 3 Part Cards
Size Sequencing Cards
Number Puzzles
Number Cards
I Spy Fun
Puzzles
Line Tracing Page
Count and Clip Cards
See and Stamp pages
Trace the letters
Story / Creative Writing Pages
As you can see, there are tons of learning lessons and concepts about bees. This life cycle printable does a great job of covering them all!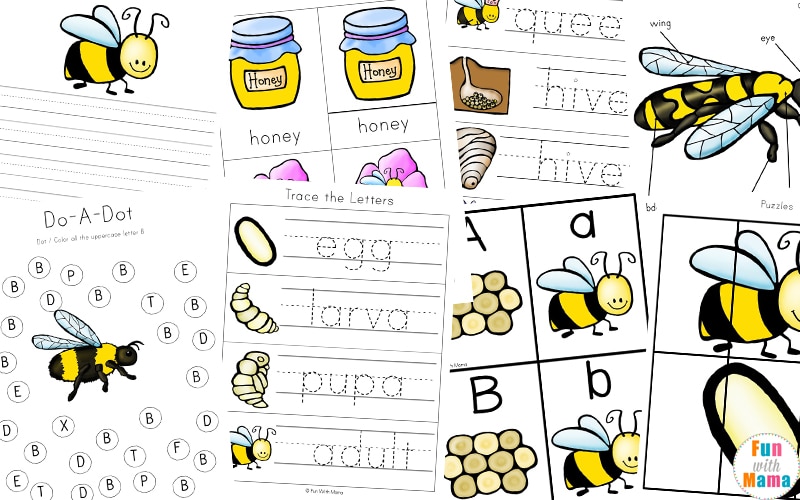 WHERE TO GET THIS ACTIVITY PACK?
GET THE BEE LIFE CYCLE ACTIVITIES PACK HERE
Explore the bee life cycle with this bee themed activities pack. This pack includes sequencing activities, parts of a bee, real life bee pictures, math and literacy activities, and so much more!
We love all things bees in our house so here are some of our other favorite bee items that are just plain fun to have!
All Things Bees!
These Bee Pajamas are super fun for the kids! They'll love snuggling into them at night.
This "Bee Pajamas" is a fun read for the kids.
Look at how fun this honeybee hand puppet is!
When it comes to learning about bees, this life cycle printable is so much fun! Let the kids learn all that they can about bees so that they're educated and continue to help the bees survive and keep growing in numbers.
More Fun Insect Activities