Finding high quality, open-ended toys to support children's growth and development doesn't have to be a challenge. The Lovevery building blocks are the perfect toy to foster creativity, critical thinking, and open ended play.
Lovevery Building Blocks Set
Who is Lovevery?
Lovevery is best known for their play kit subscription boxes. Every two months (or three months for over one-year-old), a play kit arrives that includes toys perfect for your child's current stage of development.
These kits also include an activity guide that helps adults understand the stages of child development that the toys in each kit support. The guide also offers various ways to play with the toys and extend play.
I've talked a lot about the play kits and given you a closer look here:
Lovevery offers several toys and products that are not included in a play kit–that is where the block set comes in! We are going to provide a thorough Lovevery Block Set review.
What is it?
More than just a building set, these solid wood building blocks will grow with your child. Starting at 18 months old, these well-crafted, sustainably sourced blocks will give children and toddlers the opportunity to play pretend, use their imaginations and work on their problem-solving skills. Even adults will enjoy joining in the fun!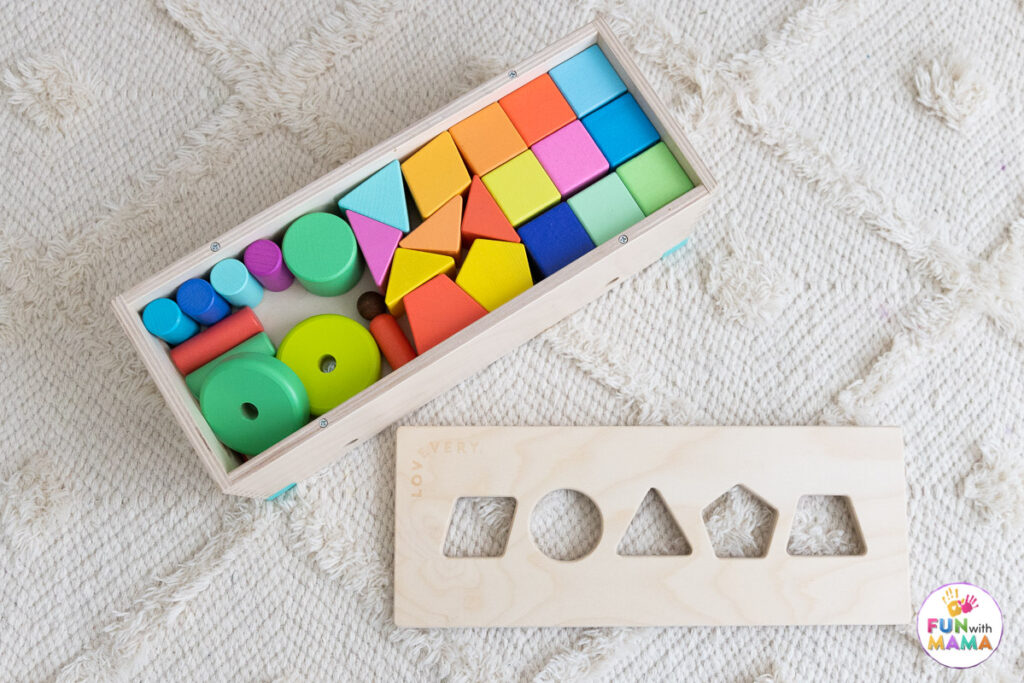 What Do You Get?
In the Lovevery Building Blocks Set, you will get 70 pieces, all organized in a wooden storage box. Also included is a drawstring bag that makes it easy to take your blocks on the go. The water based paint is easy to clean and safe for children.
Besides the classic cubes and geometric shapes you'll find in a standard block set, Lovevery's set also includes peg people, wood planks, wheels and dowels, and even threading blocks.
Is it Worth the Price?
Finding toys that are developmentally appropriate and high quality can get expensive. At $90, this may seem like a set that isn't worth the price tag. But this toy is 100% worth it! This is one of the most comprehensive block sets out there, we love it.
When you consider all of the different components of the set, you will see just how much of a steal this set is!
Buying a shape sorter, pull car, threading set, peg dolls, and more will end up being much more expensive and time-consuming. You can get all of those toys and more in one set, no searching different brands and websites necessary.
For solid wood blocks and colorful cubes, we love it.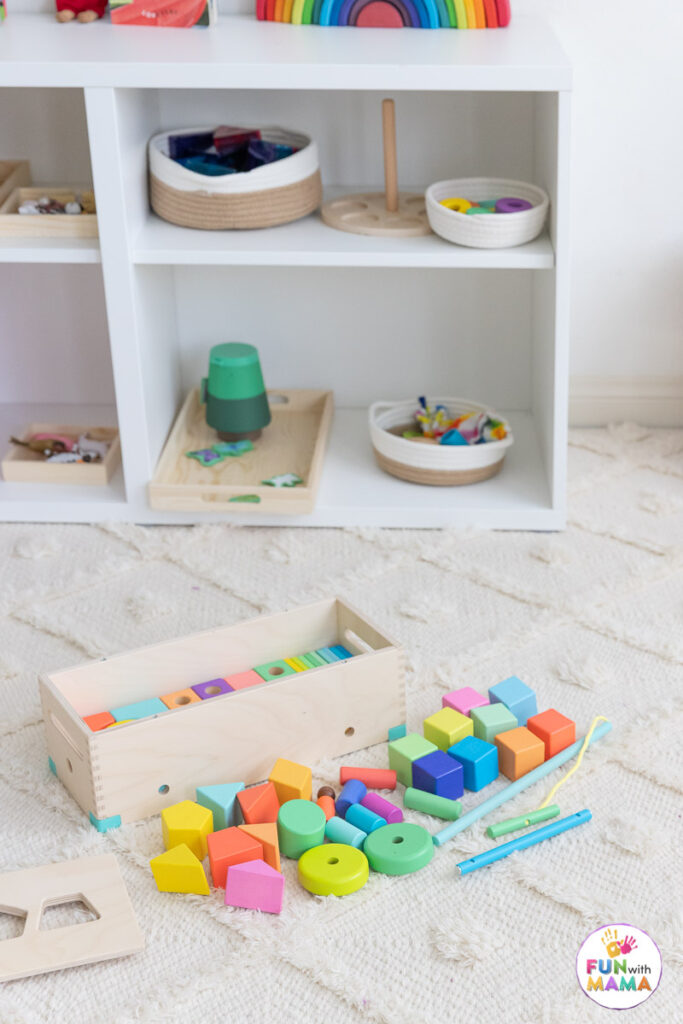 Ways to Use The Block Set
Any playset that comes with 70 pieces is bound to provide tons of opportunities for creative and open-ended play. What makes Lovevery's block set stand out is the careful way that each piece has been selected for the set.
All of the pieces work together in many different ways to provide activities and play that is appropriate for different stages in your child's development. Children are experts at using toys in creative ways, and this set will be no exception! I have outlined many of the specific ways that the block set can be used to engage children.
Not only does the play help with their motor-skill development, but it also helps with their dexterity, too. The skills that they'll get from this wooden block set will change depending on their stage of growth.
Shape sorter
Swap out the flat lid for the shape sorting lid that contains slots for five different shapes. This is great for the youngest children just beginning to learn their shapes. Even older children enjoy sorting shapes and might even like to challenge themselves to see how fast they can do it.
Lining up planks
Making a domino trail is easy to do with the 18 provided planks. Explore cause and effect as children carefully line them up and watch them topple over! I love that each of the planks is a different color, further adding to the visual appeal.
Develop fine motor skills
Six of the cubes have holes, and the provided toggle string allows children to thread blocks. This is a perfect fine motor activity. The thick threading pole and chunky blocks are just the perfect sizes for small fingers to grasp and thread.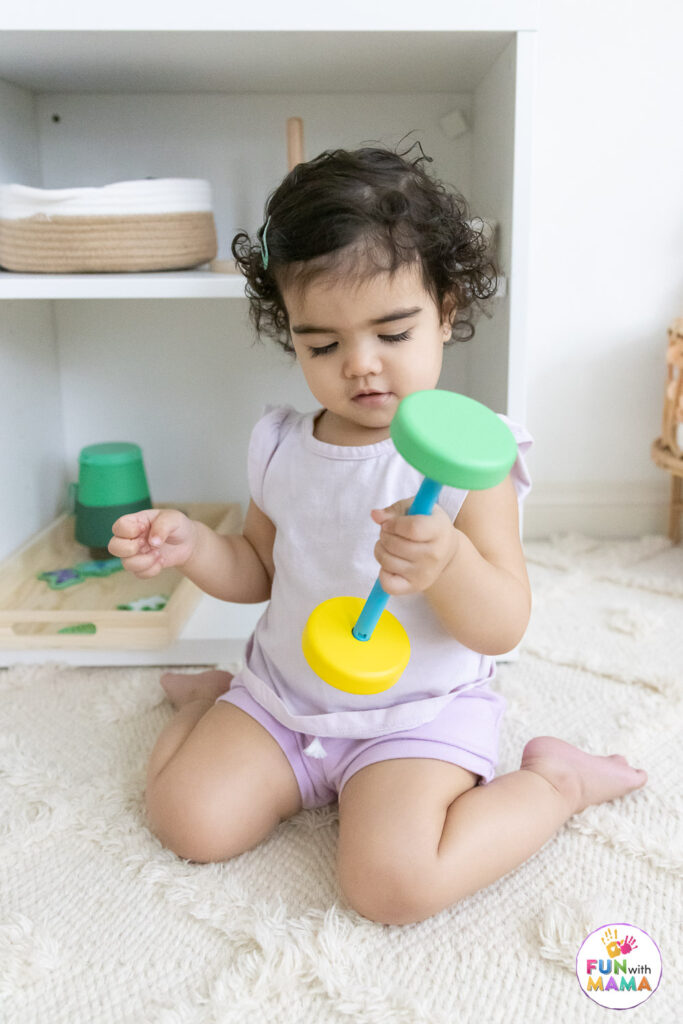 Gain foundational physics and math concepts
Set up the flat lid to make a ramp and have children explore what they can do on the incline with the four wheels. How fast can they make the wheels go? How far do they roll on a hard floor? How about the carpet? There are lots of opportunities for scientific exploration and thinking here!
In addition, spatial skills (which are important for mathematical reasoning) are strengthened through block play! This is accomplished through the design of block structures, arranging blocks to fit an image in their mind, and understanding the position of objects.
Create something new!
The experts at Lovevery have really thought of everything. Besides storage and sorting shapes, the wood box can also be transformed into a car! Simply use the two dowels and four wheels that come in the set. The box has pre-drilled holes, including one in the front to use the toggle string to turn the box into a pull car.
Depending on the stage of your child's growth, they'll learn so many different STEM concepts from it. I also love having hand-eye coordination fun activities for the kids for all their years of play. These are great for Montessori learning and creative learning activities.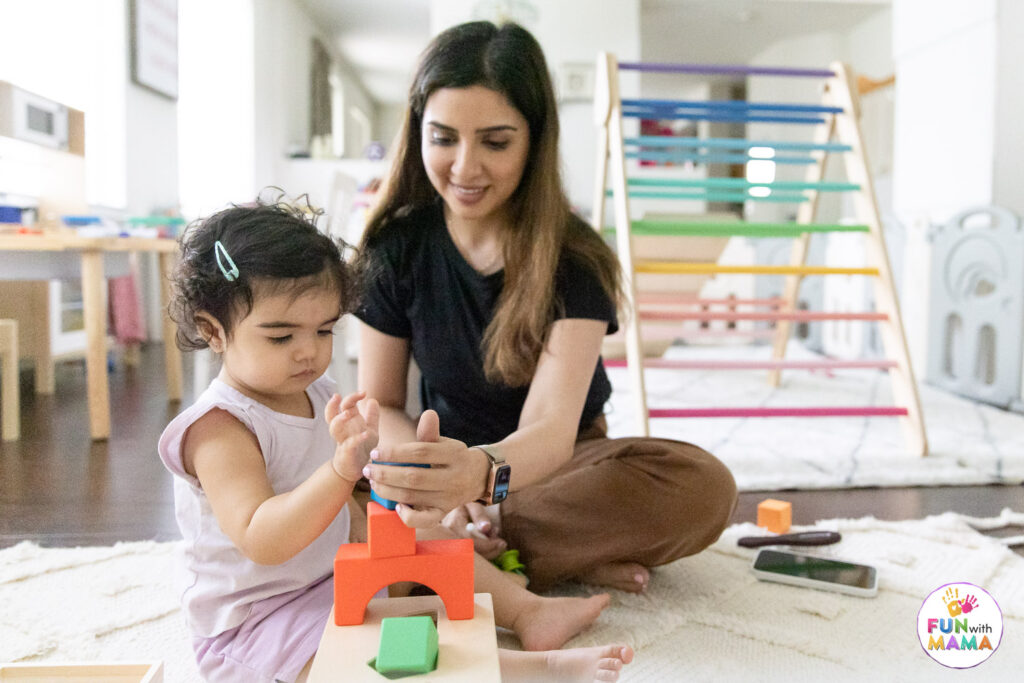 Expand language and vocabulary
Children will be able to practice important vocabulary when building with blocks, such as positional words and color words.
They will also tell stories when building small worlds and acting out their play. When discussing different academic concepts, children will use valuable academic languages such as terms related to cause and effect, engineering terms, and directional words.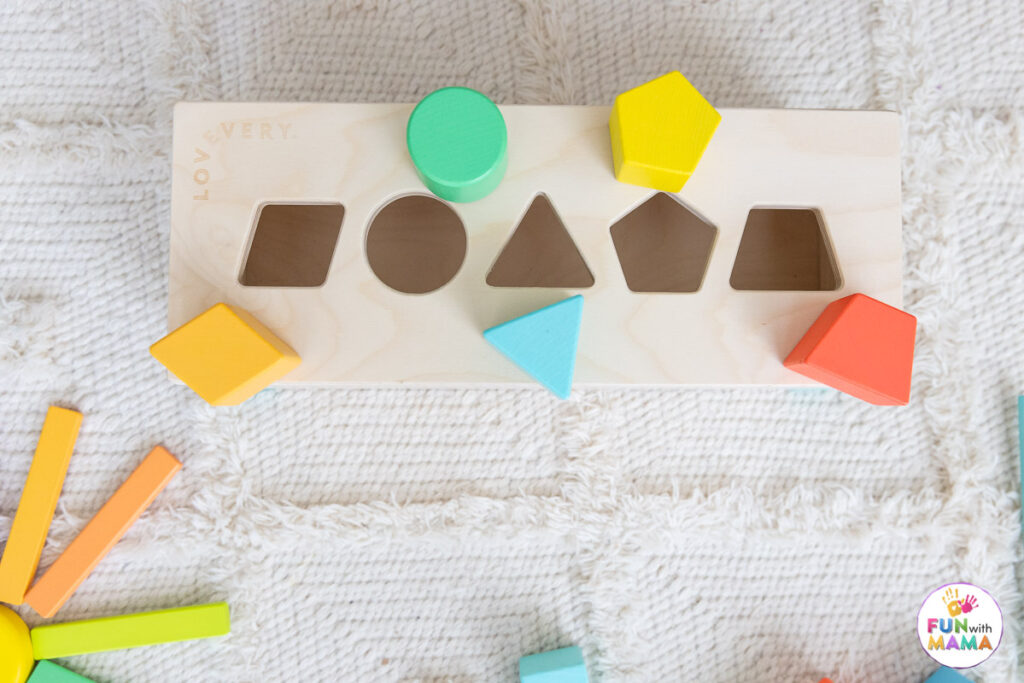 Pretend Play and Small World Building
Building blocks are truly one of the most classic open-ended play materials out there. Kids can stack blocks to create cities with tall towers (there's that spatial awareness again!), make bridges with the planks, and use the 9 additional shape blocks (and two arches) to create even more complex structures and designs.
Four wood peg people are included, which allow children to create and act out their play scenes, from friends playing at a park to learning in a schoolhouse. Who knows what they might create?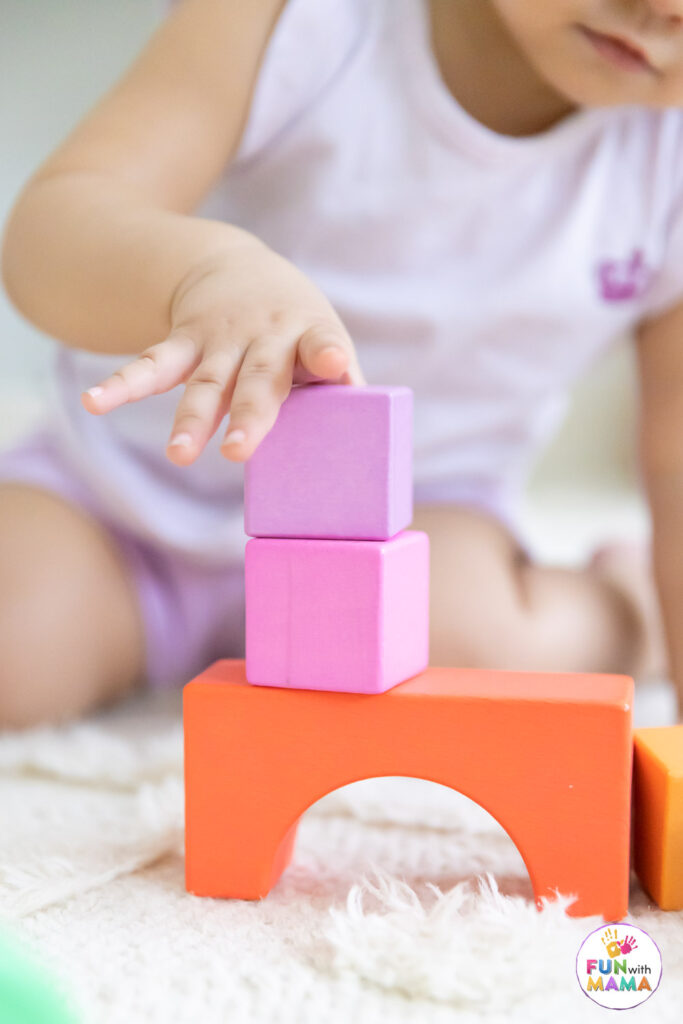 You can't go wrong with the Lovevery Block Set. Designed with over 20 different activities, this set is guaranteed to be a favorite for years!
Don't forget the easy storage and that they make the perfect gift! If you're ready for original STEM learning that will gain momentum with their creativity and learning, the kids can make a dozen shapes and have so much learning fun with this set!
Where to buy the Lovevery Building Blocks
Lovevery Building Blocks Set
$90
Get the Lovevery Building Blocks here.
Want more Lovevery? We have several reviews of their fabulous play kits and products: