We've been Lovevery play kit subscribers since my baby was born and I am always impressed by what we receive in each kit. As a mama of 4, I just don't have the time to sit and check out online reviews every month to find age-appropriate toys for my 9-month-old. There are so many other things I'd rather be doing and that's why I love the Lovevery play kits. The folks at Lovevery do the work for me. They bring on experts to help choose the best toys for each age group and I get this neat little package every 2 months that is filled with age-appropriate toys that also allow my baby to practice her newfound skills.
Why try to curate my own box of toys when I can have an expert hand me a box filled with everything my child will love?
Please note that affiliate links are used in this post.
Lovevery Play Kit – Inspector Play Kit 7-8 months
As you may have noticed in my Lovevery Play Gym review, I am a HUGE fan of Lovevery. I purchased my Lovevery products when my baby was born and I have not been disappointed. I rave about the products because they are high quality, long lasting, and my daughter absolutely loves them. In this blog post I'd love to share more about my thoughts on the Inspector Play Kit.
The Inspector Play Kit (which you can find here on the Lovevery site) is the 4th kit in the Lovevery baby subscription box series. This baby box makes the most of baby's natural curiosity at the 7-8 month mark. Babies love opportunities to explore texture, practice nesting and stacking, and learn about object permanence.
Here is my review of the 7-8-month-old Lovevery play kit that I received 2 months ago.
What is Lovevery?
As I explained in my Lovevery Play Kit blog post, it is a baby subscription box filled with age-appropriate high-quality Montessori-inspired toys. While each kit includes an age group, this age group, for example in the Inspector kit is 7-8 months old, that is the starting age at when your child will likely be interested in the toys. The toys included in the play kits grow with your child and can be used by your child for years. That's one of the things I love most about the play kits.
The Lovevery site includes all the details about what is in each kit so you can decide if you think it's worth it. (I completely think each kit is worth more than what we pay!)
What is included in the Inspector Play Kit?

Ball Drop Box + Wooden Balls
The ball drop box teaches baby the concept that something can be there even if you can't see it. Your child can drop the ball through the hole and sometimes it stays within the little compartment and other times it goes through to the other side. The wooden balls are perfect for little fingers to hold onto and they fit perfectly into the ball drop box.
'My First Signs' Board Book
Baby's would love to tell mom exactly what they want or how they fell but their language and mouth development isn't quite ready. Teach your child some signs so that they can communicate with you. This in turn encourages the development of communication skills and language skills.

Nesting Stacking Dripdrop cups
The nesting and stacking cups are one of my favorites from this play kit by Lovevery. Use these to teach your child several concepts including tower building, pouring, nesting and more.
Treasure basket + 3 felt balls
The treasure basket is a soft basket that is perfect for filling items into.



Things I see Texture Cards
My little one LOVES touch and feel books and these texture cards include common daily words and things to feel within each card.
Drinking cup
The drinking cup is perfect for little hands to practice drinking from a cup with. Drinking from a cup builds mouth muscles.
First Puzzle
This puzzle includes a peekaboo type of puzzle. Your baby can find the babyface in the puzzle. There is a little knob on the top of the puzzle piece to make it easier for your baby to hold onto. This puzzle helps them work those problem solving and fine motor skills.
Play Guide for months 7-8
I adore the play guides and try my best to read through them. They include information on what is going on with my child's current development and skills (based on age), ideas on how to play with baby and also shows you how to use the toys.
What do the Lovevery Play kits cost?
The 0-12 month play kits cost $80 per kit (one kit arrives every 2 months) or $72 per kit if subscribed.
Where to buy the Lovevery Play Kit
You can purchase the Lovevery Play kits here.
Get the Lovevery Explorer Kit Here
Get the Explorer Kit Here
Are the Lovevery Play Kits worth it?
Yes! To me, they are 100% worth it. I KNOW my daughter is going to use this for at least the next 3 years! I highly recommend it. The Inspector kit is filled with so many wonderful treasures.
Are there Lovevery Toy Dupes?
Here are a few toys that are similar to the Lovevery toys. They are Lovevery toy dupes. They aren't exactly the same but I looked for items that were similar.

Lovevery Reviews
More Lovevery Blog Posts
We have subscribed to the Lovevery Play Kits since my daughter was born and I love sharing our thoughts on each kit.
For Babies Ages 0-12 months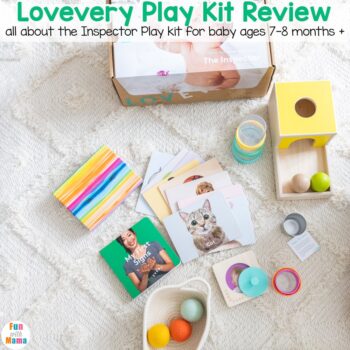 (Ages 7-8 months)
(Ages 9-10 months)