Looking for the sweetest most memorable preschool teacher gift idea? Then this handprint stamped book will be forever embedded in your kind teachers classroom. These would also be great daycare teacher gifts too. I have included a few options and ideas towards the bottom of the post. Whether you are looking for an end of the school year teacher gift, or a gift for teacher appreciation day gift… these gifts will surely make your child's teacher smile.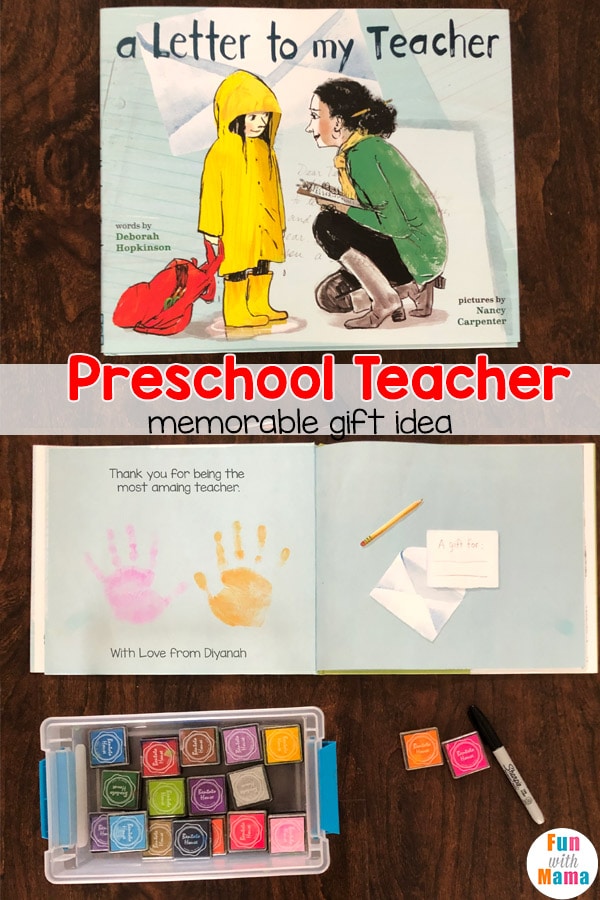 Preschool Teacher Gift Idea
Finding the perfect preschool teacher gift was going to be more difficult this year because my child had a truly remarkable teacher. She needed something that would be touching and memorable.
When I first saw the book, A Letter To My Teacher… I was intrigued.
The cover already had my eyes watering. Just looking at the teacher bending down to speak to a child on her eye level already tugged at my heart strings. We give teachers one of the most precious parts of us to spend time each day helping them grow. I hand over my child to her teacher, putting full faith in her and giving and my daughters trust.
When I opened this gem of a book, the tears came out. This book so perfectly describes my feelings for my child and the relationship between a young child and her teacher. The book flows as a child's letter to their teacher.
"Dear Teacher, whenever I had something to tell you, I tugged on your shirt and whispered in your ear. This time I'm writing a letter."
Yes, the child in the book is an energy filled child who could definitely be challenging for some teachers… but this teacher… she was special. And oh what a difference a good teacher can make. The child in the book reminds me of my 5 year old. She had the same teacher as a 3 year old and 4 year old and I could never show this special teacher how appreciated she was. Her love allowed my daughter to flourish. Her patience allowed my daughter to shine.
These are the words that I want my child's teacher to remember and these are the words I hope to inspire ALL teachers.
Teachers, your job can be challenging… but the effect it can have on a child lives forever. So THANK YOU!!
Now before I start crying as I am writing this blog post, talking about education, teachers and MY child always brings me to tears, let me tell you more about the preschool teacher gift we gave my daughters teacher.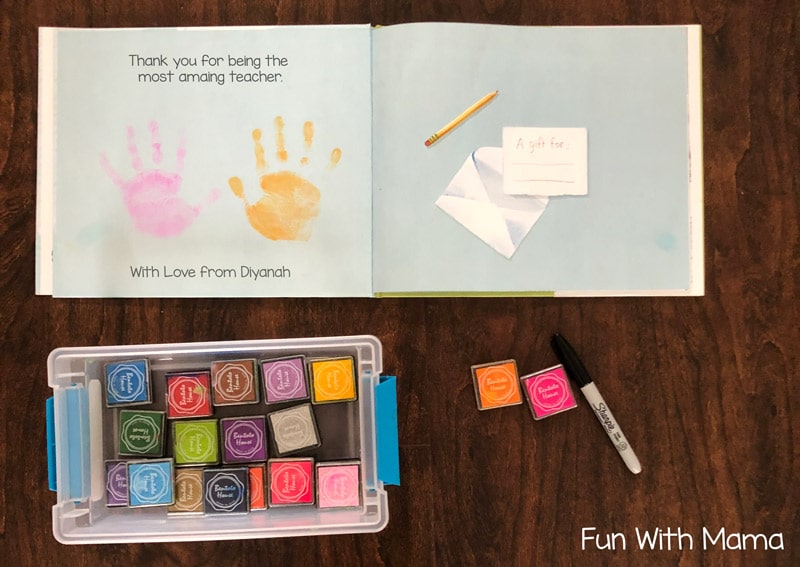 Materials Required: Stamps, a sharpie marker or ultra fineliner to write a message, the book.
The message you see above is not the one I wrote to her teacher. My message was rather sappy but for privacy I did not include her teachers name and message.I used the following stamps
Just choose a color, pat it around your child's hand and place your child's hand on the book. Press down lightly on your child's hand to make sure the ink transfers. You could also do a test run on a normal piece of paper first.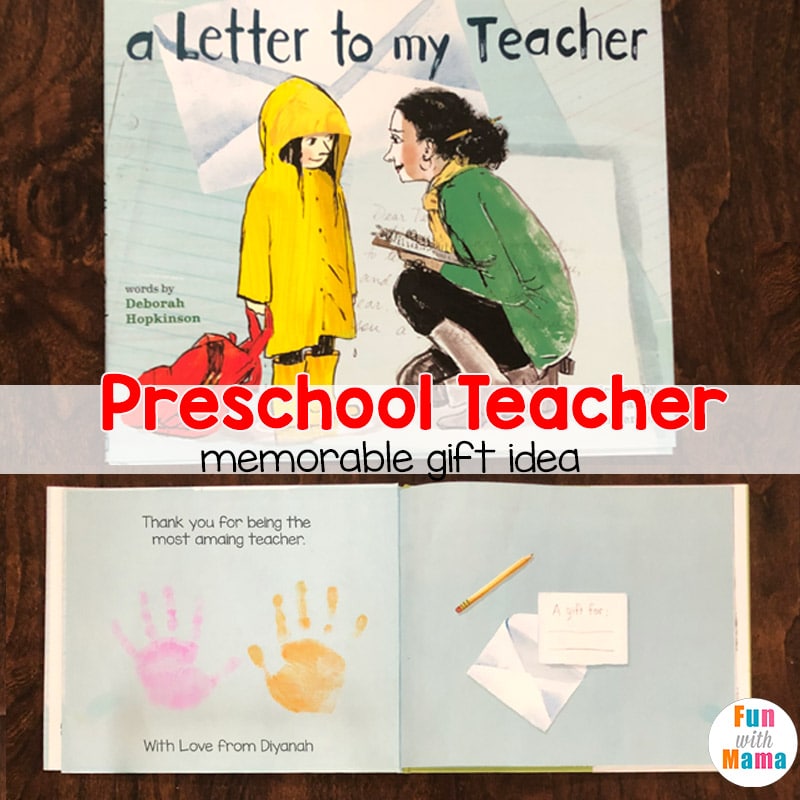 You can also enclose a gift card and maybe a sweet letter from mom like this one.
2 years ago, for my daughters class… I created a fingerprint art class picture frame. You can get it here: Printable End of the Year Teacher Appreciation Gift Fingerprint
Preschool Teacher Gift Ideas
Want more preschool teacher gift ideas?
Here are more favorites.
Gift Cards
Let your teacher choose what they like by giving them a gift card to one of their favorite stories. This could be Target, Amazon, Starbucks.
Books to add to the class library
You could choose a book from 10 Best Read Aloud Books For Four-Year-Olds. We have a lot of books and storytelling ideas or choose one of the books on our 50 preschool books list!
School Supplies
Teachers love school supplies. This back to school supplies cake is wonderful! But honestly, you don't even need to make a cake, just give the supplies and I'm sure your teacher will be grateful. You could also give something like the Magical School Bus DVD series, which pairs well with science units.
Teacher Planner
I love this Teacher Planner and love that it can help a teacher feel more organized.
Personalized Gifts:
These adorable personalized mugs are sweet.
These personalized aprons would be useful at home.
I adore these personalized keychains with a message from your child.
I also like these pot plant toppers.
I think this personalized mug and planner would be well loved.
Looking for more memory keeper ideas? I included a note with our book , Oh The Places You'll Go. Each teacher in my child's life will sign this. What an amazing memory keeper this will be!!