This sink or float experiment for kids is a great way for them to use their minds and to try out their different predictions versus actual results. We LOVE doing science experiments for kids and this one is fun for a variety of age groups.
If you're looking for a way to add some interesting aspects to home learning or even homeschooling, this is a really fun experiment for the kids to do. You just need to gather up some simple household items and have your child start to look at items and make their predictions.
Once they get the hang out if, they're going to be using this reference in their everyday lives. Maybe the next time that you get to go swimming they'll ask if they're going to sink or float when they jump in the pool? Isn't it great how everything learning can be used easily in everyday life?
Sink Or Float Experiment + Worksheet
Our children love this experiment and they're a wide variety of ages. This is because the older they get, the more "creative" they'll get with the items that they want to use to sink if they sink or float. Don't worry, as long as the items are safe, let them have fun.
You'll find that a simple Science experiment such as this sink or float experiment is an easy way to get the kids working together, without even really trying.
Since there is water involved, you might want to set it up outside or on your porch but if you don't have that option, don't worry. You can easily lay down some towels on the floor and have this experiment inside, too.
Where there's a will to make learning happen, it'll happen!
Materials needed:
As you can see, you'll need some materials to get started with this experiment. But also feel free to use other items that you have in your home as well.
Printer
Cardstock
Items like a button, pencil, flower, crayon, apple, rubber duck, small ball, leaf, pear, etc.
Water
Water table/water container
Once you have gathered up those items, it's time to get started. (make certain that you don't forget to print out your worksheet from below!)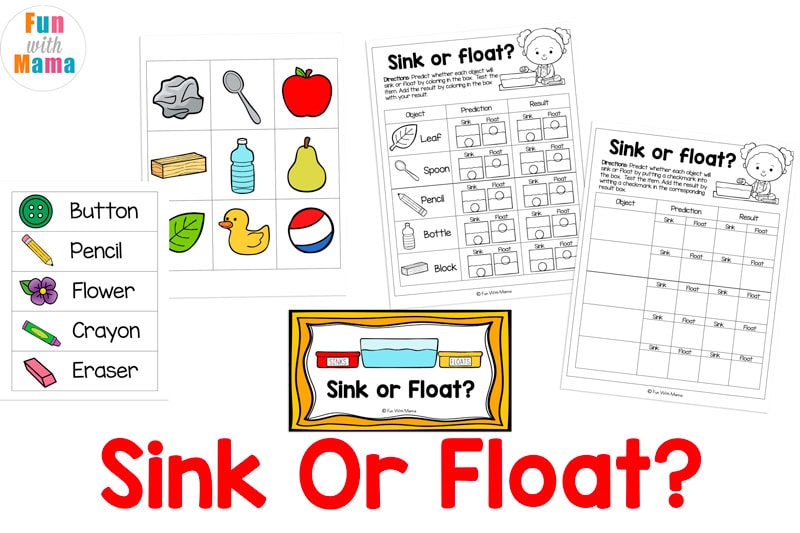 The easiest way to get started is to have your child pick one item, feel the weight of it, write down the item on their sheet and then make a prediction about whether or not it's going to sink or float.
It's really as simple as that. Then, once they put it into the water, they need to follow that up by recording the correct action that happened as well.
Talk about this sink or float experiment and why they think that some things are sinking while others are floating. It's a great way to extend the learning time and to have them active and involved as well.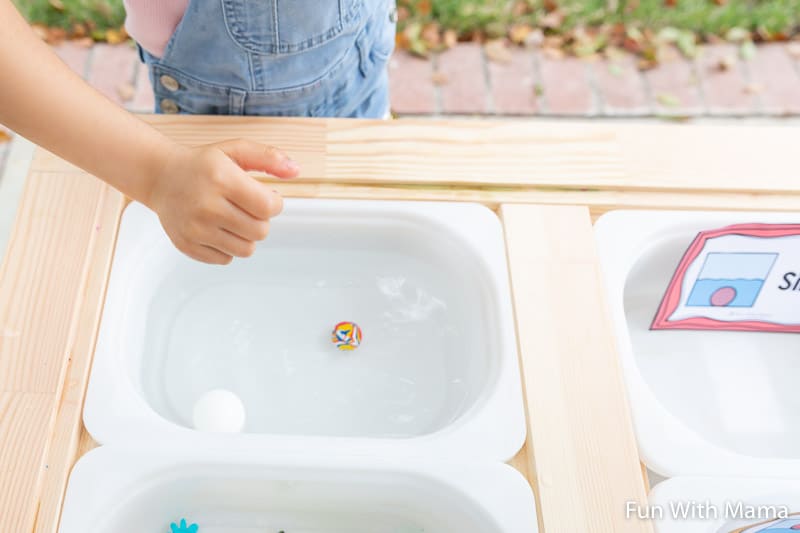 Other ways to use this sink or float experiment
Once your child gets the hang of how it works, you can even have it to where they're using two items at the same time and trying to guess which one will sink faster than the other.
Or, have your children take turns and use creative play as though they're scientists in a lab.
Let them use their imaginations as well when using this science activity!
Make certain that they know that as long as they're not putting anything into the water that might hurt them, they can find some other items in the house to test out, too.
(and just in case, be right there with them supervising so that they don't decide to test out your cell phone to see if it sinks or floats!)
Don't forget to print out your free worksheet printable here!
WHERE TO GET THE ACTIVITY
GET THE SINK OR FLOAT ACTIVITY HERE
Already a subscriber? No problem! Just enter your details above so we can send this printable directly to your inbox.
Check out the Pop Rocks and Soda Experiment too!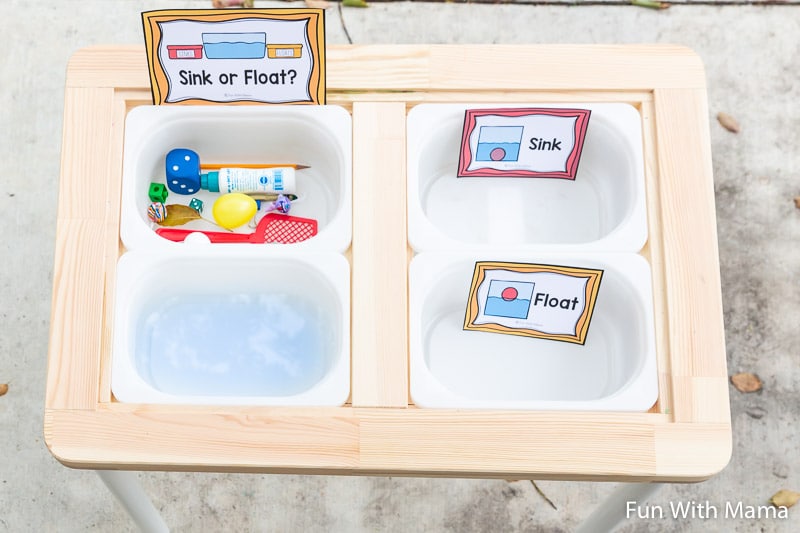 Tips for this Sink and Float Experiment
Build your child's confidence by letting them take over and fun the show. After learning for a short time, they're going to be ready to take over and experiment.
Step back and become their "assistant" in the science lab. That way, they're in charge of the experiment and you're just there to help them as needed.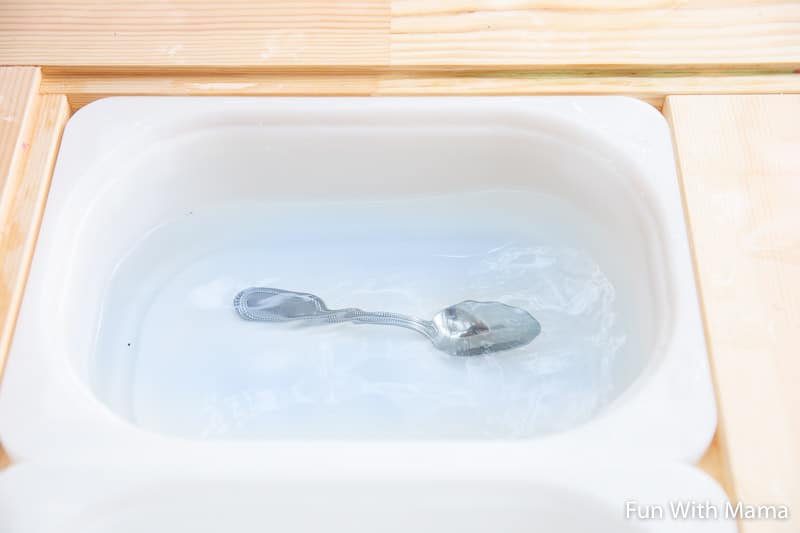 Having a towel handy to dry off items is also a good idea. Saves a big mess from happening!
Once your child has gone through all the items, use some math skills and count up how many items sunk versus how many items actually floated.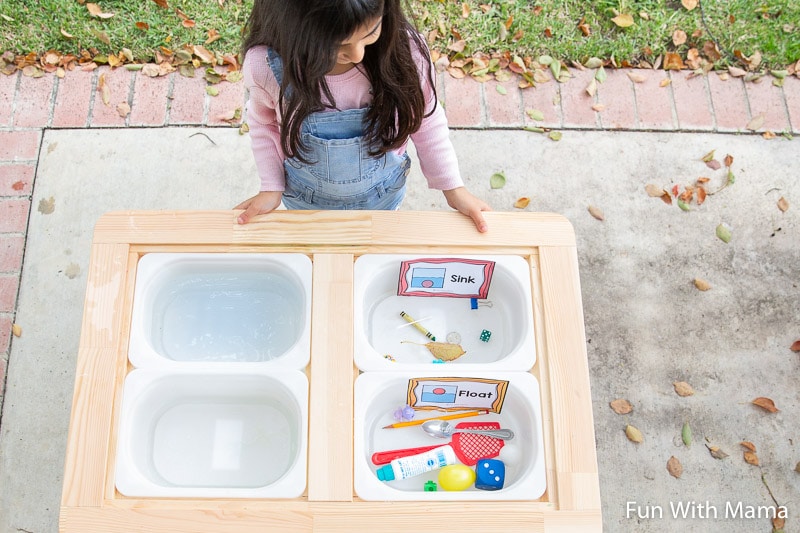 Don't forget to change up the items and let them do this sink or float experiment over and over again!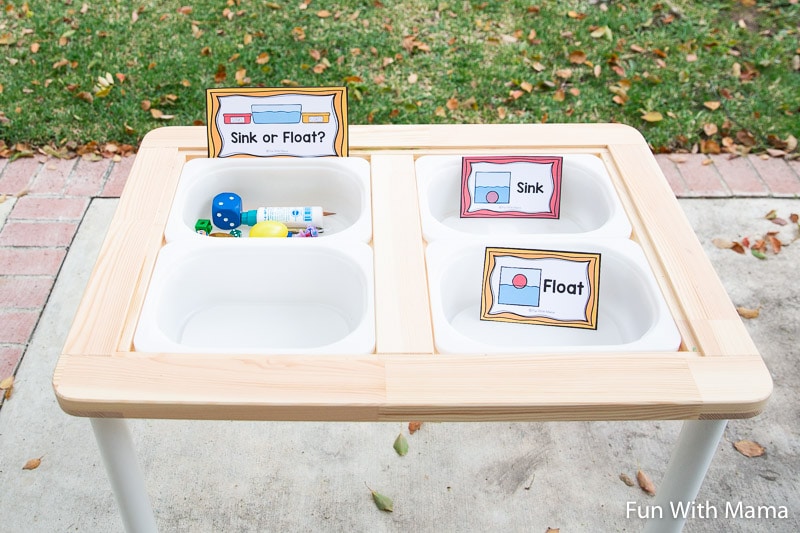 Like this Science activity for kids? Make certain to check out these as well: