Looking for some awesome books to read with your older preschooler? Check out this reading list of the best books for four-year-olds. Selected by a librarian and kid approved, these are the books your kids will want to hear over and over again!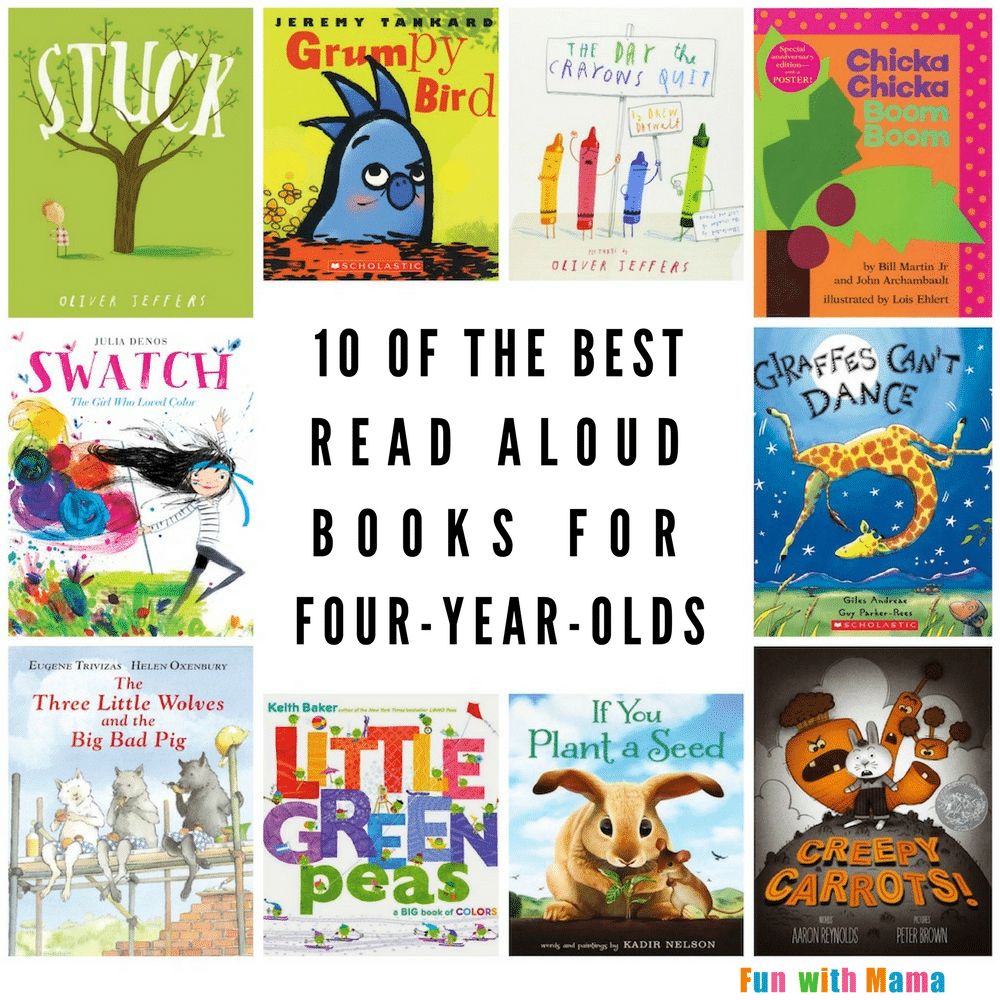 Best Books for 4 year olds
Affiliate links are used in this post. Please see my disclosure policy for more information.
One of my favorite activities was reading with my kids. I LOVED reading and was determined to pass on my enjoyment of books to my boys. I knew that reading to my children was a guaranteed way to raise readers, so we spent many happy hours enjoying stories together.
Once I started working at the public library it was my joy to read to the preschoolers. Story time was the highlight of my week.
Four is such a fun age for reading, isn't it?
They're young enough to still love reading with you and old enough to get the humour and understand the message behind the book.
There are some amazing books to share with your four-year-old. I've pulled together a reading list of some of the best books for four-year old kids. Each book passes my personal test. They are
Kid approved (they were all loved by the 4-year-olds in our library).
Fun to read aloud (because you will be probably read them a zillion times over).
Have great illustrations.
Before we start a few things about 4-year-olds. Generally speaking
They still love picture books and like books with lots of details.
They are able to sit still for longer stories.
Repetition is key. They will still ask for their favorite books over and over. Even better they will start to recite these favorites from memory.
They can learn the mechanics of reading, but often their brains haven't reached the stage where they can comprehend the words.
The most important thing you can do at this stage is to keep reading fun.
Reading is a skill that children acquire when they are developmentally ready. It has nothing to do with intelligence. You cannot rush it and too much pressure can turn your child off reading very quickly EEK!
If you're a fan of Amazon (ME!) you can grab these titles by clicking on the links below. Please see my disclosure policy for more information.
10 Best Books For Four Year Olds
1. Creepy Carrots by Aaron Reynolds

Jasper Rabbit loves to eat carrots. He stops by the carrot patch day and night. But one day the carrots start following him. Soon Jasper starts seeing creepy carrots everywhere. No one believes him, so Jasper takes matters into his own hands. Children love the antics of the carrots in this story and the twist at the end is delightful. Who knew carrots could be so sneaky?
<
/center>Duncan's crayons are on strike. One morning he goes looking for them and finds a stack of letters from his crayons. Red feels overworked. Blue is tired of coloring water. Peach had its wrapper torn off and feels naked. Children enjoy the idea of the talking crayons and four year olds get the humour in the letters and find them very funny.
3. Little Green Peas by Keith Baker
This book is a joyful exploration of color. A group of joyful peas romp through a rainbow of colors. Bouncy rhymes introduce a rainbow of colors and it is a joy to see the antics of the peas. Take your time with this book as there is loads of detail for kids to enjoy.
4. Swatch: The Girl Who Loved Color by Julia Denos
Swatch tames swirling ribbons of color and entices them to come when she calls. She starts to collect the colors in jam jars and soon she has room full of them. All except for Yellowest Yellow, who simply refuses to be tamed. The language is rich with descriptive words, so it's perfect for kids building their vocabulary. You can even use it as springboard for movement and art with activities
<
/center>In a classic twist on the traditional folk tale the wolves are the victims and the big bad pig is the villain. This book is a wonderful read. The desperate efforts of the wolves to build stronger and stronger houses and the antics of the big bad pig are hilarious. As an added bonus the ending is a lot sweeter than the original tale. No one gets boiled alive or devoured. In fact the wolves and the pig unexpectedly become friends. It is a very satisfying conclusion.
6. If You Plant A Seed by Kadir Nelson
A rabbit and a mouse plant seeds that grow into food, but they refuse to share with the birds. Mayhem ensues and the animals end up in a big mess of squashed vegetables. Everything turns around when the mouse offers the birds the last tomato and plants "a seed of kindness." The illustrations are stunning and children really like the story and quickly understand the message. The author does an amazing job of conveying a powerful message about the power of kindness without getting too preachy.
7. Stuck by Oliver Jeffers
Floyd's kite gets stuck in a tree, so he throws up his shoe to get it down, but that gets stuck too. Obviously, the only course of action is to throw something bigger up to get his kite unstuck. But what? An orangutan? A boat? A whale? surely those will work? Stuck is a delightful read and children really enjoy the absurd humor.
8. Grumpy Bird by Jeremy Tankard
Do your kids ever have days when they just wake up feeling grumpy for seemingly no reason at all, and spend the morning "grumping" at everyone around them? Such is the case with Bird. He is too grumpy to eat. Too grumpy to play. In fact, he is too grumpy to fly. Grumpy Bird is a delightful story about friendship and turning around a bad mood. It also gives you a chance to talk about feelings. The four-year-olds at our story time also enjoyed the free printable activity sheets from the publishers. http://www.scholastic.ca/jeremytankard/games.php
9. Giraffes Can't Dance by Giles Andreae
In this touching story, we meet Gerald, a giraffe who desperately wants join the other animals at the Jungle Dance, but everyone tells him that giraffes can't dance. But Gerald discovers he can dance after he gets some encouraging words from an unlikely friend. Vibrant illustrations and an engagingly rhyme make this a joy to read. This is a lovely story to teach children about the power of words, helping others, and kindness.
This book has been an enduring classic for more than 20 years. The letters of the alphabet race each other to the top of the coconut tree. When X, Y and Z finally scramble up the trunk, the weight is too much, and they tumble down in a colorful chaotic heap. 4-year-olds just love the silliness of this book and the bold, bright pictures. The rolling rhythm bounces the story along, and children quickly pick up and repeat the refrain, "Chicka chicka boom, boom, will there be enough room?"
Reading tip
Books like Chicka, Chicka Boom Boom is an example of what is called a predictable text. They are very important for pre-readers. Learn more about the value of predictable text here.
Looking for more books to make your four year old laugh? Check out this list of funny books.
Your Turn
There are so many wonderful books for preschoolers that it was difficult to narrow it down to the very best books for four year olds. If your very favorite didn't make the list, tell us what it is in the comments below! What book does your four year old love the most?
Save This List of The Best Books For Four-Year-Olds
Want to save this post for later? Pin the image below.