Do you have children in your household that love to read? Or maybe you're looking for a way that you can always have fresh and new content in your house that they can easily sit down and learn from? This is why our household is crazy about Get Epic.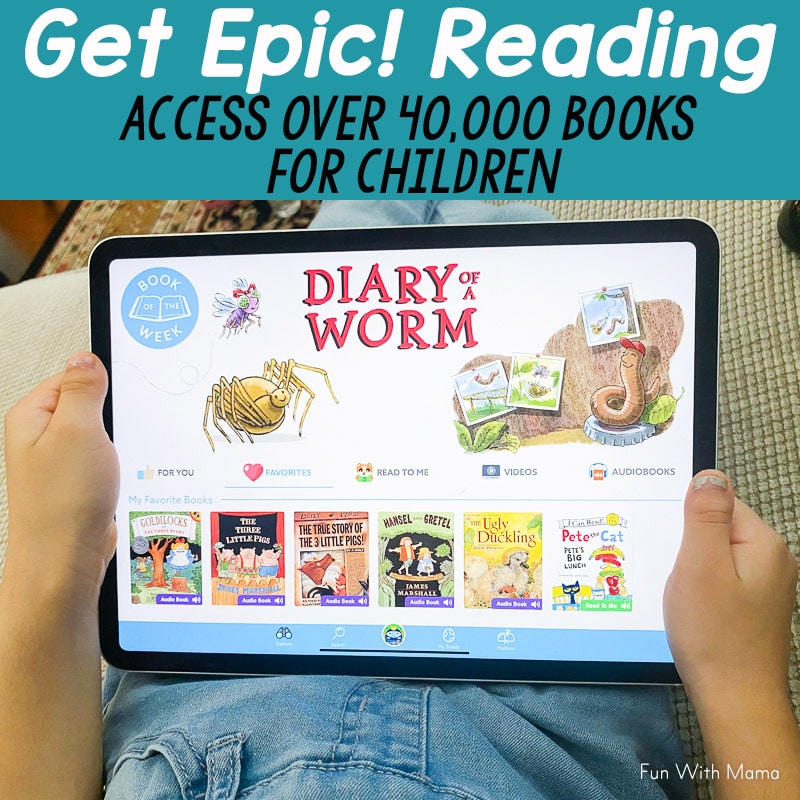 It's an online platform that gives children access to over 40,000 books that you can easily sort according to their age. Can you believe that something like this even exists? While the books are geared towards children ages 12 and under, I often find something that I'm sitting next to them and learning about from all the material online that is available. Yesterday I read a book with my daughter called, How is it made? Paper. We learned about how paper is made through pictures and text.
While we love going to our local library, sometimes it's just not an option to get out of the house to do so. My shelves are also overflowing with books and I just don't have space to keep adding many more physical books at home. With Get Epic I am now able to access a virtual library of books and I can assure you that we've been gobbling up a TON of great books about all different sorts of topics and learning activities.
My kids love being able to get into Get Epic from pretty much anywhere that they want. And I love knowing that they're able to use their screen time as a great way to increase their knowledge base, too.

How much does Get Epic cost?
This is the cool part about it. Right now, they're offering teachers FREE remote student access until June 30, 2020. Their platform works great with Zoom so you can easily give an online lesson where you can read out loud to your students or take turns reading from the pages.
And if you're a parent with your child at home, you can sign up for a FREE 30-day trial and see if it works well for you and your child.
After the free trial period, the price is only $7.99 per month for UNLIMITED access. You can't find a better deal than that anywhere for the number of books that you get.
If you were to even buy one of these books new in the store, you'd already be over that pricepoint immediately.
Can you download books on epic?
You can! This is just another reason that we love the company. When we're at home, we don't wait for it to download as we can just stream it right there while we're connected to the Internet.
But when we're on the road or heading out to run some errands, we can download the books that we want so that we don't need any Internet for the children to continue to read and learn.
Epic books include the following types of books:
Audiobooks


Read to me books – these books contain pictures and the text is highlighted as it is being read to your child. This is to encourage your child to see the words and increase their own reading fluency.


Virtual books
Our Favorite Get Epic Books
Since there are so many great books available it's really hard to narrow it down but here are some of our favorite books that we've loved so far: (and our list is ever-changing because we're constantly downloading new books!)
The Giving Tree
Brown Bear Brown Bear What Do You See?
Diary Of A Wimpy Kid
My Father's Dragon (as a good starter read aloud)
Chrysanthemum
The Nappying House
Splat the Cat
The Big Nate series
The True Story of the Three Little Pigs (audiobook)
I'm loving these books that teach children creativity and imagination… if you have Get Epic or are getting books from your local library then here's some creativity books:
Sky Color – the sky doesn't have to just be blue.
The Dot – look at what happens when you make a dot.
The Magnificent Thing
Ish

We find that they're great for supplemental learning for schooling and we also love to snuggle up and read together right before bedtime, too.
I can't express how simple it is to sign up for and it's definitely worth checking out the free 30-day trial.
Tips to remember:
Make sure to unsubscribe for the subscription as soon as you sign up so that you don't end up paying after 30 days. I always do this. This will still give you access for the promised time and then you can decide if you want to continue your subscription. (I think you're going to love it enough to continue but this is a helpful reminder, just in case!)
So, what do you say? Are you ready to help your child increase their reading skills and comprehension skills, too?
Give Get Epic a try and see what all the positive praise is about!