Teach your kids about arctic animals with this fun sensory exploration snow hunt activity. Although we don't live in a snow filled area (I wish we did) we made do by making our own snow and having my daughter search for the animals in the snow. This activity is great for kids of all ages, from toddlers, preschoolers, kindergarteners and even elementary aged kids.
Kids Arctic Snow Hunt Sensory Bin

This fun sensory bin will work on fine motor skills, imaginary play and is just plain fun! Watch the video below which I posted on Fun With Mama's Facebook page to see it in action:
Materials Required:
I chose to use the Arctic Toob.
I had much less snow than the one I linked to above. I wish I would have purchased the big one though because my kids had so much of fun with it and I could have put it in my sensory bin container to use throughout the whole month.
It is really easy to make snow at home with the kids. You can check out this simple DIY "snow" tutorial.
How to make indoor snow
We just mixed the insta-snow with some water. It was simple to do and so much of fun to see how the snow spread out from a powder into fluffy "snow".
Setting up the kids activity:
Place your printed paper on the tray. If you are using real snow make sure you laminate this page. If you are using the DIY Snow then add water to the snow powder to create your snow.
Then place the snow all over to at least cover your paper.
Your child can use the paintbrush or their fingers to brush away the snow and to search for the animals. Once they find the animal they need to find the same figurine and place it on the same spot.


During the activity we worked on some vocabulary. When she found the Walrus I told her to find the Walrus figurine, we explored the igloo and she found the animal named Caribou funny.
Allow your child to explore and play in any way they like. Once she was done I removed the paper and allowed her to just play with the snow and the fun figurines.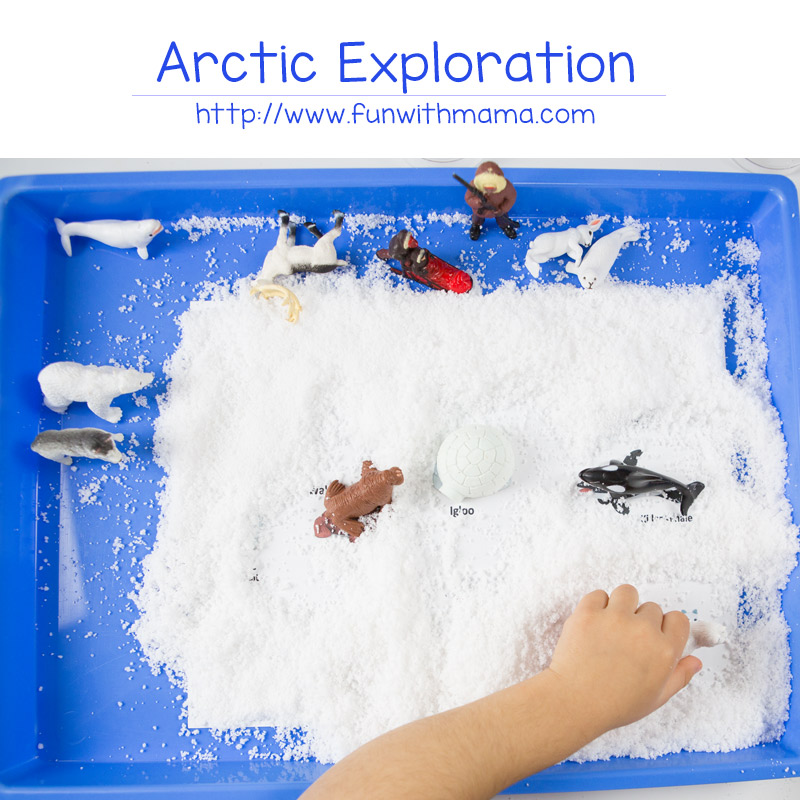 CHECK OUT THESE OTHER WINTER THEMED CRAFTS AND ACTIVITIES
MY WINTER TPT ACTIVITY PACKS