There's more to painting for toddlers than making a messy masterpiece to display on the fridge. Painting for kids has so many benefits. When your toddler paints, they enjoy sensory play, building muscle memory, learning to focus; the list is almost endless.
Make sure to check out my Best Watercolor Painting For Kids Activities + Techniques as well!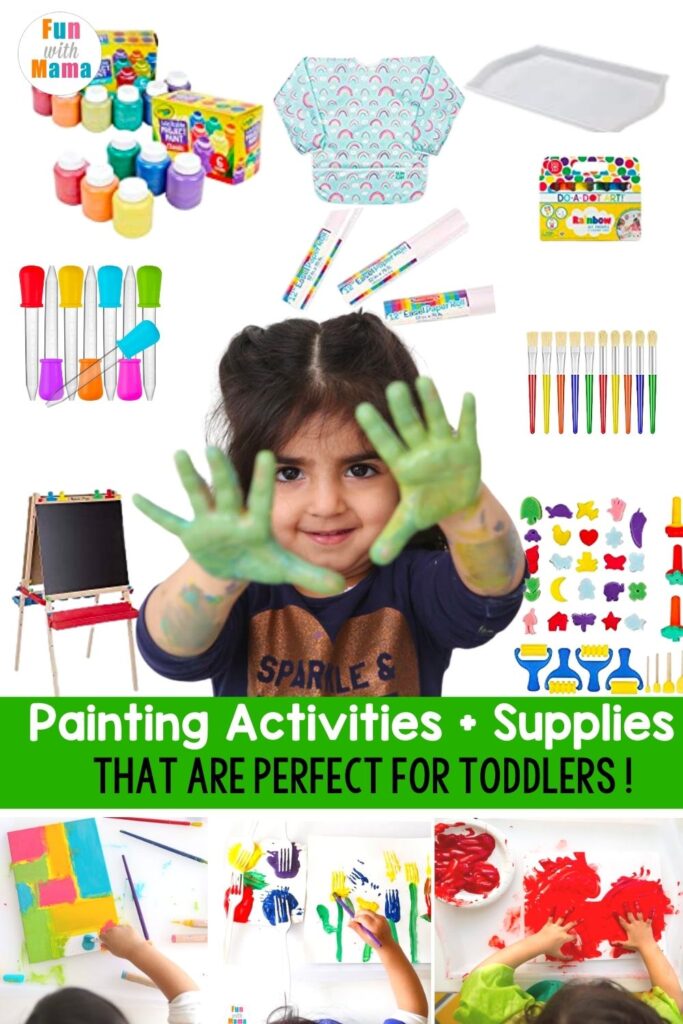 Toddler painting is so much of fun!
Now that your child is a toddler you may want to embark on the wonderful world of painting with a toddler.
If you aren't sure what painting for kids looks like at different developmental stages, I highly recommend you check out my post about Painting for kids at different ages. It shows you what artwork will look like through different age groups.
Here's a look at the benefits of painting for toddlers, along with our favorite basic supplies for painting with toddlers and some painting ideas to get you started.
When you start on this new creative journey with your child, you may be uncertain where to start or what a painting activity for toddlers would look like. Or, you are meeting this stage with some trepidation and fear thinking, "How do I contain the mess?" or, "Which is the best paint for toddlers?" or you're wondering why you should even start painting with your toddler in the first place.
Today, I'm here to show you that really, while it might seem overwhelming, it's not hard at all to do painting activities at home with your one-year-old or two-year-old. In fact, I dare go as far as saying that it's actually something you, Mom, may even enjoy, painting with your toddler of course!
Let me cut out all the guesswork and tell you all my favorite painting supplies for toddlers that we've tried, tested, and LOVED! Plus, I'll teach you how easy it is to minimize the mess and clean up parts too.
But first, let's understand why you should paint with a toddler.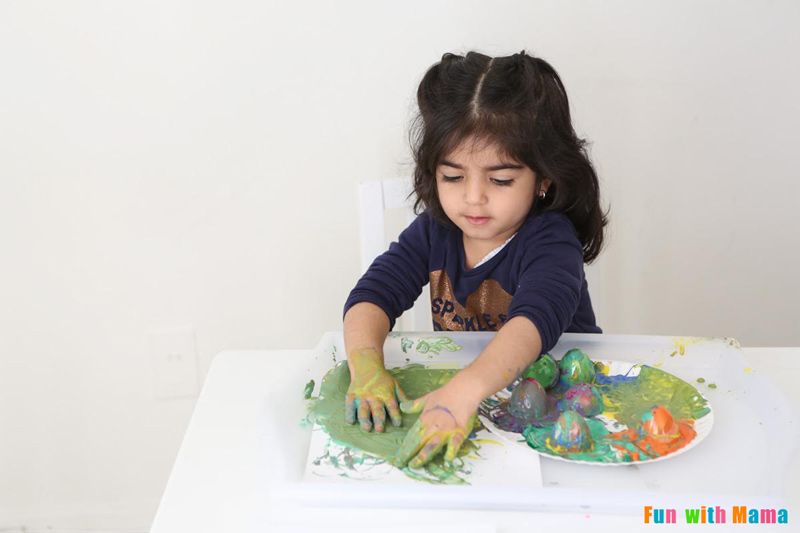 The Benefits of Painting For Toddlers
We have previously written about the amazing benefits of finger painting. There are obvious, primary academic benefits of painting for toddlers, such as learning about colors and shapes but spend some time painting with toddlers, and you can see:
An increase in hand-eye coordination. Simple actions such as aiming the paintbrush for the paint help develop your toddler's hand-eye coordination.

Improvements in fine motor skills. Using a paintbrush starts as a gross motor skill. However, rather than making splodges of paint, painting specific things requires greater control and is an excellent pre-cursor to holding a pencil or pen.

Greater focus and concentration. If your toddler enjoys painting, they will begin to spend more time concentrating on this one activity without having to be re-focused.

A broader vocabulary. Painting, and other creative pursuits, introduce new words to your toddler's vocabulary. A broader vocabulary is directly related to a child's ability to learn to read and their future academic achievement.

Growth in self-esteem and confidence. When your toddler learns they can create a painting, show it to you, and receive positive recognition, they feel more confident about their abilities and themselves.

Greater emotional regulation. This is not true for all toddlers, but some parents find their child becomes less frustrated and less quick to tantrum when they have the opportunity to express themselves through painting.

Teaches them about primary and secondary colors – As your child begins to work with the colors, mixing will naturally happen. They will begin to explore concepts like primary colors as well as secondary colors. This helps them with color recognition.
At the age of around 1, painting is more about the process than it is about finished product. Toddlers between the ages of 1-3 absolutely love exploring their art materials, feeling it with their hands, and smooshing it between their fingers. Almost every art activity at this age seems to turn into a finger or hand painting activity.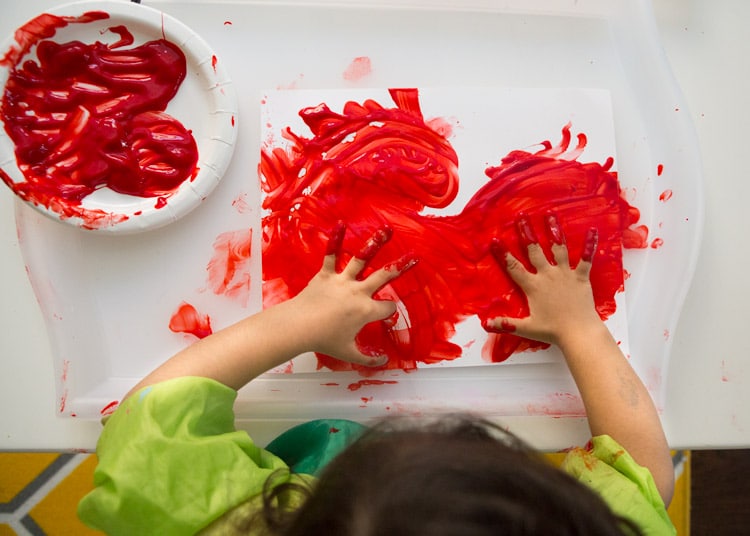 They are learning to explore painting with their hands, holding a paint brush, making the paint brush transfer the paint to the paper and so much more.
Not only is painting great for brain development, it's also a wonderful bonding experience when Mom joins in too. Painting with your child is a fun way to spend quality time together. It may even get your own creativity flowing.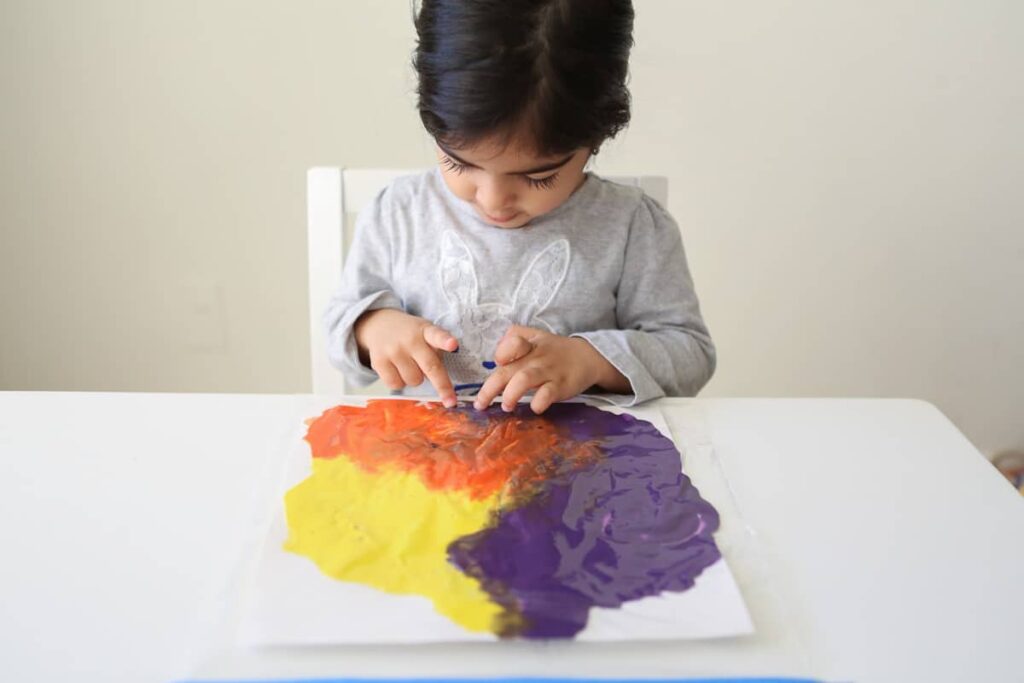 What Painting Supplies Do You Need For Toddlers?
The basic painting supplies for toddlers are:
Paints You don't need a wide range of paint colors. Three to five basic colors plus a bottle of white is an excellent place to start. If your toddler enjoys painting, you can add more colors later.

Brushes We recommend large, chunky handles. Different size or shape brush heads will give your toddler more variety and allow them to discover more about cause and effect.

Paper There are two good options for paper. A roll of easel paper can be used "off-easel" and is excellent to unroll along the floor for a giant painting. If you prefer sheets of paper, then we've found 70lb white sulphite paper will stay strong while soaked in paint; but it is also suitable for pencils, crayons, and other art supplies.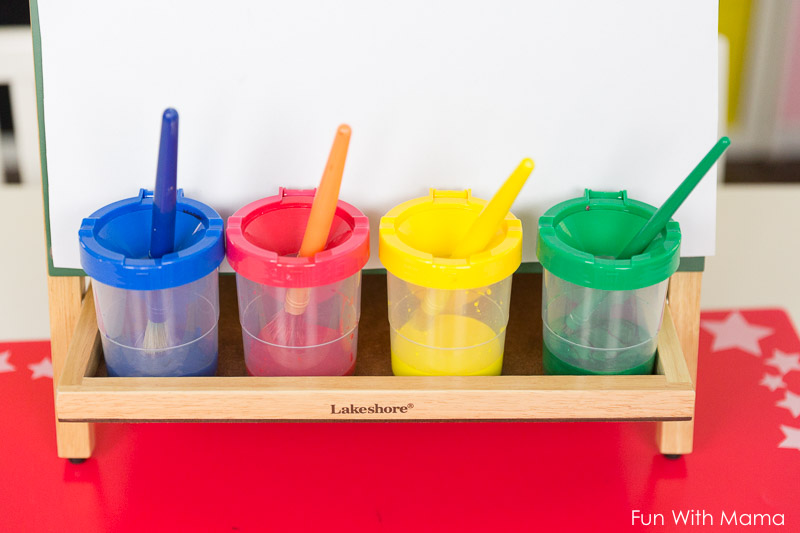 How to minimize the mess when painting with toddlers?
Begin with the end in mind, think about the clean-up process, and find ways to prevent the mess. The goal here is easy clean-up and if you put my tips into good use, this should be easy for you too.
Create your painting zone – Choose a safe place to do the activity
Make sure to choose an area that is easy to clean. I wouldn't, for example, do an art activity on carpet in my bedroom. That's an accident waiting to happen. I would, however, do an art activity on her craft table that has a wooden floor underneath it.
Where are some safe places to do art activities?
Outside
On a wooden floor
In the bathtub
In the shower
Wherever you have created a safe buffer zone.
Painting with Toddlers Tips
– Don't leave young children unattended while doing an art activity
Make sure that your child has everything he needs for the art activity all ready for him before you begin. This will prevent you from walking away looking for something while your child has a huge fist of paint on their little hands.
– Place a tray, or large mat under your painting zone.
– Keep a wet rag, towels, or paper towels nearby to clean up any spills or accidents immediately.
– Set clear expectations by talking to your toddler and telling them where the paint can and cannot go.
– Use washable paint
– Have your child help with clean up.
You can also paint inside a storage bin. That's another great way to minimize mess.
How to start painting with toddlers?
First decide what art activity you would like to do,. Is it a finger painting activity? Is it free and open ended art? Do you want your child to use some tools?
I suggest beginning first with one color. Talk about the colorThe next time you can add another color.
Once you have your activity all set up (on your paint tray) and are ready to go, invite your toddler to explore.
Talk to your child about their art, the tools, and be present. Explore with them. Grab a piece of paper and join in with them. They will learn from your modeling.
The Best Painting Supplies for Toddlers
In this post I will be focusing more on painting with tempera paints. I have a whole post dedicated to The Best Watercolor Supplies For Kids and Watercolor Painting For Kids Techniques.
Best Paint for Toddlers
This is the paint that we use. We buy the big bottles, but you can start off with the smaller bottles.
We love the Crayola paints! It's always our first choice because the colors are vibrant, they mix beautifully, and they go on nice and smooth on our paper. The pack I recommend includes a lot of different colors too.
Colorations Washable Kids Paint
A great alternative to the Crayola paint is the Colorations line of tempera paint. Not only does it have a fabulous consistency, but it is made in the US, has multiple safety certifications, and is free from the most common allergens.
Also, Colorations paint is easy to clean up with water and washes out of fabrics in a regular wash with free and clear detergents.
Best Paint Brushes for Toddlers
One thing to look out for is a brush that has hairs that come off while children are painting, I hate that. The last thin you want when your child is painting is for brush hairs to be left all over their painting. They may attempt to use their fingers to remove the brush hair and then they won't like the smudges it leaves behind.
Avoid the thin brushes you find in paint sets and any brush with a long handle. Instead, look for a shorter, chubbier handle and brushes with bristles or a sponge head.
This chubby brush set includes chubby round brushes as well as chubby flat brushes.
These triangular handled brushes have a comfortable grip, and as a bonus, don't roll away.
My favorite set of brushes for older kids comes from this brand. They have a kid's set too that I have and LOVE as well.
We also like these textured art tools from Ready2Learn. They're easy to clean and also fun in the bath! Each brush comes with a fun and great texture. At this age, it's all about the art process (called process art) rather than about the end product (the final painting.) Kids really enjoy actively painting and these tools are fun additions to that process.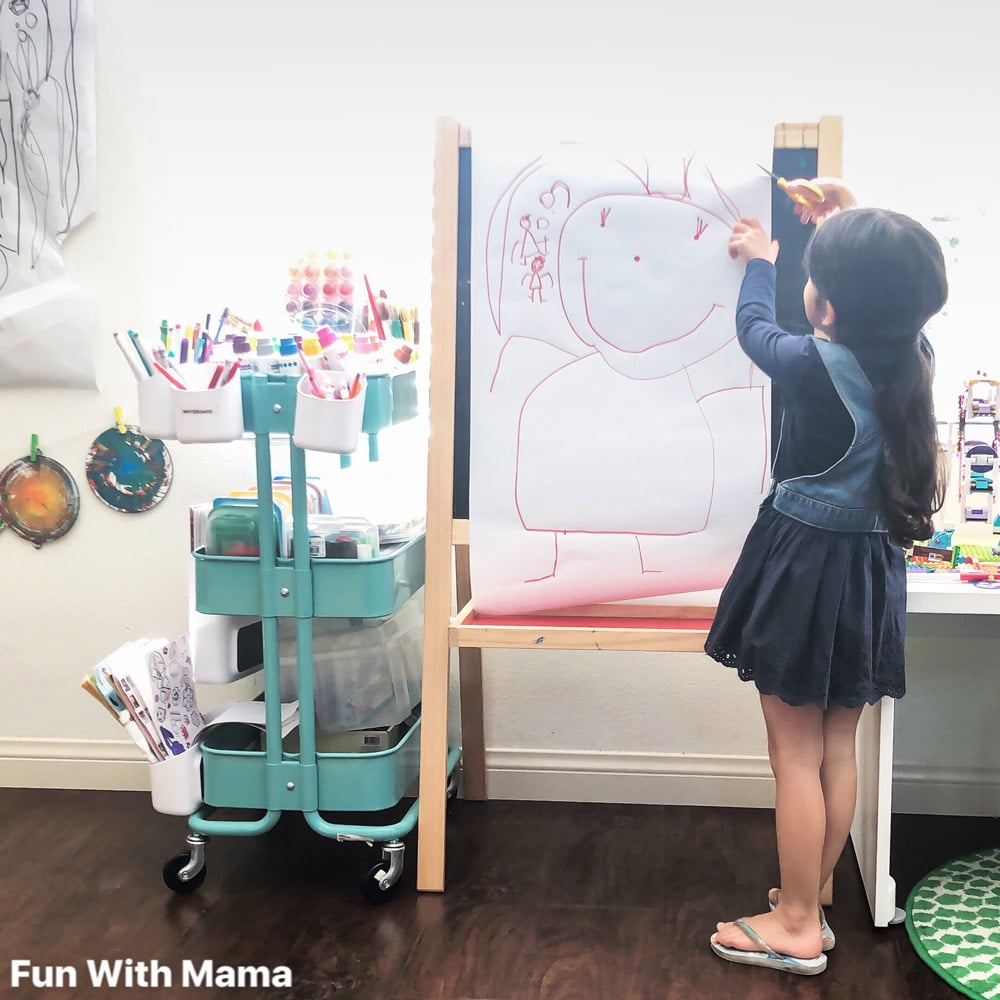 Best Easel for Toddlers
The Hape All-in-One Wooden Kid's Art Easel comes with a paper roll and three paint pots. The paint pots are easy to remove for washing, and we adore the washable table-top surface that makes it easy for uncoordinated toddlers to put their brushes down without getting paint everywhere.
The Melissa and Doug art easel is great as well. My older 2 kids used the Melissa and Doug art easel and it provided years and years of fun art time. We loved it.
The Ikea art easel is also great. My 3rd child used an Ikea art easel and it worked beautifully.
Best Paper for Painting With Toddlers
The paper we use most often at home is this card stock paper. This is especially used when we do toddler art activities. For older kids I am more prone to purchasing Sulphite or watercolor paper, but for toddlers the card stock paper works wonderfully. I also print out drawings from my computer using the card stock and my daughter just paints right over it.
For 12 x 18 paper when finger painting and painting with tempera paints we have been using and loving this paper.
For the Melissa and Doug Easel, I recommend that you purchase the Melissa and Doug easel paper. We also use this paper whenever we want to do a large tabletop activity too.
Grab some coffee filters too. Toddlers love watercolor painting on coffee filters.
Sponges and Tools
Since the painting process for little ones is more so about the process, throw in some sponges and painting tools for even more exploration time.
Best Painting Aprons for Toddlers
You can use a cheap large shirt as an art apron or choose one of these cute art apron's.
The Bumkins long-sleeve art smock is suitable for kids up to five years. The wrists are lightly elasticated, it has an adjustable neck tie, and best of all, it's machine washable.
DIY Easel for Toddlers
You don't need an easel for painting with toddlers; you can tape the paper to the wall or make a DIY, table-top easel from cardboard.
YouTube: https://www.youtube.com/watch?v=ihtPlQN6Iko
Paint Cups for Toddlers
We often put our paint directly onto a paper plate and that works great. We also use paint cups.
These paint cups are great for toddlers. I love that they have dual slots so that you can put in two colors into one cup without them mixing.
Dot Markers
I LOVE using dot markers for toddlers because it minimizes mess and the paint that comes out of it is so vibrant. We actually always have our dot markers in my kids art cart. Pair it with a dot marker coloring book for a simple art activity.
Best kids table and chairs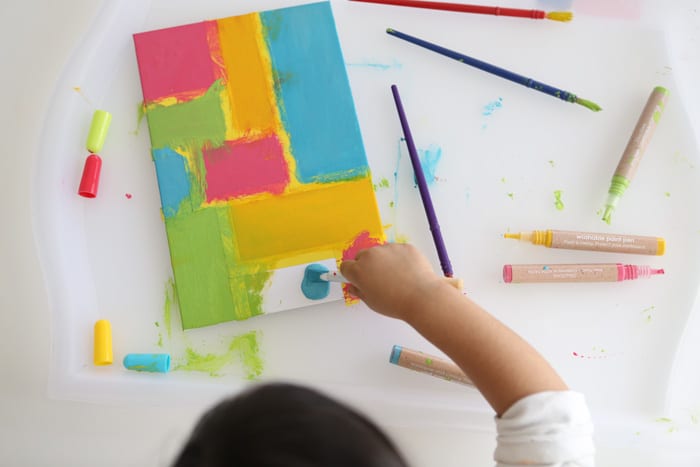 Pipettes
If you plan to do watercolor painting on butterflies, then I highly suggest you pick up a set of droppers. You'll use them in your sensory bins as well as during liquid watercolor painting moments too. They are great for strengthening little hands and fingers too.
Ideas for Painting With Toddlers
You don't have to stick with paint and brushes on paper. Some alternative painting ideas for toddlers include:
Any painting that allows them to paint with their hands. Most of the time my kids will give up the brushes and extra tools and just go straight in with their hands. It's their favorite.

Painting with (washable) household items such as pot scrubbers, palette knives, or patterned rolling pins.

Paint with forks.

Painting on different mediums such as foil, kitchen roll, or windows.

Use fabric paints to create your own tee-shirt masterpieces.

Washable toys make fun tracks. Try vehicles, animals, Lego bricks, etc.

Don't forget everyone's favorite classic, fingerpainting. We have our own baby-safe fingerpaint recipe, which is easy to make, and more importantly, easy to clean.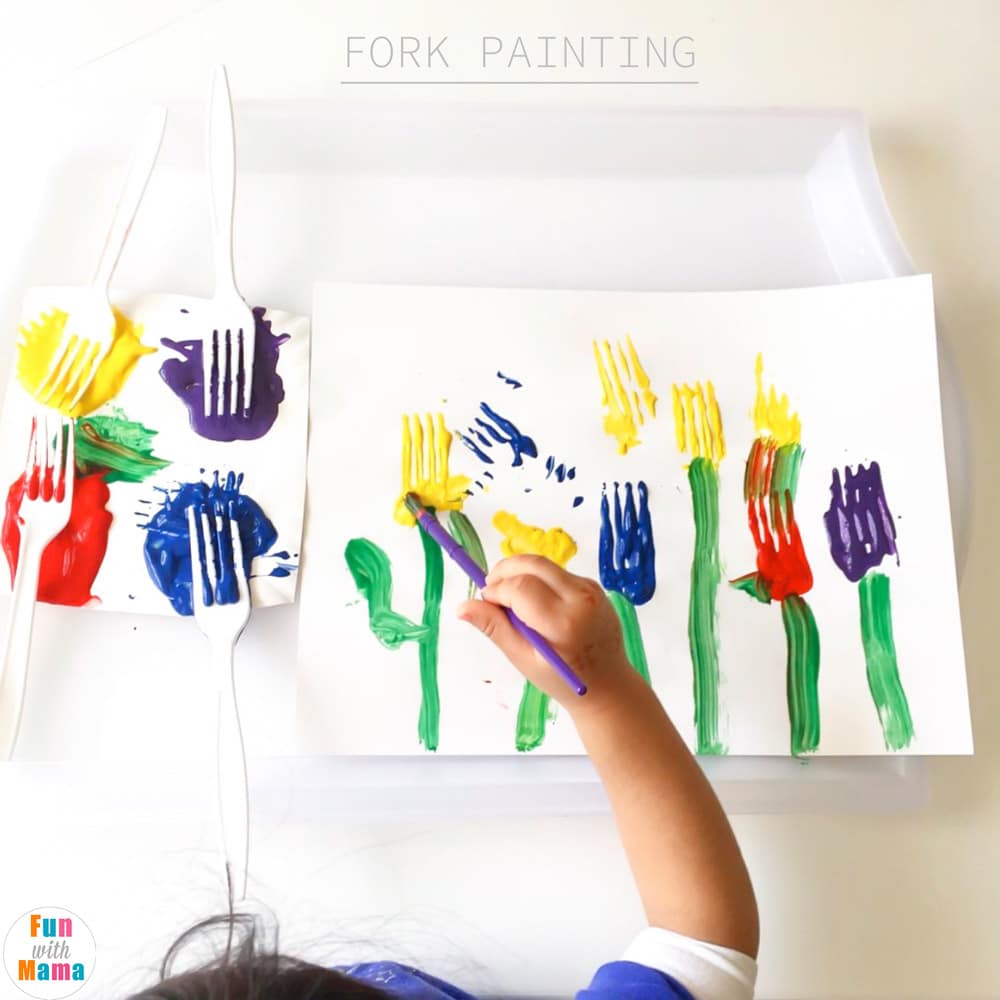 Are Acrylic Paints Safe for Toddlers?
Acrylic paints are not recommended for toddlers, even those labeled non-toxic. Although brief contact with the skin is not a problem, acrylic paints contain ingredients that may cause a localized skin reaction in some people, and toddlers are especially vulnerable.
Also, some water-based acrylics contain ammonia or formaldehyde, while solvent-based acrylics can contain turpentine, xylene, toluene, and methyl ethyl ketone.
If you choose to use acrylics for a specific activity, such as making a hand or foot-print keep-sake, it is safe to use non-toxic acrylics providing you:
Apply the paint yourself,
Closely supervise your toddler while "painted,"
Wash the paint off again as soon as possible.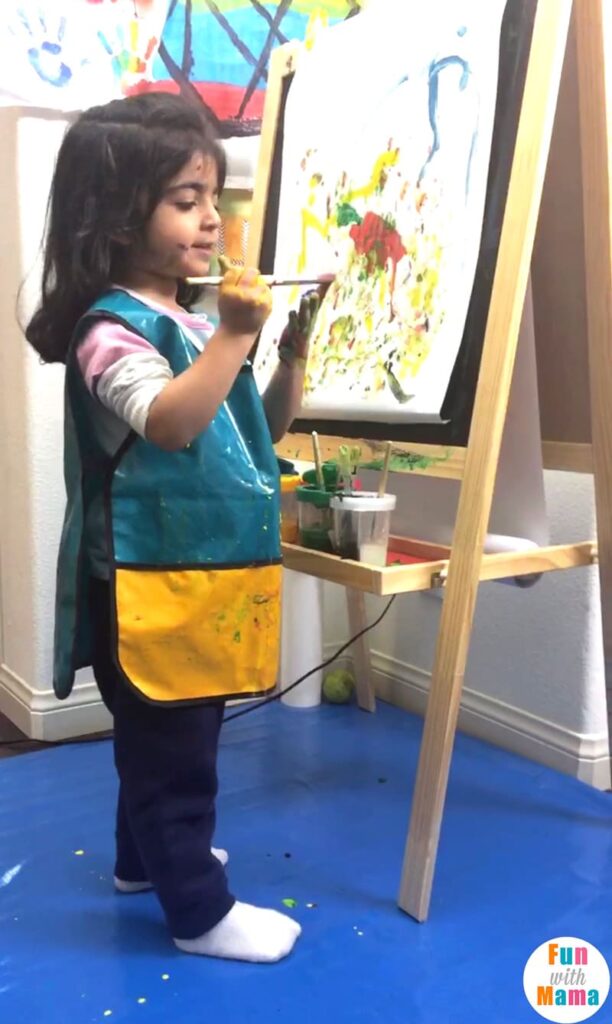 Is Painting Good for Toddlers?
Painting is suitable for toddlers in so many ways. Not only are there the cognitive and educational benefits we listed earlier, but painting is also a way for your toddler to discover how they can influence their environment. Not to mention – how much fun it is to make an unabandoned mess!
I hope this post was helpful for you and gave you a glimpse into painting for toddlers. It is really a fun age to do art with and now that my youngest daughter is 11 months old, we are already beginning to embark on the journey of painting together.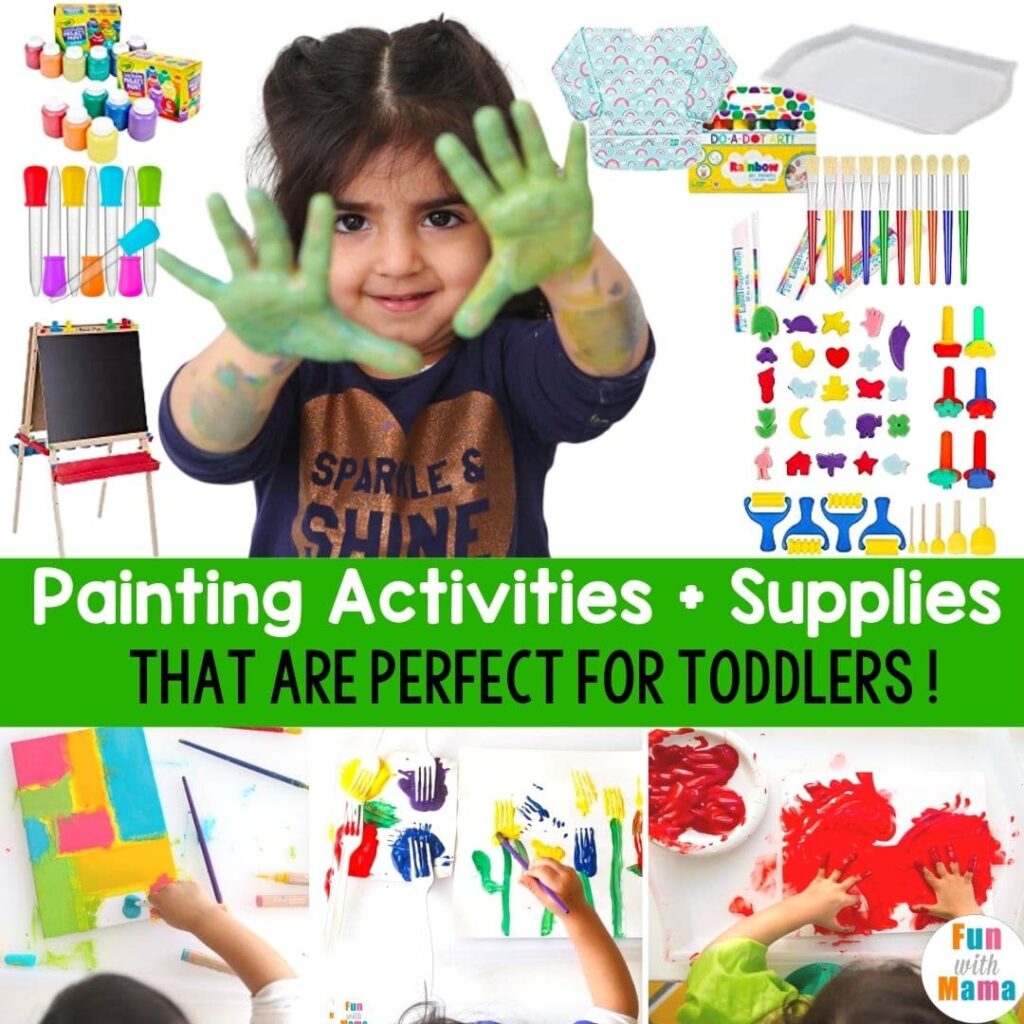 More Art Activities for Kids