Watercolor painting for kids is one of the easiest activities to put together. The world of watercolors is filled with inspiration and creativity. These watercolor art projects and watercolor techniques are great for kids of all ages (Yes, even adults too!)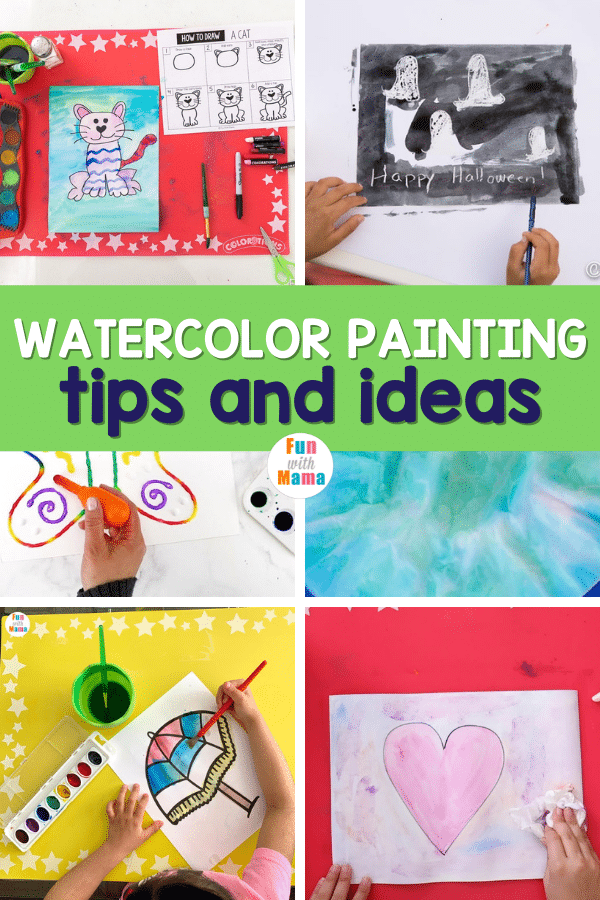 In this post, I am going to give you some fun watercolor ideas that are the perfect watercolor paintings for beginners. Younger children will be able to progress through these activities and build on their watercolor painting skills and then show you how to do some fun watercolor painting techniques too.
Please note that affiliate links may be used in this post. That means that if you make a purchase, at no extra cost to you, this site will earn a small commission.
What Is Watercolor Painting?
Watercolor painting is the process of painting with pigments mixed with water.
My kids started painting as soon as they reached toddler age. My 11-month-old was able to join us as we did some of these watercolor projects and she had such a happy smile on her face as she moved the paint brush with me.
Favorite Watercolor Supplies For Kids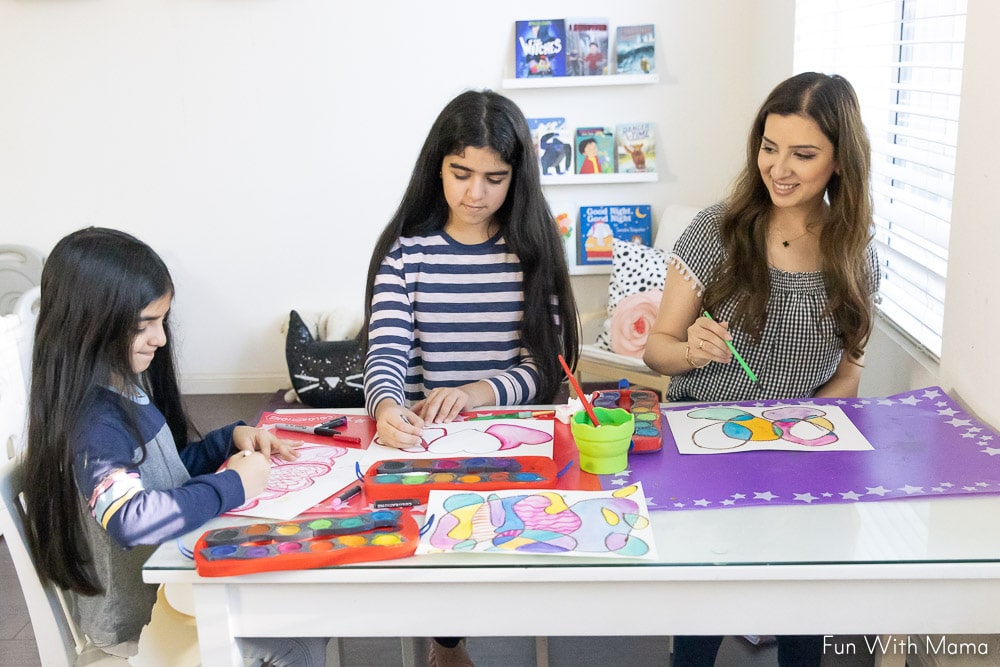 How to teach a child to use watercolor paints
When I first introduce watercolors to younger children I give them a little watercolor painting for beginners tutorial.
We use a scrap piece of paper and then I show them how the dry pan watercolor palette can't transfer color to their paintbrush without water. We swipe the dry pan with the brush and then the paper. Nothing happens.
I then show the kids how to paint with watercolors:
First, dip the paintbrush into the water,
slide off the excess using the water container,
dip the brush into the paint pan,
swirl the brush around the wet watercolor paint,
then use the paint-filled paint brush on the piece of watercolor paper.
When I'm done with one color I show them how to dip the paintbrush back into the water cup to get all the color off before beginning on the next color.
With a preschooler, you will likely still have color mixing from other colors on your paint palette and that's totally normal. Kids forget to remove the previous color in their excitement. To clean your palette just use a little water and wipe off the wrong colors when they are done with the activity.
For really young kids, I suggest you start off by wetting each of the paint pans with a few drops of water to make this part easier. Toddlers can then begin the project. with wet watercolor paints that will be easier to work with.
Try out these watercolor activities for kids
Let your creativity run free with the wonderful world of watercolors. These fun watercolor activities can be enjoyed by kiddos of all ages, including the adults! I love to do watercolor painting with my kids. It's a great way to bond and spend quality time together. These beginner-friendly watercolor ideas are organized by pan and liquid watercolor activities.
Pan Watercolor Activities
1. Free painting or using a wet to wet technique.
A great beginner watercolor activity is just to start making brush strokes on a piece of paper. Start by adding water to your paper using a watercolor brush, then dip your paintbrush into your watercolors and add that to your paper.
If your paper is wet, the paint will spread out as it drops onto your paper. You can also paint on dry paper and just wet your watercolor pan with water from a brush. This will allow you to have more control of the design. Free painting is a great watercolor for beginner activity.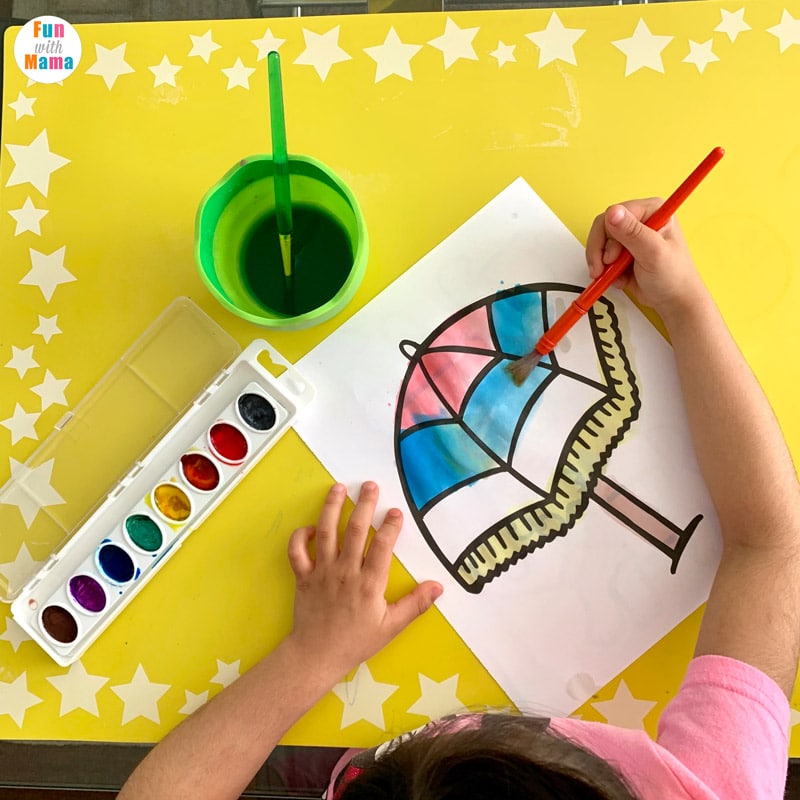 2. Watercolor painting with a coloring book
Using this type of coloring book (the pages are thicker) is actually one of my favorite ways to do watercolor art with preschoolers and toddlers. Instead of kids getting stressed out over making a beautiful design, they enjoy just feeling the calm that comes with painting. It's also not just for kids, adults can enjoy coloring with a coloring book too.
When you create brush strokes, it relieves stress and anxiety. Children can use specific coloring books with thicker pages to paint with watercolors. I often set this activity up for my daughter on a kid's play tray and place it on her kid's activity table whenever we need a quiet time activity.
Using a coloring book is honestly so simple to put together! I often just place them in a kids play tray when I have time and pull out the activity whenever I feel like it's needed.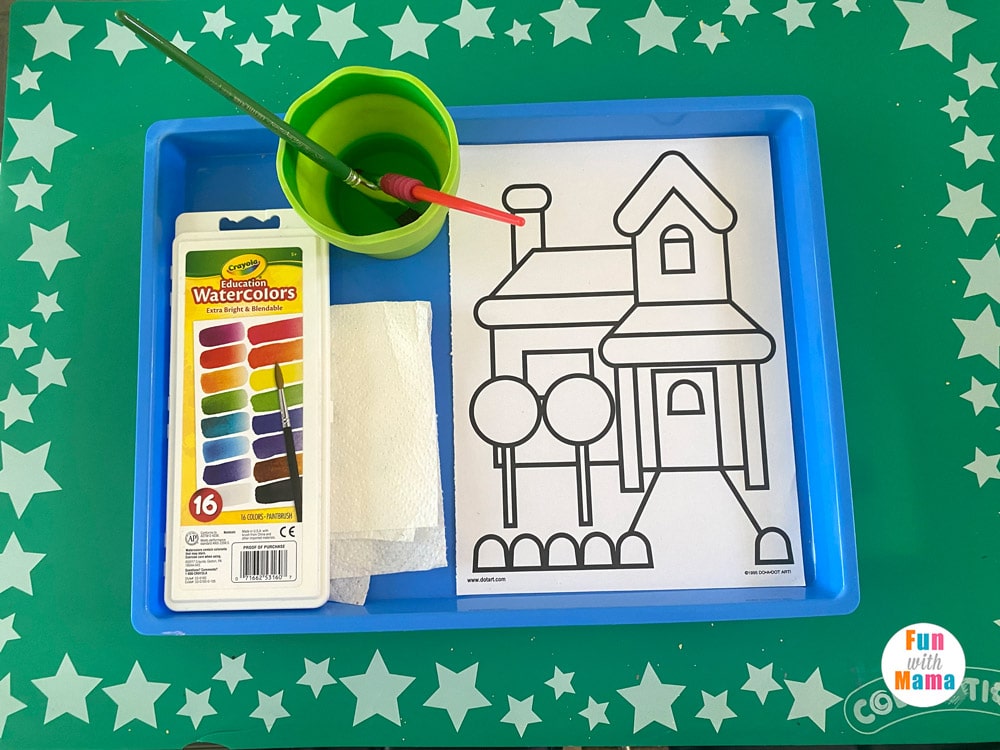 Here are some coloring books I recommend using with watercolor paints.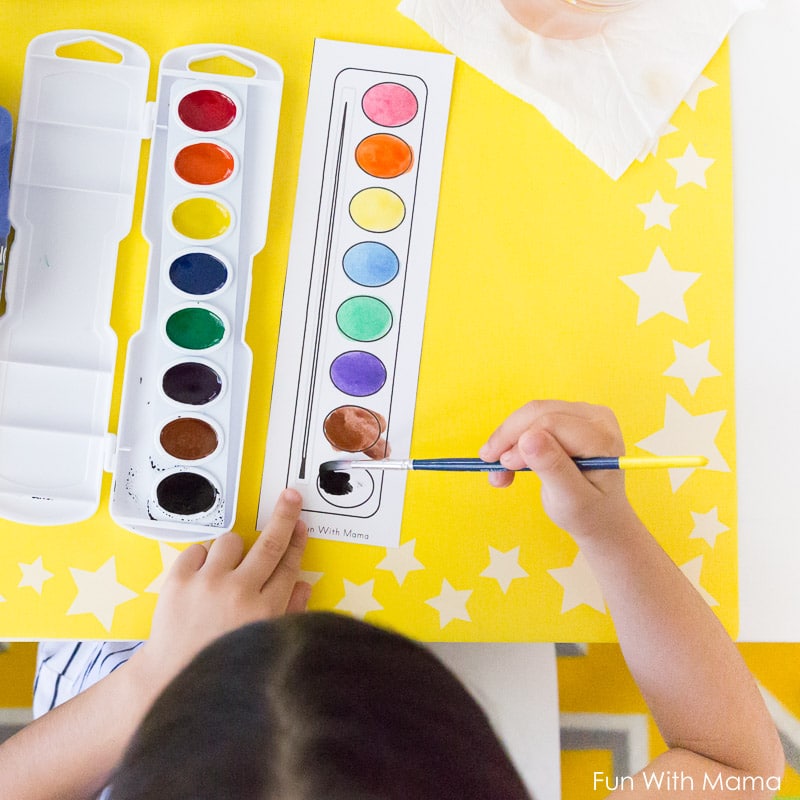 3. Paint a watercolor palette using a printable activity
I print my watercolor and painting activities on cardstock paper. Children can work on their visual perception by copying what the real-life watercolor palette looks like. Or, you can work on patterns. Allow your child to be creative and do whatever they like. This activity helps them learn to stay in the lines when painting so make sure you use an appropriately sized brush. Get the printable here: Watercolor Palette Painting Activity For Preschoolers
4. Create abstract art using watercolors and oil pastels
Draw random shapes and circles on your watercolor paper using oil pastels. Then start using watercolors to paint within the shapes. As the painting takes shape, it really transforms into something beautiful!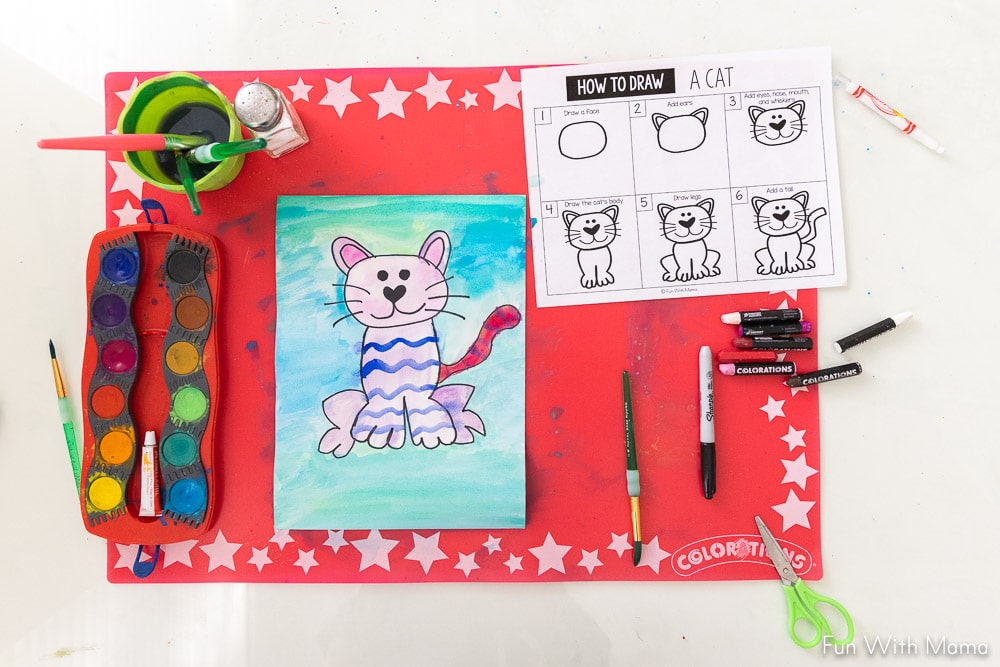 5. Use Sharpies or Oil pastels to draw design outlines
Use a permanent marker to draw a picture. Then paint in the picture using liquid watercolors. The colors transform your drawing into something even more beautiful.
6. Washi Tape Painting
Create a design on your paper with washi tape. Paint over the paper. When your painting is dry carefully peel away the washi tape. Try this I Love You Painting Activity for Kids that includes using washi tape.
Liquid Watercolor Activities
7. Crayon resist painting
This activity works with any theme. Just draw onto your paper with a white crayon. Then paint over the picture with liquid watercolors to reveal the pictures. We did this with secret love notes and the crayon resist ghost painting activities.
8. Paint with watercolors on coffee filters
Coffee filters are the perfect medium to work on when using watercolors. The liquids spread around so beautifully and the final results are always eye-catching. Make Coffee Filter butterflies or a Coffee Filter Earth.
To make a coffee filter butterfly:
Place your coffee filter on a tray
Drop liquid watercolors onto the coffee filter
Let your painting dry.
When it's done you can add pipe cleaners.
You can use liquid watercolors for this project or you can use a pan watercolor palette. We've also used markers and then just sprayed the coffee filters with water thereafter.
9. Try Paper Towel Painting
Watercolor painting on paper towels is amazing! The colors mix together in such a fun way. Check out the video above to see how it works. This activity uses liquid watercolors.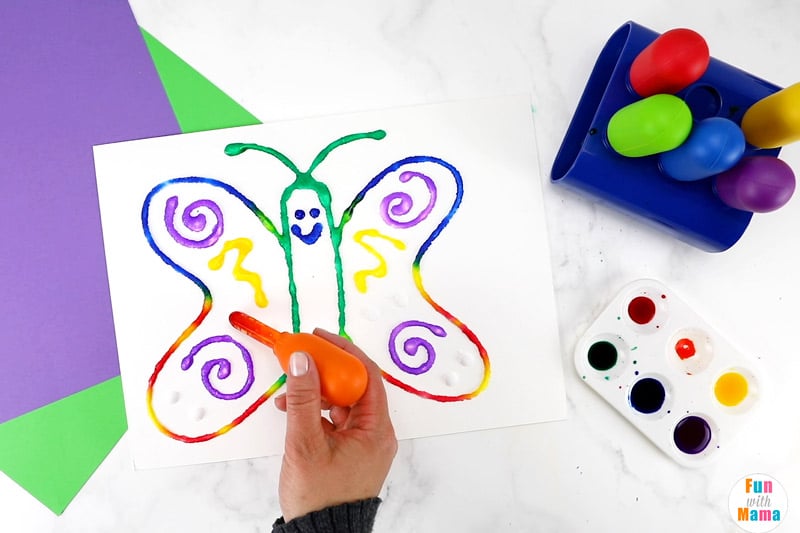 10. Raised Salt Painting
Watercolor salt painting is a fun activity that my kids love doing. All you need to do is
Watercolor techniques for kids to try
These watercolor painting techniques can be added on to any picture or watercolor art project that you are working on. You can try them as a stand alone art activity or as an addition to one.
1. Splatter Painting
This is a form of action art and boy is it fun. If you want to use it above a watercolor painting you worked on then wait for your painting to dry before adding the splatter paint portion.
There are 2 ways to do this, one is by flicking the brush with your finger and two, you can tap the brush on your hand and let it splatter.
Each method will provide a different result. Flicking the brush with your finger will be messier and your hands and nails will get paint on them, but the result is smaller paint splatters.
Tapping the brush against your hand (without the brush touching your hand) will create thicker and bigger paint splatters of wet paint on your paper.
2. Watercolor painting with plastic wrap
Here's a fun painting activity to get some texture on your paper. When you are done painting your paper with watercolors, add a bit more water to the paper with your brush. Then crumple a piece of plastic wrap. Open it up and place it onto your paper. When the paper dries you can remove the plastic wrap and you'll see a cool interesting looking texture on your paper.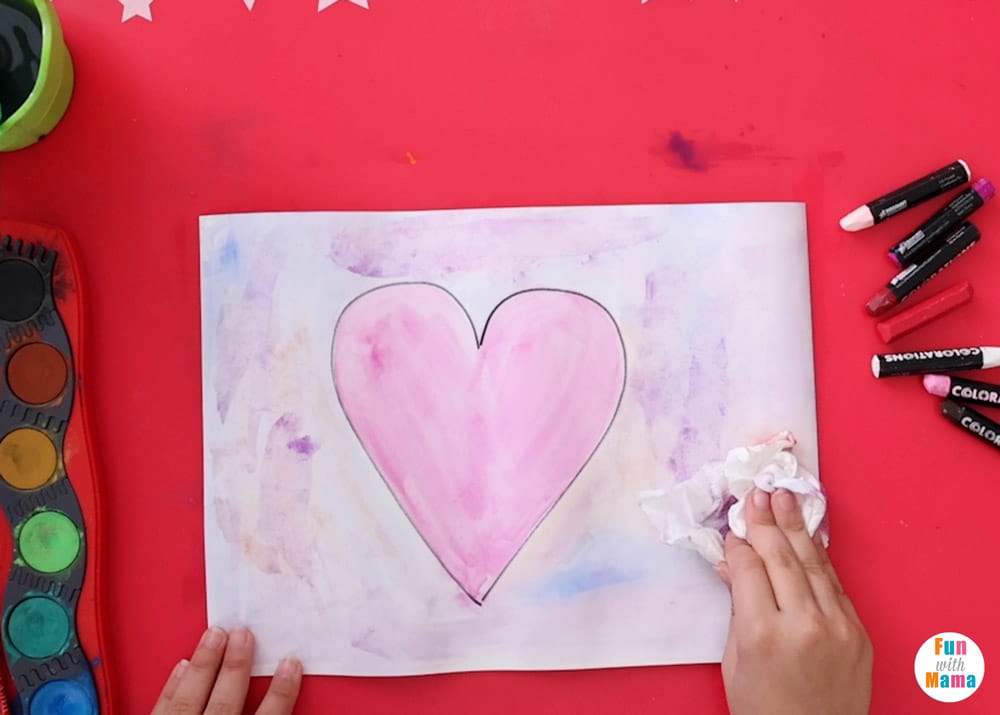 3. Use a paper towel to create a marbling effect
Not only does a papertowel work great for getting rid of mistakes when using watercolors, it also can be used as a technique to create a marbling effect. To do it, add paint to your paper and then buff it around using the paper towel.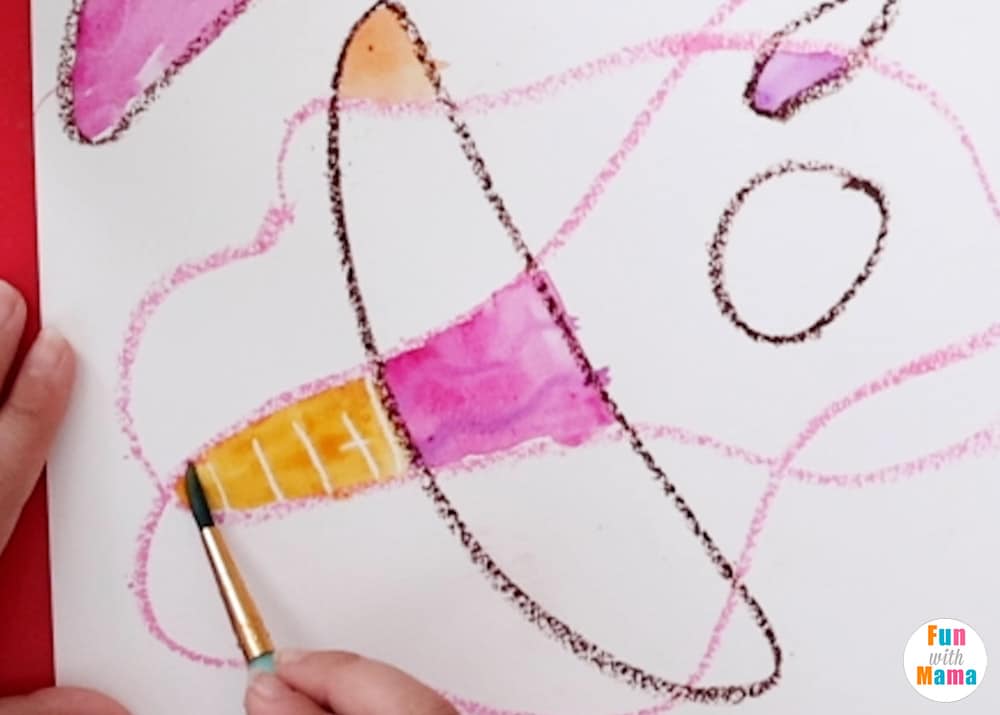 4. Use a white crayon to create patterns
5. Sprinkle on some salt to water colors
We love adding table salt to our wet watercolor paintings. The salt lifts up the paint a bit and it's effects are amazing. You can actually feel the salt texture on the painting. If you want a fine texture use table salt, for a larger visual effect use coarse salt.
To do this, just add lots of water to your paper along with the watercolors. Then sprinkle salt over your desired area. Then watch the magic unfold. It's such a fun watercolor technique that you definitely need to try.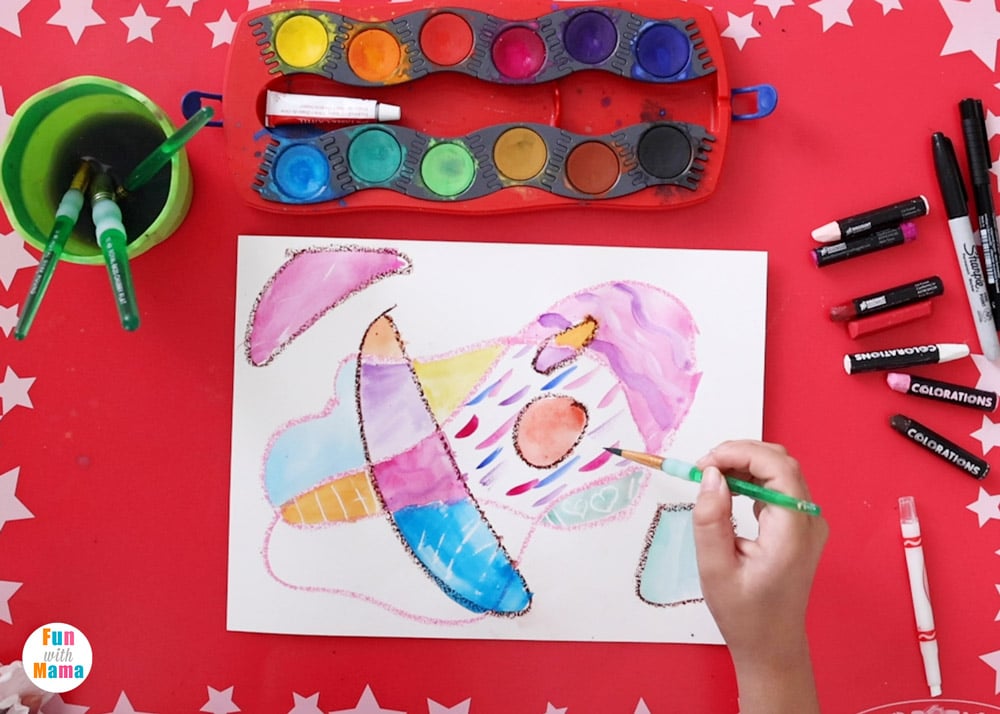 6. Use brush strokes to add and textures and patterns.
7. Frame your picture with painter tape
Not only will this suggestion help prevent your paper from moving when you are painting, it also can create a gorgeous framed edge around your painting. All you need to do is tape the edge of your paper with painters tape before you start painting. Then once your painting is dry carefully remove the painters tape.
8. Spray rubbing alcohol onto your watercolors
The section that you spray the rubbing alcohol on will explode and spread out the color. It's pretty amazing to watch.
Painting Tips For Kids
If you make a mistake when painting with watercolors, just dab the mistake with a paper towel. This will help remove your mistake or blend it in a bit more.

If you want the colors to be more vibrant, use less water. If you want the colors to be more muted, add more water to the pan.

To prevent your paper from moving while you are painting you can stick a few pieces of painters tape at the back of your piece of paper. Alternatively, you can create a frame around your paper with the painter's tape to prevent the paper from moving and create a fun frame design around your painting.
How to mix watercolors to create different colors
When working with pan watercolors: All you need to do is mix primary colors from a watercolor pan by placing wet watercolors on your palette's lid/cover. Then mix them together until you get your desired color. You can add more water to the pan to pick up more color and add it to your mixed colors on the lid.
When working with liquid watercolors: Just mix the colors together until you get your desired color.
Watercolor painting for kids is a fun and relaxing activity. It is great to do when you need to unwind or when you want to feel creatively inspired.
More easy watercolor ideas for kids