The Play doh dentist doctor drill and fill play doh play sets for kids is the perfect toy to get toddlers and preschoolers having fun while working on those fine motor skills. Kids playing with play dough is full of important benefits. It strengthens their hands and it is really good for future handwriting skills. This play doh play set for kids encourages dramatic play too because your child now takes the role of the dentist versus being the patient. Read on to see my kids toy review from the perspective of a child as well as of a parent.
Play Doh Dentist
There are two different versions of the play doh doctor set. The first one, and the kids toy review that you see here today is the Play Doh Doctor Drill 'N Fill .
Please note that affiliate links are used in this post. Please see my disclosure policy for more information.
What is included in the toy:
You should find the following items in the box:
Lower gum line
Upper gum line
Braces maker
Drill
Teeth mold
Toothbrush
3 white play doh bottles, 1 red play doh bottle and one green play doh bottle.
tweezers
dentist tool/mirror
Play Doh Drill and fill
You can find my children's review of the product as well as a closer look of it in use here:
You can subscribe to my kids channel here.
How to use the toy: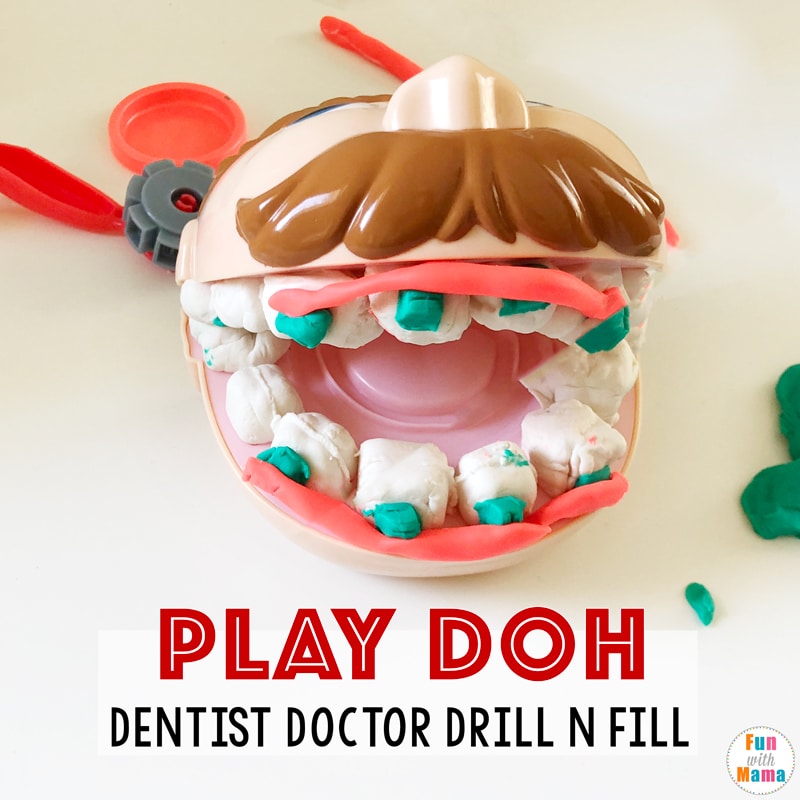 Children can create teeth, place them inside the the play doh dentist dr drill n fill patient and then they can add braces and wire using the rolling braces creator tool. Yes I'm sure that isn't the name of it but that is what I can best describe it as.
This toy should easily give your children 30 minutes to an hour of play doh play time.
Dentist Toy – Parent Review
I think this is a really fun and interesting toy.
The two annoyance that I have with the toy are:
That sometimes the mouth peace separates at the connector.. so my daughter often needed my help to put the mouth together. It should have had a clicker that would click it into place firmly.
Making the teeth can take really long because it needs so many teeth.. that requires a lot of patience.. but I guess that's the whole point of the toy.. creating the teeth.
The teeth easily fall out of the mouth so you need to very firmly push it in.
What I love about it:
The quality seems good and I really love the drill.
Great for a big variety of ages.. I can see this toy being used for many years to come. My 4 year old really enjoyed playing with the toy as well as my 8 year old. My 8 year old doesn't often play with play doh and I liked that this got her off her iPad and actively having fun using the muscles in her hands and her own creativity.
Good for working on patience, independent play and strengthening a child's hands.
It encourages dramatic play. A child can take on the role of the dentist and they can also pretend to be the patient with their voice. You will learn so much about your child when watching them play in this way. You will learn how she perceives her own experience at the dentist.
I am really happy with this toy and am glad that I purchased it for my children. The Play doh dentist is featured on a lot of YouTube videos and I can completely understand. It is a versatile product that provides many moments of fun play time.
Your turn!
Do you have the Play Doh Dentist toy? Do your kids love the doctor drill and fill aspect of it? What are your favorite play doh playsets? Leave a comment letting me know.