The penguin life cycle is rather interesting, especially the lifecycle of emperor penguins, which is even more unique! The life cycle of a penguin activity pack will help children learn more about the different parts of a penguin, facts about penguins, and even includes pictures of real-life penguins in their natural environment.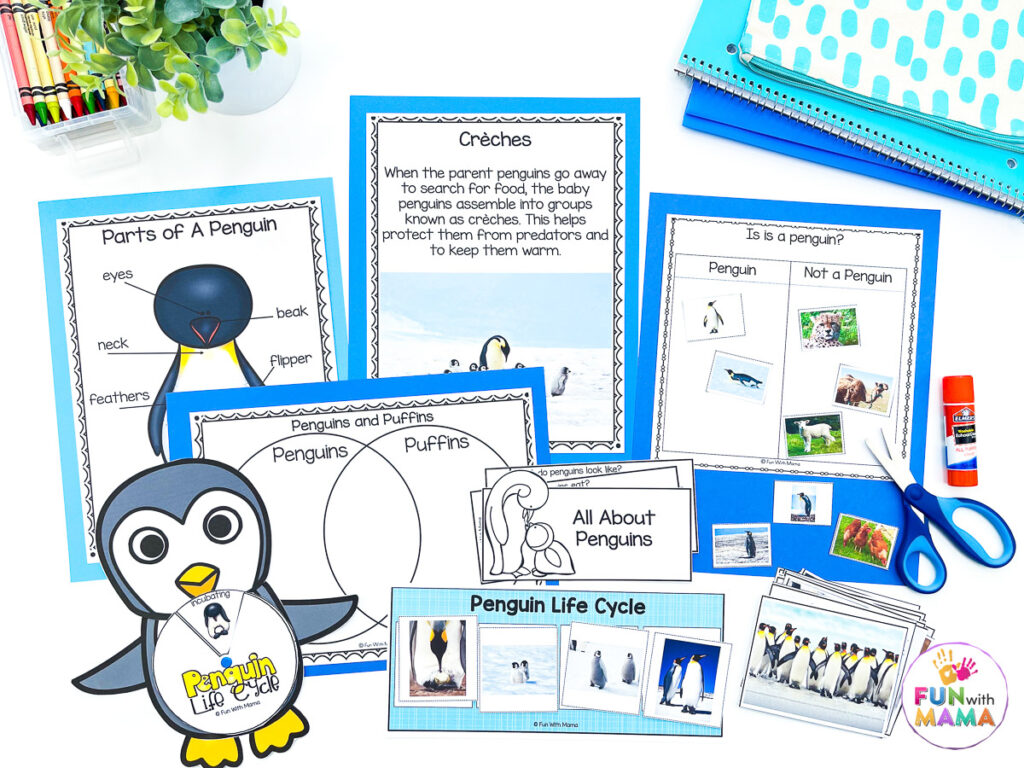 What is the general life cycle of a penguin?
There are 17 penguin species and most of them live in the Antarctic. Most of these flightless birds breed only once a year. The males give courtship displays to the females, such as calls or bobbing head movements- this usually lasts 3 weeks. If the female is impressed, she will join him, signaling to the colony that they are a mated pair. These pairs can last a lifetime.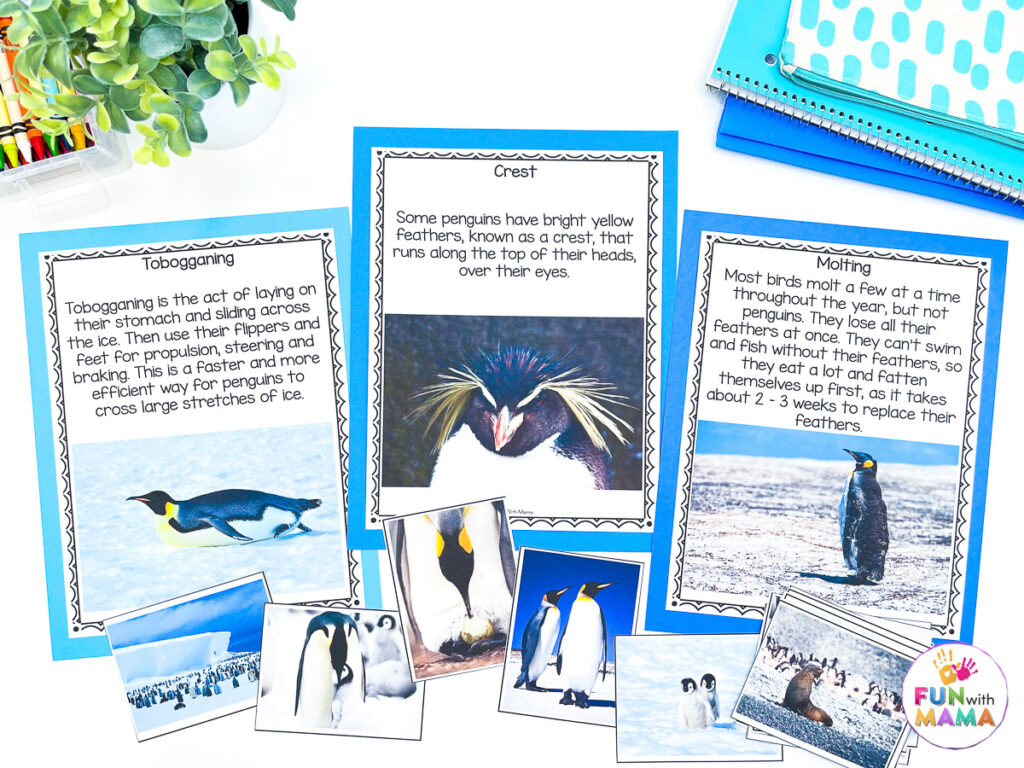 There are five life stages including egg; hatching; chick; fledgling and adult.
After breeding, either a single egg or two eggs are laid and incubated for 38-42 days before hatching. The nests can be open surfaces or burrows. The parents take turns for incubation duties to protect the egg from predators.
Once the eggs hatch, it takes 1-2 days for the hatchlings to emerge from the shell. The chicks are fed by their parents for 3 months.
The chick joins these large groups of 100 or more called a crèche– think of this as kindergarten! The young are land-bound and protected by a few adults while the parents forage at sea for food. They then return and call for their young.
During this crèche stage- their feathers 'molt'– in other words the fuzzy down is replaced with a coat of short, stiff feathers. This allows them to swim.
They become fledglings or juveniles and are grey or silver. They have waterproof feathers or 'adult feathers' and they go off to sea to hunt on their own for food.
This process can take 2-14 months depending on the species.
Once they reach the age of approximately 4 years, they are able to mate and reproduce and also turn into their signature black-and-white color- this is called 'countershading' and helps them camouflage. Personally, I just prefer to say they're wearing tuxedos!
These items pair perfectly with this unit:
Penguin Facts For Kids
How are the emperor penguins unique in their life cycle?
It is unique because only a single egg is laid and the female goes off to forage while the father penguin incubates the egg. During this time, they lose a third of their body weight. Once the egg hatches, the female returns to care for the chick and the male can then go off for food and rest!
These penguins also provide their emperor penguin chicks with warmth inside a brood pouch until they can develop resistance to the cold weather climate!
What is the penguin lifespan?
The average penguin lifespan is 15 – 20 years but this varies by specific species.
How do I teach the Penguin Life Cycle?
The penguin cycle may seem complex, but we've simplified it with your little ones in mind. Use our Penguin Life Cycle activity pack as part of a winter or Arctic Animal themed unit. The best part is that this pack is interesting for everyone!
Here is a video showcasing the life cycle of a penguin:
Learn More About The Penguin Printables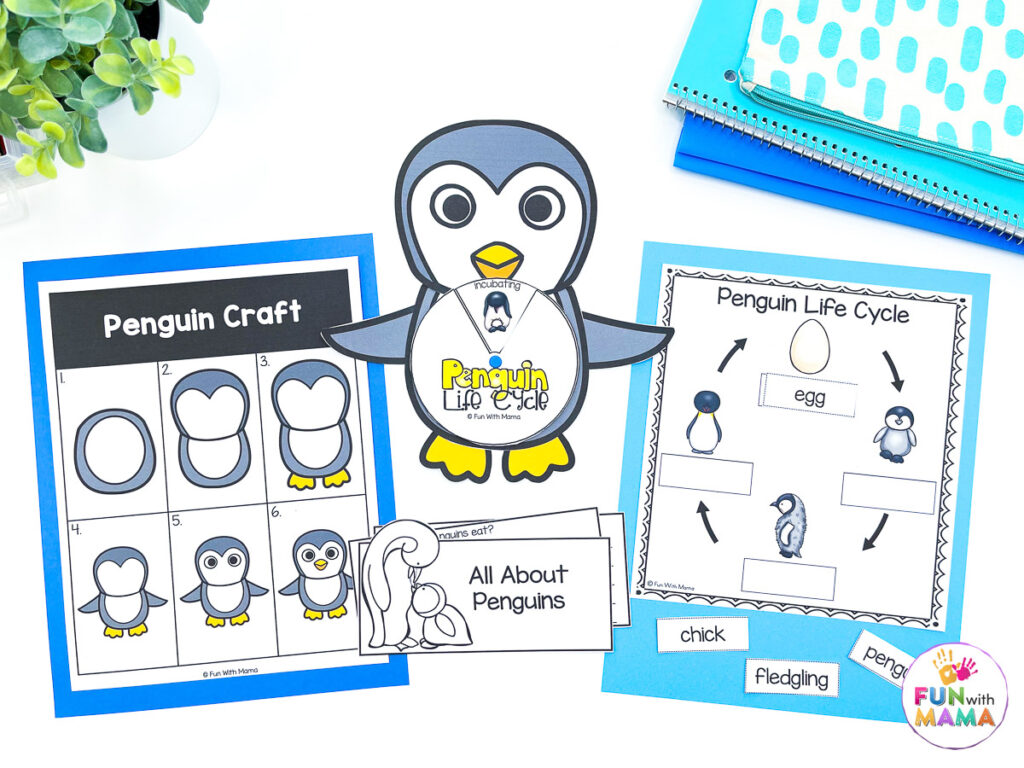 The penguin craft can be used as is, or you can add on the small penguin life cycle wheel to extend the life cycle learning. The craft comes in both color and black and white.
Now that you've learned a bit about the penguin life cycle, check out the penguin animal study science pack that we've put together.
The penguin life cycle printables will encourage the development of vocabulary words too.
The penguin life cycle activities pack includes
Penguin Fact Cards – containing real-life photos of penguin stages.
Posters – of the characteristics of penguins as well as their life cycle, which include the following topics: eggs, burrows, nest, clutch, creches, appearance, molting, crest, regurgitation, tobogganing, swimming, flight, camouflage, prey, predators, colony.
Penguins can, have, are.
Penguins – what I know, what I think about, what I learned.
Parts of a Penguin –a poster and a cut and paste activity
Penguin Life Cycle –a poster and a variety of different cut and paste activities
Penguins and Puffins –Venn diagram
Penguins and Puffins –What they each can have and what both can have.
All About Penguins –A book for children to complete about what they have learned about penguins.
Life Cycle of a Penguin –A book for children to complete about what they have learned about the life cycle of a penguin.
Penguin Craft
Birds that fly, birds that don't –A cut and paste in the correct column activity
Penguin or Not –A cut and paste in the correct column activity.
Webbed Feet or Not –A cut and paste in the correct column activity.
Penguin Life Cycle Worksheets for preschool and kindergarten
Add these worksheets to your penguin lesson plans.
The life cycle of a penguin diagram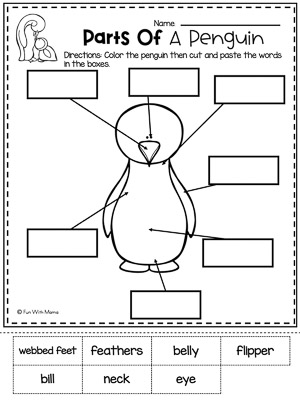 Parts of a penguin worksheet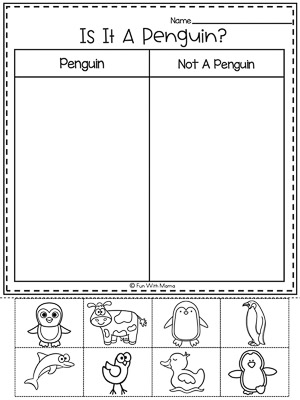 Penguin sorting worksheet is a cut and paste activity.
WHERE TO GET THE PRINTABLES
GET THE PENGUIN LIFE CYCLE AND ANIMAL STUDY ACTIVITY PACK HERE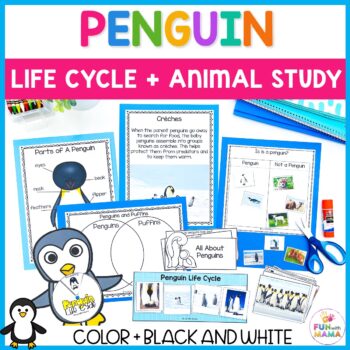 Learn all there is to know about penguins with this Penguin Animal Study and Life Cycle pack filled with fun and engaging activities for literacy centers or science lessons. Students will explore the stages of the penguin life cycle, learn about their behaviors, appearance and predators, and make comparisons between penguins and other animals.
I added this activity to our arctic sensory bin activity. We used instant snow to create the fake snow.
More Penguin resources:
Learn more facts here.
This science experiment on how penguins can stay dry is pretty cool too.