Homemade Father's Day crafts are a wonderful way to create treasured memories and bonding time with dads and kids or grandfathers and kids. Children love making art and crafts for parents, but there isn't always an easy way to store or display that art.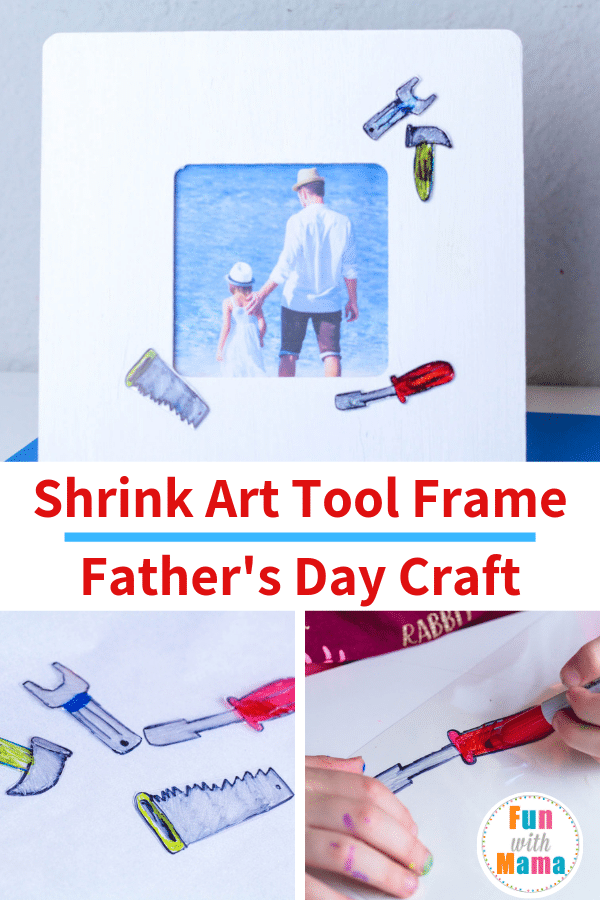 Shrink plastic is the perfect way to capture the art and create something that can be used long-term. This shrink art tool frame transforms a child's art into a keepsake that dad can put on his desk, bedside table, or display in another way at home or work.
If you're looking for a fun way to create a kid-guided Father's Day craft, you'll love this shrink art frame. The frame is surrounded by little tools drawn or colored in by the kids. Inside the frame is a picture of dad and child and celebrates their bond. (We created a similar craft like this for
Read on how to make your very own homemade Father's Day crafts using shrink plastic to make a fun tool frame!
HOW TO MAKE A HOMEADE FATHER'S DAY CRAFT TOOL FRAME
MATERIALS REQUIRED FOR THE SHRINK ART FRAME:
Follow these directions to make your easy homemade Father's Day craft tool frame.
Please note that affiliate links may be used in this post.
Shrink plastic (like shrinky dinks)
Permanent markers
Scissors
Frame
Picture of child and dad
Parchment paper
Oven
Cookie sheet
Glue (tacky glue will last longer- or you can use hot glue)
How to make the homemade Father's Day craft tool frame:
Before you get started making your homemade Father's Day crafts you will want to make sure all of the supplies are on-hand so that things don't get too messy.

HOW TO MAKE PLASTIC TOOLS FOR A SHRINK ART FRAME:
Heat the oven to 330 degrees Fahrenheit.
Have the kids draw tools onto the shrink paper (or you can draw the outline and have the kids color in the design).
Shrink plastic shrinks to about 1/3 of its original size when heated in the oven. Keep that in mind when guiding children on what size to make their designs on the shrink paper.
Cut out the designs with scissors.
Place the plastic and colored tool cutouts on a parchment paper-lined cookie sheet.
Heat the plastic in the oven for about four minutes. The plastic will curl up, then flatten again. When the plastic flattens, it is ready to take out of the oven.
Once the tools cool, glue them onto the frame.
Once the glue dries, pop in the photo of dad and kid or grandpa and kid and give as a gift! They'll love the homemade Father's Day craft.
If your children like arts and crafts, check out my Kiwi Crate Reviews + What We Really Think About KiwiCo! It's my favorite craft subscription box for kids!
More Father's Day Craft Ideas: