Doesn't every kid want a pony at some point in their life? Horses and horseback riding are a popular topic for young kids, so there are lots of fun books that highlight them. Check out this list of children's books about horses to inspire your child's interest.
Make certain to check out our 20 Zoo Books for Kids as well!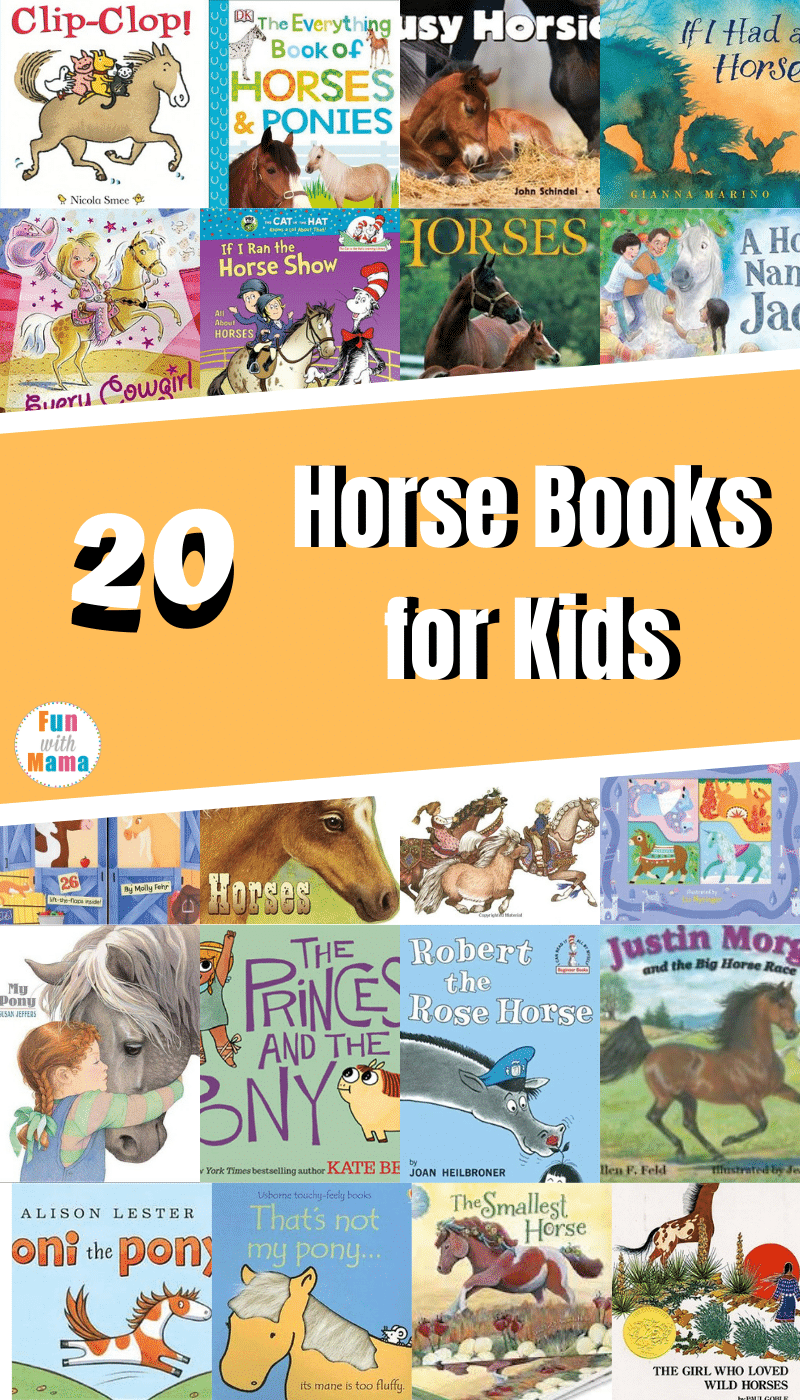 20 Children's Books about Horses
These are some of our favorite books about horses. Learning about horses and reading about them is so much fun! Pick one or two of these children's books about horses and have fun!
This Printable Reading Log Template is a great way to track the books as well.
Board Books about horses

Clip-Clop was written by Nicola Smee. This board book follows a horse at a farm as he offers rides to all of the barnyard animals. The simple text includes fun noises and a repeating structure that kids will love.
That's Not My Pony from Usborne Books features a simple repeating text, as well as colorful illustrations featuring different touch and feel textures.

Read & Ride: Magical Horses was illustrated by Liz Mytinger. This interactive book includes 4 shaped board books and large play scenes that kids can use the horse shaped books on. Each book features vibrant illustrations, and they fit neatly into the larger book for storage.
Horse Tales was written by Molly Fehr. This fun lift the flap book takes the reader on a tour of a horse stable. The illustrations are vibrant and full of detailed surprises for horse-loving readers to find.
Busy Horsies was written by John Schindel and illustrated by Casi Lark. This board book features bright, clear photographs and simple text to introduce the youngest readers to the lives of horses.
Picture Books about horses

A Horse Named Jack was written by Linda Vander Heyden and illustrated by Petra Brown. This adorable counting book follows a horse named Jack as he breaks himself out of his stall and goes on an adventure.

The Smallest Horse was written by Lorie List and illustrated by Amanda Holbo. This sweet story follows Trixie, a miniature horse who worries about her place on the farm. The heartwarming story and detailed illustrations will have kids rooting for the adorable little horse.

My Pony was written and illustrated by Susan Jeffers. This story follows a young girl who wants nothing more than to have her own pony. It's all she can think about, and it inspires her to draw and imagine what life with her pony would be like.

Horses was written by Monica Kulling and illustrated by Betina Ogden. This book pairs informational text with beautiful illustrations of horses on a farm. The story includes information on horses from birth, including the care of them.

The Princess and the Pony was written by Kate Beaton. Princess Pinecone wants a horse for her birthday. One that can help her to be a warrior. But what she gets instead is a small pony. Together, they learn to be true to themselves.

Noni the Pony was written and illustrated by Alison Lester. Follow along with Noni the pony as she gallops, prances, and plays with her friends. The peppy rhyming text is paired with adorable cartoon-style illustrations.

Every Cowgirl Needs a Horse was written by Rebecca Janni and illustrated by Lynne Avril. Nellie Sue considers herself a cowgirl, so she knows that she needs a horse. When her birthday comes, she hopes that her parents will make her wish come true.

Justin Morgan and the Big Horse Race was written by Ellen F. Feld and illustrated by Jeanne Mellin. This beautiful book tells the story of Justin Morgan, a big, strong stallion who works hard on the farm, and gets challenged by two fast racehorses.

If I Ran the Horse Show was written by Bonnie Worth and illustrated by Aristides Ruiz and Jon Mathieu. Join the Cat in the Hat as he introduces readers to all things horse-related. The rhyming text is paired with fun illustrations of the funny cat character.

The Girl Who Loved Wild Horses was written and illustrated by Paul Goble. This story follows a young Native American girl who takes care of her tribe's horses. The illustrations have a traditional and antique feel to them.

Robert the Rose Horse was written by Joan Heilbroner and illustrated by P.D. Eastman. This story follows Robert the Horse as he celebrates his birthday. But when he sniffs a rose on the cake and sneezes, chaos ensues.

If I Had a Horse was written and illustrated by Gianna Marino. This beautiful book follows a young girl as she imagines what life would be like if she had a horse. The simple text is brought to life in vibrantly colored impressionist artwork.

Horses was written by Laura Driscoll. This informative book shares facts about horses and all of the jobs that they can have. The text is complemented by bright, clear photographs of beautiful horses.

The Everything Book of Horses and Ponies from DK is full of interesting facts and tidbits about horses and the different breeds. The layout is easy to read, with large, clear text and lots of photographs and diagrams.

Fritz and the Beautiful Horses was written and illustrated by Jan Brett. Fritz is a pony who wants to join the beautiful horses within a walled city. But when the chance to be a hero comes up, he is able to prove himself to them. The illustrations are done in Jan Brett's signature style of detailed artwork.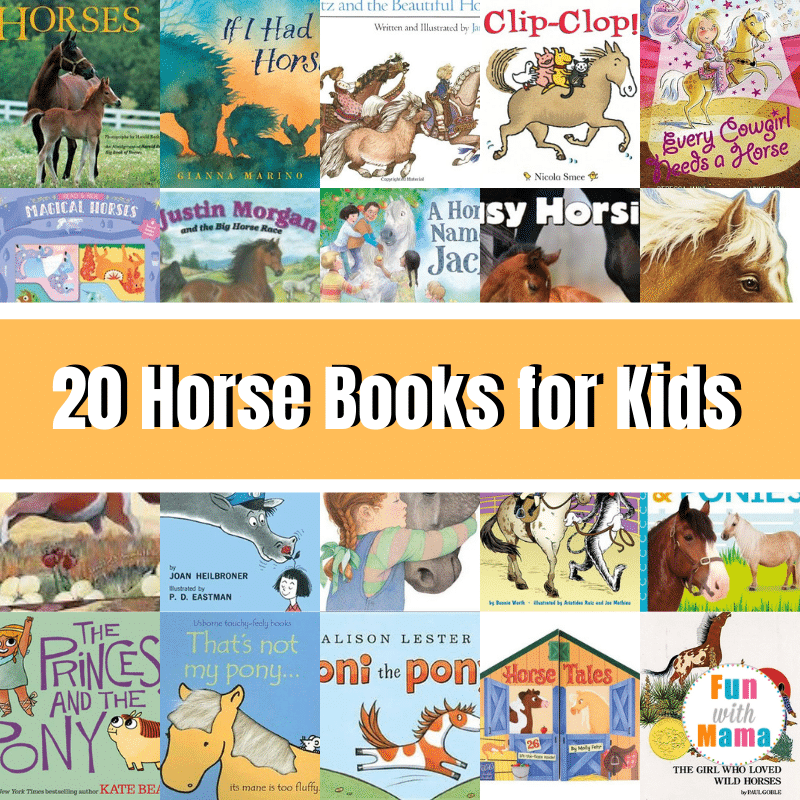 More Books for Kids