The human body is fascinating, and one of the best ways to start teaching little ones about the body is through the five senses. Kids first experience the world through their senses. They explore everything around them with touch, taste, sight, smell, and hearing. This list of children's books about the five senses is great for teaching them more about their bodies and their senses.
Make certain you check out our How to make colored rice activity as well to be a good sensory activity for the kids.
20 Children's Books about the 5 Senses
Affiliate links are used in this post.vAs an Amazon Associate, I earn from qualifying purchases.
Before diving into the books about the 5 senses, it's important to ask this question as well.
What are the five senses?
Humans use the five senses of touch, sight, smell, hearing, and taste every single day.
Talk to your child about how to use their senses and then read these books about the 5 senses as well.
Learning about the 5 Senses

Elmo Can… Taste! Touch! Smell! See! Hear!
was written by Michaela Muntean and illustrated by Maggie Swanson. This adorable board book follows the popular Sesame Street character as he explores the senses. The illustrations are colorful and the sweet monster is always a hit with little ones.

Green Start: The Five Senses
was written by IKids. Encourage kids to explore all the beautiful parts of nature through their senses. The illustrations are brightly colored, and the book is made from 98% recycled materials.

My Five Senses
was written and illustrated by Aliki. This easy to read book explores the five senses through simple text and engaging illustrations. The text explores the senses and provides examples of each one, making them easy for kids to understand.

I See, I Feel, I Hear, I Touch, I Taste! A Book About My 5 Senses for Kids
by Baby Professor uses an easy to read text to teach kids about their senses. The large, colorful illustrations and simple text break down the senses and use real world scenarios to bring them to life for kids.

I Hear a Pickle: and Smell, See, Touch, & Taste It, Too!
was written and illustrated by Rachel Isadora. This fun books explores the senses through situations that kids will be familiar with. The text is made up of simple statements, mostly starting with "I", which explore the many things that you can do with your senses, both pleasant and unpleasant.

My Five Senses
was written by Margaret Miller. This nonfiction book uses an easy to read text and large photographs to introduce kids to all the things they can do with their senses. The engaging photographs help little ones to recognize the ways that they already use their senses.

The Magic School Bus Explores the Senses
was written by Joanna Cole and illustrated by Bruce Degen. In this fun addition to the popular series, Ms. Frizzle leads her class on an unusual adventure that takes them through the senses. The illustrations are full of snippets of class reports written by the students.

Cold, Crunchy, Colorful: Using Our Senses
was written by Jane Brocket. This nonfiction book uses bright, colorful photographs and an engaging text to explore the things that we can hear, see, feel, taste, and touch. The text and photos are laid out in a scrapbook style, making this a fun one for kids to look through on their own and compare to the sights around them.

You Can't Taste A Pickle With Your Ear: A Book About Your 5 Senses
was written by Harriet Ziefert and illustrated by Amanda Haley. This informational book is packed with facts about the five senses. The text includes fun experiments for readers to try while learning about their senses.

Look, Listen, Taste, Touch, and Smell: Learning About Your Five Senses
was written by Pamela Hill Nettleton and illustrated by Becky Shipe. This educational book is full of information about our senses and how they help us to interact with the world around us.

Curious George Discovers the Senses
was written by H.A. Rey. This engaging book follows the adorable monkey as he uses his senses to make his way to the refrigerator at night to get his snack. The book includes fun facts and activities for kids too.
Exploring Taste

The Seven Silly Eaters
was written by Mary Ann Hoberman and illustrated by Marla Frazee. This funny story follows a hardworking mother whose children will only eat or drink specific things. The rhyming text and silly illustrations are a great way to talk to kids about the different things that we like or don't like to taste.

Yummy Yucky
was written and illustrated by Leslie Patricelli. In this cute board book, the adorable baby tries eating all kinds of different things, both good and bad. The text is simple, exploring opposites and the idea of yummy and yucky tastes.
Using the Sense of Sight

Brown Bear, Brown Bear, What Do You See?
was written by Bill Martin Jr. and illustrated by Eric Carle. This classic children's book uses a fun repeating text and brightly colored illustrations in Carle's signature style to introduce kids to different colors and animals. This is a great book for talking to kids about using our sense of sight to see different colors.

The Eye Book
was written by Dr. Seuss and illustrated by Joe Mathieu. This fun book pays tribute to eyes and all the wonderful things they can see. The rhyming text is done in Dr. Seuss' signature style, making it a fun one to read aloud.

Duck! Rabbit!
was written by Amy Krouse Rosenthal and illustrated by Tom Lichtenheld. This funny book is a great way to explore optical illusions with kids. The illustrations focus on the simple image of a duck, or is it a rabbit? The text argues for both interpretations, encouraging kids to look at the same image in different ways.
Using Your Ears

The Listening Walk
was written by Paul Showers and illustrated by Aliki. This book highlights the beauty of the sense of hearing through a simple story about a young girl and her father. As they go on a Listening Walk, she pays attention to all the sounds around her, inspiring the reader to do the same.
Learning Through Touch

The Blind Men and the Elephant
was written by Karen Backstein and illustrated by Annie Mitra. This retelling of an Indian fable follows six blind men as they learn about an elephant using their sense of touch. In addition to exploring the sense of touch, the simple text is a great way to talk to kids about inferences and observations.

Seven Blind Mice
was written and illustrated by Ed Young. When seven blind mice each explore the same object, they all come up with a different theory of what it is. The illustrations feature bright colors on a dark background, making the differently colored mice stand out on the page.

Fuzzy Yellow Ducklings
was written by Matthew Van Fleet. This adorable board book is a great introduction to colors, shapes, and textures for little ones. The fold out pages features clear text stating the different color, shape, texture and animals featured in each illustration. Kids will love feeling the different textures and guessing which animals are hidden beneath the flaps.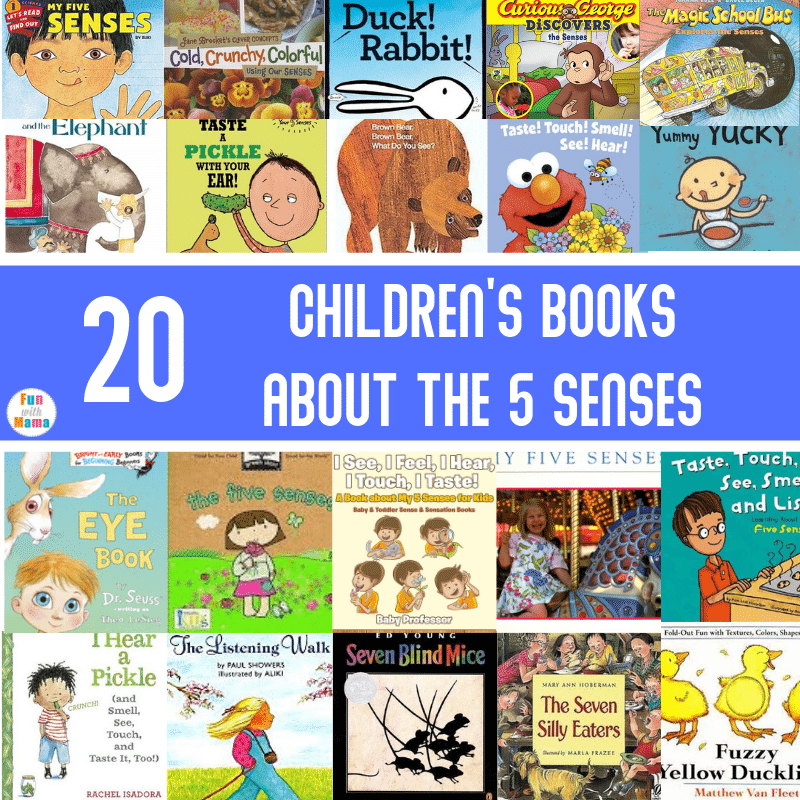 More Books For Kids