This is a sponsored post written by me on behalf of Cost Plus World Market for IZEA Worldwide. All opinions are 100% mine.
I remember being 9 years old and rushing over to the Hello Kitty store the minute my foot entered the doors at our local mall… oh the excitement of all the Hello Kitty themed stationery, dolls and goodies that awaited my 9 year old self!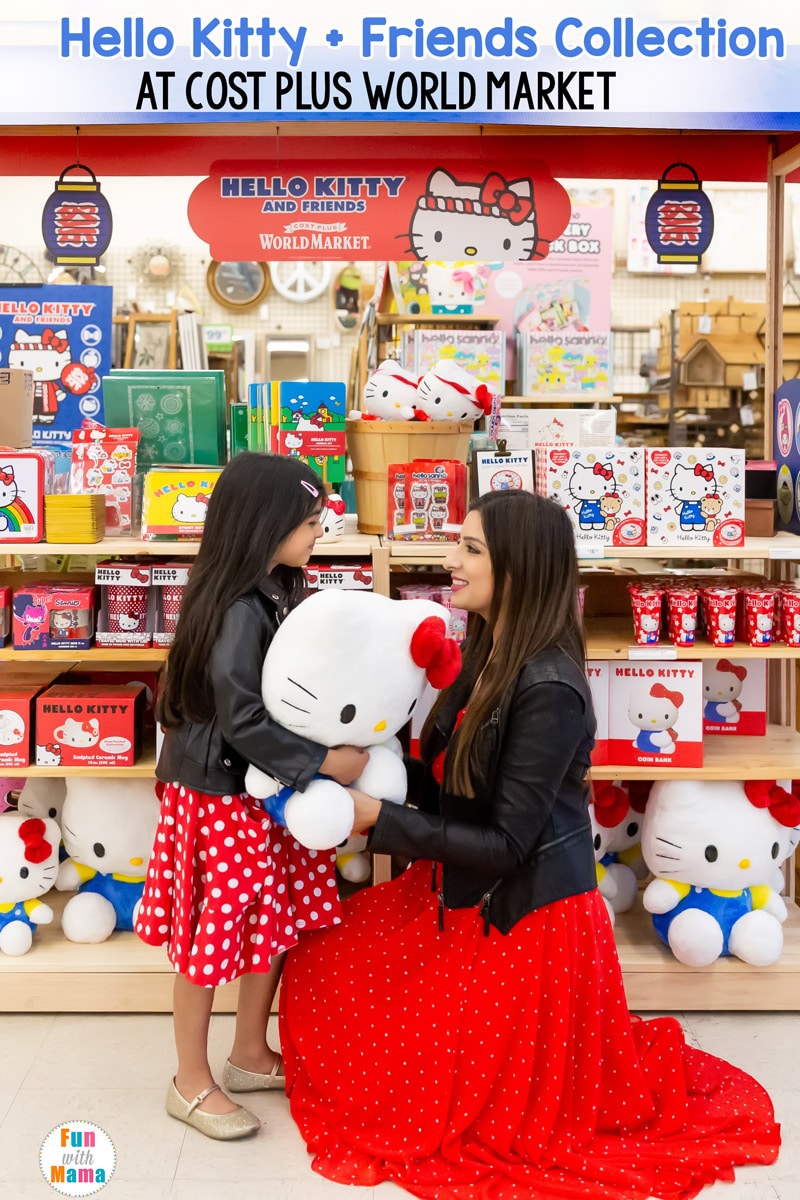 The Hello Kitty lover in me was re-ignited when I visited World Market. Their Their Hello Kitty and Friends Collection is available for a limited timeonly during the holiday period at certain locations! We visited the Cost Plus World Market in Santa Ana California. I was so excited to share my Hello Kitty love with my daughters as we perused the fun Hello Kitty themed isles. Our experience at Cost Plus World Market was so amazing, we ended up going back a second time to pick up a few more of these unique Hello Kitty exclusives the following day, as my kids were worried they would sell out.
Have you ever been to Cost Plus World Market?
Cost Plus World Market is a specialty retailer that has so many fun and unique items for your home including cool rugs, furniture, decor and more. It is also very affordable for any budget. This holiday season, they have a NEW Hello Kitty and Friends Collection designed exclusively for World Market. That means that these amazing Hello Kitty themed items are ONLY available at Cost Plus World Market. To all Hello Kitty collectors, enthusiast and fans, this is the biggest Hello Kitty collection I have found to date, and you need to check it out ASAP!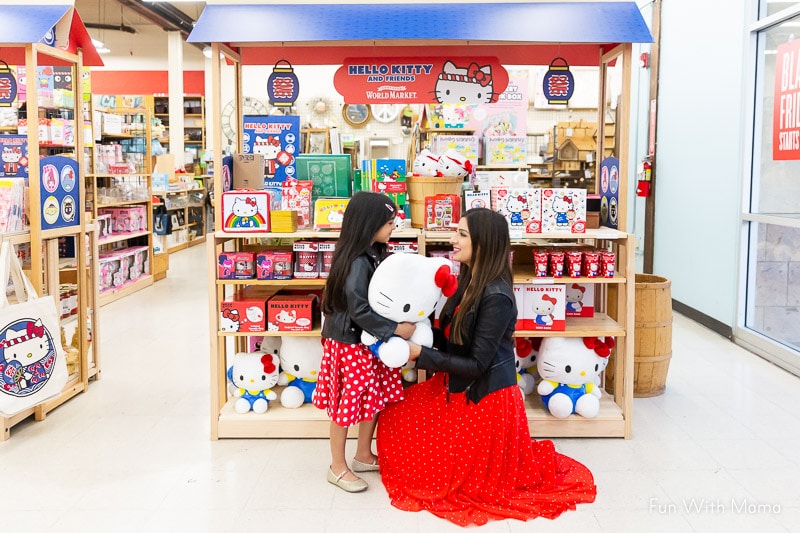 There are some large displays that include so many fun items. From water bottles to stationery, sprinkles, stuffed animals, cookie jars and so much more. We wanted it all!
Did you know that there is a such thing as Hello Kitty shaped pasta?! I didn't and it is one of the first things my kids added into our shopping cart.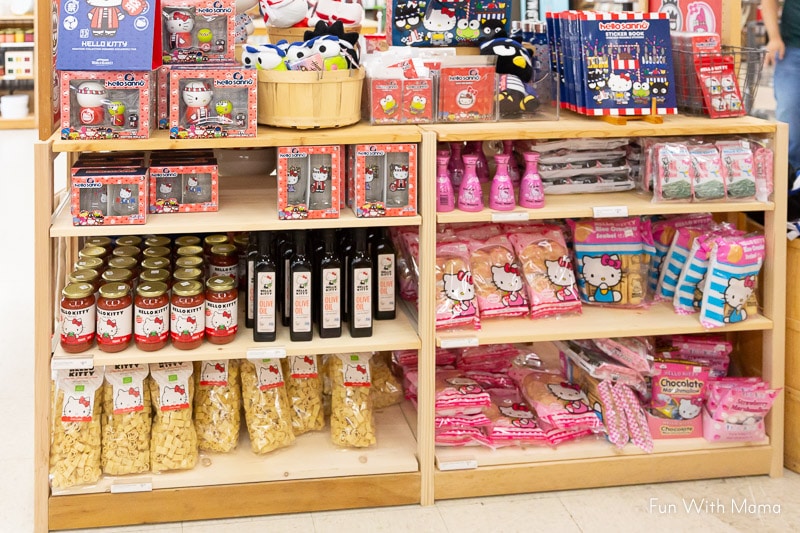 The spa section was one of my girls absolute favorites. We each grabbed an adorable Hello Kitty themed spa headband and some fun looking Hello Kitty face masks. The quality is great and I love that they will be used for years to come!
My girls and I are planning a fun mommy and daughter spa night using items we found in the spa section. We are going to put on those headbands and put on some masks all to some peaceful spa music.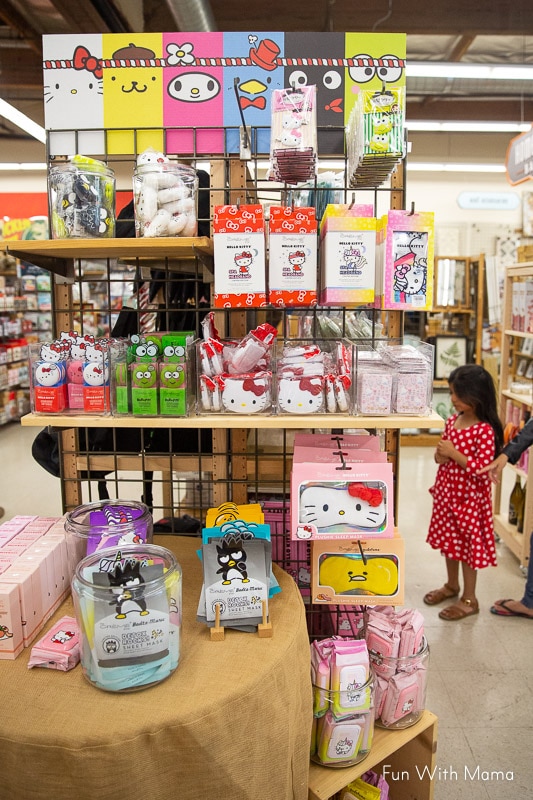 For your arts and crafts loving children there is a section filled with art activities. I love to grab arts and crafts kits for the weekends. I have very creative children and I prefer my kids spend their time crafting and doing art activities rather than playing on devices so this was perfect.
We grabbed the Paint your own Hello Kitty Kitty Bank and the Hello Kitty Scrapbook Kit.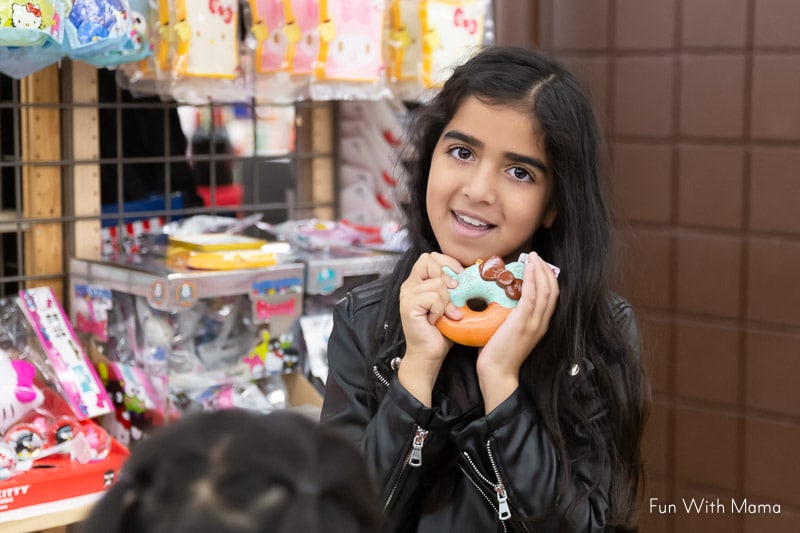 Do your children love squishies too? I feel squishies are a great calming tool.. Kids have a lot of natural energy and squishies help them stay seated while giving their hands something to do.
We also found some pink Hello Kitty hot chocolate (YUM) that we plan to use on our Hello Kitty spa night!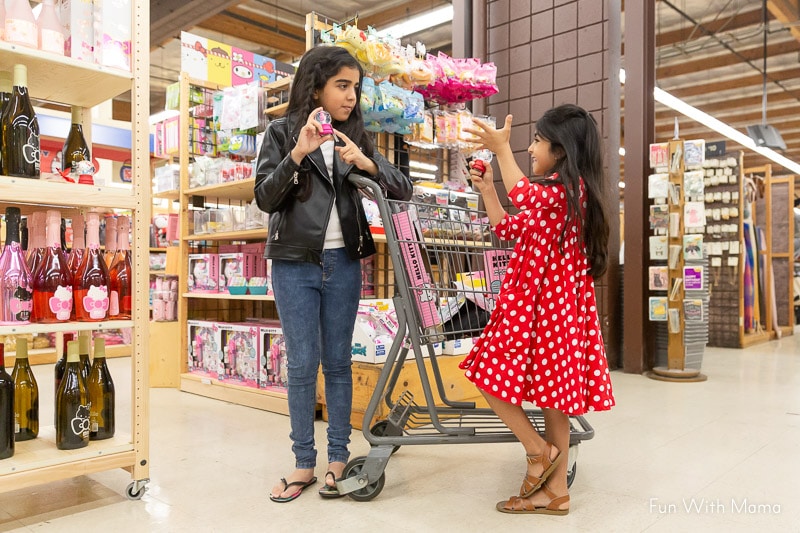 Here are some of our favorite Hello Kitty picks in our shopping cart.
and this is what we came home with 🙂 🙂 🙂 .
I love mugs because I am a major tea and coffee drinker… for me, I can never have too many!
Do you see that black Hello Kitty envelope like bag? It actually folds out to become a duffel bag! I'm throwing this in for all future travel days. We can use this on beach vacations and city vacations. I love that it folds so compactly and in an organized manner back into an envelope sized bag.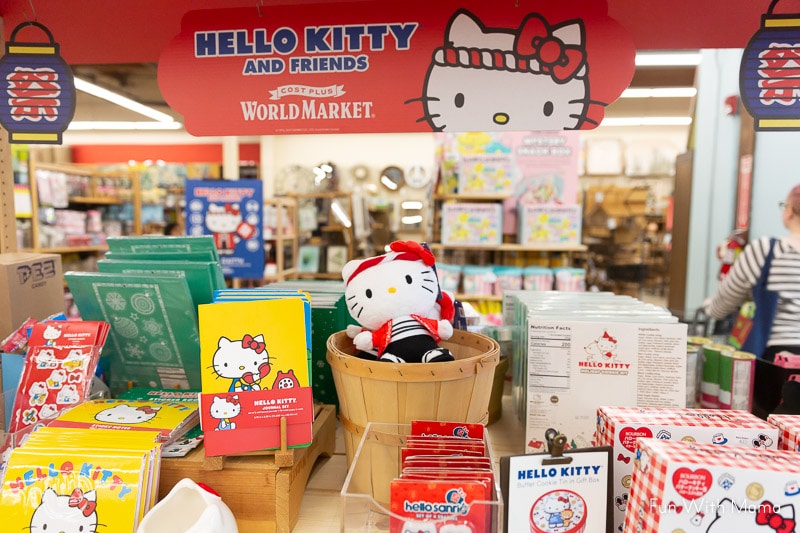 Hurry, the exclusive Hello Kitty and Friends Collection is available at Cost PlusWorld Market store for a limited time (until 12/24/19).
Have you been to the Hello Kitty section of your local Cost Plus World Market? Are you also a Hello Kitty fan?