These gift ideas for the whole family will encourage family time. They will encourage children to play together and mom and dad to join in. They may even get grandma and grandpa excited.
There is nothing that goes more appreciated in a home than those moments you spend together. While you and your children may not see the fruits of these moments immediately, when your children or family members look back over the years they are not going to remember all the awesome gadgets they had or how many toys they collected.
They are going to remember the way their mom would roll the dice when they played board games together or the fun questions they laughed about right after dinner. These are the best family gifts. They may remember how dad loved playing Fifa Soccer on the Playstation and how mom danced in front of Dad to give her son, who was versing dad, a little more of an added advantage to shoot a goal against him. They will remember that quirky smile and laugh as Dad held back the blushing.
While many of these moments are free, there are toys and gifts that can set the stage for the rest of the year (or even years) to encourage even more family time. You may be looking for gift ideas for families who have everything but frankly, family time wins over everything else.
When looking for Eid or Christmas gifts for the whole family think about each person's age and how you can incorporate everyone into each of the activities.
Family gift ideas that encourage family time
Please note that affiliate links may be used in this post. Please see my disclosure policy for more information.
I think one of the most special things that we started as a family this year was writing in our daily Q&A 3 year family journal. I often ask the day's question at the dinner table when we are done eating. It is a great conversation starter and the kids love discussing their answers. I love that there is space for 2 more years so that we can see how different each person's answer is. I write each person's answer using a different color pen so that the kids can glance at it quickly. There are 5 lines, which works out perfectly. One line for each person in our family. They also sell one for spouses, which is super sweet.
2. Books
Personalized books are always a hit in our home and we do a lot of family bonding through storytelling and reading books together. We read to our children each and every night. The Wonderbly personalized books would be a perfect gift for a child. Your child gets to be the star of the show here as they become the main character in these books. We currently have My Golden Ticket, The Birthday Thief and The Girl Who Lost Her Name. This would also be a good gift idea for sisters or brothers.
For older children I recommend you read chapter books to them out loud each night. We enjoyed reading aloud the following books: Wonder, The Hundred Dresses and Sophie The Mouse.
If you would prefer to listen to the books instead of reading then definitely check out Audibles. Not only do we listen to books together at night, we also listen to them in the car. You can try Audible first and Get Two Free Audiobooks
.
Try Audible and Get Two Free Audiobooks
3. A lego set
A Lego City Creator modular or big set is the perfect 'toy' to promote family togetherness. How sweet is it when a family builds a set together and then has a wonderful set on display to remember the fun? The limited edition re-release of the Taj Mahal Lego would be perfect for this. I love that this could work for all ages!
Pictured below is the Lego Palace Cinema. My 8 year old, 10 year old and myself built this one together.
The modular buildings are geared towards older children. That doesn't mean your preschooler can't join in on the fun. Lego has age appropriate sets that can be used by all members of the family.
Lego sent us a special surprise this year and with this package it has changed how I will give birthday presents in the future. I love how each of the items in the package perfectly increased the play value of the other items… The Lego Santa's Winter Holiday 10837 set with an All in One Fun Box and a Green Base Plate combines to make the sweetest holiday gift for a preschooler.

The whole family can play with the Lego Duplo's to create the following activities to play at home.
Lego Duplo Ring Toss
Lego Duplo Bowling
Lego Duplo Tic Tac Toe
Lego Duplo Maze
You can see how my 4 year old daughter used the toy here
My children especially loved playing Tic Tac Toe with our Duplo's.
2. Costumes for the family
What is sweeter than a little family make believe? If mom and dad join in the fun, it will be even more magical!


The Princess Sophia costumes are from Costco and the Star Wars and Descendants costumes are from The Disney Store. Amazon also has some adorable choices.
The Monarch butterfly wings costume have provided hours of endless play. They are comfortable to wear, easy to store and the airy draping makes it feel like you are flying. I bought one purple and one pink. They also have one for Mom!
3. Family Planner – Erin Condren Life planner
With multiple kids schedules to work through, that is a lot to remember. Make it easier to plan family outings, extra curricular activities and more using an Erin Condren Life Planner. I use my vertical life planner all year and am extremely happy with it. We normally sit together at the beginning of the month and write out all the things that we have going on weekly like gymnastics, soccer, basketball, etc. Then we have a to do list that includes activities we all want to do like a winter festival, ice skating, etc. We have that list on a yearly basis and each month we pull a few activities from there depending on our schedules.
I also have an extra Erin Condren Life planner which I use for journaling. I use my Polaroid Zip Printer and Snaptouch Camera with the vertical life planner to include a picture from the day and a little paragraph about our day. I plan to incorporate the children more for this by assigning each person one day a week where they will write in the journal. That particular day will be told from that child's point of view. How special would that be to look back on later?!
4. Board Games to play together
As a family, we really enjoy playing board games together. I am always on the lookout for games that are age appropriate for all of my kids, plus that can be fun for my husband and I too! I put together a list of our favorite family board games. Check it out.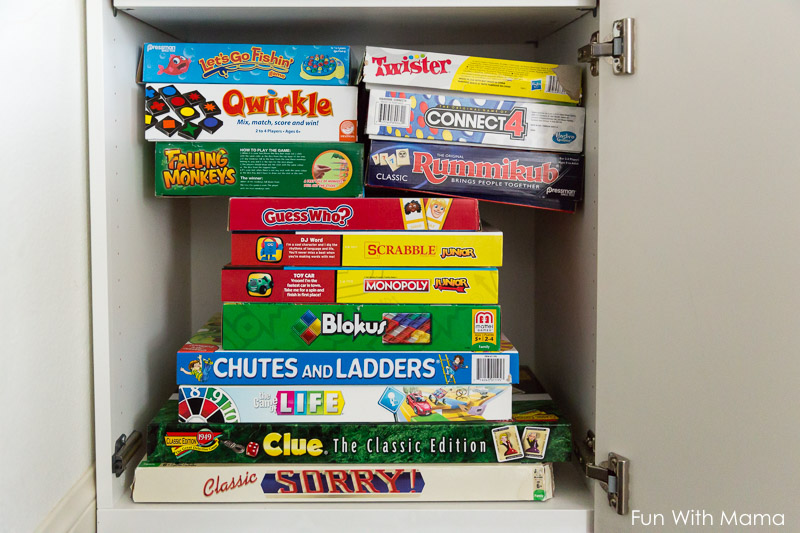 5. A cutting machine for the crafty family.
I have a Cricut Expressions 3 as well as a Silhouette Cameo and they are both wonderful machines. They allow me to create fun crafts to do with my kids as well as to throw some pretty awesome birthday parties!
Check out the two parties I did using the cutting machines: Minnie Mouse Birthday Party, Captain D Birthday Party
6.
DSLR Camera
You will be surprised how much of difference a DSLR camera makes on your children's pictures. Capture them now.. don't wait. Grab yourself a good entry level camera to get yourself started. I recommend the Canon EOS t7i as a starter camera. Your next purchase after that should be the 50mm f1.4 USM lens. While it is not an L glass lens (meaning a professional grade lens), it still captures the most beautiful pictures and was one of my favorite lenses before I upgraded to professional lenses.
I currently am using a Canon 5d Mark III and 24-70L II lens. I purchased a better camera once I knew I LOVED photography. I have more lenses (Canon 35mm 1.4 and Sigma 15mm Fish Eye but I recommend the above as a beginner camera and lens.)
Add a GoPro Camera to capture your family in action! This is amazing for water shots!
7.
A gaming console
–
Play Station 4 Pro
As a family, we love to play video games together. There are lots of laughs, giggles and yes, in our home, the competition is strong!
We have had the Nintendo Wii, XBOX and Play Station 4. They were each good for a different purpose but I'd recommend getting the Playstation 4 because I feel like there are more games on this console that can attract a wider audience.
I'd suggest you purchase a Playstation 4, a few family games and extra wireless remotes so that you can all play together. When purchasing games make sure that multiple players can play. Look for games that have the same amount of players as you have family members.. My family loves the following games: Just Dance 2017 , Hasbro Family Fun Pack, which includes board games that come to life on your tv screen, and Fifa 2018.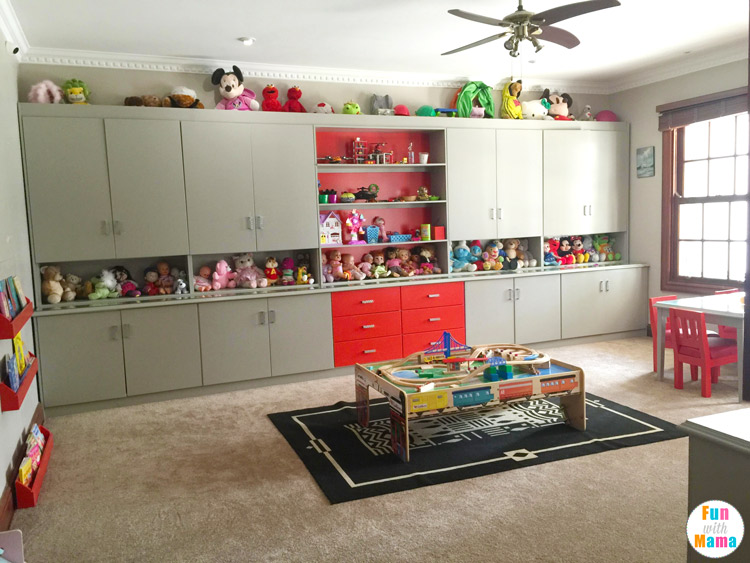 8. Create a playroom or play area for your family.
In my playroom tour I include kids play room ideas. I show you exactly how I made this area of our home a fun place for not only my children, but for us parents too. We included a video game area so that my husband would be entertained, and for myself, a perfectly sized arts and crafts table. You can also see how we set up this area from start to finish. This creates a fun space at home that contains any mess and encourages family time!
If creating a play room is not in the cards for family gift ideas, then instead, how about you purchase a train set with a train table? Another family favorite is the Marble Run.

9. A family holiday or day at an amusement park
It is the moments that you spend with your children, that they will value most. Not the things that you bought for them. Not for the moments they are alone. When looking for family gift ideas, how about you gift your family an experience!
You can check out all of our holiday themed travel posts to see how we made the most of our family holidays below.
10. Monthly Subscription Box
How about purchasing a monthly subscription box for the kids? Then your child will receive a gift each month for the year ahead. That would even take sibling gifts to a whole new level as many have an add on for multiple children. Mom and Dad can join in to help out during these monthly crafts and activities. You can see my monthly subscription boxes for kids post here. You can also find awesome boxes for Mom and Dad
11. Karaoke Machine
This is currently on my wish list. I had a karaoke machine when I was younger and I remember spending hours and hours singing into it. My children are avid singers and I know that this is one gift they will REALLY appreciate. This Memorex Karaoke Machine looks perfectly sized!

12. Create a Family Journal Photobook
I try my best to create Blurb Photobooks that journal our entire year. I have been recently incorporating the kids and asking them to tell me stories of our experiences and then adding these stories to our family journal. This makes them feel a part of our journal and we are constantly looking back on past journals.
Start creating your Blurb book today >>
Just remember….
You do not need to purchase anything to just spend quality time with your kids. A simple game of ring around the rose or sitting and talking to each other over dinner each and every night is perfect too!
These Christmas gifts for the whole family can apply year round! They are unique and can be given on birthday's, or even just because!
What are your favorite ways and activities that encourage family togetherness? Do you have anymore fun family gift ideas?
Check out my Favorite STEM Toys for kids