Looking for superhero birthday party ideas? Well, you've come to the right place. Out of all the birthday's I have had for my son, this has been my personal favorite birthday party theme.
Super hero Birthday Party
Since my son was 2 years old whenever he would play a super hero game his alter ego would come out, "Captain D". As a Mom, I am not one to conceal my child's strengths so I immediately set out to bring this superhero to life. I was tired of him having to hide out from the world with his 'normal person' clothing.
I first started with a graphic superhero: I created a superhero for him using an Etsy digital image which I then changed to suit my son's colors (and later, my daughters too.)
Afterwards I set out on creating his real life costume. I sewed his cape using material I had at home. I obviously couldn't give my son a Cape without making one for my daughter, seeing as it turned out prettier than I thought it would be! They LOVE this and it has provided endless hours of imaginary play.
I created his badge and logo in photoshop and sent it to my cake company who then created this wonderful cake according to my very thorough and specific descriptions.
Cake pops covered in chocolate AKA Super Bowlers were a huge hit and disappeared faster than my guests arrived!
Note to self: Any chocolate item on the menu requires double the normal serving size when it comes to boys!
This was not supposed to be a very formal party but I created these very basic center pieces just to add some color.
Each child that came to the party was asked to choose a mask in order to protect their identities!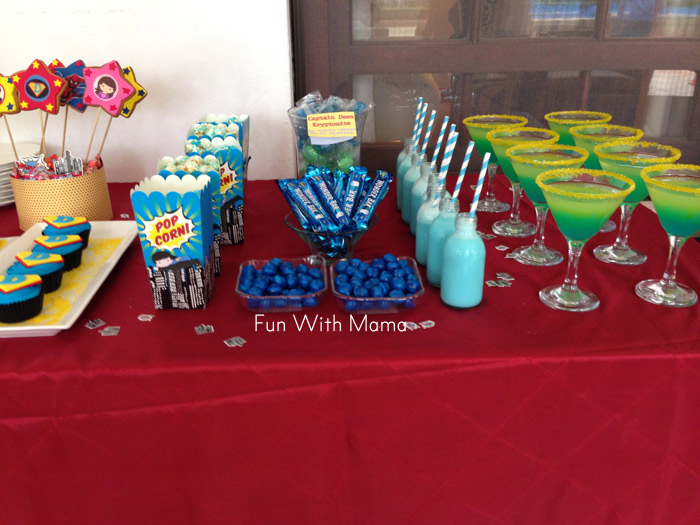 Bubble gum milkshake, blue hawaiin mocktails, blue gum poppers and blue colored popcorn were amongst some of the wonderful treats!
A super hero party cannot be had without some magical Kryptonite!


No party for my kids is complete without a matching piñata. The kids love filling this before the party as much as they love hitting it. It is now a family tradition that for every birthday party we have we, as a family fill the pinata's together every single year.
To prove how strong our Superhero's were we got these great water balls. This was definitely one of the parties highlights.
If you have any more questions with regard to the decor or details please do not hesitate to ask me on Facebook or comment below. I am always willing to help.
More superhero ideas:
More Birthday Party Ideas


Credits:
Blue Hawaain Mocktail drink created by using Fehmz recipe
Photography – done by me.
Cake, cupcakes, and Biscuits – Magnolia Bake and Cake
Pinata –