Are you looking for printable letter of the week crafts for preschoolers? These printable letter crafts and printable letter activities are a great way to teach kids alphabet letter recognition and letter sounds. They have been tried and tested in classrooms and home schools all over the world.
Printable Letter Crafts
After I saw how much my toddler and preschooler enjoyed our Elmo Letter Craft as well as our other Printable Activities I knew I needed to add some alphabet letters to our weekly toddler activities and preschool activities list. I love taking an educational twist to our arts and crafts projects. Since we are doing a letter of the week (sometimes two weeks to allow my daughter to grasp each letter) these printable letter crafts are the perfect addition and enhancement for our letter of the week curriculum.
Please note that affiliate links are used in this post.
Letter Templates: Directions

-Print out the letter craft activity that you want to do.
-Cut out the pieces! For an older child allow them to cut out the pieces (younger child will need Mom to cut pieces out.) Sometimes it can help if you have an appropriate sized circle cutter (I have linked to my favorites at the bottom of the post.) These really help make the cutting and preparation faster.
-Place a piece of Colorful Paper on the table and allow your child to glue the letters according to the example on the page.
This is how I display it for my daughter. I have her look at the picture of the final result (which she generally glues to her page too) and then she and I work through it together. If she was older then I could let her cut it out herself. She is so proud of her letter crafts but little does she know that she is actually working on so many wonderful and important life skills such as:
Visual Perception skills
Fine motor skills
Hand eye coordination
To her, its just a fun activity!
Suggestion: Don't give your child all these letters to do at once. Focus on the letter that you are trying to teach them this week and allow them to really take in the letter and its sound.
Download the Printable Letter Activities:
If the activity below doesn't have a link it just means that it is not yet available on this blog. You can find my full list of available letter crafts here at my Printable Letter Crafts page. I will be releasing one activity weekly and then updating these links.
Letter E is for Elephant
Letter e is for egg
Letter F is for Fox
Letter f is for flower
Letter G is for Gum balls
Letter g is for goose
Letter H is for House
Letter h is for horse
Letter I is for Iguana
Letter i is for ice cream
Letter J is for Jellyfish
Letter j is for jellyfish
Letter K is for King
Letter k is for kite
Letter L is for Lion
Letter l is for ladybug
Letter M is for Mouse
Letter m is for monster
If you don't want to wait for these to release on the blog you can purchase Uppercase and lowercase letters A – M here in:
One convenient download of the Printable Letter Crafts Pack 1.
Printable Letter Crafts N through Z can be purchased here: Printable Letter Crafts Pack 2
You can also buy the bundle of the full set for a discounted price here: Printable Letter Crafts Bundle
What materials we use for the printable letter crafts:
Each of these items are must haves for any craft area. Please note that affiliate links are used here.
You can get by doing these printable letter crafts with plain scissors, a glue stick, card stock and normal printer paper. However, the following items make prepping the activities and using them much easier!
– Circle Punches in sizes 3/4 and 1 inch and 1.5 inch.
– Normal Scissors (which you probably already have at home) and these scissors when I need to be precise.
– Craft Knife and cutting mat.
– Tape Runner
– Glue and glue sticks.
– Colored Paper (for using as the background for the activities.)
– A three ring binder and page protectors to put your child's completed letters in.
Below is an example illustrating how having the right tools can make it easier for you so that you don't have to spend your evenings cutting a million different papers.
Here I just roughly cut the C is for Caterpillar circles into strips.
Then I used my 1.5 inch Craft punch to cut out the circles. It took me one minute to have all the circles cut. I demonstrated this on my Instagram Story as well as my 7 year old daughter doing it. She actually loved doing this part too. It is great for visual perception.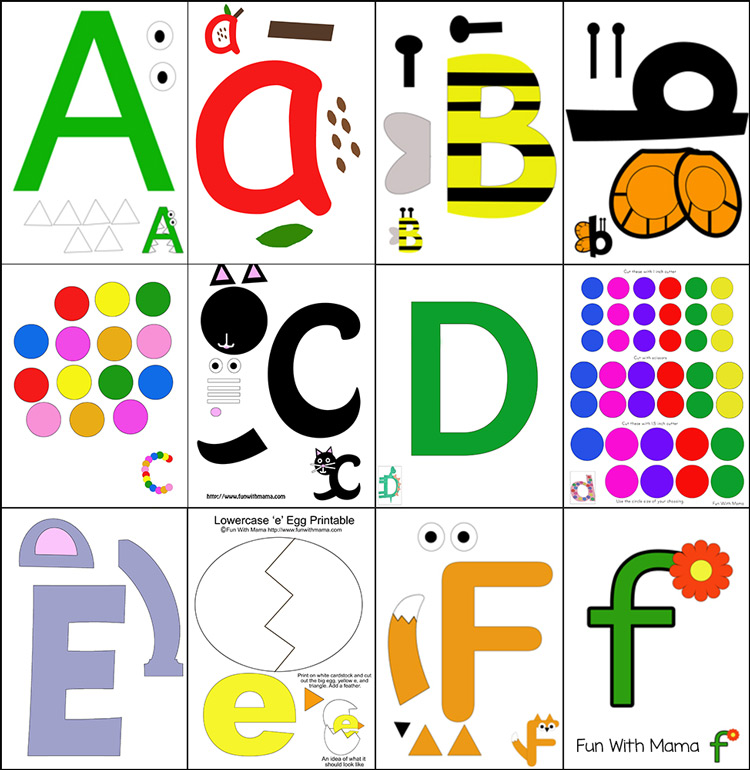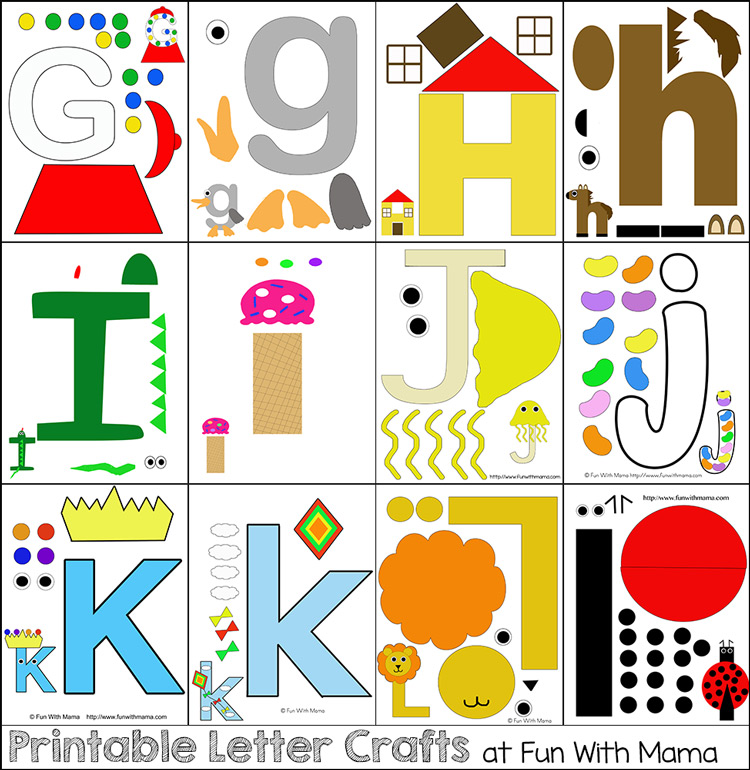 To see how I use our printable letter activities in weekly themes you can have a look at my Letter A Activity post.
Letter of the week themed toys and educational material:
ABC Mouse- free 30 day trial at ABC Mouse – This program is perfect for learning letters and so much more! My daughter learned letter recognition and letter sounds for two alphabet letters the first night we did it.
See & Spell – This is a wonderful toy/activity that a child is capable of doing even before they know all their letters. My two year old loves using this toy and it is so great for visual perception!
Letter Construction Kit – We love building letters! It is a great way to learn about the formation of letters and have your child really understand more about the letters.
Lacing Letters – Uppercase and lowercase. These are wonderful to make name bracelets with, throw in a sensory bin or water bin. The possibilities here are endless and open to your own ideas.
Alphabet Puzzle – When your child is done solving this throw it in some rice like I did with our Shapes Hunt to create a sensory experience.
Foam Bath Shapes – Why not add bath time into the learning experience? My daughter LOVES playing with her foam letters in the bath.
Letter Factory iTunes Movie
My preschooler loves watching Leapfrog's Letter Factory. The songs are catchy and it is a great way to help the toddlers and preschoolers to learn their alphabet letters. You can get Letter Factory on iTunes here. or here on Amazon if you want a physical DVD. You can also rent it on Amazon.

A is for Alligator and apple
B is for Butterfly and bee
C is for Caterpillar and cat
D is for Dinosaur and dots
E is for Elephant and egg
F is for Fox and flower
This activity is great for Toddlers, preschool kids, and kindergarten kids too!
Have a variation? Use real 3D objects i.e., for the apple seeds from above, use real apple seeds. I'd love to see your pictures and feature them on this page.
Looking for an alphabet art project? Try out these adorable handprint animals!
Try this fun Contact Paper Letter painting

Activity Recommendation! Kiwi Crate Monthly Subscription Boxes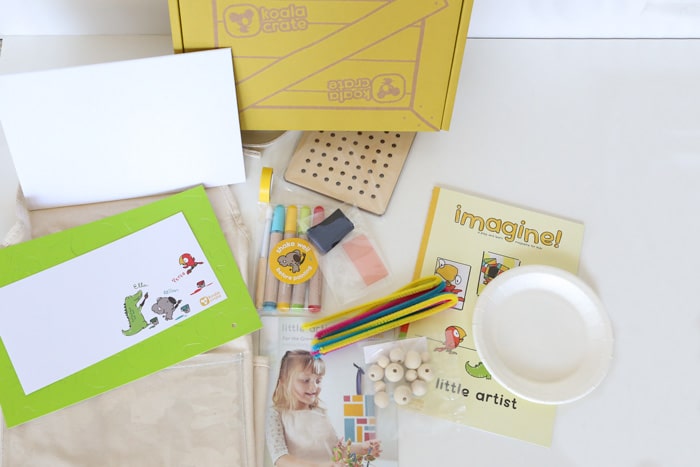 Do you love to do arts and crafts activities with your toddler, preschooler or 5-9 year old? Then definitely check out Kiwi Crate's monthly subscription boxes. Every month Kiwi Crate sends you an age appropriate box filled with instructions and all the necessary material to do some amazing art projects. I wrote a whole review and explained why we LOVE our Kiwi Crate Subscription box. Use the Kiwi Crate Promo code FUNWITHMAMA30 to get 30% off your subscription.