If you are a mom of a 4-12 year old then this is one deal you are not going to miss. Kiwi Co. and Rakuten pair up for one day only to give you the BEST Kiwi Co Kids subscription box sale. You can get a 6-month subscription to one of their kids subscription boxes for only $5 a month. Check out my page all about our Kiwi Crate Reviews + Find Out What We Really Think About KiwiCo!
If you know you want to subscribe, let me tell you how to get the best savings.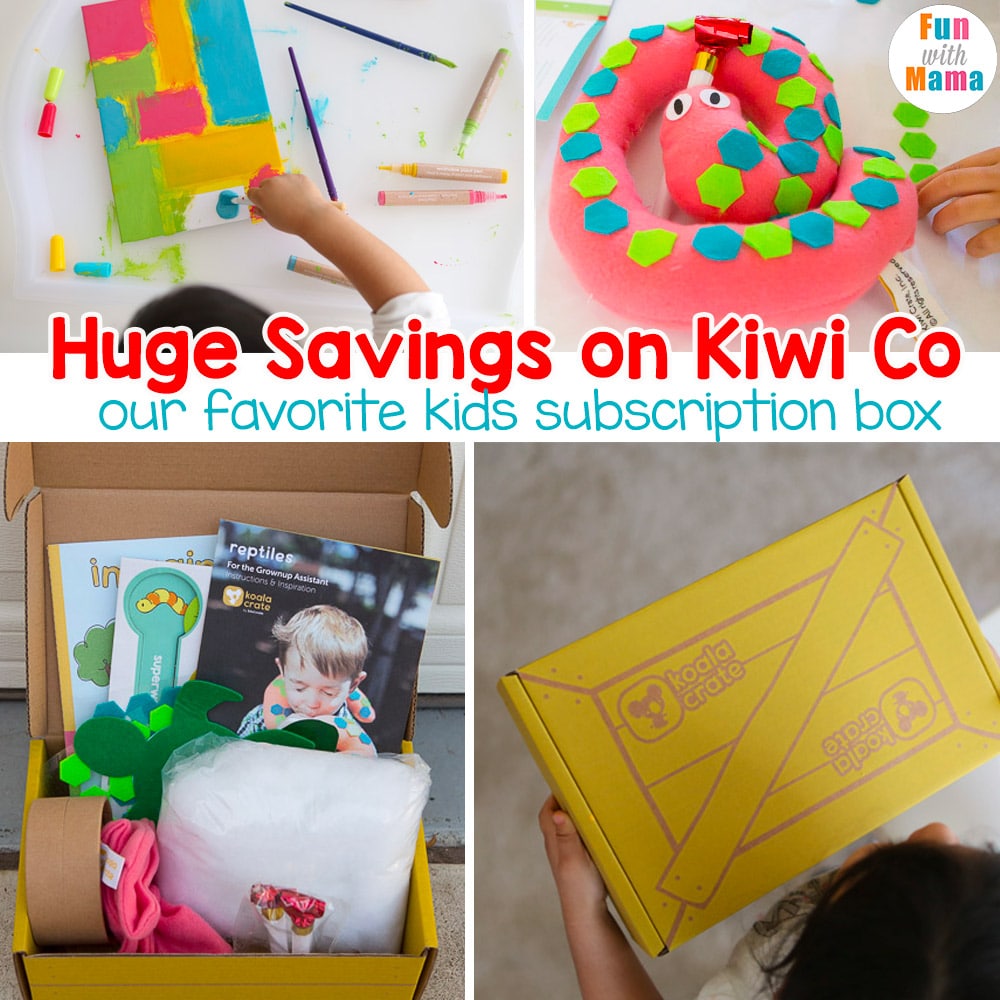 Rakuten gives you cashback from shopping through their links. I almost always use Rakuten when I do online shopping. Every year for Black Friday Rakuten amps up their cashback savings to give you an EVEN bigger saving. Here's an example of some of their savings, from my favorite stores (please note that these are not the only retailers, there are SO many more.)
Last year, SO many of my readers loved and signed up for Rakuten. I did a Rakuten Tutorial – How to Save Money Every Day blog post.
This year you can get a 3 month KiwiCo subscription for FREE (3 crates) or 6 crates for approximately $31 dollars. Read on to learn more.
Affiliate links are used in this post.
To make this deal even sweeter, Rakuten is offering $40 cashback for every new member that joins through my link. To qualify for this $40 cashback you need to spend $40 at one of the stores they offer cashback through. (This is easy, especially now when everyone is doing their Black Friday shopping.
You will then receive the $40 sign-up bonus within the next 3 months. If you are already shopping at your favorite retailers, then why not get cashback on the purchase anyway. You will also be receiving the cashback savings on top of the joining bonus.
It is not a subscription, there's no harm in joining it. Use it when you want to, forget about it if you like too. They don't ever charge you for anything. It's a riskless benefit and a simple way to make money back on your purchase. I don't see why someone would not use it, unless of course, they don't know about it!
The sign-up bonus can only be used by new members.
Once you sign up through my link just type in KiwiCo in the search bar at the top of the Rakuten screen.
You can choose from their coupon codes to find the best savings. In my opinion, the best one is only available today and tomorrow (Nov 24, 2021 and November 25, 2021.)
Here's the deal you get: Get up to $30 off your subscription + 20% cashback + $40 Rakuten sign-up bonus.
Click on SHOP now.
Add the subscription you like. I highly suggest you go with the Kiwi Crate box or the Koala Crate box. Those two are my favorites! I have not tried the food box yet.
The total is $89.70 after the holiday savings code (using code EARLY.)
So here's the math:
Total for a 6 month KiwiCo subscription with this deal is is: $31.76 (normal price of $113.70)
| | |
| --- | --- |
| 6 month KiwiCo subscription | $113.70 |
| MINUS CODE: EARLY | – $24.00 |
| Total | = $89.70 |
| MINUS CASH BACK (89.70 x .20) | – $17.94 |
| TOTAL | = $71.76 |
| MINUS Sign Up Bonus | – $40 |
| Final Total | = $31.76 |
31.76 divided by 6 is just $5.29 a box.
Your child will LOVE this subscription box. These boxes are great for weekend activities and boredom busters. We LOVE STEM activities in this house. See my posts on STEM activities here: Play and Learn – STEM Activities + Toys for Multiple Ages and STEM Kids Gift Guide
You can learn more about the Kiwi Crate subscription boxes in my blog posts linked below.
Please note that when you sign up, not only will you receive $40 back after your first qualifying purchase, I will be credited $40 as well for referring you. You can also refer your own friends and family and get $40 for each person you refer that qualifies too. This would be wonderful Christmas savings that will allow you to buy more during the holiday season. I put those referral funds right back into the running of this website to find you more deals too!
Looking for more ideas on how to use Rakuten? Here's another example: If you buy a 1 oz tub of Creme De La Mer from Neiman Marcus the cost is $190. Neiman Marcus has a sale currently that will give you $50 off $200, $100 off $400, $250 off $1,000, or $500 off $2,000 regular-price purchase with code THANKFUL. Just add another item that makes you hit the $200 mark and you get yourself a $50 savings + 10% cashback! You will be surprised by how much you will be able to use Rakuten in your every day purchases.