With the back-to-school season here and because of the fact that the current state of the world has us sitting at home more now than ever before, online shopping has become our new norm. How much time are you spending shopping online nowadays as compared to before? I'll be honest, while the world can be a bit chaotic right now, the one thing I really do love and find simple is online shopping, it's never been easier! With the convenience of shopping at your fingertips, without the need to waste extra time in traffic or having to keep an eye out for multiple kids while shopping, the thought of online shopping is luring. Returns are also quick and efficient at most retailers. All you need to do is send back the item through your local post office. But did you know that besides the convenience of online shopping you can actually save so much money on your purchase? As a mom of 4 kids, it definitely helps to be a smart shopper.
Please note that affiliate links are used in this post.
I basically earn money back from almost every single purchase that I make. Free money back? Count me in! Then I have more money to spend on other items on my wishlist.
I'm positive that you're going to love using Rakuten as much as I do and I'm going to give you a simple tutorial on how you can save money too! I can't wait to hear about some of your success-saving stories once you join!
__________________________________________________
Update 11/25/2021 – Right now Rakuten is running a special sign-up bonus for all new members. If you sign up through my link here you can earn $40 cashback on your first order through of $40+ using Rakuten. I show how to get a free KiwiCo Subscription for your kids using this bonus as well as how to get a huge savings on Creme De La Mer cream (and other goodies) if your shopping for yourself instead. This deal is only for a short time and I'm not sure when it will be over.
There are no subscription fees and you will never directly pay Rakuten any money. I think they have a deal with certain retailers where they earn a commission on your sale and therefore they give you a portion of this commission. Whatever it is, I've been using Rakuten for years and LOVING it.
_________________________________________________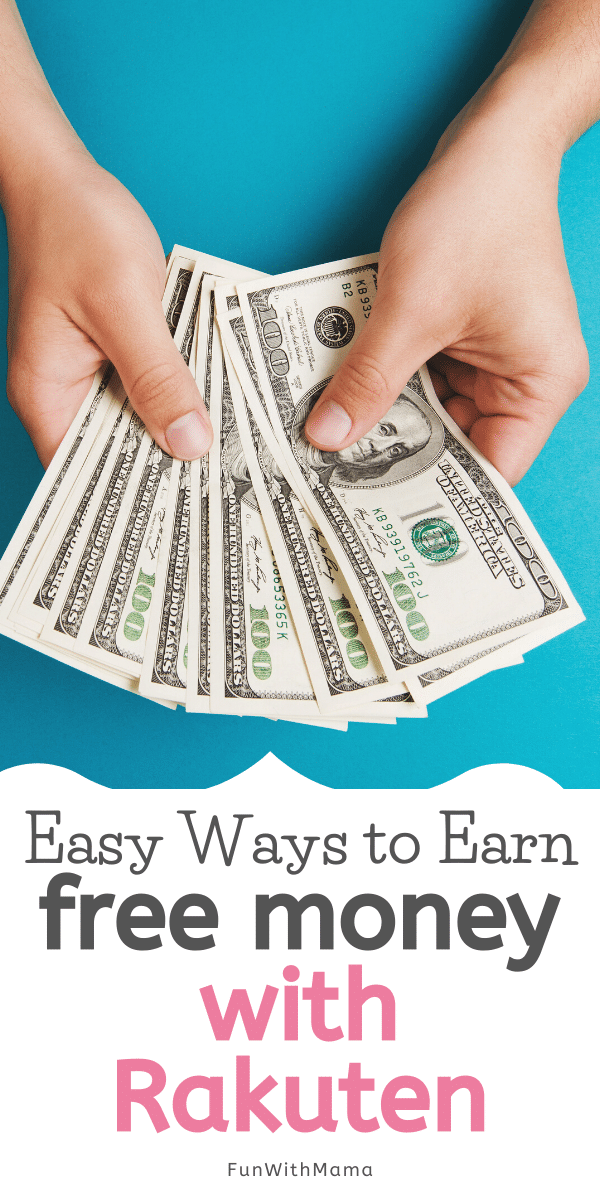 Rakuten – How to Save Money Every Day With Little to No Effort
From Sephora, to Nordstrom there is savings to be had at almost every single online retailer you shop at… except for Amazon.
Amazon is, unfortunately, one of the few places that do not support the savings that other retailers offer through Rakuten. But, that doesn't mean there aren't other retailers that you can shop at. Part of being money savvy is by searching through multiple websites to find the best price for the item you are looking for. This is especially helpful for larger ticket items.
Sometimes retailers offer an even deeper savings. Here are some examples, normally Neiman Marcus and Ulta offer 2-3% cashback but right now they are offering 15% (NM) and 6% (Ulta) cash back.

I almost always use Rakuten to save money online.
Here are all the details and answers to the most common questions I get about Rakuten:
Is Rakuten free to join?
It is. And it's totally legit. There are no monthly fees associated with joining or signing up with them and they work with a HUGE list of companies. While it isn't possible for me to list out all the companies, I am including the ones that I think you'll love:
Best Buy
Target
Kohls
Nordstrom
Macy's
Sephora
E-bay
ShopDisney
Zappos
Adidas
Ulta
Dyson
See's Candies
Bergdorf Goodman
Old Navy
Staples
Neiman Marcus
Saks 5th Avenue
Walmart
Petco
Petsmart
H&M
and more.
Those are just a few of the top companies that they work with but there are so many more that do, too! I can't tell you the last time that I've shopped online and haven't earned some kind of percentage back by using them.
In fact, if the retailer that I'm shopping with is a partner of Rakuten, I'll usually earn $5-$10 back per purchase. I'm all for saving wherever I can.
But want to know what is even better? You actually get some cashback when you join and make your first purchase.
As of today the cashback amount is $30 back from your first purchase through Rakuten. I have told so many of my friends about Rakuten and they always tell me how happy they are that I shared this with them.
Here is a look at my recent cashback purchases. You can see how much I spent and how much I saved.
Sure, it may not seem like a lot but I use coupon codes on top of this and why not save even just a few dollars?
How to Use Rakuten
After you sign up using my link and confirm your e-mail address you can add the extension to your Chrome bar. If you prefer to not use the Chrome extension don't worry I'll give you instructions on how to manually get your cashback.
I prefer to use the extension because otherwise I completely forget about using Rakuten and then always regret it after my purchase.
To add the extension you can follow the instructions here:
Here is how to use Rakuten with the extension:
Go to the website you want to shop at. You will see a pop up box that says Rakuten and to Activate the cash back. It also shows you how much cashback you can get.
Press "Activate".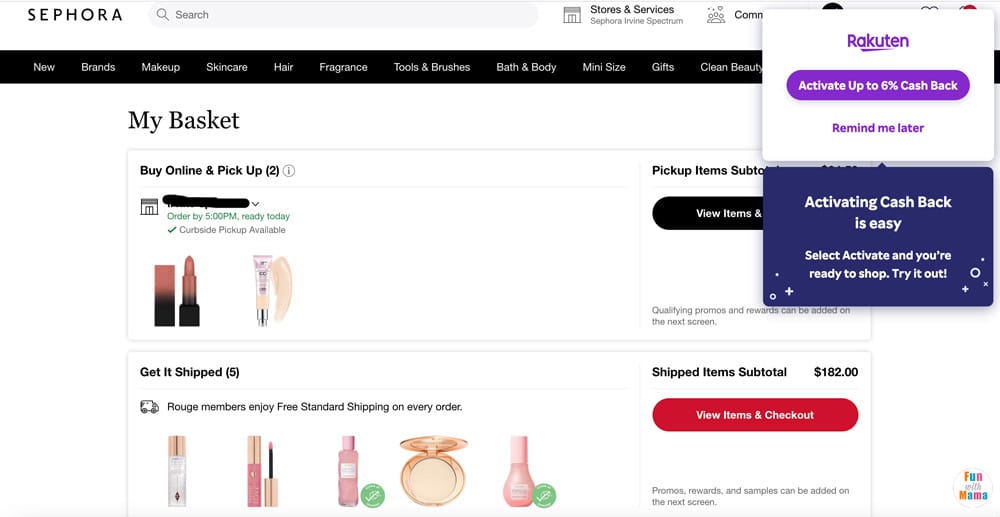 Once you press the button you will see that Rakuten will temporarily redirect you to the following message. This confirms that you will be getting cashback while shopping on this site.

Sometimes Rakuten will also search for coupons that you can add on top of the cashback you receive. If you see the following pop up that says there were coupon founds then click the "Apply Coupons" button.
It will then go ahead and test the coupons it found.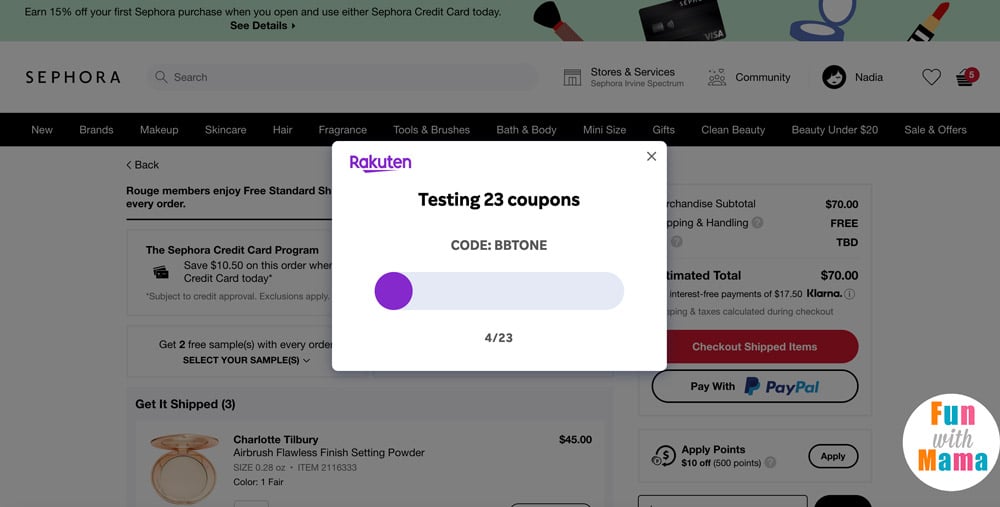 See below, it found me a coupon that worked. I clicked Return to check out and I completed my order.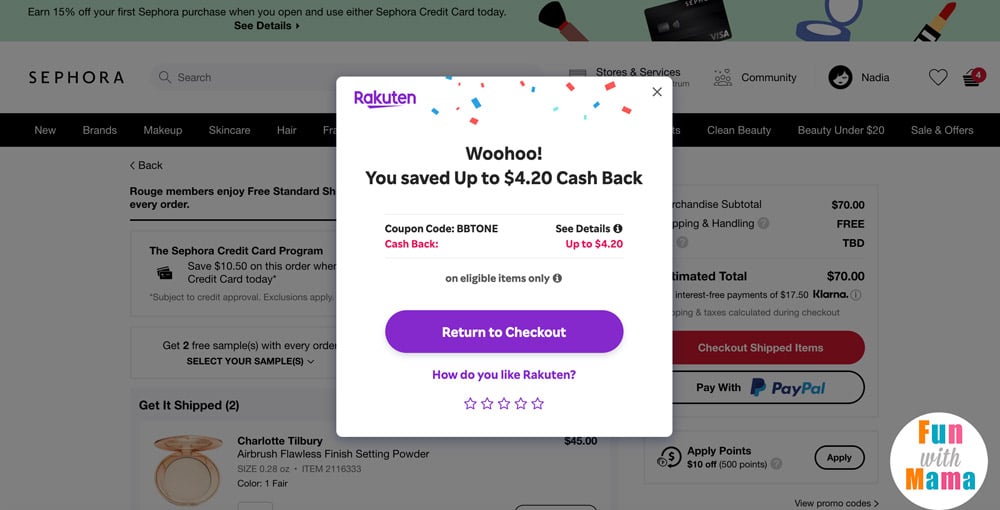 You will then see the order reflect on your Rakuten cashback history after a while.
Here is how to do get cashback without the extension:
After you sign up using my link and confirming your account you can search up the website/store you want to go to on the Rakuten.com site.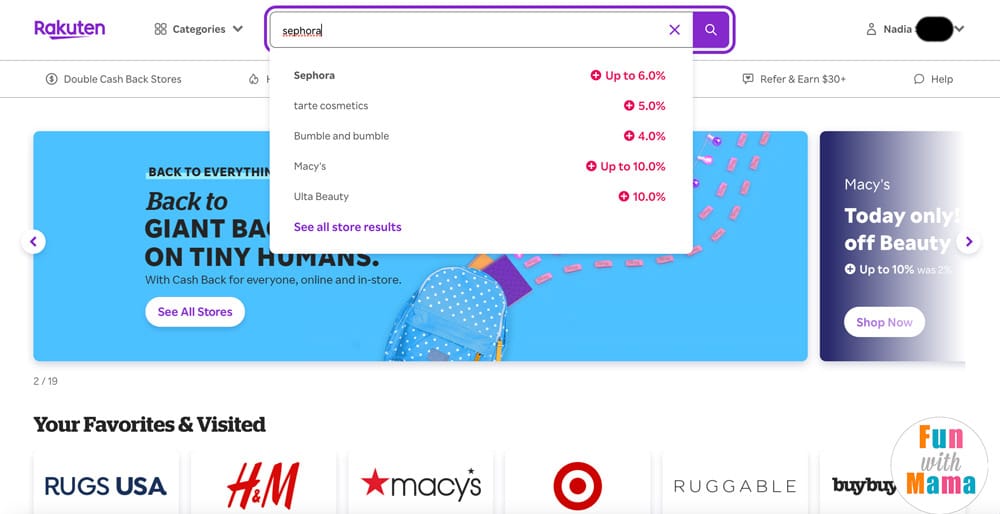 You will see how much cashback is offered within that store on this page. As you can see above Sephora is currently giving up to 6% cashback.
Click the "Shop Now" purple button.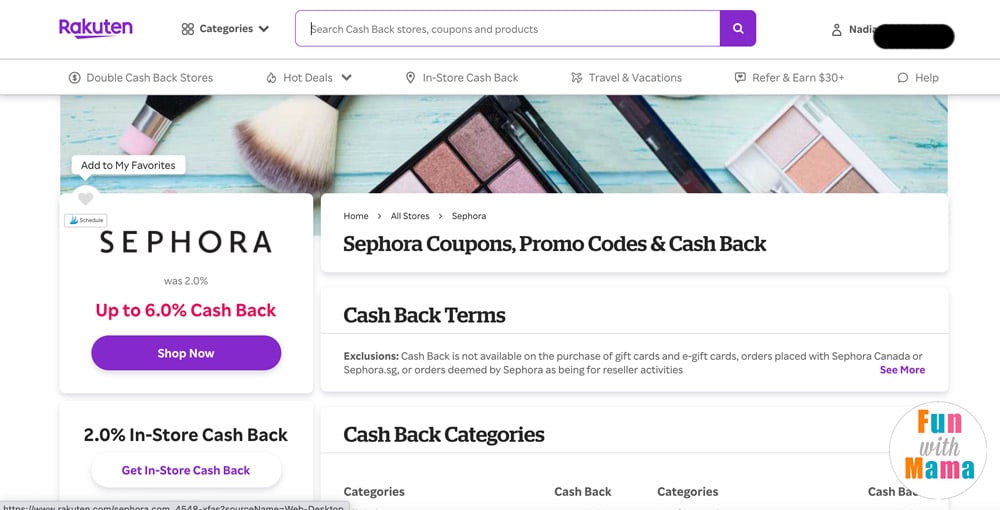 It will give you the following message.

You can then shop the site normally and receive points. Please note that you will have to try out your own coupon codes manually using this method.
Is Rakuten for online shopping only?
The easiest way to use Rakuten is for online shopping but there are certain stores that do work with them for in-store purchases, too. You'll have to do a bit of research on that one or reach out to their customer service to see if they can give you an updated list of stores.
To use Rakuten in store you will need to add your credit card to your Rakuten "My Wallet" section. Then go to in store cash back and click on the stores to manually link them to your Credit Card purchases.
How does Rakuten make their money?
This means that if you buy something online from Target and you use your Rakuten account to do so, Rakuten then gets a percentage of whatever you purchased. (but don't worry, this is between Rakuten and the store's agreement. It doesn't cost you anything extra at all!)
How often does Rakuten send money?
When you're earning money for every purchase, you're probably going to wonder when you're going to get your money back. Rakuten pays out your earnings every three months. You can easily log into your Rakuten account to check your balance at any point in time to see where you stand.
Do you have to pay taxes on Rakuten?
While I can't give you any type of financial advice, I'd suggest talking to your accountant to verify all that information. That way you're getting factual information from a trusted professional and source.
I'm not joking when I'm telling you that this is the easiest way to earn back free money on your online purchases with just a few simple clicks of your mouse! It's saved my family so much money over the years AND YOU CAN STILL USE COUPON CODES while using Rakuten as well!
I added the Rakuten extension to my Chrome bar and it makes using it that much more convenient.
And make this even sweeter, once you sign up you can go ahead and refer your friends and family too! They receive the $30-$40 savings on their first order of $40+ and you receive a bonus too!
Make sure to take advantage of this great program as it's a great way to buy extra groceries, Christmas presents, birthday presents, and more!
More quick and easy tips on how to save money every day
Just because saving money is always good, here are some other frugal tips to think about to keep more money in your pocket each day.
Give yourself a daily budget that you stick to. If you have limits on what you can spend, then you're not going to overspend and go over your budget.
Talk to your family about budgets so that everyone is on board. If your family members are used to spending money freely and then suddenly can't, they may need to understand why the sudden change.
Write out a list of things that you need versus the things that you want. From that list, you'll start to see items that you can easily eliminate from your spending.
Use what you have at home before buying anything new. We're all probably guilty of this so take the time to look through your cupboards and shelves before running out to the store. Get rid of the old before taking in something new. Otherwise, you'll just end up with a ton of clutter around.
Like this post on how to save money every day? Check out more great tips and ideas here: