Think about the perfect Christmas holiday season… what do you envision? A refreshing and cool winter's day, Jingle Bell Rock playing in the background, your beautifully decorated tree all lit up with sparkle and delight while your Christmas mantel has a stocking for each family member. Each stocking is personalized with a wonderful jewel in your life, each member of your family. Sure, having family Christmas stockings up is wonderful, but how much more wonderful would it be to have personalized Christmas stockings that children can look up at and see a representation of them up on that mantel. In this post, you'll find my favorite recommendations for fireplace mantel decor.
Currently, all these items are on sale so it is a great time to make a purchase!
Please note that affiliate links are used in this post.

Here are my favorite personalized Family Christmas Stockings
My favorite personalized Christmas stockings come from Pottery Barn. I love that the stockings come in a variety of elegant colors.
You can go with all red stockings, a blend of white and red, or theme it with the traditional Christmas colors of green and red. I also think this set is very very elegant, it's no wonder that it's a bestseller.
Here are what the Pottery Barn ones look like (images are clickable):

Pottery Barn Kids has some beautiful Family Christmas Stockings and fireplace mantel decoration ideas with a younger twist.
This set is adorable and can be personalized with a character like a gnome, Santa, snowman or a dog.
This quilted collection can also be personalized with your name and a character too.

If you want your decor to ooze elegance then you won't go wrong with these Velvet stockings.

If you have a Star Wars fan in your home then this Star Wars Theme collection is perfect!
Who else is a Grinch fan? This set includes the Grinch himself.
Fireplace Mantel Decor
Don't stop at just the stockings, the small little pieces is what takes your fireplace mantel decor to the next level..
Stocking Holders

To hold those stockings you can add to the decor of your fireplace mantle.
These gold Reindeers are gorgeous along with this beautiful Nutcracker holder too.
Create Santa's Sleigh with these stocking holders. You can purchase a sleigh and as many reindeer's as you like.
Have a family of 5? Then spell out the word MERRY using these holders.
I personally think these gorgeous faceted mirror tree holder's are jaw-droppingly beautiful
If you want something a bit younger looking or more like a 3d model then this gorgeous stuffed Reindeer is perfect along with the felted tree holder.
Personalize your stocking even further by using a picture stocking holder. These framed stocking holders include a spot for you to slot in a picture.
If you want something a bit more basic and not holiday-themed, so that you can use it year-round, these low-profile stocking holders are great.
Christmas Mantel Garlands

A mantle is incomplete without the garlands to complete the festive look. This faux Seeded Eucalyptus Garland includes pinecones.
This plastic garland includes 35 LED lights and is made from twig, wire, plastic and pinecones.
Add some gold into your Christmas mantel decor with this gold and glitter piece.
This garland comes with lights, is 72″ long and can be plugged in.
Lights

Add some lighting to your mantel with this bulb light or these LED Lights.
Bundles
If handpicking each item seems a bit stressful, you can opt for going with a bundle instead.
This Holiday Bundle includes easy-to-pick items that are curated and match well.
You can find more of my suggestions below: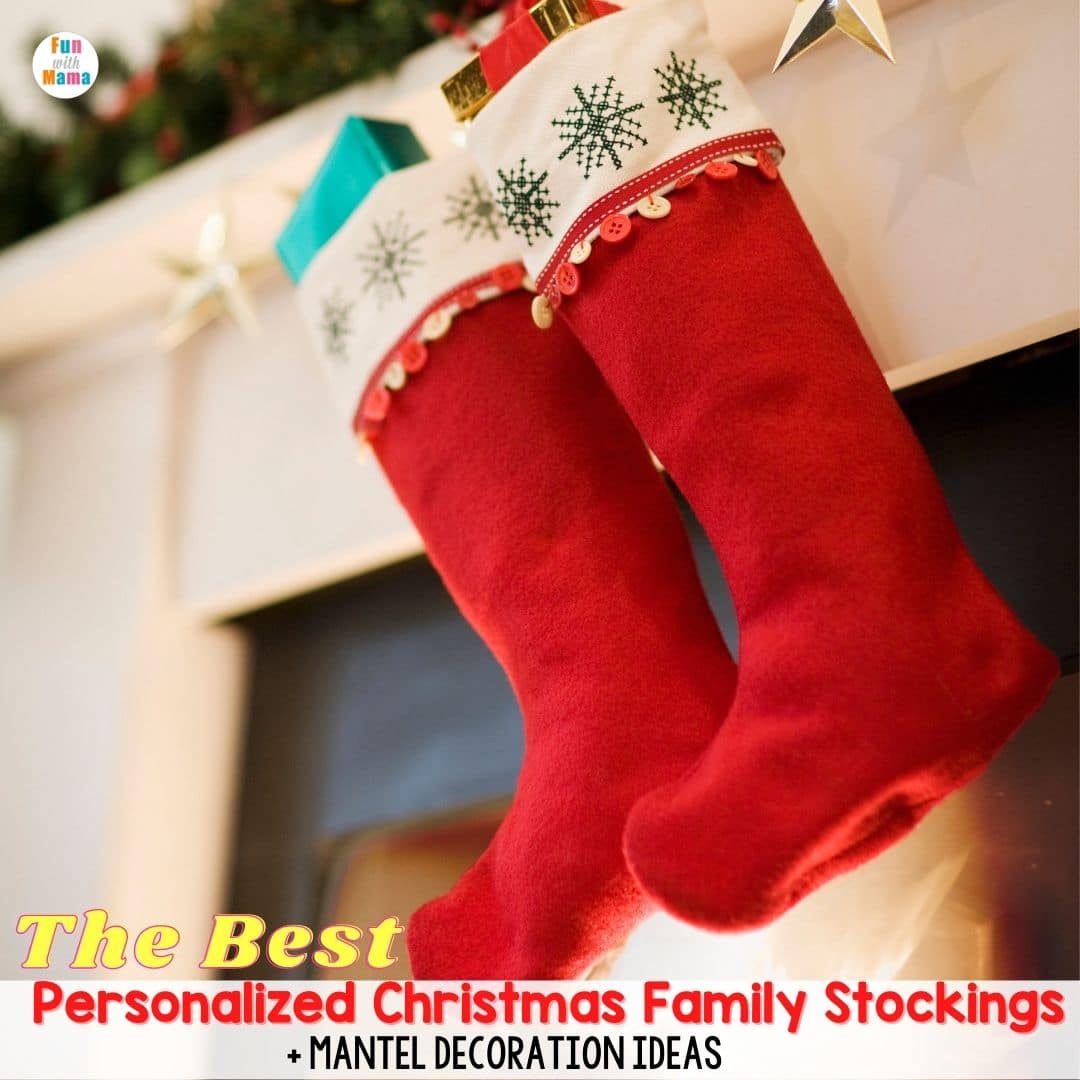 More Christmas Ideas: