Are you ready to introduce your child to a fun paper making process? This creative activity will teach kids how to recycle and make their own paper at home!
Making paper is a classic kids activity that is perfect for Earth Day, or whenever kids are learning about recycling. Kids can use this activity to learn how paper is recycled, and how much work goes into making paper! Keep reading to find out how to make your own recycled paper at home using leftover paper, and no special tools are required!
Recycled Paper Activity for Kids – A Fun Paper Making Process
We're always talking to the kids about wasting less and trying to use more of what we have around the house. For us, this paper making process was educational and eye-opening for the kids to see. While they're used to just having paper ready to use when they need it, they now know that it's quite a process to make it as well.
The best part about this paper making process is that it shows the children that even items that are as simple as paper, really do take time and effort to create. It also led to good discussions about recycling and the importance of doing what we can to help the Earth as well.
Supplies needed for this paper making process
Old paper (newspaper, printer paper, junk mail)
Blender
Large bowl
Plastic container lid (the bigger the better)
Rolling pin
Dish towels (you can use any towel, but we want the texture to be as smooth as possible. You can also use an old t-shirt)
Parchment paper
Cookie sheet
Directions to make this recycled craft for kids
Tear the paper into little squares. Don't use any paper with a glossy print. Stick to matte textures like old printer paper, newspaper, and letter-style paper. Things with a lot of pictures should not be used, as the paper will become a dark gray.
Boil some water on the stove (about ½ a cup per 10 pieces of paper). Turn off the heat and drop the paper into the water. It took us about 10 sheets of paper to make 1 sheet of recycled paper, so keep that in mind as you're making your paper. If you have several kids doing this activity, they should each do between 10 and 20 sheets of paper.
Let the paper soak until the water is lukewarm.
Pull out the soggy paper and add it to the blender. Pour in a little extra water and start the blender. If the paper isn't mixing, add a bit more of the leftover water.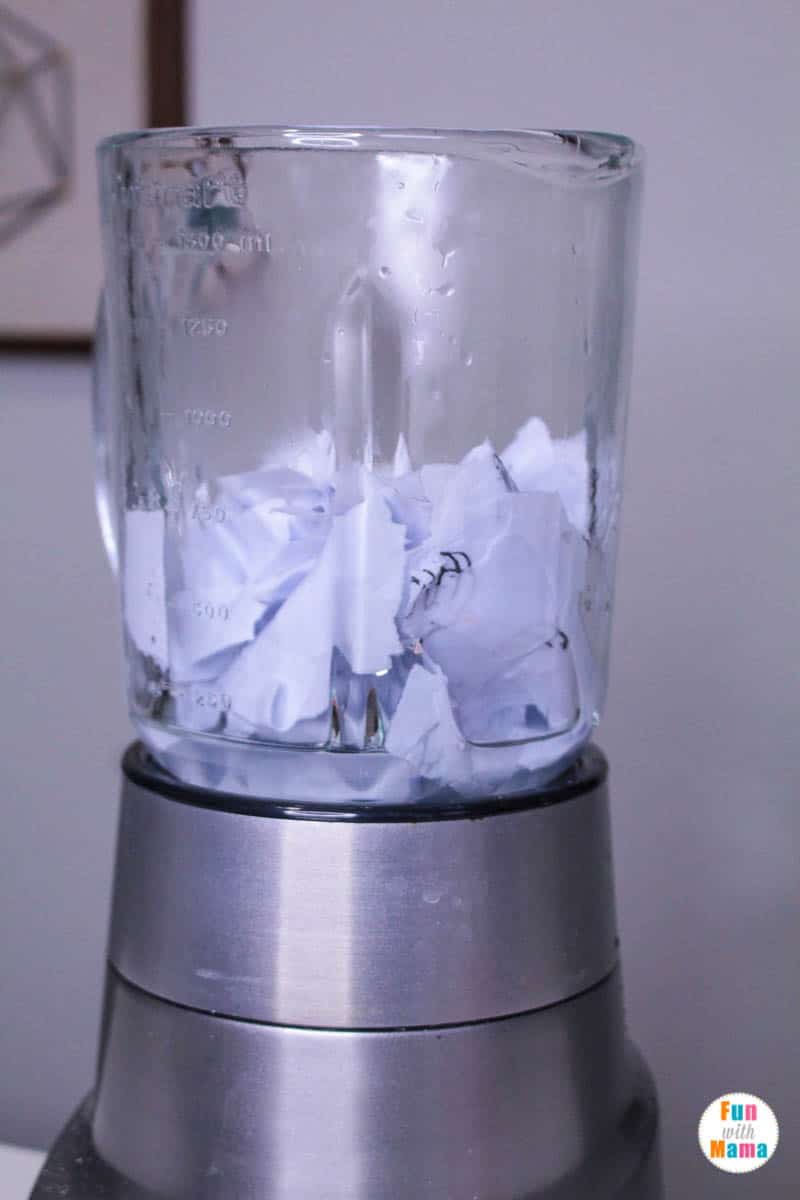 You want your paper pulp to have the consistency of a thick smoothie or milkshake.
Once the paper is blended, take it out and squeeze out excess water with your hands.
Cover your plastic lid in parchment paper.
When you can't get any more liquid out by hand, place the paper ball onto your plastic lid.
Cover the paper ball with a towel and flatten it.
Use the rolling pin to squeeze out any extra water and shape the pulp into the shape of a piece of paper.
Heat the oven to 200 degrees Fahrenheit.
Move the parchment paper onto a cookie sheet and place in the oven. Dry out the paper in the oven for about 2 hours until completely dry.
Once the paper is cooled, take it off the parchment paper and use it as desired!
You've now made recycled paper and your children can say that they were part of the paper making process!
Conversation starters for this paper making process
Talk to your children about what they observed versus what they thought was going to happen. Go over the steps of this paper making process and see if they have any further questions or thoughts.
And last, but not least, have them use the paper that they created in this activity to write someone a letter or draw a picture on!
More activities for kids: