With summer officially here, it's time to start planning and thinking about all the fun summer activities for kids. While many kids might be going away or attending various summer camps, there are a lot of fun summer activities that can be done right at your own home!
If you're looking for some really great ideas on how to keep your kids active and beating that "summer slide", don't fret. While the summer months are all about getting out and enjoying the sun, nature, and having fun with friends, there is still a lot of educational activities that can happen, too.
Finding a way to incorporate fun and learning is absolutely possible and these summer activity ideas can help! You can never have too many summer activities for kids planned!
50 Summer Activities for Kids
While this is just a fun list of summer activities to keep your mind thinking, have fun with adding to this list as you go!
1. Go on a nature walk
Take the time to explore the animals and surroundings. Stop and smell the roses and listen to all the sounds of nature that you'll hear as well.
2. Water bead play
Everyone loves playing with water beads! The summer months are the perfect time to use them daily for sensory fun and learning.
3. Baking treats and desserts
Did you know that teaching your child how to cook and bake is a great way to teach them to follow directions as well?
4. Playing catch
Working on hand-eye coordination is always a good idea!
5. Backyard Camping
If you've always wanted to go camping but never found the time to do so, who says that you have to go far? You can create the perfect campground right in your backyard.
6. Fossil fun
Have you ever found a fossil? If so, you know just how exciting it can be! Help your child get that same feeling of excitement by going on a fossil hunt.
7. Shaving cream sensory bin
It's time to have some messy play fun! Work on writing out their names and letters with this simple DIY sensory bin.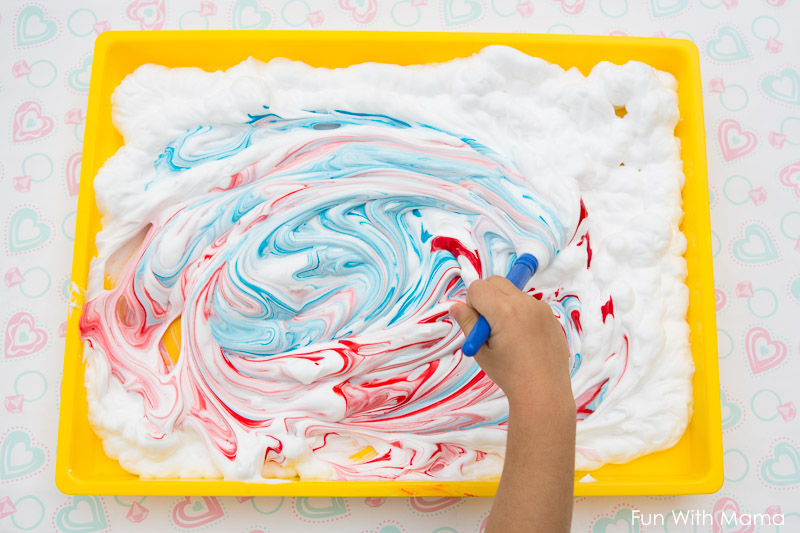 8. Raised Salt Painting
This is such a cool summer activity for kids! It will not only teach them creativity, but salt painting will also help them learn that art can be made with a wide variety of objects all around them.
9. Go on a scavenger hunt
This can be done anywhere! Outdoors or indoors, just have your kiddos looking around to see what they can find! This Grocery Store scavenger hunt printable is perfect!
10. Make your own homemade bubbles
There are few outdoor activities that are as fun as blowing bubbles, so why not make your own to enjoy as well?
And while those are some awesome sensory summer activities for kids, here are some super simple outdoor games for the kids to play as well.
11. Tag
12. Hide and Seek
13. Hopscotch
14. Swimming
15. Kickball
16. Tag Relay
17. Tennis
18. Basketball
19. Dog walking
20. Flashlight tag
Another great idea for summer activities for kids is to see how they can help and give back to the community. Did you know that there are ways to volunteer together as a family that everyone can lend a helping hand? Here are a few ways that you can incorporate giving back to others while turning it into a fun summer activity for the kids.
21. Serving food at the food bank
22. Making sandwiches and donating to a shelter
23. Picking up trash at a local park
24. Donating toys or clothes to those in need
25. Creating food packs for homeless
26. Delivering water bottles during hot summer days
27. Offering to help during a community event
28. Volunteering your time at a local church event
29. Learning how to knit caps for newborn babies at the hospital
30. Heading to the animal shelter and playing with the animals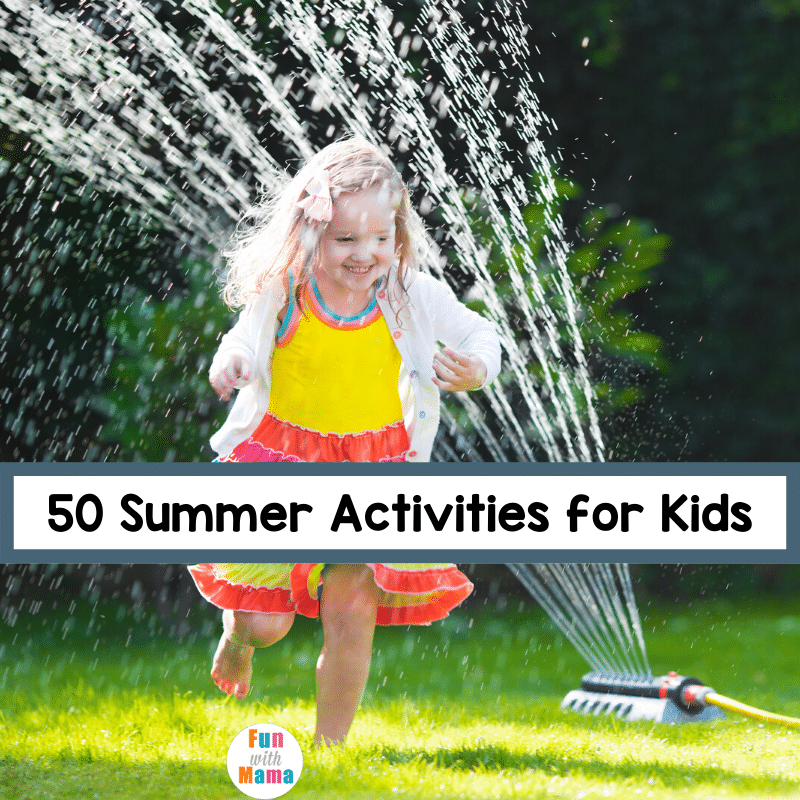 The great part about planning summer activities for kids is that there are a lot of varying things to choose from! In our house, we love to create with our hands, so these activities are more hands-on summer fun for sure!
31. Painting with finger paint
Messy fun for sure, but this is the best fun! Let your children dig their hands in this DIY finger paint and create true art!
32. Watercolor painting
Using this technique to paint nature is so much fun.
33. Create beautiful butterflies
Butterflies are so beautiful to see in nature, but did you know you can easily create your own with coffee filters?
34. See how water can walk
It's true, water can walk. This fun summer activity experiment proves it!
35. Pick up sticks
Just going around the yard and picking up sticks is actually really fun. Then, challenge your kiddos to make something creative using their pile!
36. Painting and hiding rocks
What a fun way to bring joy to other people in your community. Find some small rocks, paint them, and then hide them for others to find.
37. Learn all about rainbows
Summer months are full of rainbows, but why wait when you can make your own? This rainbow science experiment is full of hands-on learning!
38. Have a day all about STEM
Can one ever have too many science experiments? In our house, we think not. These STEM experiments are the perfect way to celebrate summer with learning.
39. Play with the bugs
Learning about and playing with bugs is fun! But if your little ones aren't so crazy about playing with live bugs, this DIY sensory bin is a great idea to make and use.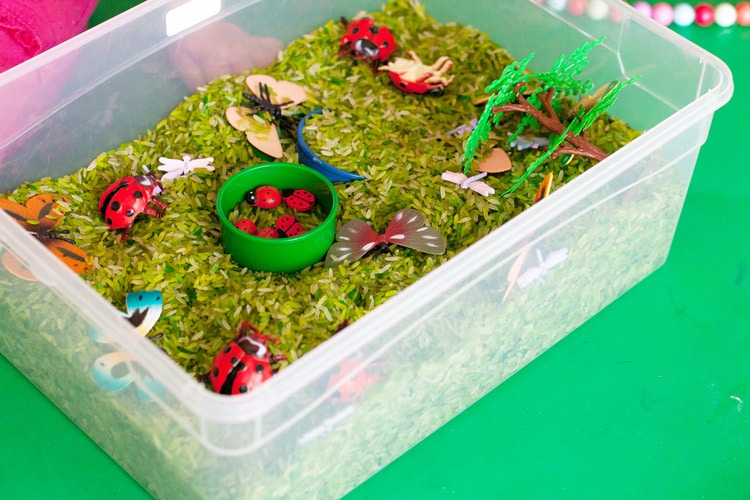 40. Put together puzzles
Being able to print off your own puzzles is easy and fun to do. Not only are they great to do at home, but you can take them with you when you're traveling as well.
Last, but not least, don't forget that summer fun activities involve being together as a family, too. If you're hoping to improve your family communication and time together, here are some simple ways to make that happen this summer.
41. Make dinner time happen every single night
42. Pick a summer day each week to do something fun together as a family
43. Start a family book club and read books together
44. Load up the family and go fishing
45. Schedule pools days together once per week
46. Create a family project to do at your house
47. Pack up a picnic and head to the local park
48. Create a "technology-free" zone in your home
49. Start off each morning with coffee and milk together
50. Take turns telling silly stories and creating a fun book
While these are 50 summer fun activities for kids, there are so many more to explore! Whatever your summer plans are, having fun enjoying them together as a family, too!
Do you have any other ideas for fun summer activities for kids?