Learn how to make homemade bubbles for kids and watch as they smile in delight! This diy bubble solution includes a tutorial the easiest bubble recipe.
Most of us don't often look at how to make homemade bubble solution because it's just as easy to pick up a tub of bubble solution from the store. However, when the kids are begging to play with bubbles and you don't have the time or energy to run to the store to pick some up (and who wants to fight with the kids to find their shoes and socks, wrestle them into car seats, out of car seats, and drag them through the aisles of a store anyway?), it's nice to know you can provide homemade bubbles within minutes for your kids.
My children love anything that can be considered a science experiment. Check out these Science Experiments For Preschoolers.
Homemade bubbles
As a child, do you remember when you were in a bubble bath and you could somehow make bubbles? Don't you remember how excited you were?
Use this homemade bubble solution recipe and get super-sized bubbles within seconds!
All you need is a few common household items.
Follow along with this simple bubble recipe to make your own bubble solution at home!
Bubble Recipe
You only need a few ingredients to create homemade bubbles. You can even use this bubble recipe to do some Bubble painting.
2 cups water
¼ cup sugar
¼ cup blue dawn dish soap
1/8 cup sweet bubble blower
1 TBSP glycerin (optional)
Straws or pencils
Bubble Solution
There is almost nothing to this simple bubble recipe!
Heat your water in a saucepot or in the microwave until warm.
Add in the sugar and your dish soap and stir gently.
If you have vegetable glycerin, add it now. Otherwise, you can get away with not adding it as the sugar strengthens the bubble solution on its own. The glycerin just allows you to make larger, more stable bubbles.
If your kids can wait, refrigerate the bubble solution for a couple of hours. This will make the bubbles stronger. This step is more important if you leave out the glycerin.
Store the bubble solution in a jar with a lid.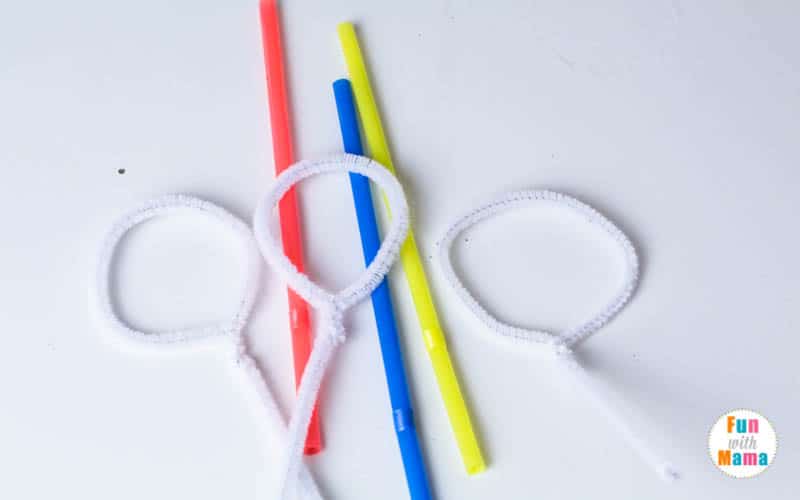 While the homemade bubbles are chilling.. make your bubble wands. Simply twist a pipe cleaner into a circle shape, and twist the end around a straw or a pencil.
Dip the bubble wand into the bubble solution and let your kids have fun playing outside with the bubbles.
Experiment with making different-sized bubble wands to make really large, or really small bubbles. You can even blow into the container of bubbles to make a jar full of bubbles. When the wind blows, these bubbles will float into the sky, delighting your kids.
Bubbles are the perfect way to keep the kids entertained screen-free on a nice day!
Not keen to make homemade bubbles? Then buy yourself a bubble machine. My kids LOVE it!
I have linked to my favorite bubble machines below:
We also love this
sweet bubble blower
for the kids to blow out of.