Learn how to make crunchy slime with this simple mint chocolate ice cream inspired Crunchy Slime Recipe. It is a fun sensory twist on a classic slime recipe, making the slime "crunchy!" You can even add a few drops of mint extract to the slime to make it look and smell even more like ice cream! This slime was one of my kid's favorites and they played with this recipe all day long. After this tutorial you will know how to make crunchy slime. Check out all of our slime recipes here. For another unusual slime recipe learn how to make slime without glue.
Crunchy Slime
Making slime is a favorite in our home. We are also always looking for ways to make slime clean up easier. By using plastic cups and sticks to mix you can literally make this slime and throw away all of those mixing cups! All that would be left to clean is just putting the glue and laundry detergent away.
Learn how to make crunchy slime with laundry starch and baking soda below.
Please note that affiliate links may be used in this post. Please see our disclosure policy for more information.
Slime Ingredients:
Don't forget to check out my favorite slime ingredients.
Elmer's clear glue– we actually normally buy the big bottle because the kids love making slime so much!
Measuring cup
Baking Soda
Green and brown/black pony beads
CRUNCHY SLIME RECIPE:
Place a bowl on the table.
In the bowl add one cup of glue (you can use clear or white for this recipe).
Add a tiny drop of green food coloring (to make the mint color).
Pour in 3/4 of a cup of water.
Add 3 tablespoons of baking soda to the slime mixture and stir.
Toss in your green and black beads. That's how to make crunchy slime have the "crunch" factor.
Add 1/2 a cup of laundry starch and stir.
If your slime is still sticky, add more laundry starch until the slime is no longer sticky.
Once the slime is stretchy and solidified, you can play with the slime. Be careful, as the beads do tend to fall out of the slime the more it's played with.
The baking soda changes the consistency of the slime and makes it a little bit thicker than traditional slime. It really does make it look just like ice cream!
I hope you've now learned how to make crunchy slime using this simple crunchy slime recipe tutorial.
You can also use this time to work on a bit of chemistry theroy. How did adding the beads and baking soda change how the slime formed? Check out even more unique slimes!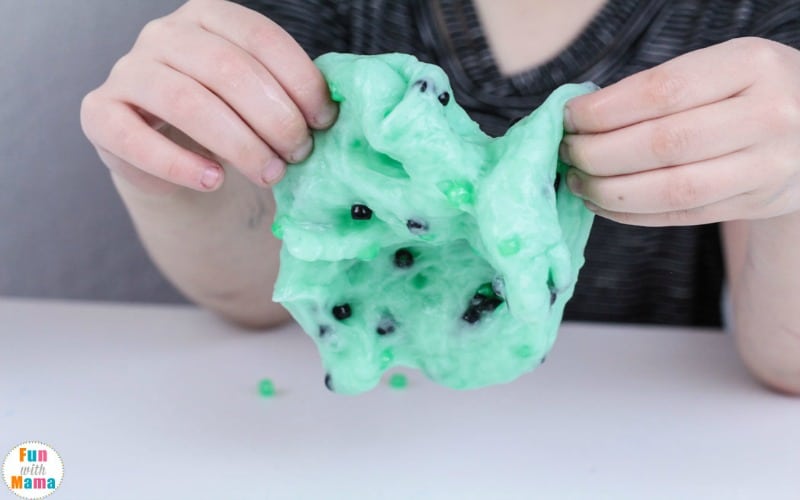 You can find all of our slime recipe's here.