I am a blog ambassador for Lakeshore and am compensated for my work. I received product free of charge, but all thoughts and opinions are 100% mine.
With children in ages ranging from 4 to 10, it can sometimes be difficult to find activities and toys where they can all participate together. Sometimes, they have varying interests while other times, some projects can be a bit tricky. For the holiday's I want to encourage my children to spend time, help and play with each other. In this blog post I will showcase three of my favorite Lakeshore Learning toys for siblings.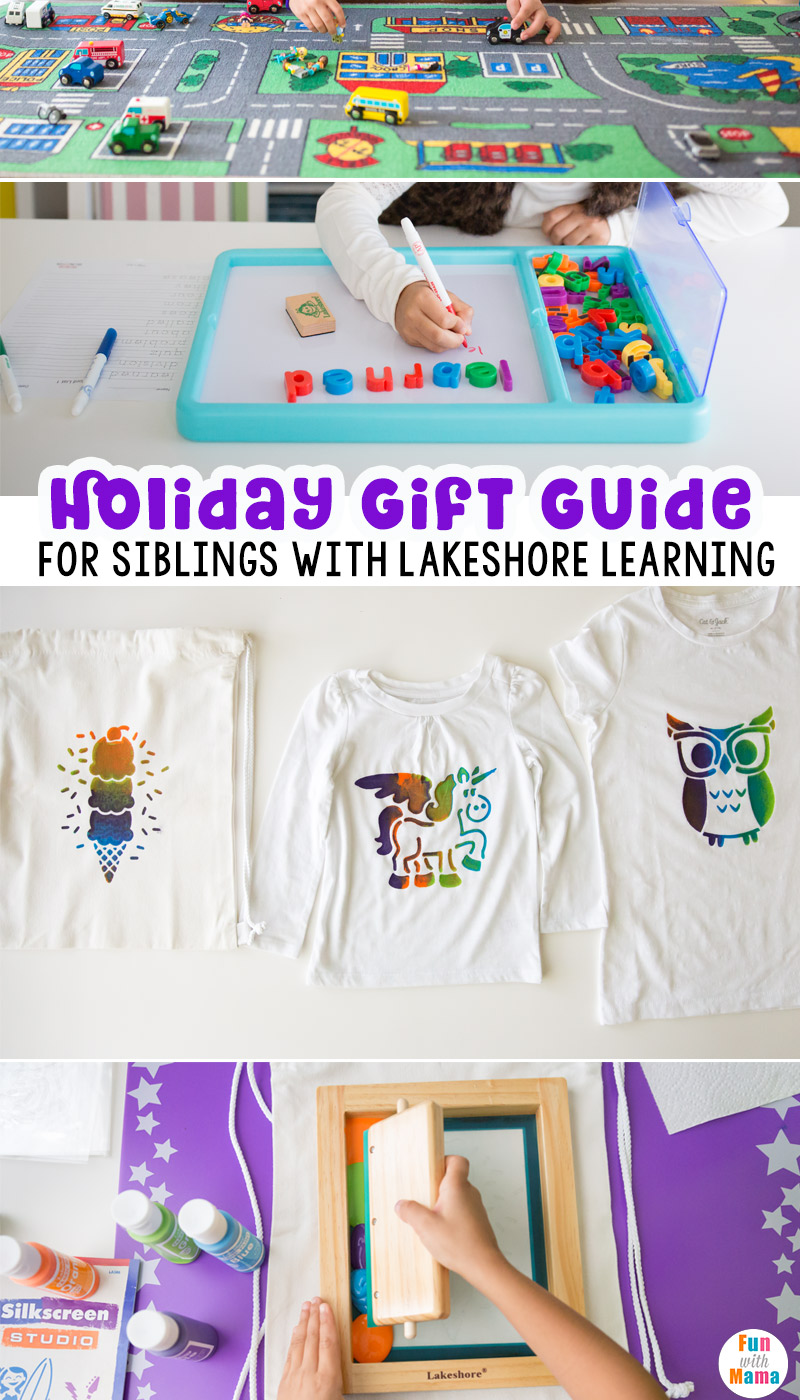 Holiday Gift Guide For Siblings
I have loved showcasing my favorite products from Lakeshore Learning throughout the year. Their toys are amongst our favorites because they are created by teachers with parents and children in mind. The quality is always great and my children never seem to lose interest in their toys.
When choosing toys, I am always concerned with longevity. How long will it hold my children's interest? These toys are perfect for children ages 3-11.
Silkscreen Studio
The Star of the show has to be Lakeshore's Silkscreen Studio . My children have unanimously agreed that this is one of the best art activities that we have done this year.
This activity pack comes with everything needed to create a fabric painted tote. Having three kids, I knew each of them would want to try out this activity so I went ahead and purchased some blank t-shirts at a local store so that each of the kids would have their own turn. I started with my eldest daughter so that she would feel more prepared to help her siblings when it was their turns.
We first watched Lakeshore's video demonstration of this activity.
To use the Silkscreen Studio you first choose the stencil design you would like to use. Then you tape it to the screen.
You add the silicone lining sheet in between your pieces so that the fabric paint doesn't go through to the other side of the canvas.
Once the children positioned their stencils it was time to add paint. The children discussed amongst each other what color ideas they thought would look nice and also some clever placement of the colors.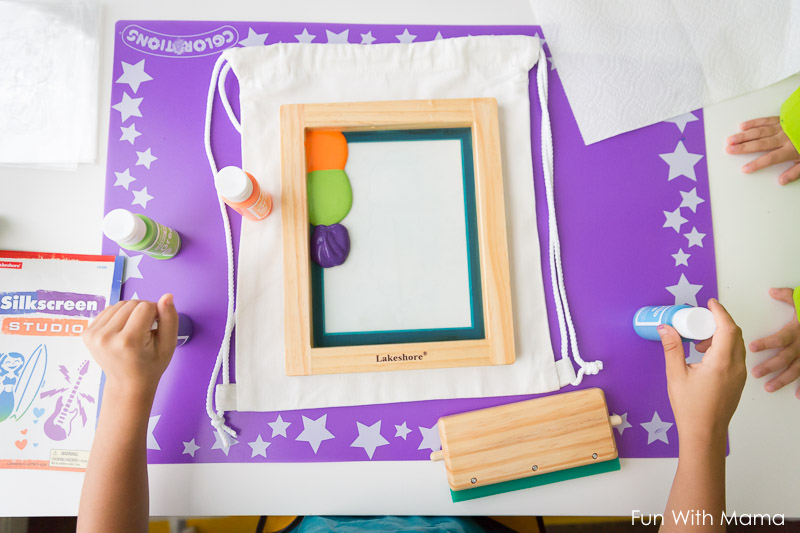 Then, you slide the paint around using the included tool until the paint is fully soaked into the stencil.
Once the paint is all spread lift up the wooden piece and allow the tote to dry for 24 hours before putting it into tumble dryer to set.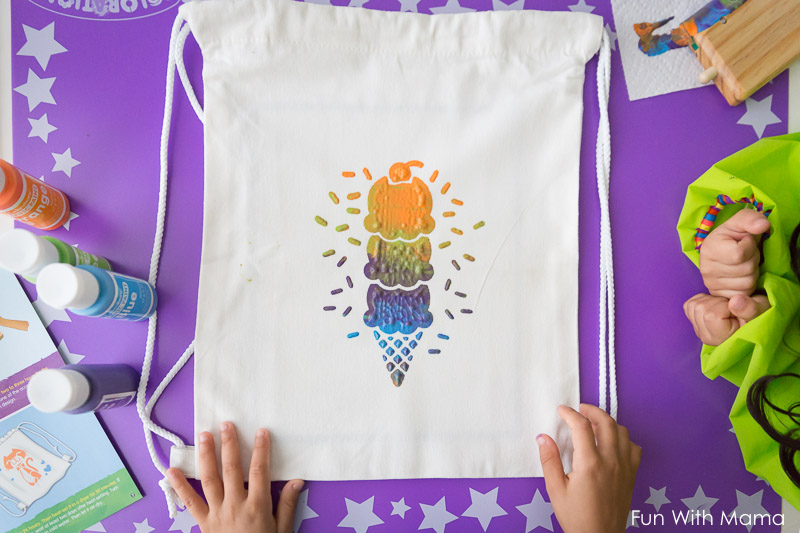 Before we even lifted up the wooden piece I already heard thousands of, "My turn! My turn" announcements!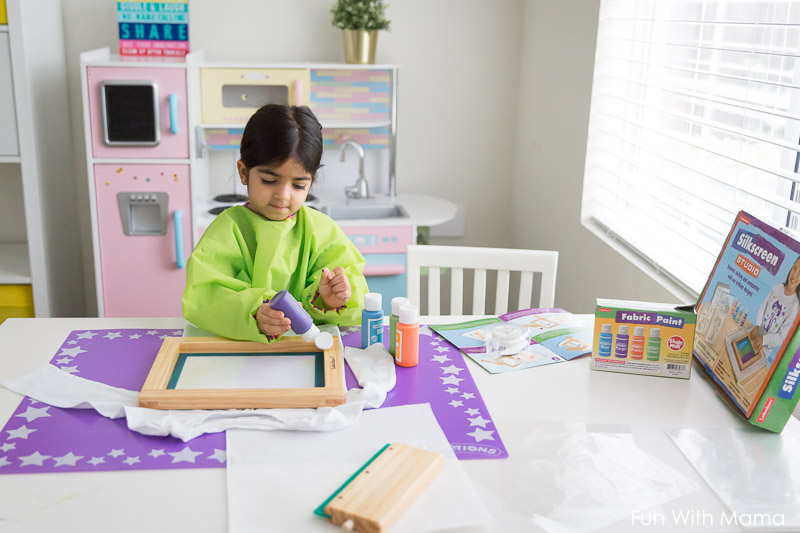 Creatively, this activity has inspired my children to think about all the different possibilities in personalizing blank items we have at home.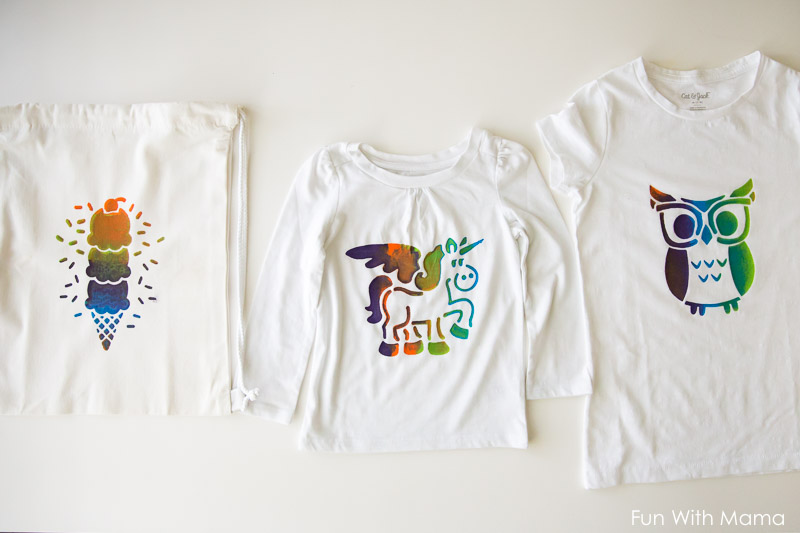 Around Town Play Carpet and Vehicles
Imaginary play is one of the best parts of childhood. It is always fun to watch the children play these games, especially together. Seeing this beautiful Around Town Play Carpet and Around Town Vehicles brought me back to my own childhood. I remember playing with cars for hours and hours with my siblings. The carpet is the perfect size for multiple children to enjoy together without it being too large to take up too much of space.
I have the carpet laying out for the kids with the cars on the mat and it is sweet to see them quietly come to play with it each and every day.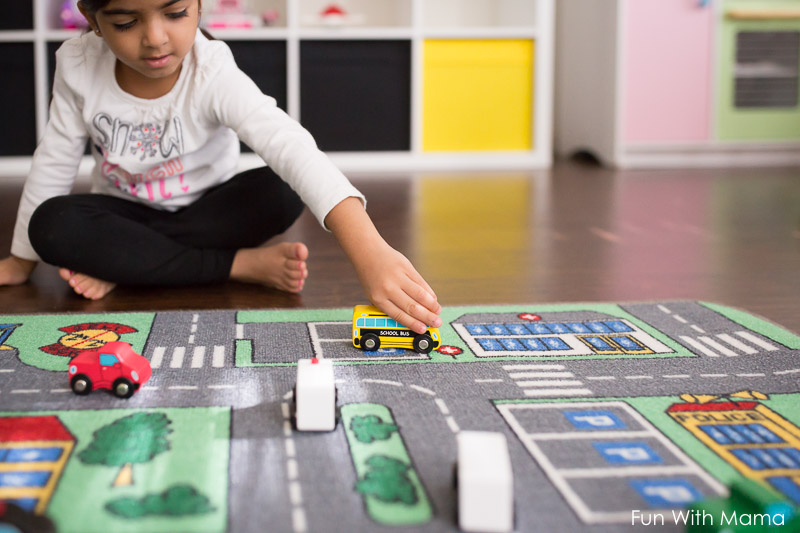 My older children added a few more pieces from our existing toy sets to create more game ideas.
Draw and Learn Studio
Do you have children that love to play teacher teacher? Yes, that is the name of the game in my house. The Draw and Learn Studio makes for a wonderful teacher's board to teach students letters and spelling. Spell out a word and have one of the siblings draw what the word spells. For example, spell out tree… then have one of the children draw a tree.
Besides being a fun toy, this is also a wonderful educational material that I plan to use as a mother with my children. The holiday's are the perfect time to work on a few areas that your child may need more help on. I love the Draw and Learn Studio and am using it to work on spelling for my older two children.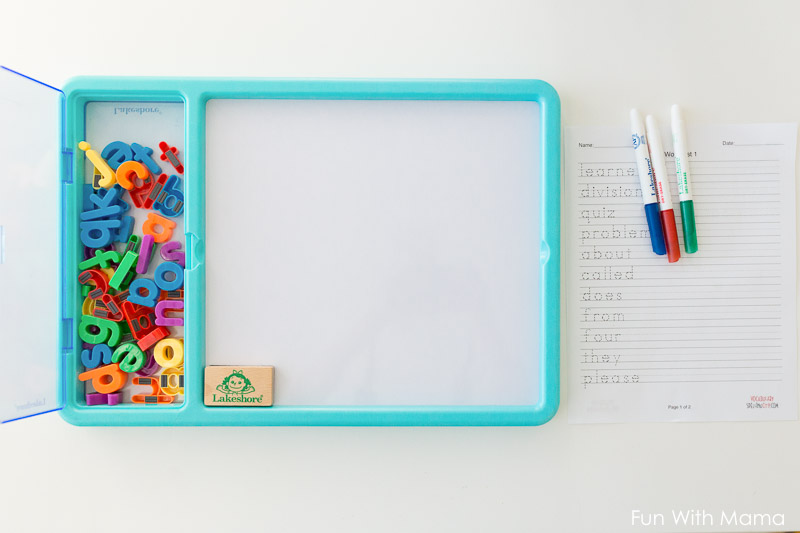 I placed their spelling words on the paper next to them. First, they needed to build the word using the included magnetic letters, write it out on the board and then write the word on the paper.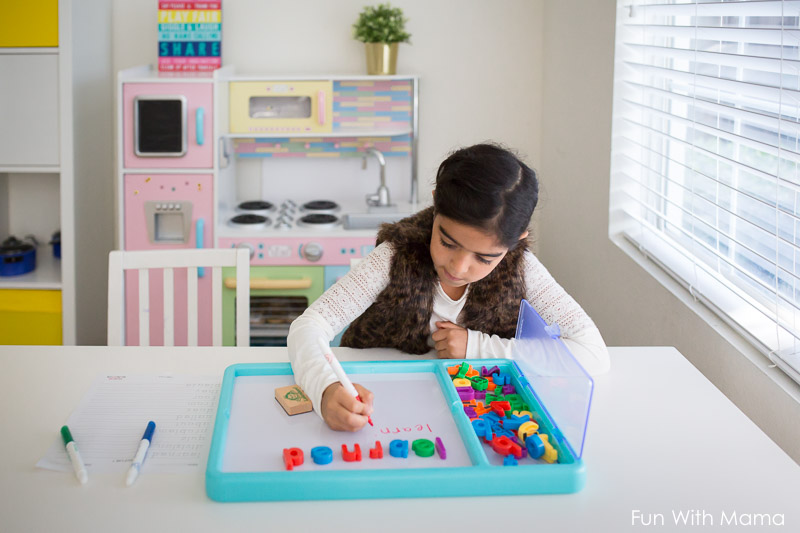 For my 4 year old, she has suddenly become very interested in spelling her name. By following her lead and letting her interests determine what I wanted to teach her, I wrote her name on the board. I then took out all the magnetic letters that are in her name. She needed to put the letters in the correct spot below her name. She could easily double check to see if she made any mistakes.
Often times, children will place the letter "a" incorrectly, so I guide her by pointing to the letter and asking her to look at the one above it to see if it was the same. Most of the time, she would then correct it.
I love that each of these toys can be used throughout the year and that each of my children will be able to use the activities. Even though they are different ages, the gifts above can hold each of their interest.
Lakeshore Giveaway
Don't forget to enter the giveaway for a $50 Gift Card to Lakeshore Learning!
a Rafflecopter giveaway
You can find more of my favorite Lakeshore Learning toys here.
Lakeshore Learning Coupon
Want to buy some of these toys? You can see some of my favorite Lakeshore Learning toys in action here.
Lakeshore Learning has graciously offered the Fun With Mama community a 20% off coupon code for any one single, non sale item. Click here to redeem that coupon! To learn more about Lakeshore Learning, find them on Facebook, Instagram, Twitter and Pinterest.