Are you working on a weather unit in your preschool themes this year? Then check out these awesome paper doll template pack that includes paper doll dresses, paper doll cut outs, season themed activities that focus on Fall, Winter, Summer and Spring. These dress up printables could work for your weather unit too!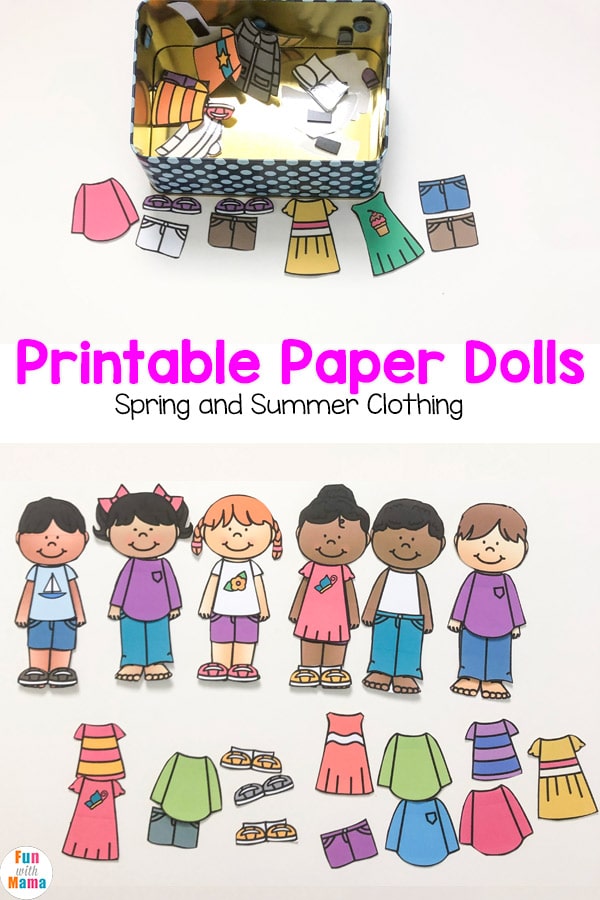 Printable Paper Dolls
Our Winter Paper Dolls dress up busy bag was SO popular on the blog that I had so many requests for a spring and summer version. I've done even better than that though! I have created a full activity pack that includes a coloring page worksheet type of activity and incorporated more season learning. I will give you all the details about the full paper doll pack a little later on.. First let's get to the freebie!
Materials Required
The printable activity at the end of this post.
A magnetic surface. You can use a cookie sheet, magnetic whiteboards or even a metal container.
Whats included?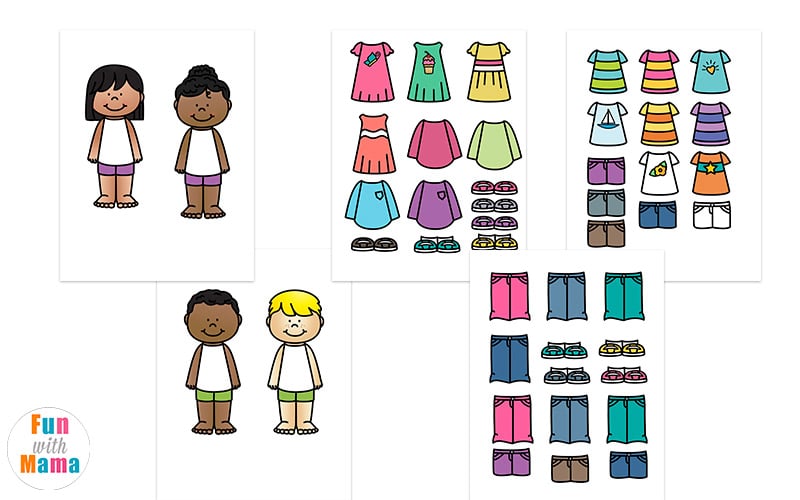 In the printable paper dolls freebie file you can find 4 paper dolls, 2 male and 2 female.. although you can get more free paper dolls in the winter dress up printable activity!
This time, the paper doll dresses and paper doll clothing you receive is summer and spring themed.
You can then laminate and add magnets to these paper dolls. You can use it on a cookie sheet or any other magnetic surface. Here is an example from the winter dress up pack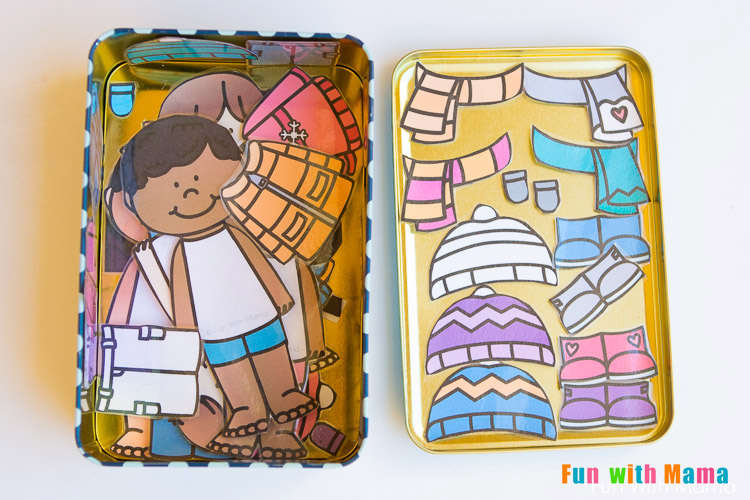 You can find the paper doll dress up template and mini-pack at the bottom of this post.
Now let me tell you ALL about the new Seasons Printable Paper Doll Dress Up Pack.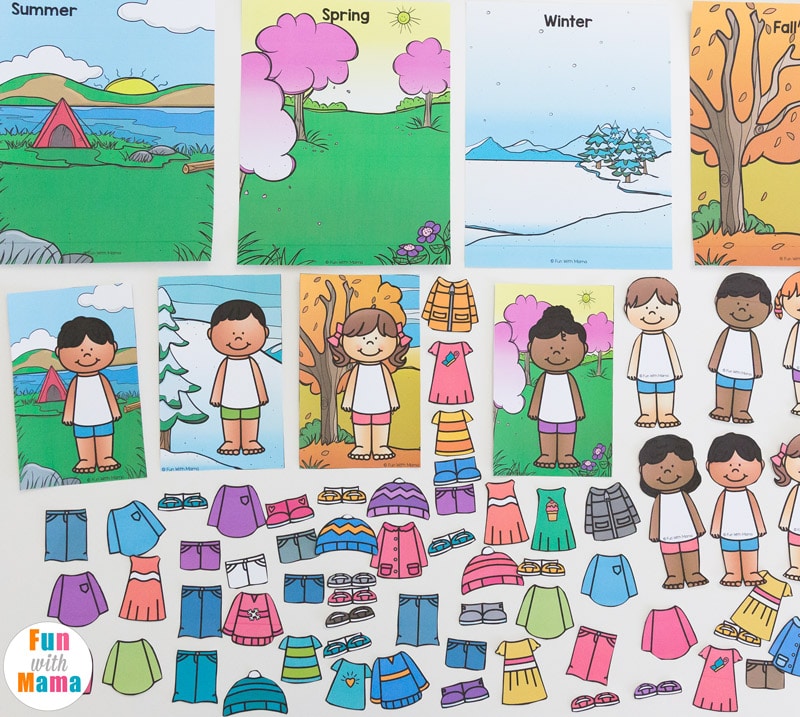 I wanted to enhance the learning of seasons so I've added some seasonal back drops. Children can use the printable paper dolls on the horizontal or vertical backgrounds or use the small cards and dress the dolls with the appropriate clothing for the season.
Here are some examples of questions to ask:
What would you wear in the summer? What would you wear in the spring?
If you wear shorts in the winter, how would you feel?
What does fall look like? What does fall feel like?
You can also use the backgrounds and add in some printable paper dolls for storytelling activities. This paper doll template pack really has SO many options.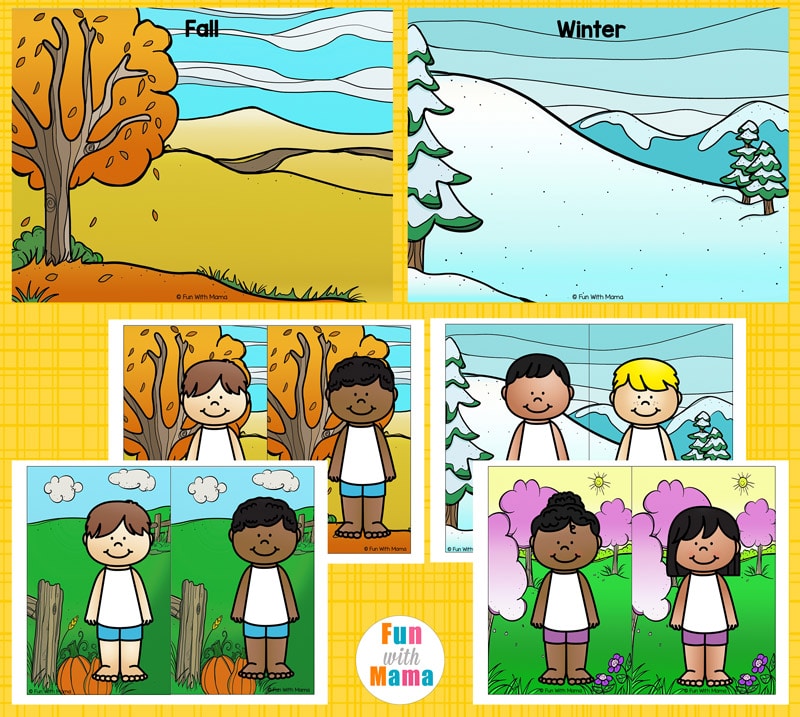 I've created a lot of variety in the printable paper doll pack so that you can print out what is most suitable for your class.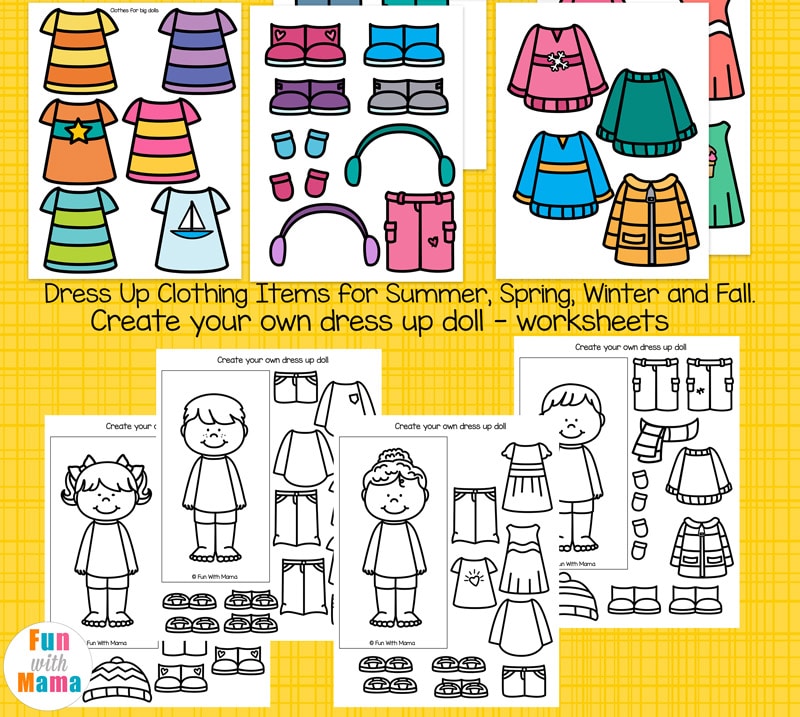 The seasons printable pack includes two sizes of paper dolls. The bigger size is almost the size of a normal piece of paper. This is for children who may have difficulty working with small pieces and need bigger ones.
I have also included printable worksheet/coloring pages so that children can choose a doll and create the doll and dresses according to their own imaginations. This worksheet was ADORED by my children.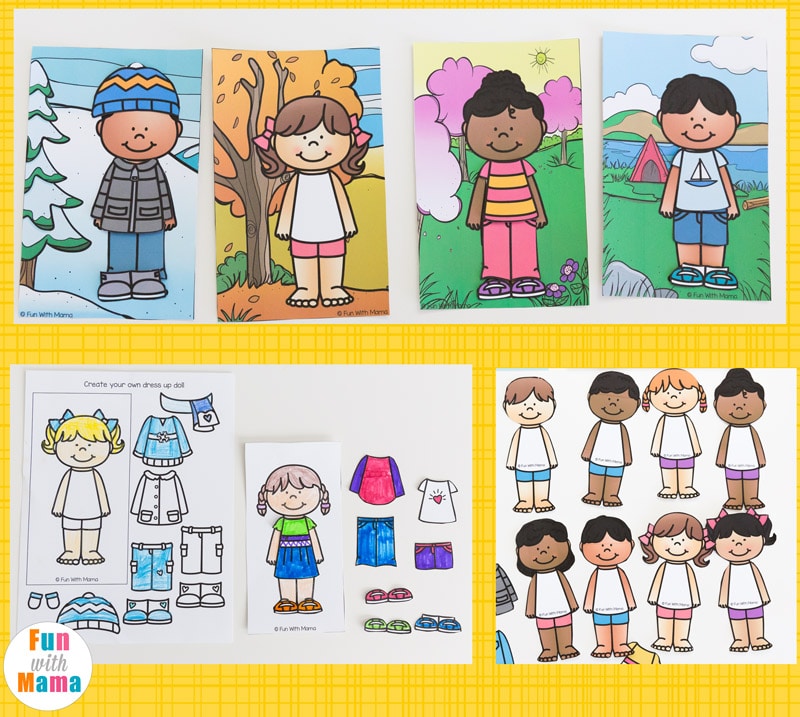 Here is an example of what the worksheet looks like once you cut and color it. You can either leave it so that children can interchange the clothes or you can have them glue on their outfits. This activity is wonderful for a creative child.
I have included a few dolls that already have seasonal clothing on. You can use these as a visual perception activity. Have children add on the correct clothing items. The summer ones are easier since there are normally just a dress and shoes but as you progress to winter clothes there are multiple items including boots, pants, a top, a hat and a scarf.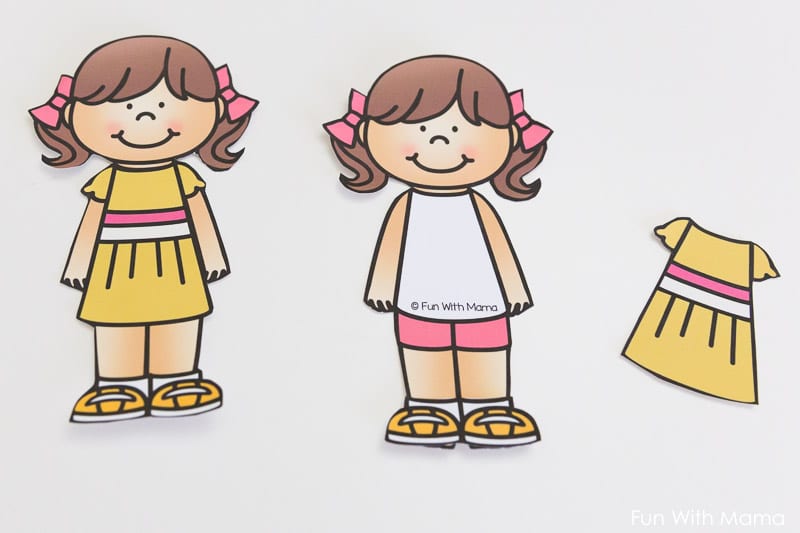 Here are what the Season pages look like. Children can match the clothing to the season.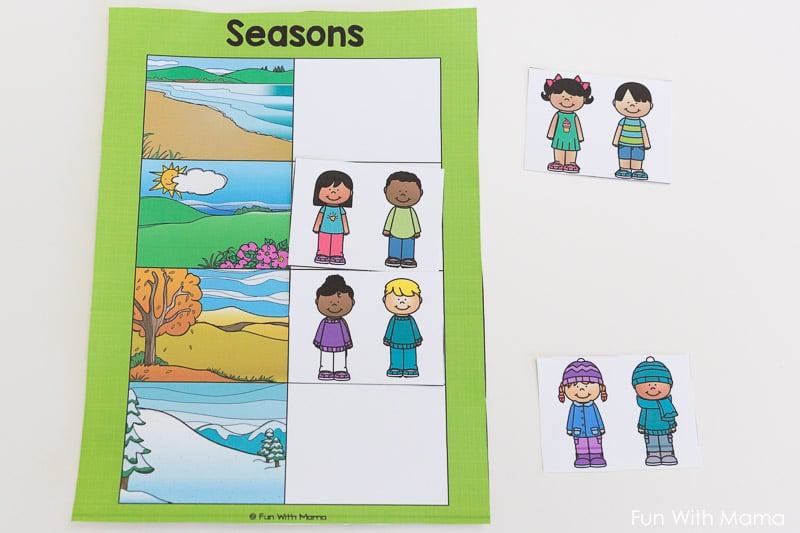 This shows you the sizes of the printable paper dolls. The one you see on teh left is what is available with our free downloads. The one on the right includes the size of one of the options on the Seasons Dress Up Dolls Pack.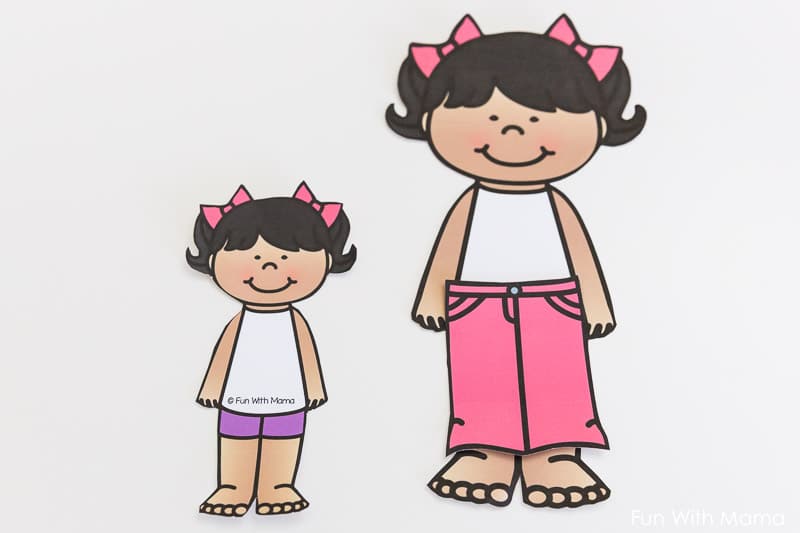 Here you can see an example of one of the dress up doll worksheets. Here children can create their own dolls.
I love our Lakeshore Learning People Colors for skin tones. I purchased the colored pencils version. I have not tried the crayon version so I can't say which one is better. I do love that the colors come in a wide variety of tones so that we cover all skin tones! Crayola has a marker multi-cultural skintone version here, which I just purchased to try out.There are Crayola Crayons and they have a classroom set of markers too.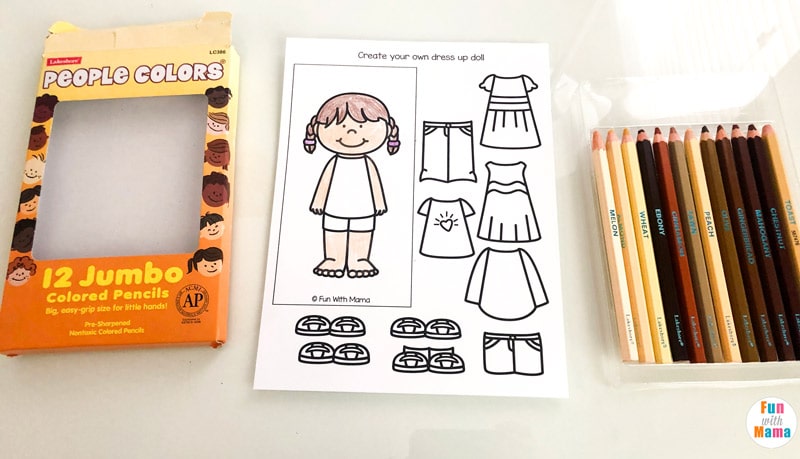 For the clothing we tried out crayons and markers. Crayons are on the left, Markers are on the right. I think the markers were much more vibrant so I am really keen to try out the skin tone markers above. I do like that the Lakeshore crayons gave the skin tone a softer look, as skin should look. I might just opt to do the hair in marker instead. These would ALSO be amazing to use with some watercolor paint.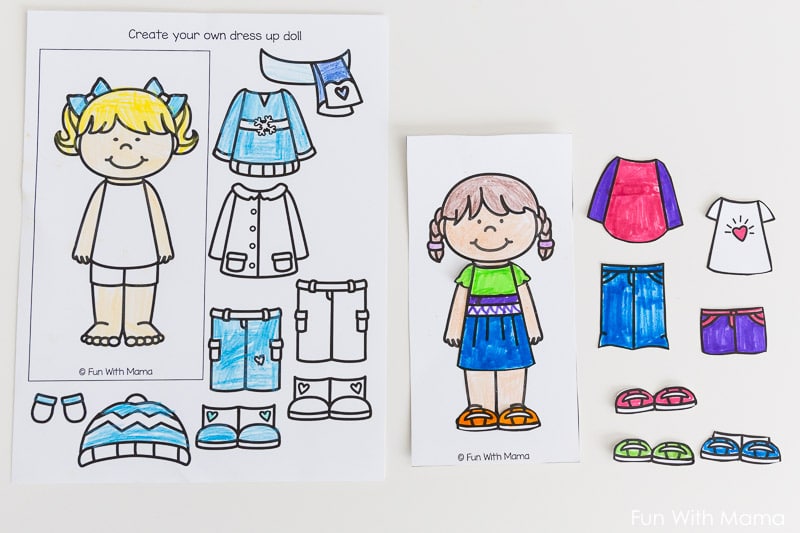 You can get the full printable paper doll activity by clicking the image above or here: Paper Doll Dress Up Seasons or here on Teachers Pay Teachers. You can also see a preview file here that shows you more close up details.
Get the Free printable paper dolls for summer and spring here: