Looking for the best books for toddlers ages 1-2 years old? We are a book loving family and I list out our top 5 MUST have BEST books for boys and girls that will encourage a love for reading at this young ad tender age. I truly believe that a love for reading begins when a child is born. Reading books with your child is also my favorite time to cuddle, hug and just feel their warmth. I have been through hundreds of books but these 5 books are the ones that I will hold on to and never let go. Within these pages our cuddles can be found. Those short lived special smiles and giggles live there within my memory each time I open a page. Plus, most of these books are under five dollars each!
Best Books for Toddlers Ages 1 – 2
When looking for books for children ages 1 and 2 we need to consider their attention span. At this age they aren't ready to sit down for long periods of time while you read aloud a story. They need books with thick pages, a few words that flow well, are easily memorized and something that resonates with something they might be feeling. I always recommend that you buy board books for this age range because 1 year olds are trying to become more independent. They want to help you turn the page. There is nothing worse and demotivating than for a child to try to turn a page and then the whole page rips. Board books last longer and they are more durable for those small fingers. Encourage the love for reading by choosing age appropriate books.


The books below have stood the test of time with my three kids and were equally loved by little boys and little girls. These are the books that planted that seed of loving to read for my kids. The stories below are still loved by my three year old as well.
Check out my Facebook Video here to see how much my daughter (13 months old) really loves the books here.
5 Must have books for 1 year olds and 2 year olds
Please note that affiliate links are used in this post.
Trust me, when I say that we have a lot of books at home (especially for the 1-2 year age group).The 5 books above were our personal must have best books for 1-2 year olds. Other popular books that we own for this age range are:
From Head to Toe by Eric Carle – My kids loved re-enacting every part of the book. Each page shows an animal doing something. For example: One of the pages has a picture of a giraffe. The words say, "I can bend my head… can you do it?" and my child giggles and copies it. They feel so proud of themselves that they are able to listen to instructions and copy it.
The Very Hungry Caterpillar is also a captivating story. What I like about this one is you are working on vocabulary words of different fruits, learning about counting and seeing the caterpillar to butterfly life cycle.
Guess How Much I Love You – This is really a sweet story that many read to their 1 and 2 year old but I found that D only started loving this book now at age 3. I think that is the age where they become more playful but this could be different for your child.
Brown Bear, Brown Bear, What Do You See?  – With rythmic verses and simple watercolor pictures this book is perfect for a child's attention span and they can "read" it back to you through picture clues.
"I see a blue horse looking at me."
Dear Zoo A lift the flap book by Rod Campbell – This interactive book about animals is sure to hold your child's interest.We could just stop there and say the above are the top ten books for 2 year olds.
Big Red Barn (This is such a popular book amongst kids at this age and I always see it mentioned on various forums. I personally thought it was okay but the 5 star reviews speak volumes too.
Chicka Chicka Boom Boom – I love the catchy song that you sing when you read this book. There are also some wonderful video's of this one on Youtube. You can check one out below:
Does your toddler (1 year old or 2 year old) have a favorite book that is not listed here? Please include it in the comments below.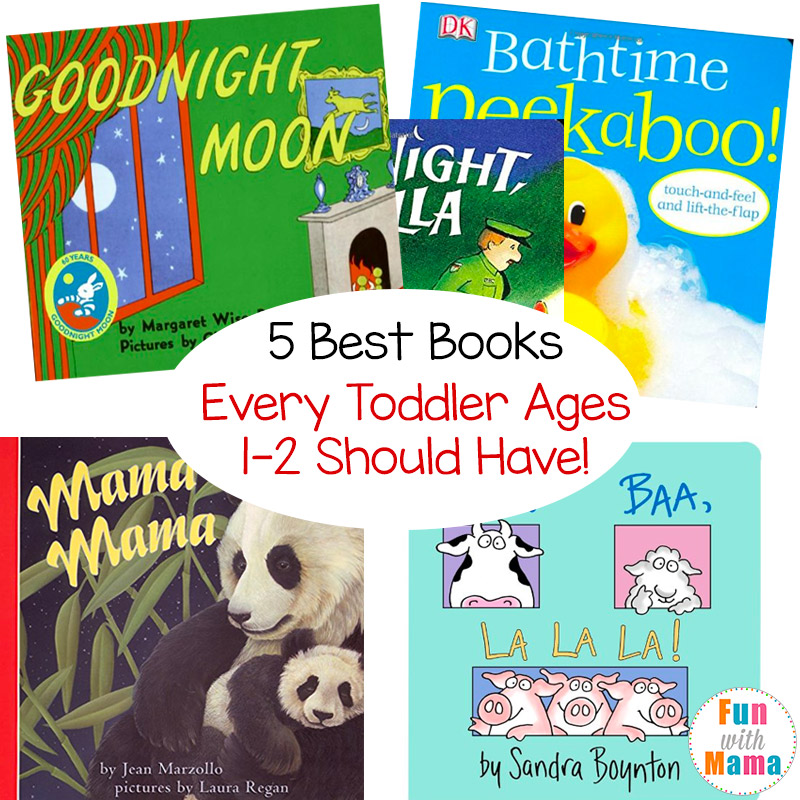 Nadia is the founder of Fun With Mama and a Mom of 3.She strongly believes that magic is created between mother and child when they do learning and art activities together.Learn more
about Nadia here
.
Latest posts by nadia tayob (see all)