This post will show you my favorite bento accessories for your child's school lunch. You will also see school lunch ideas for adding color to your lunchbox. I will go into my favorite food picks, organizers, sandwich cutters and egg moulds.
Bento Accessories
In my School Lunch Ideas Tips, Tricks and Hacks post I talked about simple ways to make your child's school lunch box (bento lunch box) look more appealing and exciting. Many of you wanted direct links and suggestions so I put together this post to show you what I use. Check out the best bento box for kids here.
Here is my YouTube video giving you a tour of my lunch box supplies:
Don't forget to follow me on YouTube.
You can also find my favorite lunchbox choices video here:
Check out the
best bento box for kids
post here.
First I am going to start with the organization area:
I placed the lunchboxes we have in my kitchen cabinet. You can see the post all about my favorite school bento boxes for kids here.
I am using these organizer bins to keep the different areas separated.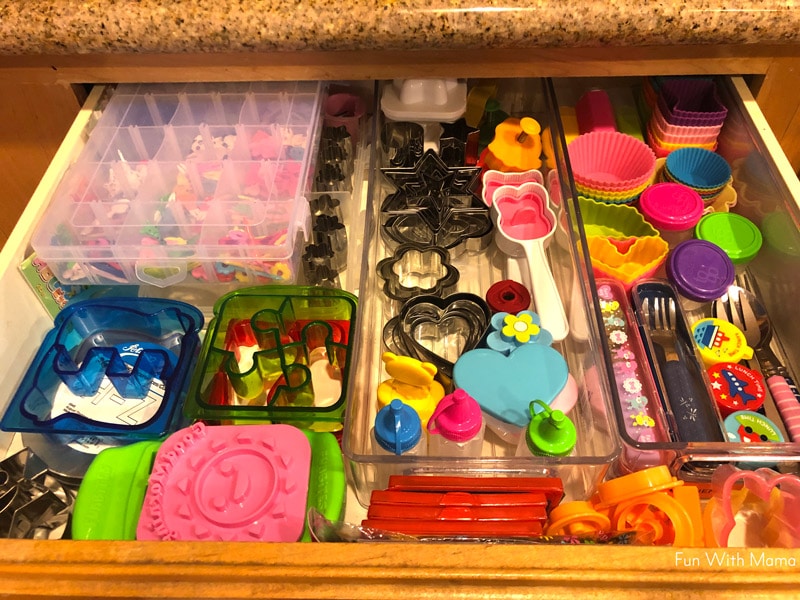 These are some of my current food picks. I used this container ( I have so many of these containers and find them SO helpful to have at home. I also love them for my printable cutting box for kids printable.)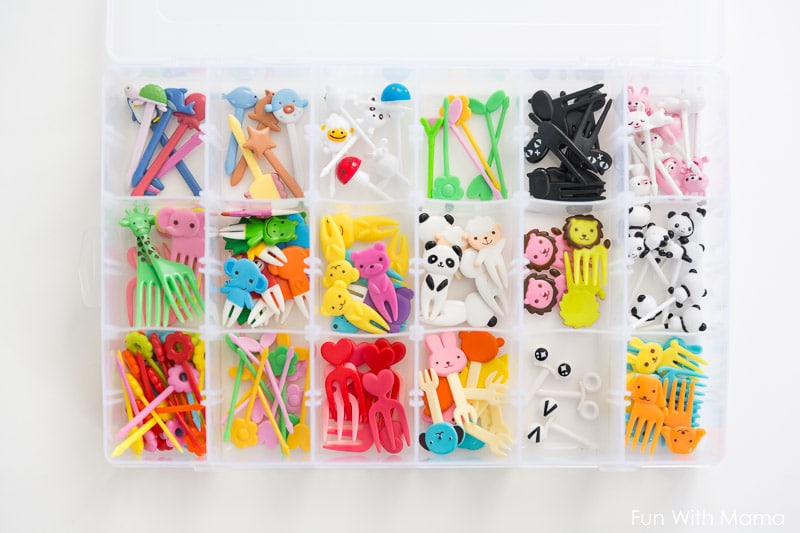 Favorite Bento Lunch Box Accessories
Food Picks
Before we get started, please note that all food picks CAN be a choking hazard. Please use food picks at your own discretion. Shorter food picks should be placed high up into the food so that your child is aware that it is there. I do not recommend using food picks for school lunches for your younger preschooler. Proceed with your own caution. I use my food picks mostly with my elementary aged kids.
If you could only get ONE set of food picks, this has got to be it. The eye food picks are the most versatile item and they pack a punch. Not in the mood to create a cute lunch? Then just poke these eyes into any regular school lunch to add a little excitement.
This alphabet set is another set that I really love. I can spell out words for my kids. This one is great for children who have just begun to sound out words. Create 2 and three letter words.
These animal food picks include a frog, rabbit, lion, elephant and Panda. They have a fork style bottom which makes them great for picking up fruit pieces.
Animal food picks are always a great addition to preschool lunch boxes.
I like that this animal set includes different types of animals. There is a hippo, a bear, a lion Koala, monkey, sheep and an elephant.
Want a great Halloween themed set of picks? Then this is your set.
These are the perfect love themed food picks! Great for Valentine's Day or just to show a little bit of love.
Silicone Cupcake Liners
These add color to a lunchbox and also help keep food separate. You can use disposable liners too.
Silicone Cupcake liners can really enhance lunchboxes. They also help separate food.
Egg Moulds
Have a child who loves boiled eggs? Then create some
fun boiled egg shapes
.
Small Containers
Condiment cups
can add some style and color to your lunchbox. It's great to have a set.
I like the
Sistema condiment cups
. If you are packing carrots, pour in some ranch dip in here.
Cutters
First and foremost, you should purchase a basic set of shape cutters. I do not have a direct Amazon link for these because I purchased mine at random stores. Get a nesting set of hearts, stars and circles.
With these sandwich cutters, I like that it leaves minimal waste. It literally cuts up to the outer edge of the bread I buy. I often use the puzzle cutter, especially at breakfast time.
I use these
number cutters
on cheese!
You can see
these alphabet cutters
in use in the image above too.
Love Notes
You can print out these Printable Lunch box Notes or purchase a set. I love these
What are some of your favorite lunchbox accessories?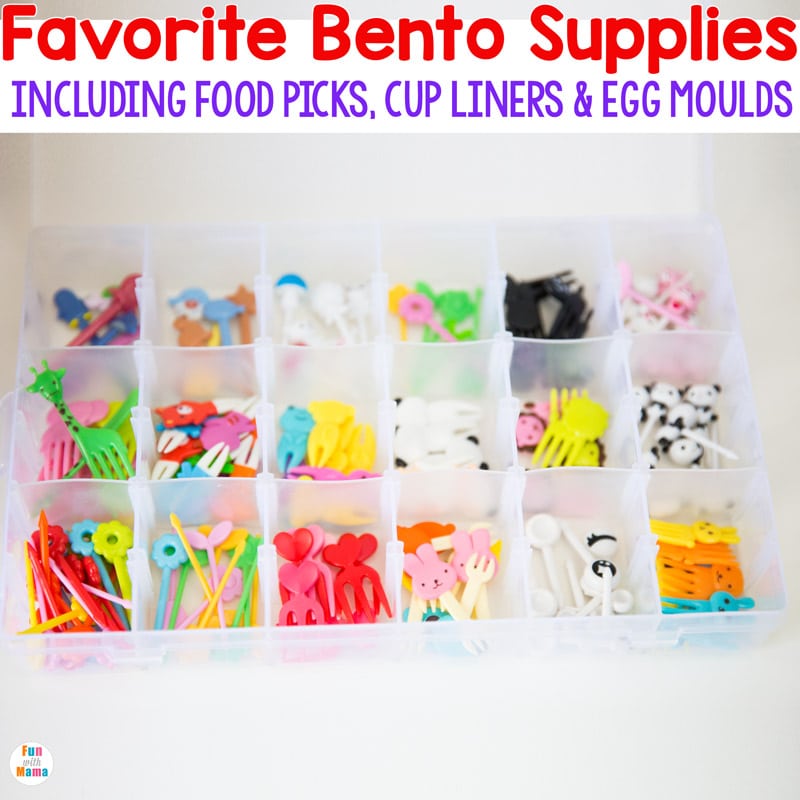 Where to buy Bento accessories?
I purchase accessories from my local stores, Amazon and when I used to live in South Africa I used to buy from Bento USA (although it had a different name previously.)