The time is here. Millions of people all around the globe are cheering over the fact that Disney Plus is now live and ready to stream. If you're a Disney fan, then you're probably jumping for joy as well. But just in case you need to know more about what Disney Plus has to offer, I've created a guide about everything you need to know about Disney Plus.
After reading this, it's a safe bet that you're going to be binge-watching everything Disney for the next few months, just like the rest of us are. What perfect timing by Disney to release this once the weather starts to get colder and the holidays are done and over with.
Special Offer 9/9-9/19/22 – Disney + is 1.99 for one month for new and returning subscribers. The second month will go back to the price of $7.99. You can cancel at anytime. I suggest cancelling before you are charged for the second month.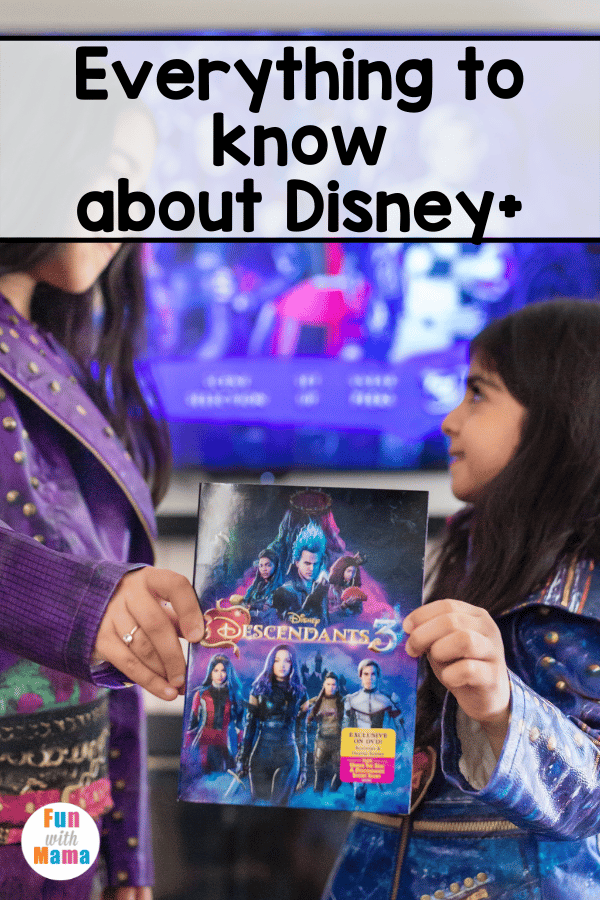 Everything You Need to Know About Disney Plus
If you're feeling a bit overwhelmed about what Disney Plus has to offer, don't be. This guide will give you a ton of helpful information to make an informed decision about whether or not it's the right choice for you and your family.
What does Disney Plus include?
As the names states, it includes anything and everything Disney that is rated PG-13 and under. Disney has filled its streaming service with a ton of family-friendly movies that are new and old, including options for Star Wars, National Geographic, Pixar, and Marvel.
How much will Disney Plus cost?
The fee per month to have Disney Plus is $6.99. However, if you purchase a whole year upfront, you'll get a better deal of only having to pay $70. (that's like getting two months free!)
There is also some buzz floating around that if you have Verizon cell phone service, you can upgrade to their unlimited data plan and you get Disney Plus for free. (not verified on my end so make certain that you do your research to confirm)
How do you get Disney Plus?
If you have a streamable device, you're set! This means that you can watch it on your phones, your tablets, your SMART TV's, laptops, PlayStations, and Roku.
You just need to have a way to connect to the internet to be able to log in and watch Disney Plus.
What do you get with Disney Plus?
Anything and everything Disney. Literally thousands of movies and choices that you can spend countless hours watching.
We're talking about the good old movies like 101 Dalmations all the way to the newest movies from Marvel. Some are animated, some are not, but all are created and owned by Disney.
Does Disney Plus include ESPN?
Let's just say that you have options. If you are only wanting Disney Plus and nothing else, you can choose the $6.99 per month plan.
However, you can also create a bundle that includes Disney Plus, Hulu, and ESPN plus as well. For that package, you would then be at a monthly fee of $12.99.
How does the streaming options work?
It couldn't be any more simple. You can stream up to four different devices without worry. If you're wanting to see Toy Story, and your daughter is wanting to watch The Lion King, and your son is gearing up for Moana, then there's nothing that's going to stand in the way of each of you watching what you want to watch. (unless you don't have enough streaming devices, but that's up to you to confirm!)
And if you have a movie that you want to watch but can't right then and there, just download it so that you can catch it later.
Does it get any more awesome than that?!
Am I locking myself into a contract by signing up with Disney Plus?
No, you're not. You're free to go month to month and cancel at any point in time. However, just keep in mind that there is no pricing guarantee that it's forever going to be offered at the $6.99 per month fee. This fee could go up (or technically down) at any point in time.
Intrigued? You should be!
And just in case all of this wasn't tempting enough, you can even get a 7-day free trial to see what you think.
You'll have 7 days to decide if Disney Plus fits your streaming needs and your budget. After the 7 days, you'll need to remember to cancel or you'll automatically be charged the $6.99 for the next 30 days.
Why Disney Plus can be a great alternative to other streaming services
Not only do I think that Disney Plus is offering an incredible value for a small amount of money, but I also like this option from a parental perspective as well.
As a parent, it can be really hard to know what our kids are seeing and hearing on a daily basis. And as much as we all try to filter out what we don't want them to be introduced to, it's almost impossible due to their surroundings at school and when they're out in public.
This is why I'm a big fan of Disney Plus. I know, without a doubt, that my child won't be scrolling through the movies and TV shows and see an image of a horror movie or something else that they shouldn't see.
I also love the fact that everything on this package is rated PG-13 or less. To me, that's huge. It means that whatever my children might be seeing when they're watching TV is being guarded solely by what has been produced by Disney.
In my own way, I view this as a way to monitor what they're watching and feel better knowing that it's limited to the productions of Dinsey and their side companies.
If you're on the fence about whether or not Disney Plus is right for you, why not try the free 7-day trial and test it out? You're certain to see a few movies and shows that you love and it might be a fun way to connect with the children as well and let them see some of your favorite Disney movies and episodes, too.
Make it a Disney Plus family movie night and bond over the love that you and your family have for Disney!
Check out these other great recommendations by Fun with Mama:
Why the Amazon Fire Kids Edition Tablet is a Must Have for your kids!
Hello Kitty Toys + Gifts at Cost Plus World