Learning about 3D shapes is so exciting, especially with these fun 3d shapes for kids printable activities.. Children in preschool and kindergarten will have a great time using these 3d shape worksheets to learn about cubes, pyramids, cylinders, cones, spheres, rectangular prisms, and triangular prisms in this fun 3d Shapes worksheets activities for kids.

3d Shape Worksheets
The 3D Shape Worksheets Pack includes a variety of math and literacy activities such as puzzles, counting and do-a-dot pages as well as a poster for each of the shapes used through this pack.
Materials Required:
Please note that affiliate links are used in this post. Please see my disclosure policy for more information.
Here are some items that pair well with these activities. You will use each of these items over and over during all my printable preschool activity packs.
3d Shapes Worksheets
In this printable pack, children will be introduced to seven different 3D shapes: cubes, pyramids, cylinders, cones, spheres, rectangular prisms, and triangular prisms.
Activities in the 3d shapes for kids printable pack include:
Puzzles
Line Tracing Page
Count and Clip Cards
Cutting Practice page
See and Stamp pages
Number Cards
I Spy Fun
Trace the letters
Fingerprint activity
Montessori 3 Part Cards
Size Sequencing Cards
Number Puzzles
Word Building Puzzle
Also, in this 3D Shape worksheets pack is a full page poster for each shape. On printing out these posters and laminating them, children can use a dry erase marker to trace over the shapes while saying the name of the shape.
There are also some Shape Sorting Pages. There are two different shapes on each page which the children will try to distinguish the different and place in the correct column. There is also a shape, easy-read book and some shape match and clip cards.
As always, there are the number and word building puzzles as well as the four and five-piece puzzles. There are also many activities that include the Irish flag; do-a-dot page, colouring page, color by letter, size sequencing cards and a number puzzle. There are also shape coloring pages included. You can use crayons, markers, do a dot markers, q-tips, fingertips and more!
Where to get the activity pack
GET THE 3D SHAPE PRINTABLE PACK HERE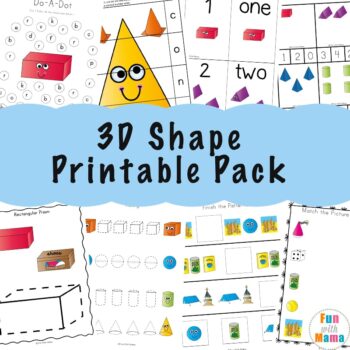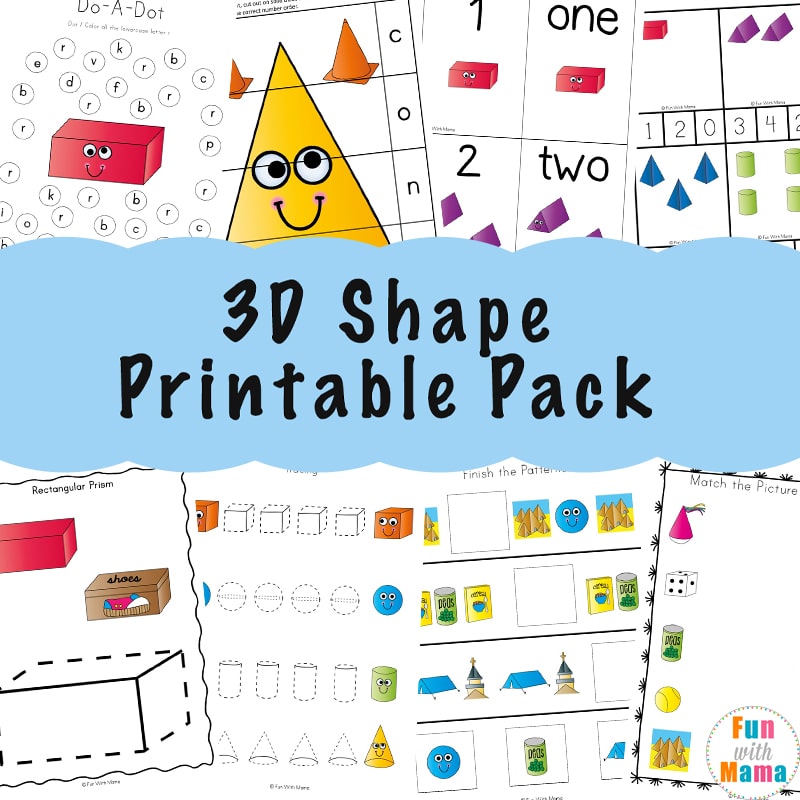 Children will learn about the following 3D Shapes: Cube, cylinder, pyramid, triangular prism, sphere, rectangular prism and cone. The activity pack comes in color and a black and white pack.
If you are looking for the black and white set you can find it here: 3D Shapes Activities Black and White Set