These Diving for Letters mats can be used to help children learn to recognize the uppercase and lowercase letters of the alphabet as well as practice letter formation. This alphabet learning printable is perfect for teaching alphabet learning to preschoolers.
This alphabet letter activity is great for early learners as well as preschool-aged children. Use them as a way to introduce them to letters or to supplement their learning along the way.
The earlier that you can introduce your child to letters, the better foundation that you can help set to start them identifying words and possibly even start reading at a younger age.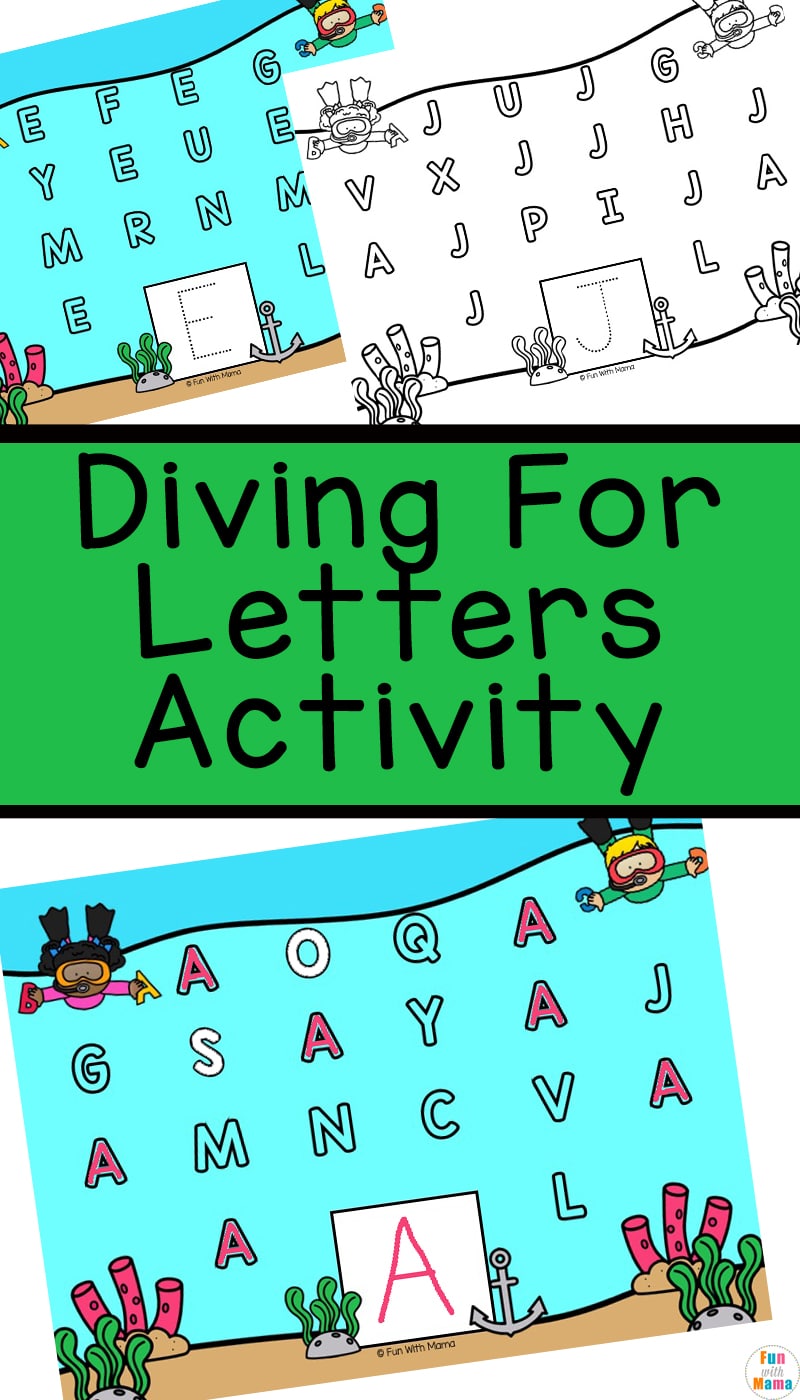 DIVING FOR LETTERS ALPHABET LEARNING
These Under the Sea themed alphabet mats are great for kids who enjoy learning about the letters of the alphabet. They can practice learning their uppercase and lowercase letters while building on their handwriting and pencil holding skills.
Plus, all kids like the thought of learning about letters while they're submerged in water! This fun theme offers a way to help them use their imagination and create a story as well while they're learning all about letters.
You can even let them dress up in their swimsuits to really get into the theme of diving! Why not make ABC learning fun? Anytime you can combine ABC learning games with alphabet learning, why not?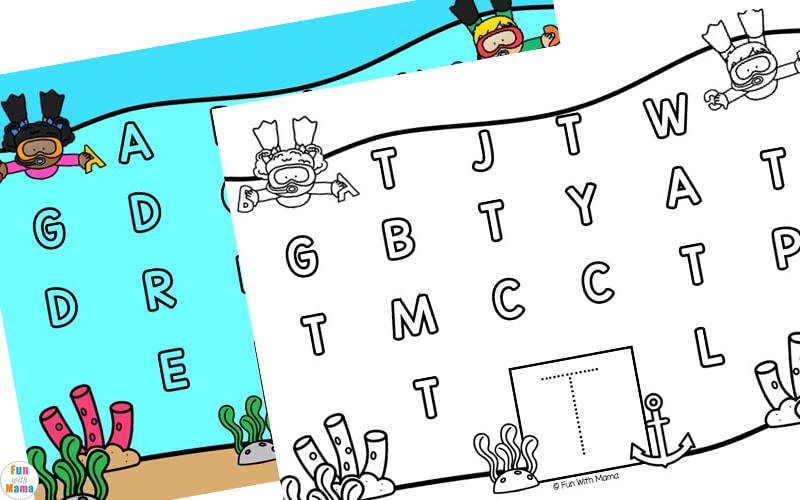 Materials Required for this learning letters activity:
Please note that affiliate links are used in this post.
Here are some items that pair well with these activities. You will use each of these items over and over during all my printable preschool activity packs.
Laminating any of the printables can be a great way to make them last through all the little hands that hold them and carry them around.
This Diving For Letters Activity Mats printable pack contains 50+ pages of printables.
Yes, you read that right. 50 pages of free printables for your early learners to explore. Not only does this give them page after page of alphabet letter activities, but it also teaches them a bit of responsibility to take care of their new printable and keep the pages in order as well.
That's a lot of learning letters for preschool children to work on!
What can you expect in this Diving for Letters printable?
In this pack, you will find two mats for each letter of the alphabet. With each mat, children will learn to recognize both the uppercase or the lowercase of each letter of the alphabet.
Have fun with these printables! Take the time to go through each letter with your child to make certain that they can truly identify the various ways that the letters can be presented.
Once printed out, these pages could be laminated and children use a dry-erase marker to complete them. Once they have finished, the pages can be stapled together to make a book or they can be laminated and held together with a binder ring.
How to use these alphabet learning mats
To use these mats, children will trace over the large dotted letter in the middle of the bottom of the page. This tells them what letter they will be searching for in the ocean.
Then, children can either color in or trace the matching letters as they find them in the ocean.
Children can start with all the uppercase letter mats before moving onto the lowercase letter mats or they could complete the uppercase then a lowercase mat of each letter in alphabetical order.
This printable pack comes in color and in black and white.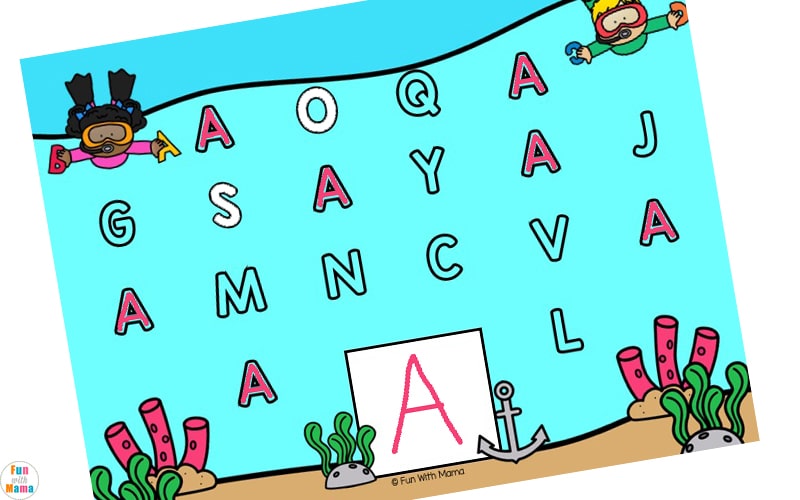 DOWNLOAD THIS FREE ACTIVITY PACK HERE
The color activities are free. You can purchase the black and white copy here.
DOWNLOAD THIS FREE ACTIVITY PACK HERE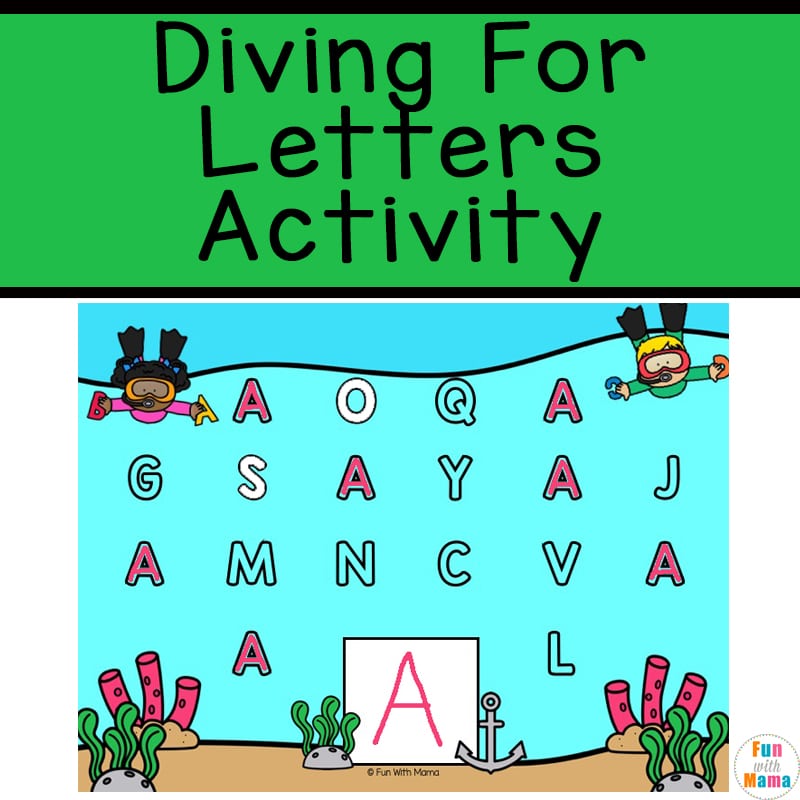 This activity is perfect for preschool-aged children and is a great way to introduce them to the letters and how they can work together. It's a great way to teach the alphabet to kids. (and it makes it fun, too!)
Use this activity to work on sight words, understand uppercase letters and lower case letters and also as an introduction to learning as well. (If you're looking for a song to help teach your preschool child about the alphabet, check out this handy song as well.)
Once they've conquered understanding the difference between an uppercase and lower case letter, they'll be ready to start learning how to put the letters together to form words and so much more!
As always, encouragement is the best way to show your child how great they are doing! Join in on the fun and watch as they tackle and conquer this fun preschool printable!
More Alphabet Activities to consider:
CVC Words With Pictures Apple Themed