The Erin Condren 2022 planners have just been released and I couldn't be more excited. I'm a pen and paper kind of girl, that's really the only way that I can offload the millions of mom tasks, home tasks, and blog tasks going through my brain each day. Read on to learn more about my absolute favorite life planner.
Please note that affiliate links are used in this post.
Erin Condren 2022 planners
Of all the amazing PR packages I receive throughout the year, the one I probably look forward to the most has got to be that beautiful purple box from Erin Condren. I've been using Erin Condren planners forever and this year's new releases for the 2022 calendar year are so visually stunning and, as usual, so efficiently organized, I almost can't wait for this year to end just to crack these beauties open and get a kickstart on a well-planned and super organized year ahead. In this post I am going to discuss more about the different Erin Condren 2022 planners you can choose from.
Juggling mom-life with being a blogger and a businesswoman can take a toll on the best of us, ladies, but I've conceded that the key to my sanity is trying to stay as organized as possible by writing all my tasks and to-dos down. Gone are the days when I fooled myself into thinking I could carry it all in my head. Four kids and a crazy day of work are enough to throw anyone off, so I resort to pen and paper to keep my cool.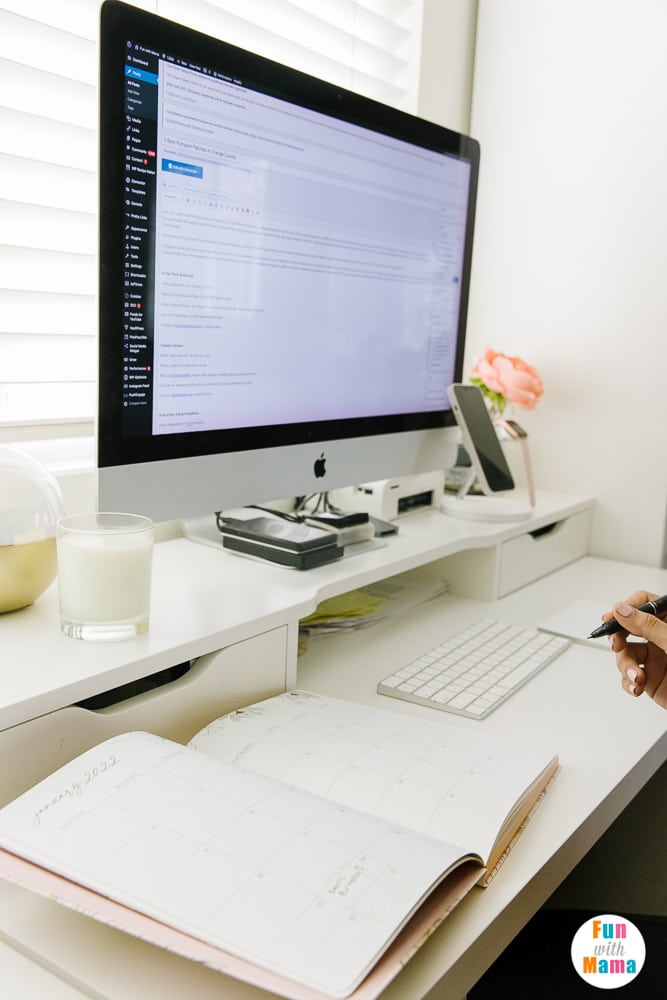 Check out the Erin Condren 2022 planners here.
PLANNERS
The latest line of Erin Condren planners features two beautiful new designs:
Flora: A delicate blush-hued floral with gold accents that almost looks like it's been illustrated by hand.

Mid Century Circles: Geometric rainbow-toned circles make for a fun, playful take on getting organized.
If you are a teacher then you definitely need to check out the New 2021-2022 Academic Planner and New 2021-2022 Teacher Lesson Planners to stay organied.
Both designs are available in a variety of formats including vertical and horizontal layouts in a range of sizes. From ring binders, to traditional coiled planners, to softbound notebooks, Erin Condren's latest collection is flawless.
The top book is the horizontal layout, whereas the bottom is the vertical layout. I personally prefer the vertical layout because I categories my life amongst the following three categories: ME, Kids, Blog. The spot at the bottom is where I include what I am cooking for dinner each day. You can get a closer look at how I use my Erin Condren planner in that blog post.
Because I'm a visual person, one of my favorite pieces in this package has to be the desktop scheduler. I can conveniently place it on my desk without it swallowing up the entire workspace, unlike the daily schedulers of yore, and it keeps all my daily list of tasks right in my line of sight.
Divided into a three-by-three grid, the top two rows run from Monday through Friday (and a single slot for the weekend) with a blank space to write in the date yourself. My favorite part of this scheduler, though, is the bottom third – a bulleted row entirely dedicated to to-do lists that can be checked off as you complete the task.
I'm also obsessed with the Erin Condren vertical layout Softbound LifePlanner because it's perfect for daily, weekly, and monthly planning all in one place. It's especially useful if you've got a lot going on, in my case, work, home, and kids! Each month begins with a beautifully illustrated page with an inspirational quote, followed by a monthly calendar with a sidebar for quick notes. There's also a page for me to easily list the month's top priorities such as upcoming doctor's appointments, extracurricular activities for the kids, and, of course, my work-related tasks and goals. Finally, there are extended pages dated with each day of the month which I can use to go into more depth and detail about the agenda items on my calendar. Put all these features together and you can bet organizing work and life is a whole lot easier and a lot less stressful.
The Softbound LifePlanner is also available in a smaller size with a horizontal layout, which might be a better fit if you're not organizing an army, but I prefer the 8×10 page size of the vertical edition, which gives me plenty of space to write and record the month's most important items.
In terms of versatility, it's hard to go wrong with the buttery soft vegan leather LifePlanner Ring Agenda. Gorgeous gold rings hold an insertable agenda that can be replaced each year, making it a great eco-friendly, environmentally conscious way to keep organized. My favorite feature, though? Like all my favorite dresses, this beauty's got pockets! Stash cards, notes, loose papers, or slip a notepad into the dedicated slot. So fun, so functional.
ACCESSORIES
While it feels awesome to stay organized and know you're on top of your game, endless lists and entries can have me go from hurray to ho-hum super fast. That's why I like to mix it up with colorful markers, pens, stickers, sometimes even a doodle here and there. In fact, I've also been known to journal right in my planner.
If you're planning to snag yourself some Erin Condren gear, don't forget to check out their accessories including their line of beautiful stickers featuring inspirational quotes and monthly motifs and the smoothest fine-tip markers.
Where to order your Erin Condren 2022 planner?
Head over to the Erin Condren website to check out the NEW 2021-2022 LifePlanner Erin Condren website .