Looking for Halloween school lunch ideas? This post shows you some easy lunchboxes and you will learn how to make sausage spiders (hot dog spiders). I also include a few Halloween activities for kids. These sausage spiders are a fun treat that not only works for a Halloween school lunch, but also a normal day's lunch.
Please note that affiliate links are used in this post.
We love that our EasyLunchboxes are so versatile (see my Birthday school lunch) and easy to care for. When we are done with them, we rinse and throw them into the dishwasher. They are also great for prepping in advance.
I recently just posted about my preferences on packing back to school lunches and asked for you to share your experiences too.
When packing lunches for my kids, I try to include as much variety as possible. Why? Because I noticed that when I packed similar items that I knew my kids loved… their palette and likes grew smaller and smaller.
That is why Bento school lunches are a great idea. They have so many slots that you are forced to add variety into your child's lunchbox. That means you can slot in a little big of vegetables, fruits and yes, even a treat.
To dress up simple
EasyLunchboxes
you can add cupcake liners and decorative napkins.
Pictured here: Steamed Broccoli, TownHouse Crackers with cheese, cereal mix, ketchup in our EasyLunchboxes mini dippers,
Pictured here: Sausage spiders, Crackers and cheese, apples, grapes, watermelon and heart food pick.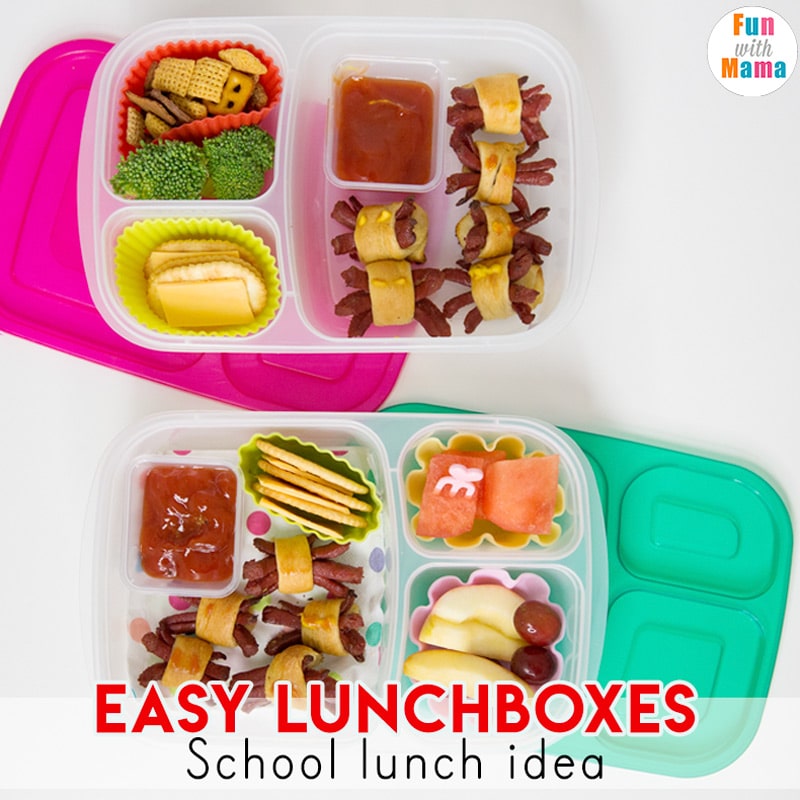 The Hot Dog Spiders are not my original recipe. I found the idea on YouTube and used it in my lunchbox.
Here is the video tutorial I used:
How to make hot dog spiders
I used crescent dough sheets, flattened it with my rolling pin, cut strips with my pizza cutter and then prepped my sausages.
Sausages need to be cut length wise and then cut in the middle. Each sausage then provides for four "spiders".
I then cut four legs on each side.
I rolled a small strip of crescent dough around the middle of the spiders.
I didn't have sesame seeds at home so I just used ketchup/mustard to create the eyes.
I then froze it in an oven tray. Once it was frozen I placed everything in a ziplock bag.
In the morning I baked it on 400 degrees for 20 minutes.
Since I had a lot of cresecent dough I also created a few Mummy Hot dogs using the following tutorial
These mummy dogs also look great
We also have other school lunch ideas too.
Halloween activities for kids: