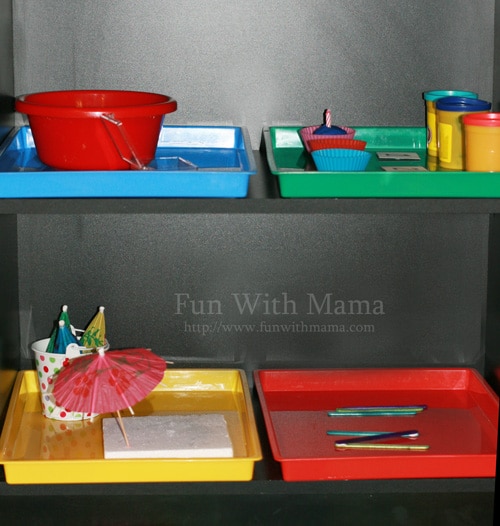 Tot trays are a wonderful way to give your child intentional learning materials that is montessori inspired. Montessori uses a rug to create a work space for the child to use her learning materials. I agree with this. The tray also helps contain mess and allows the child to do their activity in an organised manner. I normally leave our Tot Trays on this shelf (which I prep the night before or often for a full week ahead.) My toddler and preschooler can therefore use the tray whenever they feel like doing the activity. There is no pressure on my toddler to complete or even do the activities. The presentation however makes my toddler naturally gravitate towards using this. Kids also seem to like the challenge of these unusual activities.
Here is a closer look at what is on the trays:

Transferring beans with a spoon. This is a simple activity for adults but for a toddler this is a wonderful sensory experience. They need to balance the bowls appropriately so as not to drop the beans. They can touch and feel the beans with their hands and fingers. They can also hear the sound of the beans dropping into the other glass bowl.

Fruit Patterning using cards from Playing House. I love these as a beginner introduction to early math skills. These patterning cards are so much fun and are easy enough for a little toddler.

Copy Me Activity inspired by The Activity Mom


Placing the right amount of candles on each play dough cupcake. If you are daring enough you can light the candles afterwards like we did on my Instagram account. That was a lot of fun but you definitely have to be very careful with that.

Putting Umbrella picks into the styrofoam. (Found at Counting Coconuts and Playing House In Maryland)
I added Mickey Mouse figurines for added imaginary play.

Bug Cutting

Doctor medicine bottle sequencing.

I had some small doctor objects so I took a picture of them, labeled them and printed out name cards for them. Then I hid the items in the rice and had the kids find the items.
This post is linked to Montessori Mondays and Sun Scholars.